As working from home becomes more common, consumers are looking at versatile computing devices that can suit their needs for both work and play. Usually, laptops that are used for office work aren't typically powerful enough for your usual fun and games, and they could also lack expandability. Many professionals realize that they need to supercharge their current laptop setup so that it can be more suited to be used at home as well.
Instead of buying a new desktop computer system or a gaming laptop just for home use, an external GPU enclosure and docking hub could supercharge a typical notebook computer into something more. That is why, Cooler Master has recently introduced the MasterCase EG200 external GPU enclosure to target those who are looking for a hybrid laptop/desktop setup.
The Cooler Master MasterCase EG200
The Cooler Master MasterCase EG200 is actually more than just a simple external graphics card enclosure. In fact, it should be considered more of a laptop docking station, which equips your notebook computer with more ports, graphics prowess and even storage space. Let's take a closure look at the various features of this product.
The MasterCase EG200 comes with a rather minimal design. The case is made fully with aluminum, ensuring that the product remains both sturdy, reliable and classy at the same time.
The sides and top of the case also come with a meshed window, ensuring that proper airflow can reach the external GPU. This well-ventilated design ensures that both the laptop that will be docked on the EG200, as well as the components within the case, can be properly cooled.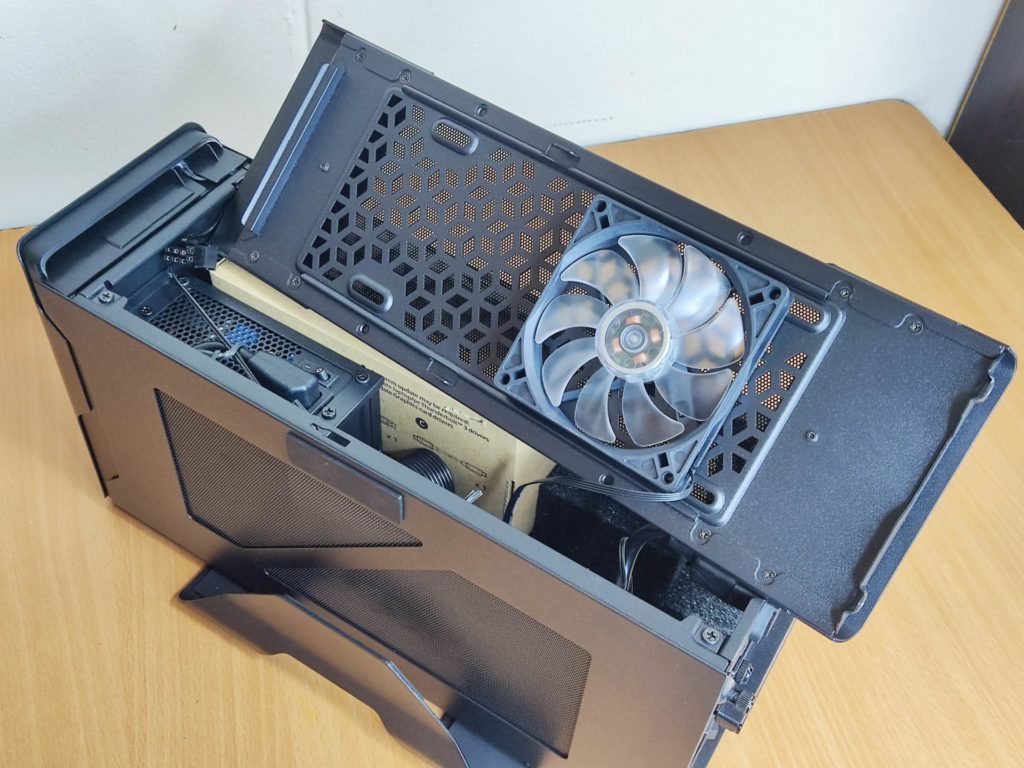 At the top of the case, Cooler Master also included a 92mm fan. This fan is configured to exhaust hot air from the components within the case.
Also, on a side note, the top and side panels of the case can also be easily removed as the case utilizes a tool-less design. They are all secured onto the main frame with thumb screws.
As mentioned earlier, the MasterCase EG200 comes with a laptop holder. This allows a laptop to be placed directly next to the side of the EG200 case. This setup makes it look like you have just changed a laptop to a desktop gaming PC.
Interestingly, the front panel of the MasterCase EG200 can also be easily removed. You can then fit either a 3.5″ or 2.5″ storage drive onto the case. The laptop will then identify the added drive as an external storage drive.
It could be useful for you to add an additional storage drive in order to properly separate between your home and work files.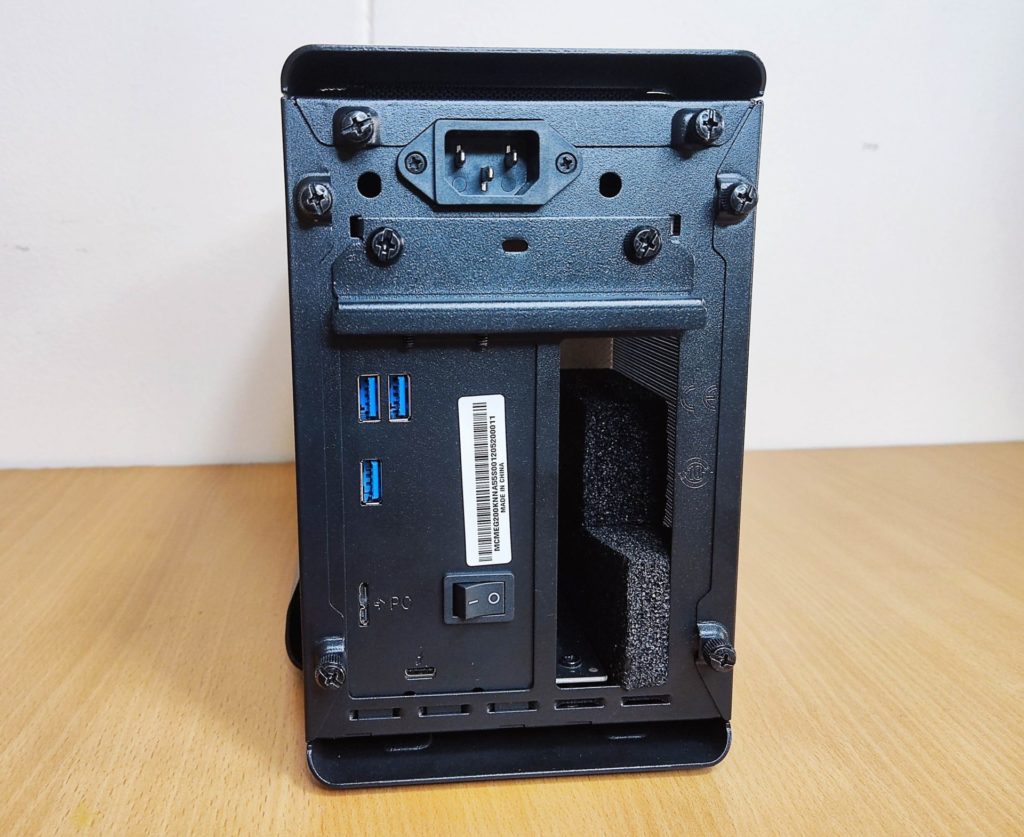 The MasterCase EG200 connects to your laptop with a Thunderbolt 3.0 and USB 3.0 interface. The Thunderbolt 3.0 interface is used for the eGPU, with the USB 3.0 interface will work as a USB hub to the additional 3 x USB 3.0 type A ports found on the back of the EG200.
Installation and Connection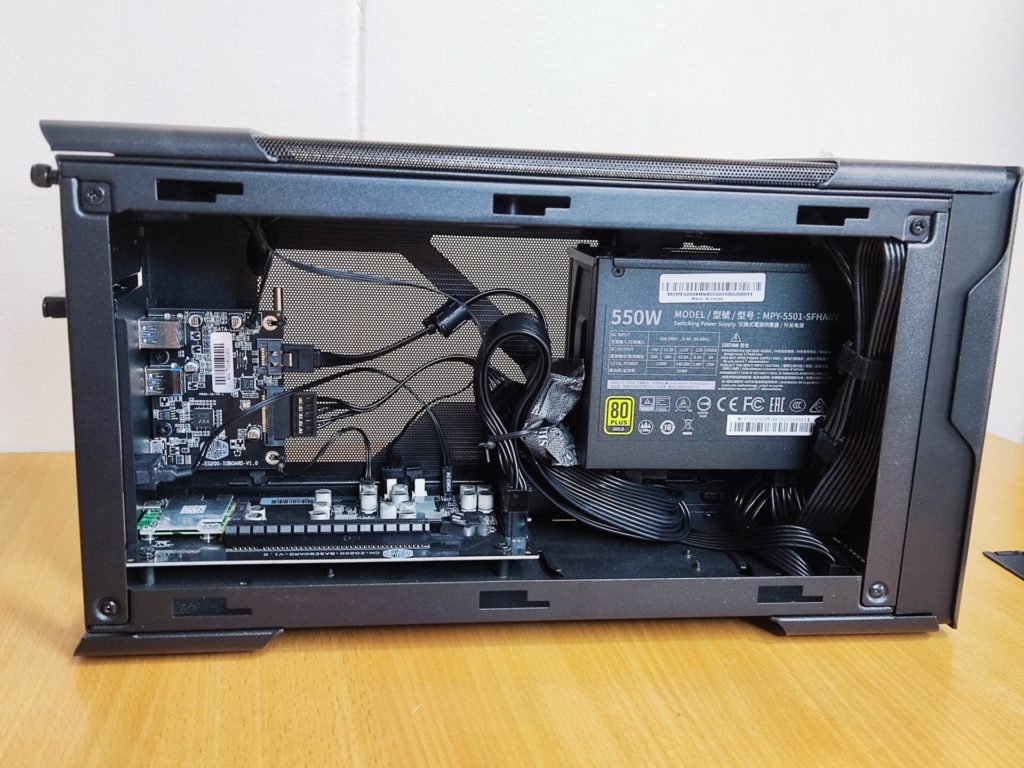 Depending on the size of the graphics card which you are intending to add into the MasterCase EG200, you may need to also open the top panel of the case. For our tests, we will be adding in the AMD Radeon RX 6700 XT graphics card.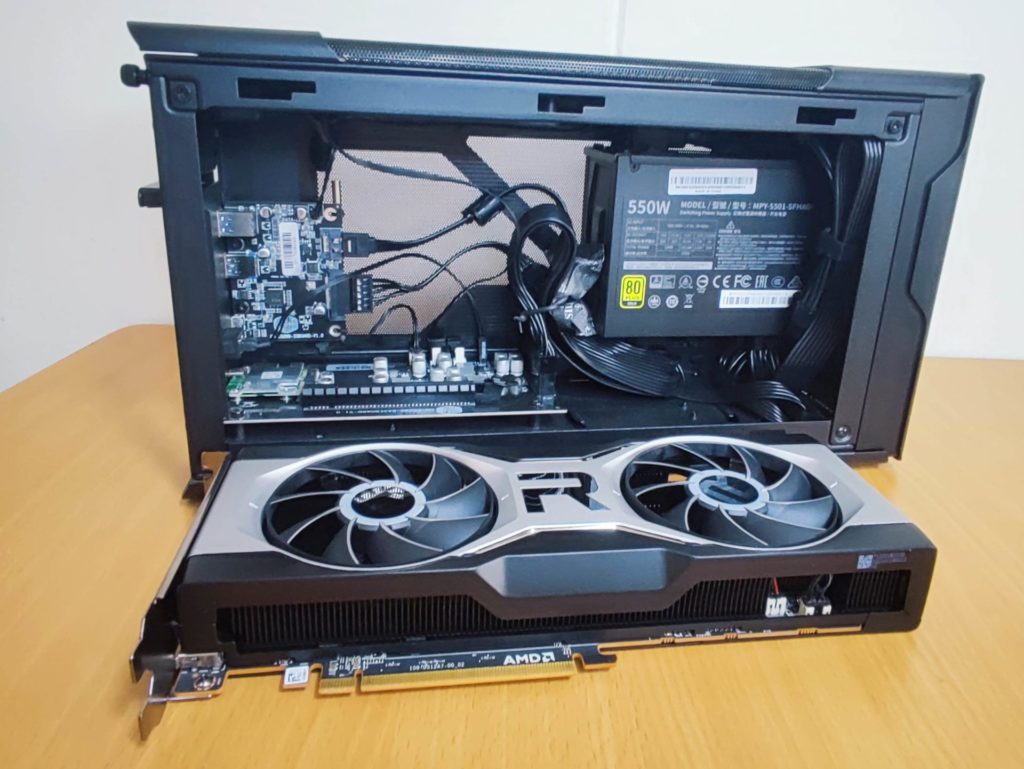 Comparing the size of the graphics card and the case, it looks like it should be able to fit well. In fact, the Cooler Master MasterCase EG200 can fit cards of up to 325 x 54 x 141mm in size.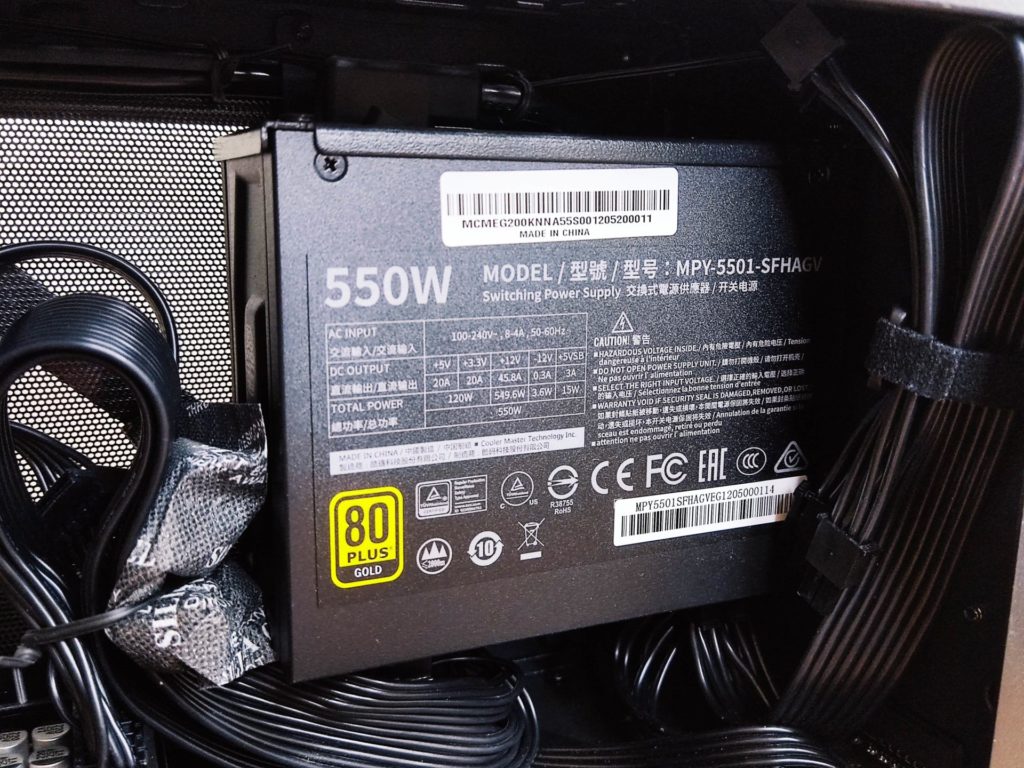 The power supply that will power up this whole external graphics card solution is a Cooler Master V550 SFX Gold power supply. It conforms to the SFX size standard, and therefore, if you are considering to replace the power supply, you can do so easily.
A 80 PLUS Gold power supply rated at 550W should be more than sufficient for any graphics card solutions of today. Cooler Master has chosen to include this power supply in order to maximum the compatibility with any graphics card that you plan to add into the case.
The power supply is fully modular. As such, you will also need to add the peripheral PCIe 6-pin connectors to the power supply to have sufficient connectors for your graphics card.
Without much effort, we were able to quickly add the AMD Radeon RX 6700 XT into the enclosure. You will also have to secure down the graphics card to the rear expansion slot with screws which are also included in the box.
The great thing about using Thunderbolt 3.0 is that the same port can carry both data and power. For modern computers which charges via the USB Type-C port, the MasterCase EG200 will also take care of charging your laptop. In fact, you will just need a single USB Type-C cable to connect from your laptop to the EG200 for the external graphics card to be recognized by your laptop.
Sadly, possibly due to technical limitations, for the USB 3.0 ports to be connected to your laptop, you will need an additional USB connection from the MasterCase EG200 to your laptop.
Our Setup
Our installation above showcased the ASUS Zenbook 14 UX425 with the latest 11th Gen Intel Core processor. However, in the midst of our tests, we realized that most games cannot run well with just 8GB of RAM that's on the Zenbook 14, and we decided to switch it out with the ASUS TUF Dash F15.
Model
2021 ASUS TUF Dash F15
Processor
Intel Core i7 11370H
Graphics Processor
NVIDIA GeForce RTX 3050Ti
Intel Iris Xe Graphics
Memory
16GB DDR4
Storage
1TB M.2 NVMe PCIe 3.0 SSD
Thunderbolt Interface
Thunderbolt 4 with Power Delivery
To simulate a notebook without a dedicated graphics card, we will run our game benchmarks on the ASUS TUF Dash F15 on its integrated Intel Graphics processor. This should give you a good gauge to find out if it's worth it to equip your setup with an external graphics card solution.
Game Settings
Far Cry New Dawn
High
DirectX11
Deus Ex Mankind Divided
High
DirectX12
Tom Clancy Division 2
High
DirectX11
DOTA 2
Default
DirectX11
Shadow of the Tomb Raider
High
DirectX12
Metro – Exodus
High
DirectX12
World War Z
Ultra
DirextX11
Performance Benchmark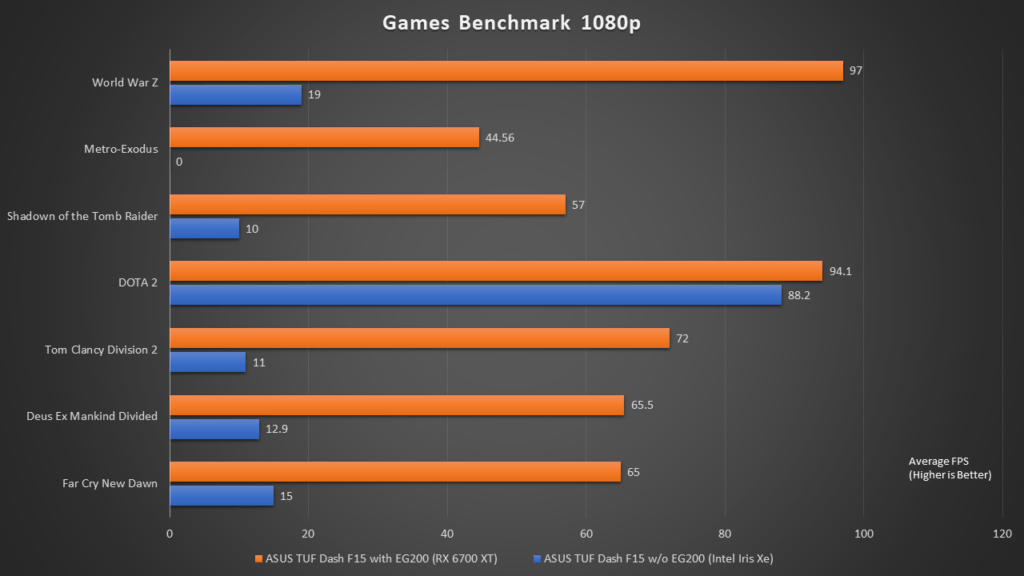 Final Words and Conclusion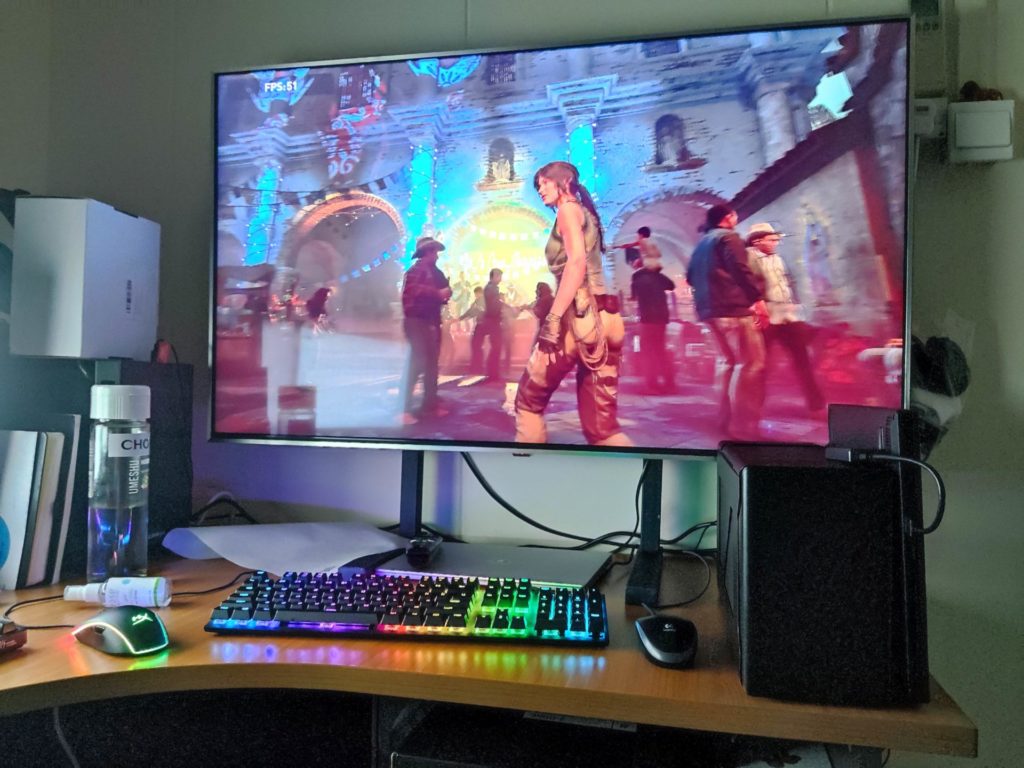 Without a doubt, the Cooler Master MasterCase EG200 does serve a purpose to equip a dedicated graphics card to a laptop. It has effectively enabled the conversion of a portable laptop computer to a full-fledged and highly usable desktop system that's capable of playing games.
On top of adding just a graphics card, the MasterCase EG200 enables the switch from a laptop usage experience to a full desktop experience. You can easily connect your system to multiple displays and supercharge your productivity. The hybrid and versatile use case is what makes this setup unique. Understanding this peculiar requirement, the Cooler Master MasterCase EG200 knew that they must also include additional features such as additional USB 3.0 ports, and even storage expansion.
However, we must note that you will not enjoy 100% of your graphics card performance on your laptop. This is because the Thunderbolt 3.0 interface, and a laptop CPU and architecture may not fully utilize the full performance of a desktop graphics card. If you want to find out more about the actual performance of an AMD Radeon RX 6700 XT, you can refer to our previous review here.
Also, at a price tag of SGD499, you may further consider if the Cooler Master MasterCase EG200 can suit your needs well. You will still have to purchase a desktop graphics card to pair with the MasterCase EG200.
Ultimately, it depends on how you envision your home computing experience. If you simply prefer a single laptop for your daily computing work, instead of having both a desktop and laptop, the Cooler Master MasterCase EG200 can effectively transform your whole compute user experience.