As the COVID-19 pandemic rages on, people across the globe are spending more time at home. Research conducted by Facebook found that many turned to gaming for entertainment, escape, and community. More than ever, new gamers and lapsed players alike, are playing games and streaming gaming content.
For that reason, the global sales of gaming laptops grew by 16.2% in 2020. If you're toying around with the idea of purchasing a gaming laptop to be part of this statistic, you might be deterred from the idea that stereotypical gaming laptops are bulky, heavy, and short on battery life.
Fortunately for us, NVIDIA's new Ampere GPU-powered GeForce RTX™ 30 Series laptops are changing the game, literally. With the launch of the new GeForce RTX 3050 and GeForce RTX 3050 Ti laptops, the complete range of GeForce RTX 30 Series Laptop GPUs now encompasses more than 140 models.
Ampere Architecture: Powering a new era of gaming
The RTX 30 Series Laptop GPUs are powered by NVIDIA Ampere architecture, a GPU microarchitecture that's powerful, feature-rich, and offers record-breaking gaming and creative performance, as well as an assortment of AI-powered improvements.
By identifying key areas of improvement, NVIDIA has developed solutions that allow the series of laptops to see more efficient operation, support for the latest technologies, better battery life, the latest hardware (including new high refresh rate 2560×1440 panels that are more responsive, sharper, and easier on the eyes), as well as the latest high-performance CPUs from Intel and AMD.
The new GPUs also feature NVIDIA DLSS, NVIDIA Reflex, and NVIDIA Broadcast, all of which work to power a new era of gaming.
DLSS for superb graphic and performance

From in-game physics and animation simulation to real-time rendering and AI-assisted broadcasting features, Artificial Intelligence is undoubtedly revolutionizing gaming. It is in this context that NVIDIA's Deep Learning Super Sampling, or DLSS, represents a big leap in AI rendering.
At its core, the critically-acclaimed DLSS taps into the power of a deep learning neural network to boost frame rates and generate beautiful, sharp images for your games. It gives gamers the performance headroom to maximize ray tracing settings and increase output resolutions. When DLSS is enabled, players can double or in some cases even triple frame rates, allowing many more to experience games at the highest resolutions and with amazing and beautiful graphics.
DLSS, the groundbreaking AI rendering technology, is powered by dedicated AI processors on GeForce RTX GPUs called Tensor Cores. With the process of super resolution, the series of laptops can accurately predict a higher realtor output (e.g. 4K) from a lower resolution input (e.g.1080p). DLSS thus offers image quality that's comparable to native resolution while rendering only one-quarter to one-half of the pixels.
This is done by employing temporal feedback techniques for sharper image details and improved stability from frame to frame. By referencing motion vectors and prior high-resolution output, DLSS can track objects from frame to frame while delivering stability in motion, and reducing flickering. In addition, DLSS trains against a large dataset of 16K-resolution images in order to learn and predict high-resolution frames with greater accuracy. With continual training on NVIDIA's supercomputers, DLSS can learn how to deal with new content at an unprecedented speed.
Along with improved image quality, DLSS offers users three image quality modes: Quality, Balanced, and Performance. They control the game's internal rendering resolution, with Performance mode enabling up to 4X super-resolution (i.e. 1080p to 4K). Gamers will be accorded more customization options and user choice, and even greater performance boosts.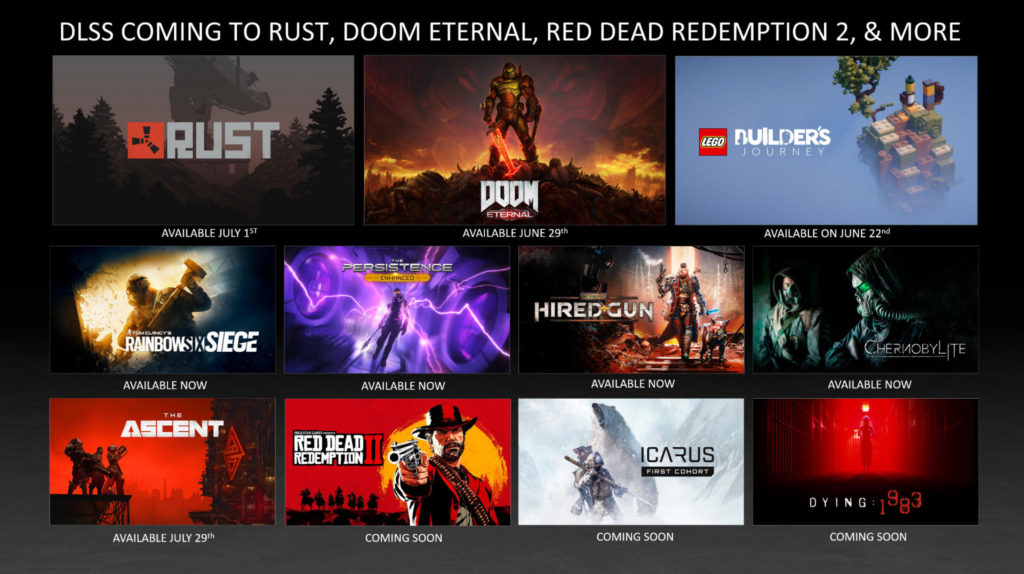 To date, DLSS is accelerating performance in over 55 games, including some of your favourite popular titles like Call of Duty: Warzone, Control, Cyberpunk 2077, Fortnite, Metro Exodus PC Enhanced Edition, Minecraft for Windows 10, and more.
NVIDIA Reflex to unlock your full potential

Avid gamers often talk about system latency, a term that quantifies the responsiveness of your PC while gaming. By definition, system latency refers to the time between the mouse click and when that action is displayed. For the layman, system latency is related to how "laggy", "sluggish", "responsive", "snappy", and "smooth" a game feels to you.
With the knowledge that reducing system latency is the key metric that contributes to improving a player's mechanical aiming performance, NVIDIA developed a new suite of technologies built to optimize and measure system latency for competitive games—NVIDIA Reflex.
For many, NVIDIA Reflex is helping to solve the tradeoff between good graphics and low latency. Gamers can now enjoy the best of both worlds: play with higher settings and resolutions while still keeping their latency down. The feature dynamically reduces system latency to allow gamers to react faster and be more responsive, particularly important when it comes to playing games in a competitive setting.
Popular titles such as Fortnite, Overwatch, Valorant, and more, have already adopted NVIDIA Reflex to greatly decrease system latency so that you see enemies quicker, shoot without lag, increase your chances of winning, and essentially unlock your full potential in the world of gaming.
NVIDIA Broadcast App: Every streamer's dream come true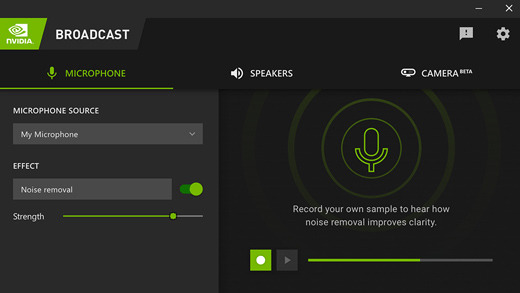 If you're often annoyed by loud keyboard typing, annoying microphone static, bothersome PC fans, or nagging background reverb, NVIDIA's got a solution for you packed in the form of the NVIDIA Broadcast app.
The app transforms any room into a home studio: you can take your livestreams, voice chats, and video conference calls to the next level with AI-enhanced voice and video. At the touch of a button, Noise Removal and Room Echo Removal use AI to eliminate unwanted background noise. You'd never have to worry about scouting for a quiet room to conduct your live stream or meetings.
Audio noise isn't the only noise that NVIDIA Broadcast tackles. The app is able to enhance the quality of your webcam to remove visual noise that is present in low-light situations for a clearer picture. The NVIDIA Broadcast app also features Background Removal, Replacement and Blur, all of which grant you creative control by allowing you to customize your background without the need for expensive equipment or complex lighting setups. You'll be able to personalize your webcam feed using powerful AI greenscreen effects that are perfect for both work and play.
The app's Auto Frame feature additionally works to dynamically track your movements in real-time and to automatically crop and zoom frames such that you'll always be in frame to be the star of your livestream.
With powerful AI capabilities like noise removal, virtual background, and more, the NVIDIA Broadcast app takes your livestreams to the next level so that you can stream like a boss. 
GeForce for Students—Enabling student success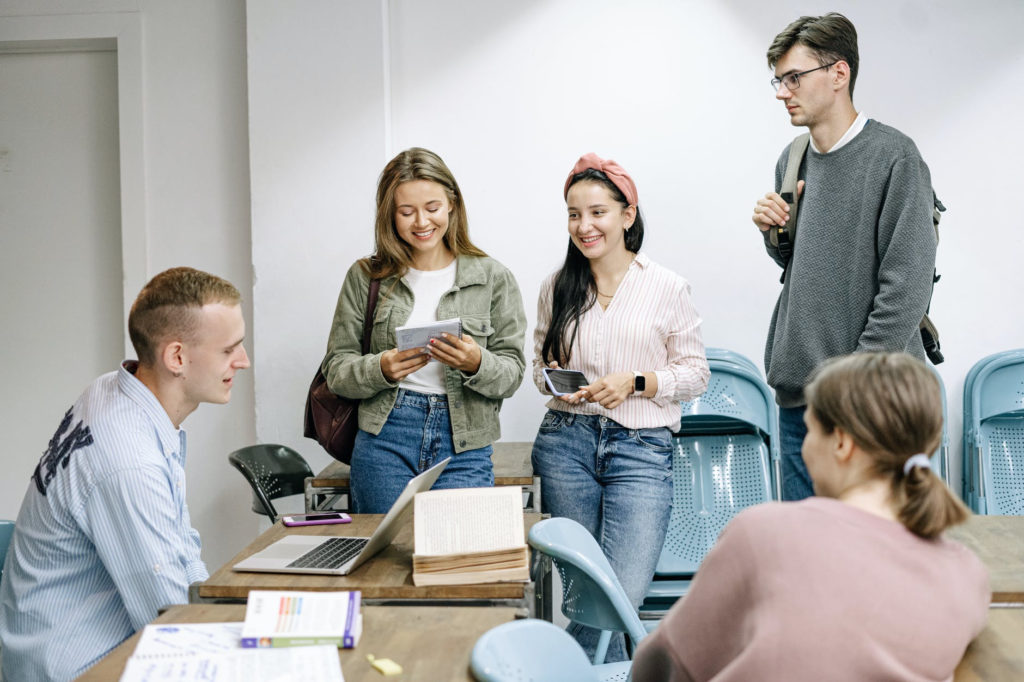 Image credit: Pexels
NVIDIA may be going all out in terms of changing the world of gaming, but that's not all it's about: GeForce laptops represent NVIDIA's promising attempt to enable student success. The series of laptops can help students get their classwork done faster.
As data science gradually becomes one of the fastest growing classes on campuses all around the world, GPUs are becoming essential for engineering and science applications. Students in Science, Technology, Engineering, and Mathematics (STEM), especially, know the importance of a hardware-accelerated laptop. Furthermore, as the COVID-19 pandemic rages on, remote learning is the main teaching modality adopted by schools everywhere. Now, more than ever, laptops are an absolutely essential tool for higher education.
With this in mind, NVIDIA set out to create GeForce laptops that accelerate dozens of science and engineering applications that are taught at the undergraduate level. Students will experience over 8x faster stimulation, visualization, and computation, up to 40x faster artificial intelligence and up to 5x faster model training for data science and economics.
We all know that all work and no play makes Jack a dull boy. NVIDIA takes this proverb to heart and delivers on all levels to offer laptops that are designed for work and play.
Conclusion: Up your game with NVIDIA
The message is clear: NVIDIA takes gaming seriously, and so should the rest of the world. With NVIDIA DLSS, Reflex, and Broadcast, it is clear that NVIDIA's Ampere GPU-powered GeForce RTX Gaming is a serious game-changer.
The laptop series, with NVIDIA's latest technologies and innovations, deliver great graphics, outstanding performance, power efficiency, and a slew of improvements, all while keeping to small, sleek, and light form factors.
With prices starting at just US$799, there's a laptop for every need within NVIDIA's GeForce RTX Gaming Series so that anyone and everyone will be able to up their game.