Choosing a office chair isn't a straightforward affair. There are many factors that can affect your decision, such as price, features, comfort and also design. In the search for the best possible office chair that maximizes these factors, we came across the local brand APOL.
With a quick glance on APOL's website, we saw that the product lineup was rather straightforward. To put it simply, the main product lineups are defined by its sizes, with Spinx, Kraken and Behemoth for small, medium and large respectively. For a typical user, the Kraken is suited for users between 165cm and 190cm tall. Starting at a price of $428.00, we've got to say that it is one of the more affordable options out there, when compared to bigger brands such as Secret Lab and ErgoTune.
As someone who weighs heavier than the average, backaches and neck strains are common for me, especially when my day job is mainly desk bound. Let's see if APOL Kraken lives up to what it claims – a comfortable chair that provides good support for your back and neck.
Installation
The APOL Kraken did come with an option for installation at an additional S$29, we decided to challenge ourselves to see how easy or complex it was to install the chair. Thus, we did not opt for installation for the chair. Perhaps, at the same time, it would be a good gauge for us to know how maintainable is this chair. In the event that certain parts are damaged, we can know how easily it is for us to replace it.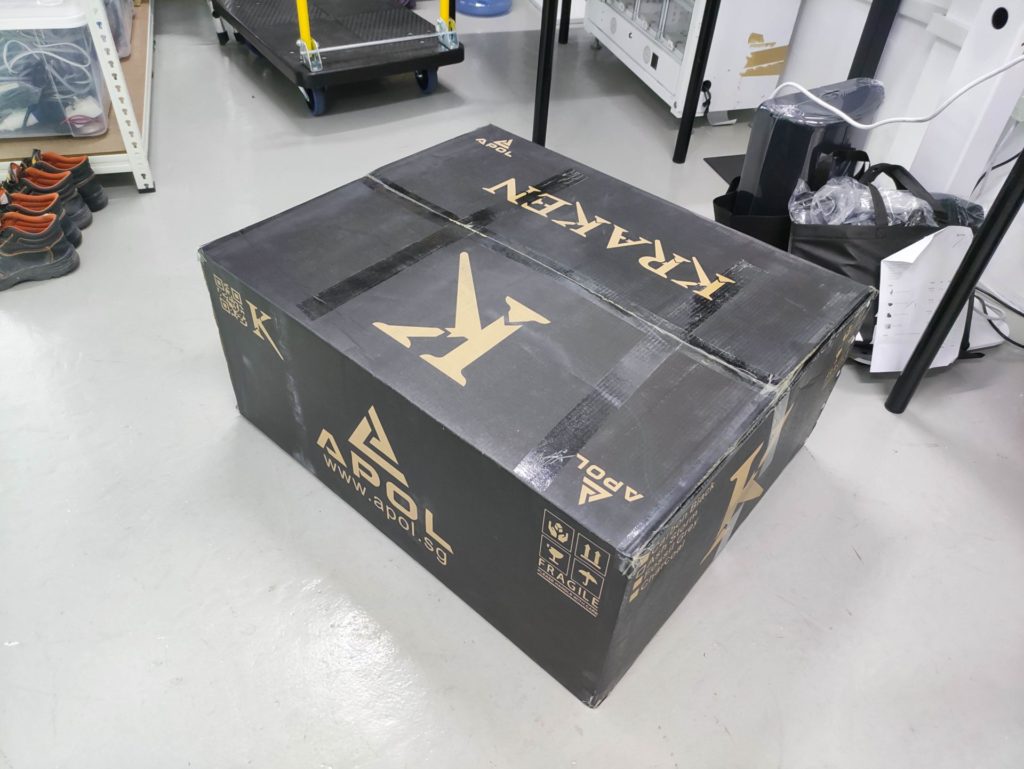 The package just came in a rather big box, containing all the different components needed to assemble the chair.
Even though it was rather daunting at first with the sheer number of parts include presented, things started to take shape once I followed the step-by-step instructions provided.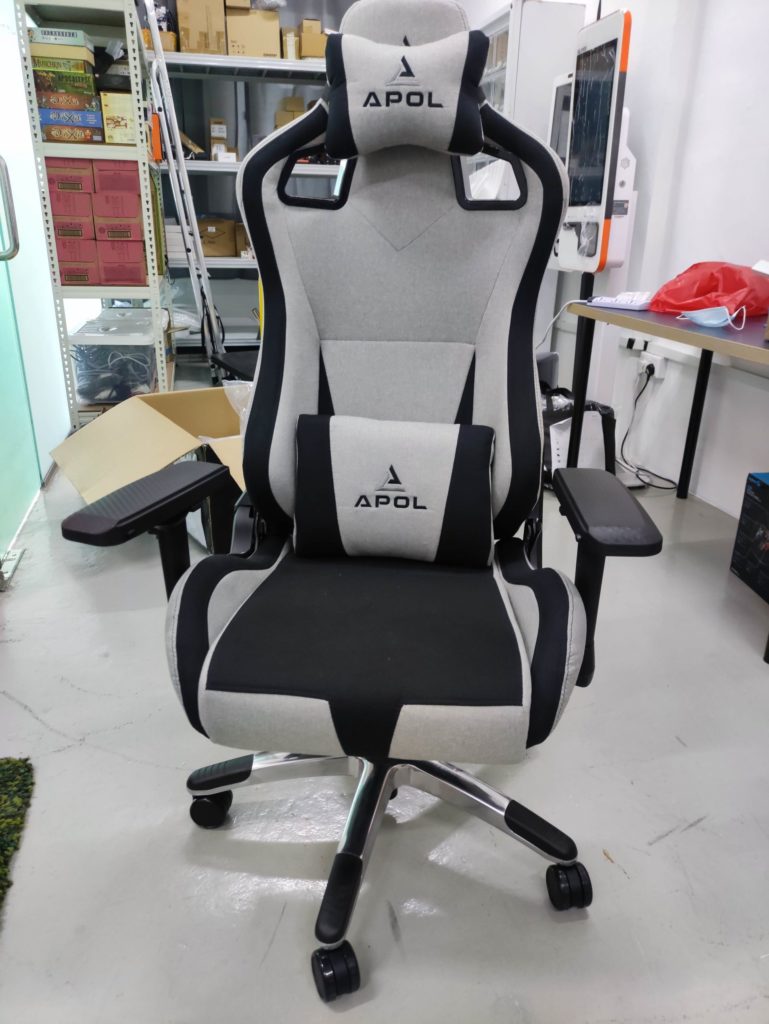 I was able to get everything installed in about 20 minutes without anyone's help. The only troublesome portion was screwing the hex screws into place. The work would be much easier if you have power tools available. With that said, I would generally say that the work required for assembly was easy. Some strength is required to lift up the different parts and place them in position for installation, so do gauge your own capabilities.
In the end, you'd probably just save the hassle and opt for the S$29 installation instead.
APOL Kraken Fabric
The APOL Kraken comes in either PU Leather option or Fabric. We went ahead with the Fabric option, as it comes with this "Ash Storm" colour choice which we thought was pretty unique. APOL also mentioned that their fabric material is more breathable than competition, and thus, it was worth it for us to try it out and give a review on this claim as well.
Upon setting my body onto the chair, the first impression was that the chair had a good fit on my body. It wraps around my body, giving a soft touch and comfort all around, as if I was lying on my bed on an upright position. The material used in the cushion was firm, but not rigid. It could adapt to by body shape, giving a kind of "hugging" sensation. This cushion also provided a support for my body.
What's more interesting is that despite these characteristics mentioned above, I don't find it to be hot while sitting on it for a prolonged period in my office.
Perhaps, the two main things that made the difference in terms of comfort was the included head and lumbar pillow. Because these are adjustable pillows, you could place them in the right position to fit the needs of your body.
These head and lumbar pillows come with APOL's signature Memory Foam. It makes all the difference when it comes to comfort, and these pillows are bouncy, but they don't get hot when lying too long onto them. That's why when I say that sitting on the APOL Kraken feels like sleeping on my bed in the upright position, it's really the case, as it is that comfortable!
The APOL Kraken is designed to work well with different requirements of its users to ensure maximum comfort in various usage scenarios. There are various areas which allows adjustments to your preferred positions and settings.
The backrest of the APOL Kraken can be tilted in a wide range of angles from 90 degrees to 180 degrees. You can literally treat the chair as an elevated bed. There is also no worry that it will topple because of your weight, as it remains to be sturdy regardless of its position.
The APOL Kraken also comes with a 4D adjustable armrest, which allows front, back, left, right sliding functions as well as clockwise and counter clockwise rotations. The height of the armrest on both sides can also be adjusted.
Conclusion
No doubt, the APOL Kraken is one of the most comfortable, if not the most comfortable chairs which I've tested to date. With all the premium features that it offers which are usually only seen in branded chairs that comes above S$500, the APOL Kraken gives you the real kind of value that you've always been looking for.
In my opinion, the APOL Kraken hits the sweet spot between price, design, performance and comfort. At a price starting from S$428, there's perhaps nothing much we can ask for.