We know that the AORUS branding is usually reserved for GIGABYTE's mainstream or high-end products. For motherboards, we also know that anything with the AORUS name also calls for a certain level of quality and feature sets. That is why when we were presented with the GIGABYTE A520 AORUS Elite Motherboard, we were somewhat bewildered. The AMD A520 chipset, which was considered as the successor to the AMD A320 entry level chipset, was found on this motherboard with AORUS branding. This is the first time GIGABYTE has introduced the AORUS branding to an entry-level chipset motherboard.
Questions aside, this decision is not unfounded. The AMD A520 chipset has been slightly improved from the A320 with the addition of a USB 3.2 10Gbps port from the CPU. It also gets 4 x PCIe 3.0 lanes, as opposed to the 4 x PCIe 2.0 lanes on the A320. Actually, the A520 should be considered a no-frills chipset as it can meet the requirements of any basic computer systems. It neither come with PCIe 4.0 lane nor support Gen4 SSDs, but it's okay, because those features are considered ahead of its time now. The main questions arise – is it possible to build a AORUS quality computer with just a AMD A520 chipset motherboard? Can the GIGABYTE A520 AORUS Elite live up to the AORUS branding? We'll have to test the product out to have a better understanding.
The GIGABYTE A520 AORUS Elite
All the latest 500 series chipsets support the latest and greatest AMD Zen 3 Ryzen 5000 series processors. In case you're wondering how well these new processors performs, you can read our AMD Ryzen 9 5900X and Ryzen 5 5600X review. There is no doubt that these processors have redefined CPU performance, and they are keeping competition at bay. However, these new processors don't come cheap. If you can't scrimp on your processor, perhaps you can save some bucks from the motherboard. This is where the AMD A520 chipset equipped motherboard shines.
As it is an entry-level chipset, the AMD A520 chipset is targeted towards those users who are highly budget conscious and just want a system that works. The GIGABYTE A520 AORUS Elite promises every essential feature that you will need for a new desktop computer, while adding some extra sprinkles to make it worth the AORUS name. Let's take a closer look.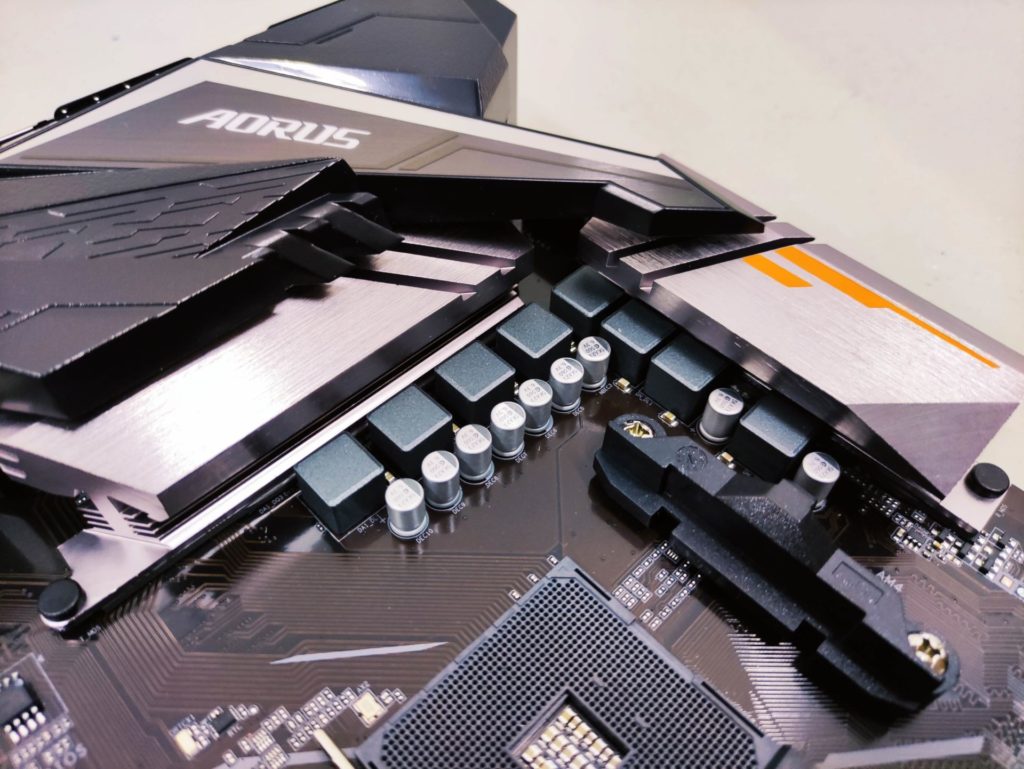 The GIGABYTE A520 AORUS Elite Motherboard uses a 5+3 phase pure digital PWM + Flow RDS(on) MOSFETs design to properly support even the highest end AMD Ryzen 5950X 16-core processor. This power circuitry design caters all the power requirements needed to ensure a stable and reliable computer system. Even when the system is under intense load, this VRM and power modules will be able to deliver.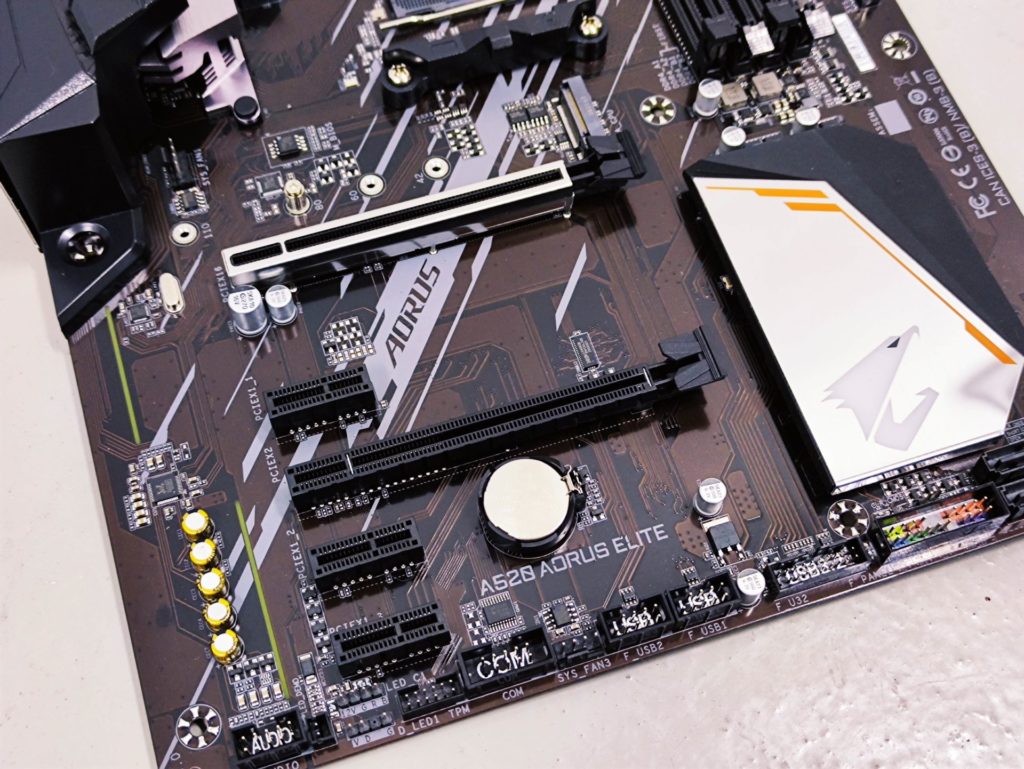 As for expansion slots, the GIGABYTE A520 AORUS Elite Motherboard comes with a single PCIe 3.0 x16 slot that is capable of running all the latest graphics card in the market right now. Even though the top of the line graphics card in the market right now supports the latest PCIe 4.0 interface, there is no advantage to the performance of a graphics card when using the newer interface. Therefore, what you get on this motherboard will be good enough.
On top of the PCIe 3.0 x16 slot, there are 3 x more PCIe 3.0 x1 slots and another PCIe 3.0 x16 slot (electrically running in x2 mode – not all pins on the slots are connected).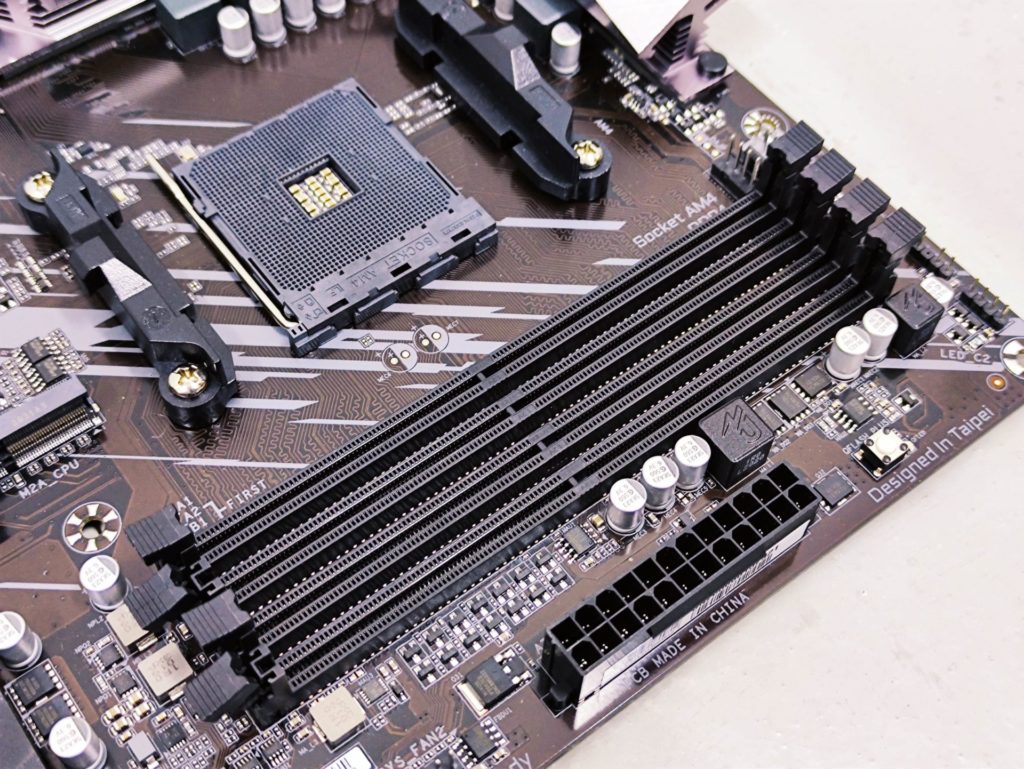 There are also four DDR4 DIMM slots found on the GIGABYTE A520 AORUS Elite Motherboard. This time, the motherboard can support higher DRAM speeds of over 5000MHz. It will also support XMP/DOCP profiles, and the memory will run at their rated speeds right out of the box when their high speed memory profiles are enabled on the motherboard.
Due to the limitation of the A520 chipset, only a single M.2 slot is found on the GIGABYTE A520 AORUS Elite Motherboard. This interface supports both SATA and PCIe 3.0 x4/x2 SSDs of various length, including 2242/2260/2280/22110. There are also four SATA 6Gbps ports found on the motherboard as well, which supports RAID 0,1,10.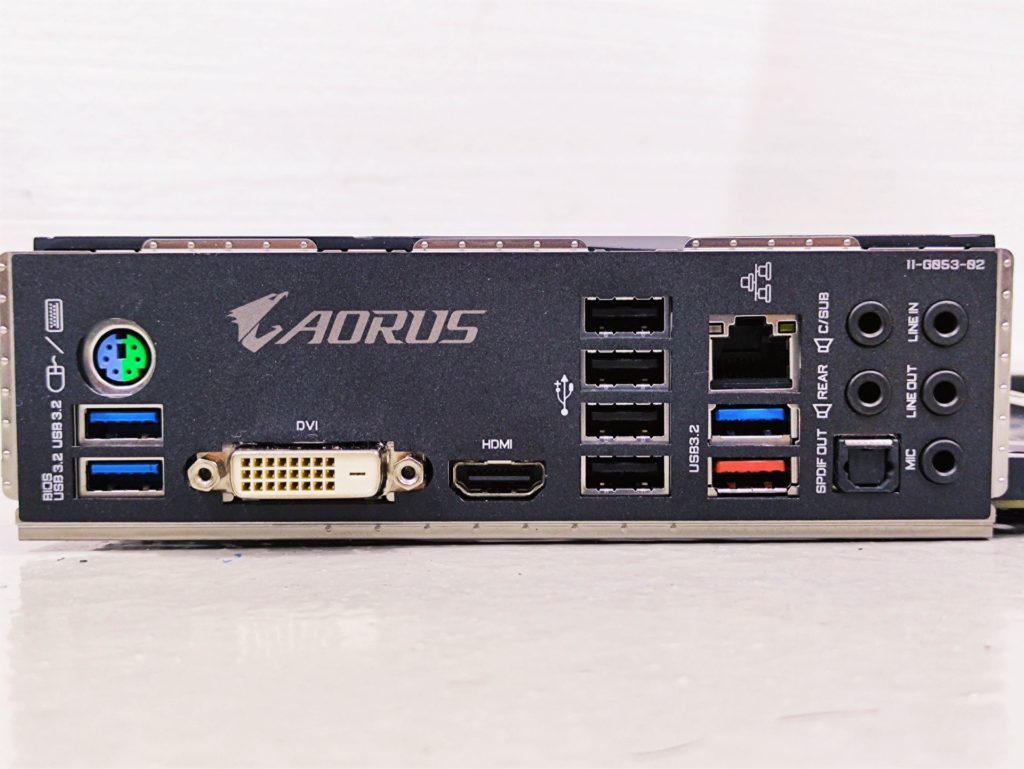 Moving on to the rear I/O ports, we can see 1 x USDB 3.2 Gen 2 port (red), 3 x USB 3.2 Gen1 ports (blue). The rest are USB 2.0 ports. Oddly enough GIGABYTE has still decided to retain the P/S2 port for legacy keyboard and mouse input, which isn't something you get to see on an AORUS motherboard. There are also DVI and HDMI ports for video output, and a Gigabit Ethernet RJ45 LAN port for wired networking. Lastly, we can spot the 7.1 channel audio output jacks and even an optical S/PDIF Out connector.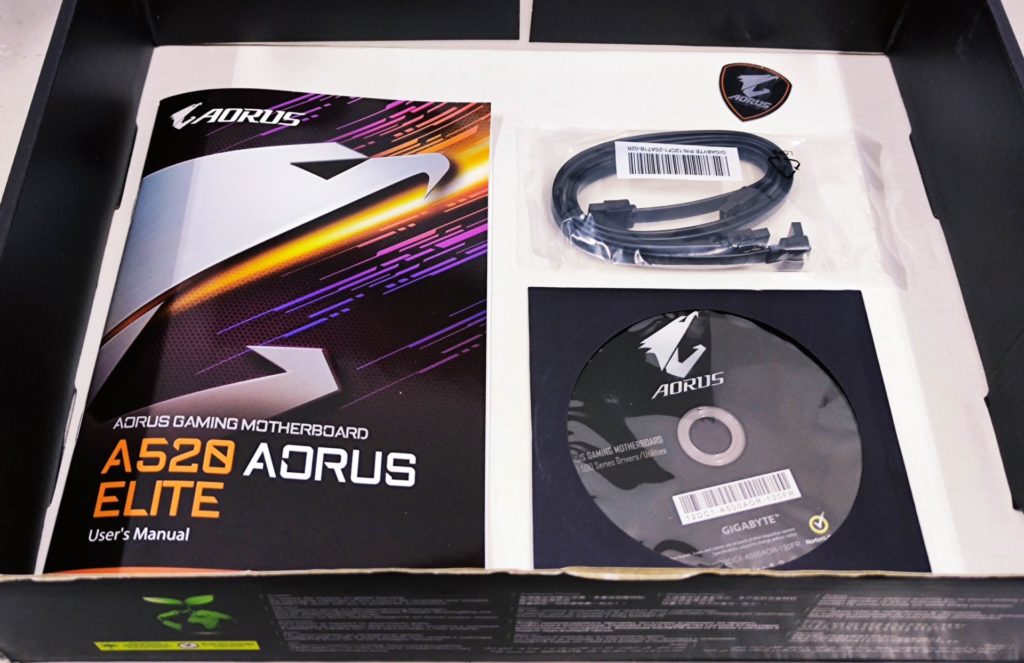 Questionably, the A520 AORUS Elite also comes with the least number of accessories in the box. There's only the User's Manual, Drivers CD, 2 x SATA cables and a Case badge.
GIGABYTE has also kept the LED lighting on the motherboard to a minimal. The AORUS logo on the bottom right hand side of the motherboard lights up red. This is lit up by 5 LEDs found on the bottom side of the motherboard. It would also look quite nice in the case, as the LED light will be shone directly onto the base of the case, making it seem like there's an LED glow to the motherboard.
Motherboard BIOS
The UEFI BIOS on the GIGABYTE A520 AORUS Elite comes in the same look and feel as the other motherboards from GIGABYTE. By default, users will be greeted with a Easy Mode interface, which can easily allow them to change basic setting such as memory profiles and boot priority. We could easily activate the 3600MHz XMP/DOCP profile on our memory without any hiccups.
If you are a more advanced user, you can be assured that all the other settings are still available in the advanced menu. Even the Smart Fan 5 utility is still available for you to customize and define your fan curve settings. You can also easily update the motherboard's BIOS firmware with the Q-Flash function.
Alternatively, you can also make use of Q-Flash plus to flash the motherboard's BIOS without the need for a CPU, RAM or graphics card. You simply have to put the BIOS file on a USB flash drive, power up the motherboard and then press the Q-Flash button found on the motherboard. 5-6 minutes later, your motherboard will already be then updated with the BIOS you placed within the flash drive.
System Setup and Performance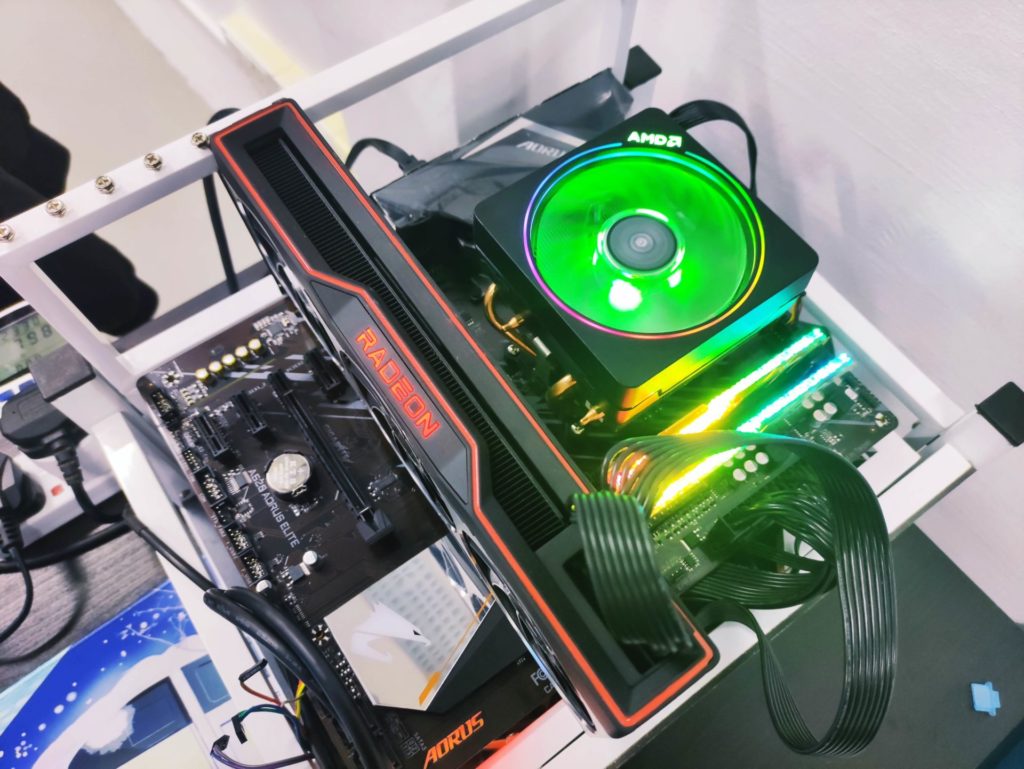 | | |
| --- | --- |
| Specs | Main System |
| CPU | AMD Ryzen 9 5900X |
| RAM | G.Skill Trident Z Royal 3600MHz, 2 x 8GB DDR4 Kit |
| Main Storage | Transcend MTE110S 512GB |
| GPU | AMD Radeon RX 6800 (Reference) |
| Motherboard | GIGABYTE A520 AORUS Elite |
| CPU Cooler | AMD Wraith Prism |
| PSU | Cooler Master V1000 |
| OS | Windows 10 Pro 64 bit |
The benchmark settings are as follows:
| | | |
| --- | --- | --- |
| Test | Configuration | Settings |
| PC Mark 10 Extended | Default | Default |
| 7-ZIP Benchmark | Default | Default |
| Cinebench R20 | Default | Default |
| HEVC h.265 Decoding | Default | Default |
| Blender BMW27 | CPU blend | Default |
| Far Cry New Dawn | 1080p | High Settings |
| Deus Ex Mankind Divided | 1080p | High Settings, DX12 |
| Tom Clancy Ghost Recon Breakpoint | 1080p | High Settings, Vulkan |
| DOTA 2 | 1080p | As per Benchmark Guide |
| Shadow of the Tomb Raider | 1080p | High Settings, DX12 |
| World War Z | 1080p | Ultra Settings, Vulkan |
| wPrime 1024M | Default | Default |
| AIDA64 Memory benchmark | Default | Default |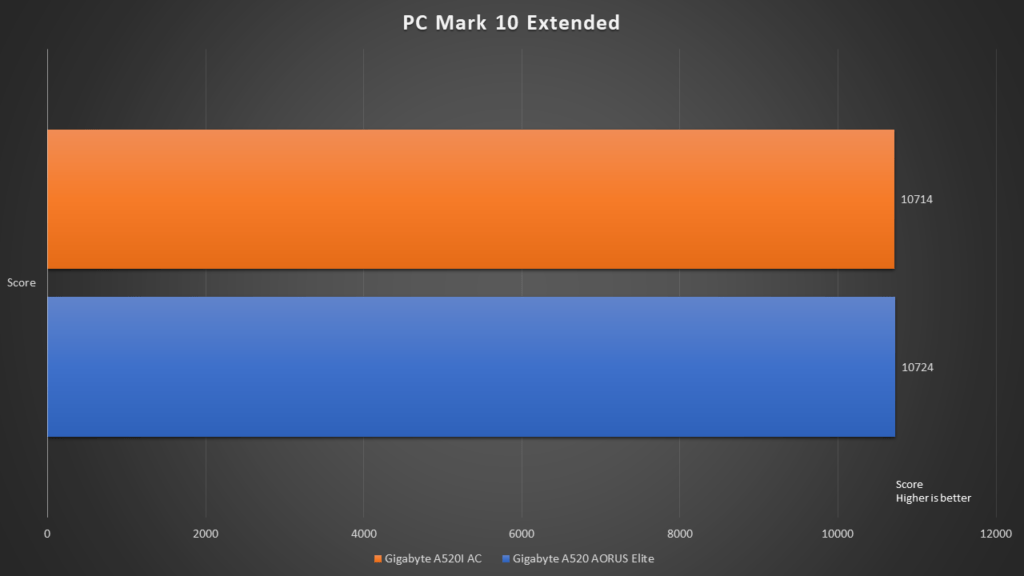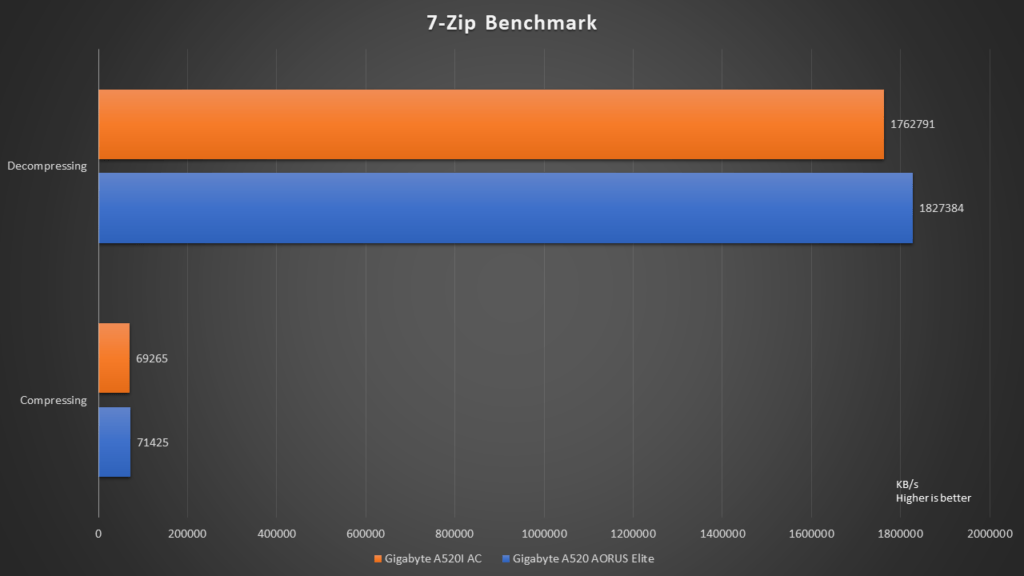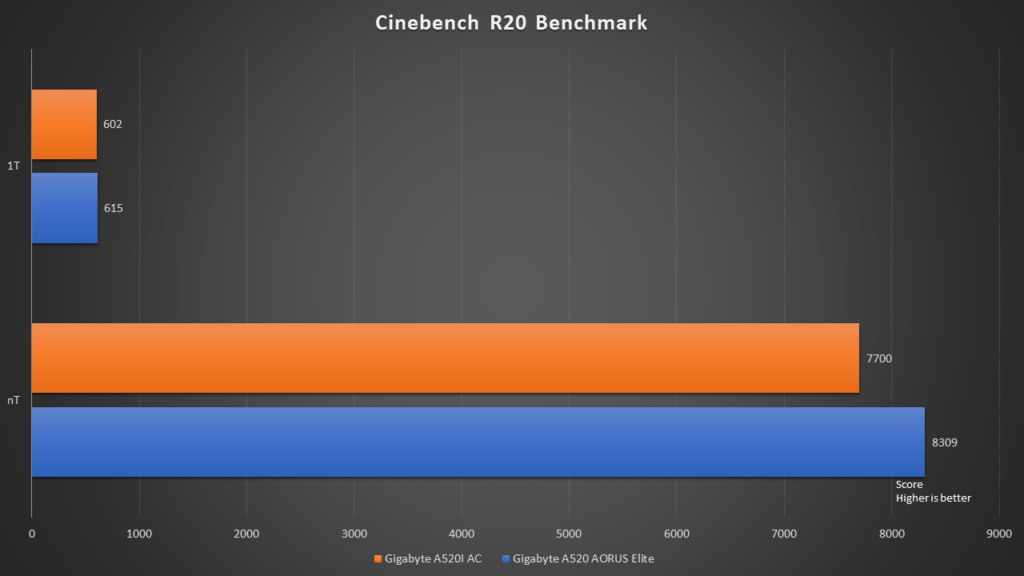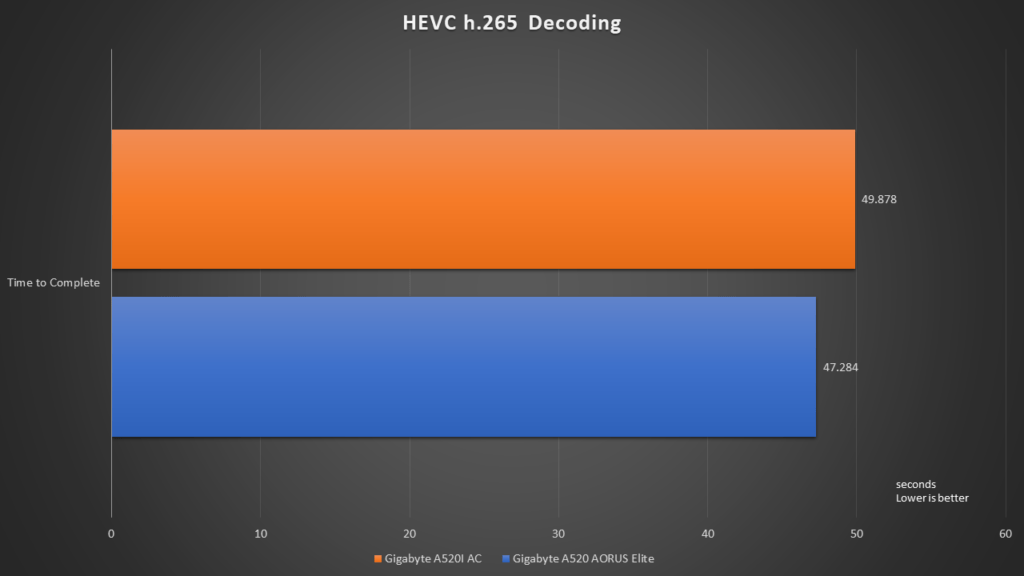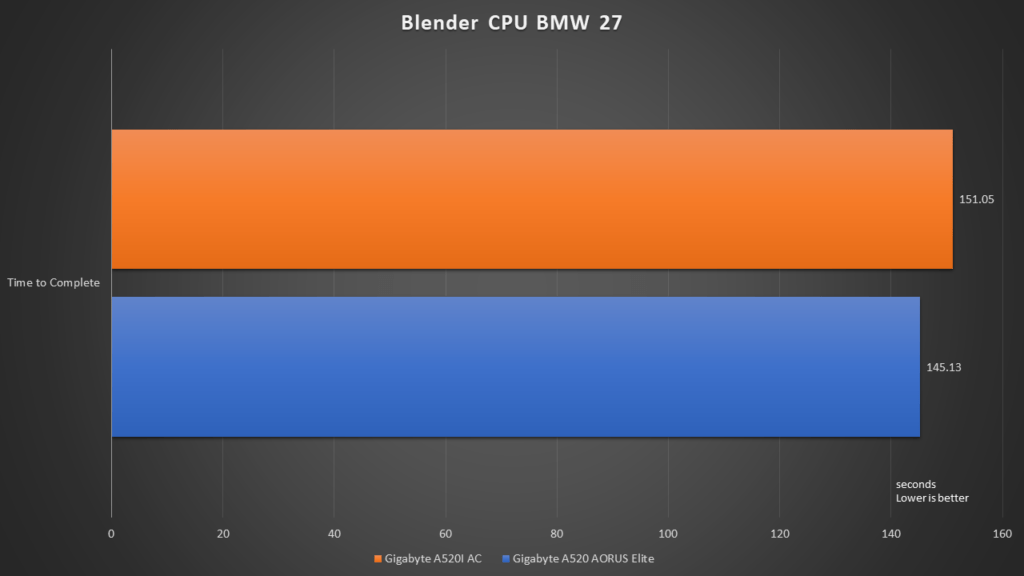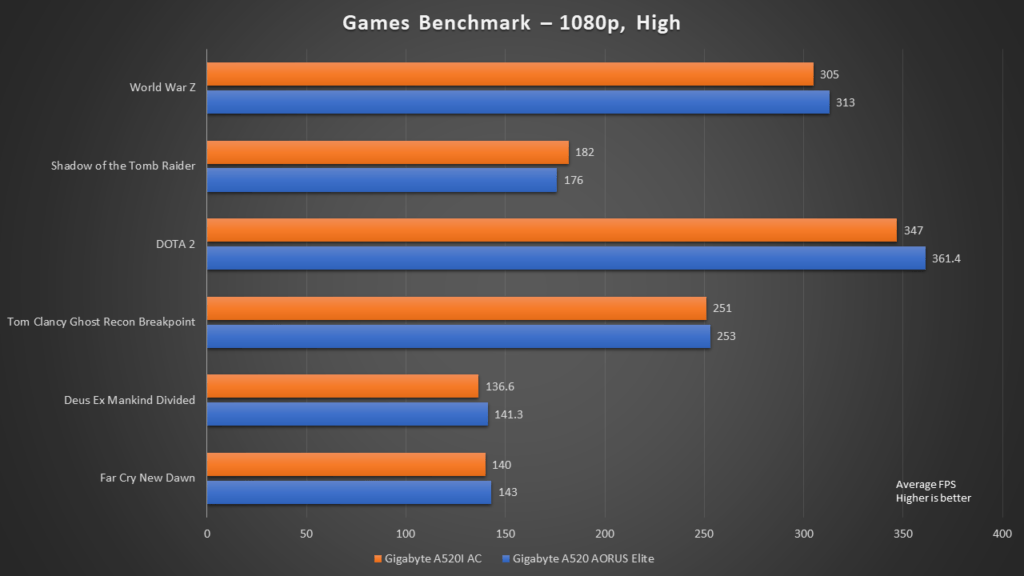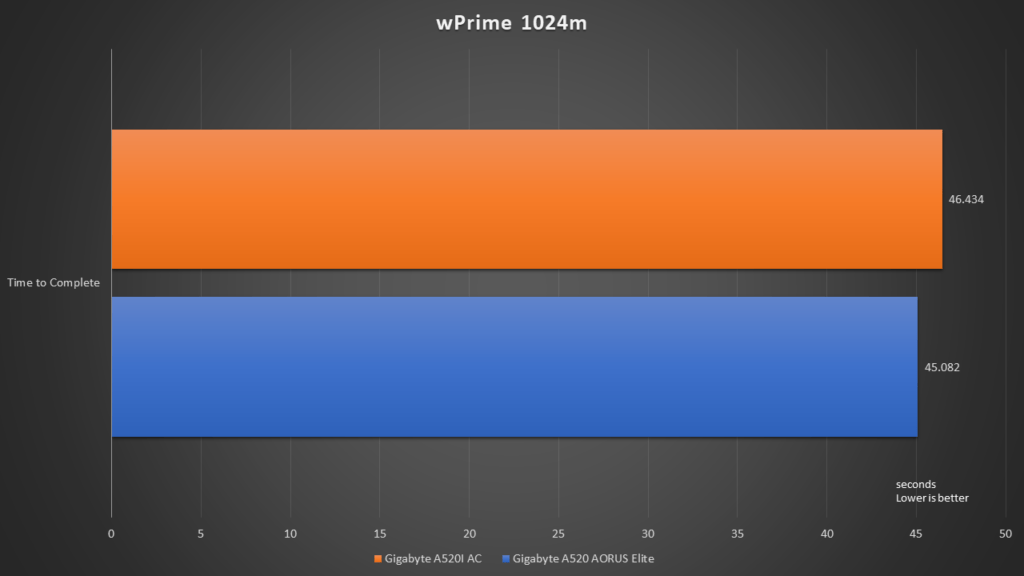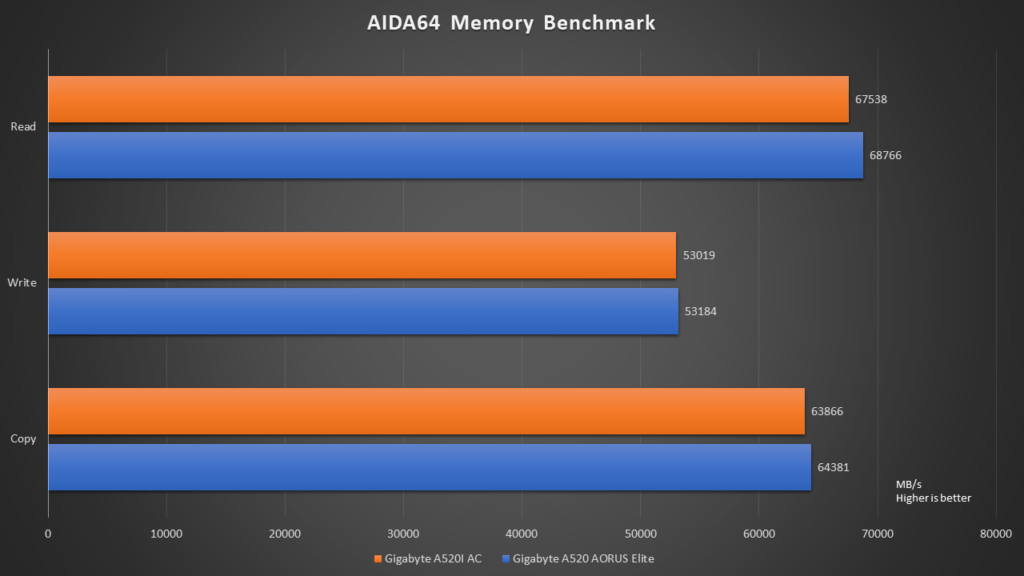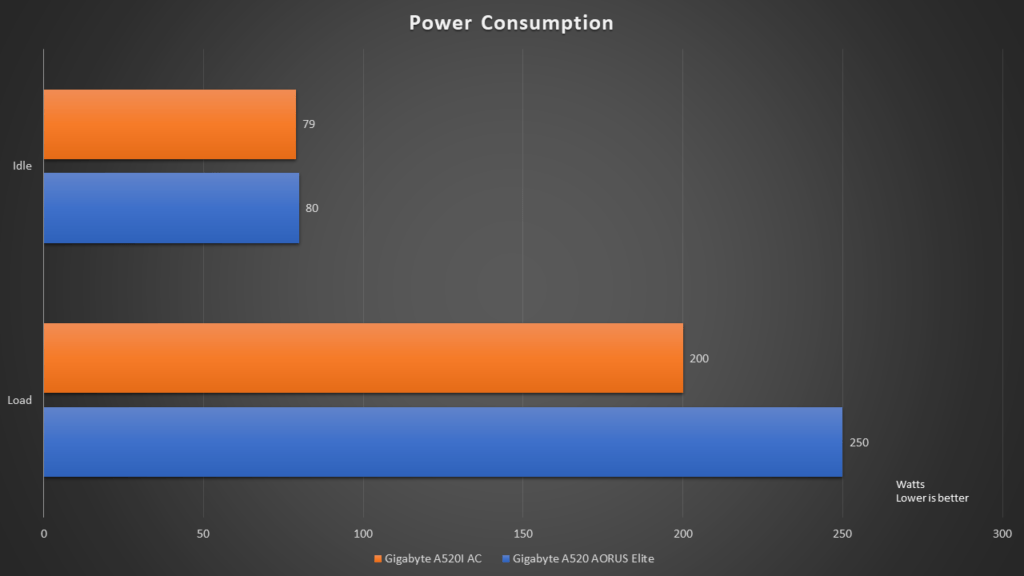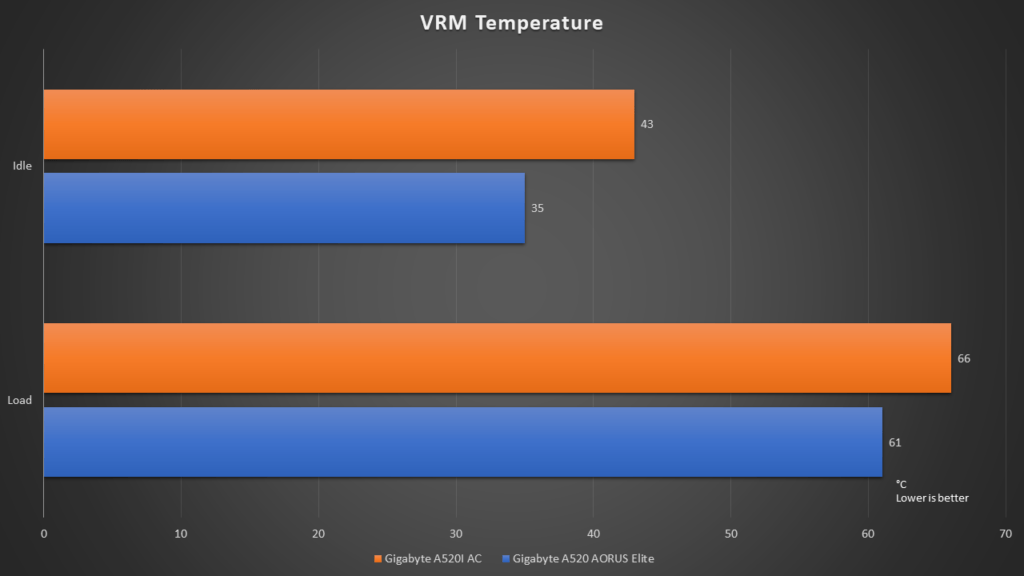 Conclusion
Even though the GIGABYTE A520 AORUS Elite doesn't seem like it should be considered as an AORUS motherboard due to the choice of its features, such as the decision to include a PS/2 port and a DVI port, it sure performs like one. The motherboard had no problems maximizing the performance of both the equipped Ryzen 9 5900X and AMD Radeon RX 6800. It has shown to perform better than its little brother, the GIGABYTE A520I AC motherboard. This certainly means that it is well designed to meet the demands of whatever components installed.
The GIGABYTE A520 AORUS Elite can surely meet the performance requirements of any users. The motherboard's components are also well cooled, and there wasn't any instances of thermal throttling or performance limitations.
However, we do see the bandwidth limitations of the A520 chipset. This resulted in a limited number of USB 3.0 ports, as well as the number of M.2 SSD slots.
No doubt, if the GIGABYTE A520 AORUS Elite fits your needs, there's no reason why we wouldn't recommend it. We just think that it's probably eroding the AORUS branding, which is thought to be of a premium offering.