When it comes to choosing a gaming monitor, there are many things to consider. For starters, you would usually consider the display size, display resolution and refresh rate of the monitor. Usually, just by varying these three factors, there are already a huge number of choices to choose from in the market.
GIGABYTE also recently released their new Gaming Monitors as well. Unlike their AORUS branded monitors, which are catered for the extreme gamers through the latest gaming features, these new monitors aim to target the casual gamers instead. Of course, one of the benefits of such a product line is that they are usually more affordable.
Forget about any fancy RGB lighting or absurd design elements. As long as the gaming monitor's panel performs well enough, it should be able to provide you the same exact gaming experience.
GIGABYTE G27F and G27Q Gaming Monitor
Understanding that a 27-inch monitor size is popular for gamers today, GIGABYTE just released the G27F and G27Q Gaming Monitor for the Singapore Market. In terms of design, these two monitors are identical. They have the same stand and exterior. The only difference comes in the panel used.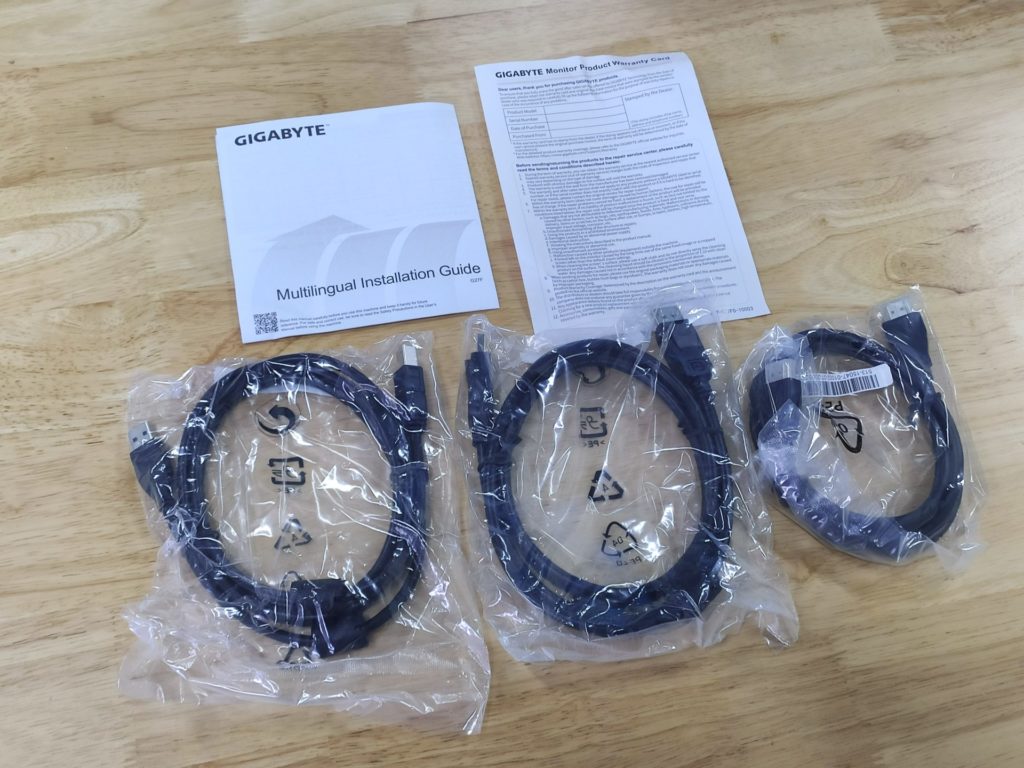 The G27F comes in a FullHD 1920 x 1080 resolution, while the G27Q has a qHD 2560 x 1440 display. We will discuss more about the differences of these two display panels later.
First off, let's take a look at each display's physical features.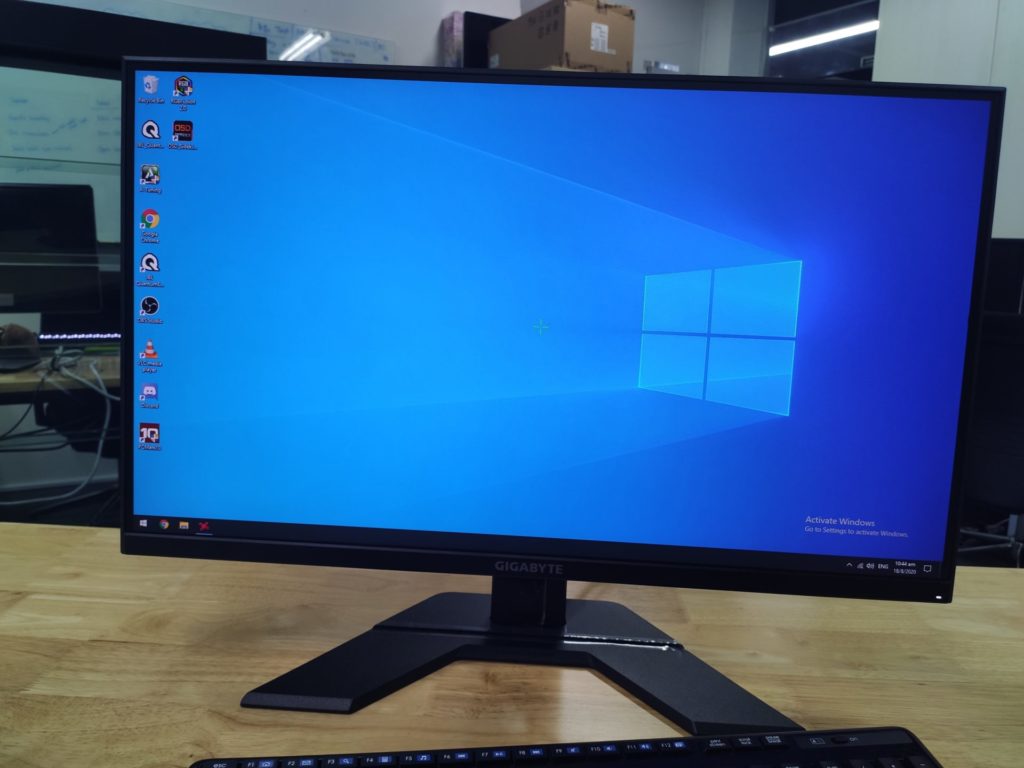 On the first look, we can see that the GIGABYTE G27F and G27Q Gaming Monitors looks just like any other typical office monitor. It lives up to the new trend of simplicity and minimal designs, which could be more acceptable in all kinds of usage scenarios and environment. If you didn't know about the specifications of these monitors, you probably wouldn't think that these are gaming branded products.
They can perform very well for games, even if they do not look the part. Based on my personal preference, I prefer it being this way instead.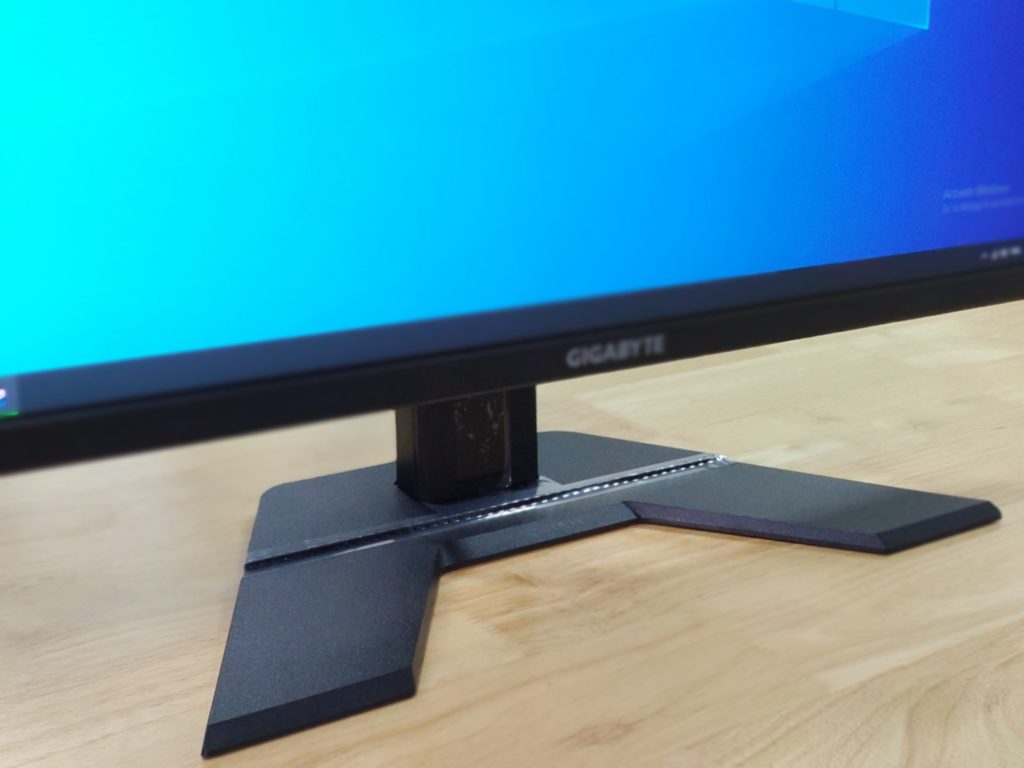 The monitor's stand also looks very simple. The V-Shape design saves space without trading off stability.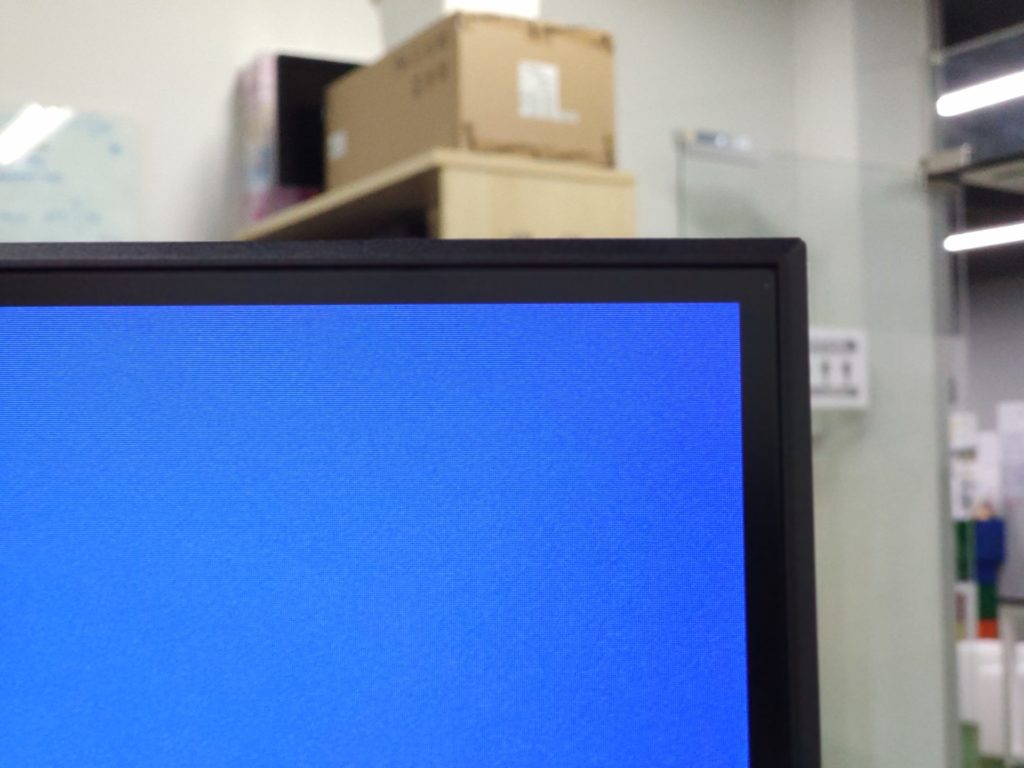 The narrow bezel design is finding a commonplace in today's monitors and display products. However, we realized that while the frame of the monitor is rather narrow, there is still a rather significant black border and bezel that lines the sides of the main display. This doesn't make the monitor as sleek as what you would get from other competing products in the market.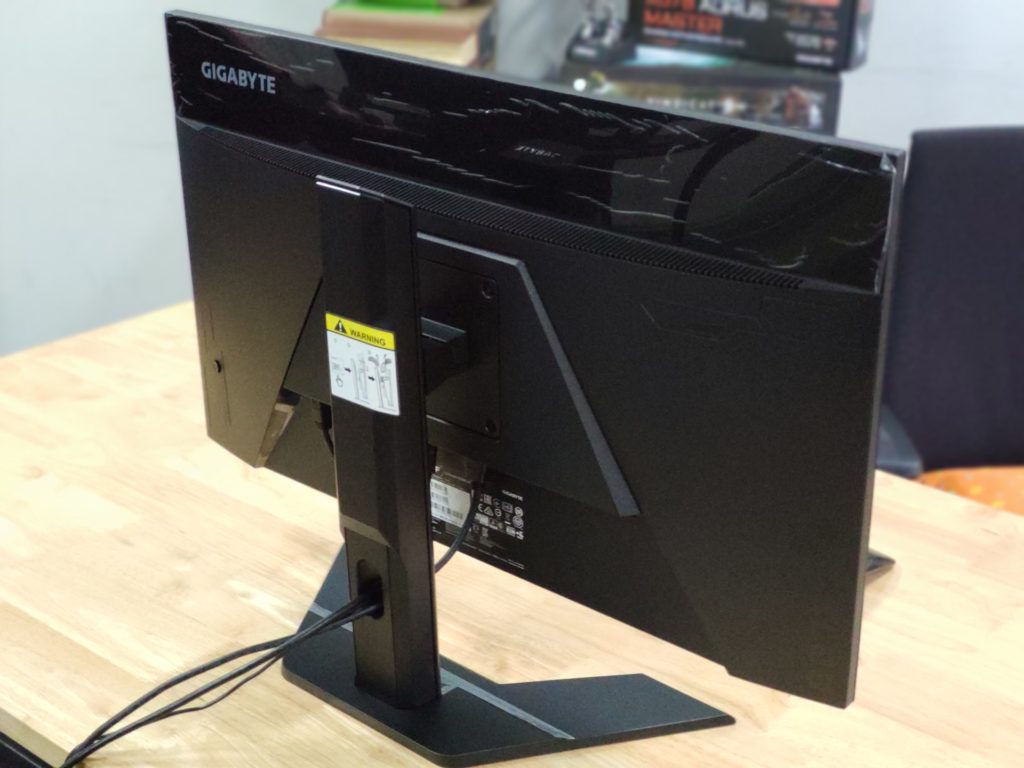 The rear of the monitor is also quite plain and standard. The monitor's stand also comes with a cable routing hole, which we found to be rather useful for your cable management strategies. Such a feature is certainly appreciated.
The stand can also easily be removed, allowing you to mount the G27F or G27Q Gaming Monitor on a monitor stand. It is also based on a standard VESA 100*100mm mount.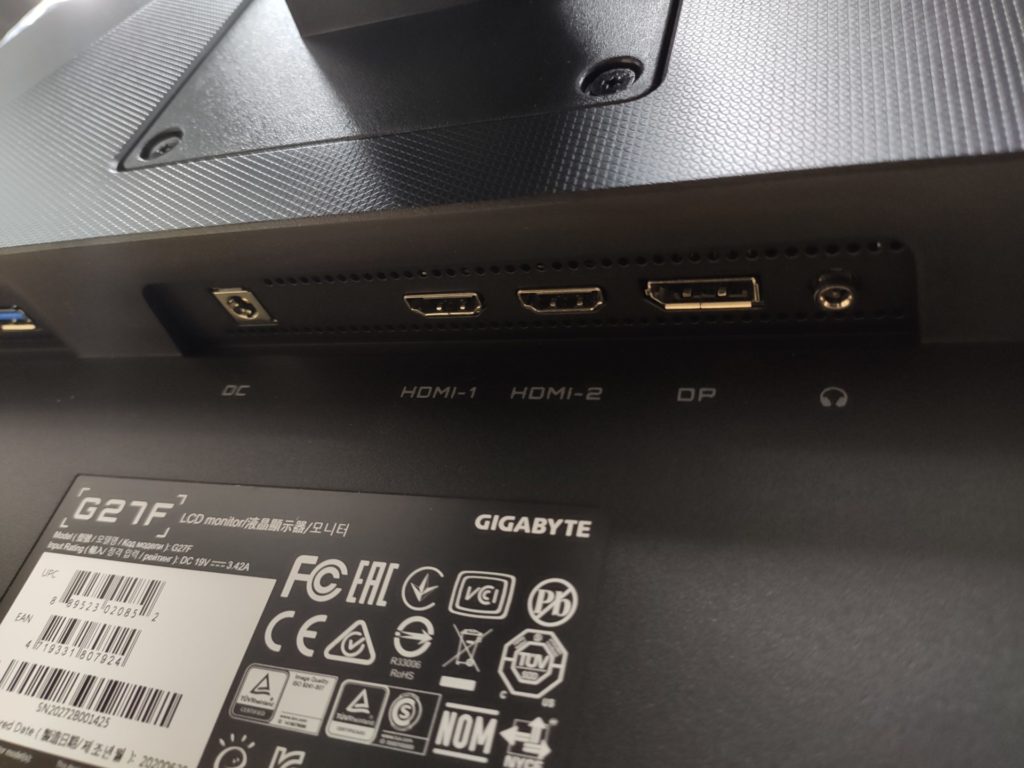 On the monitor, we found the DC connector, 2 x HDMI ports, 1 x Display Port and 1 x Headphone jack for audio output. Oh yes, speaking of which, these monitors do come with built-in speakers. But honestly, based on our experience on them, you shouldn't bet on them for a good gaming experience.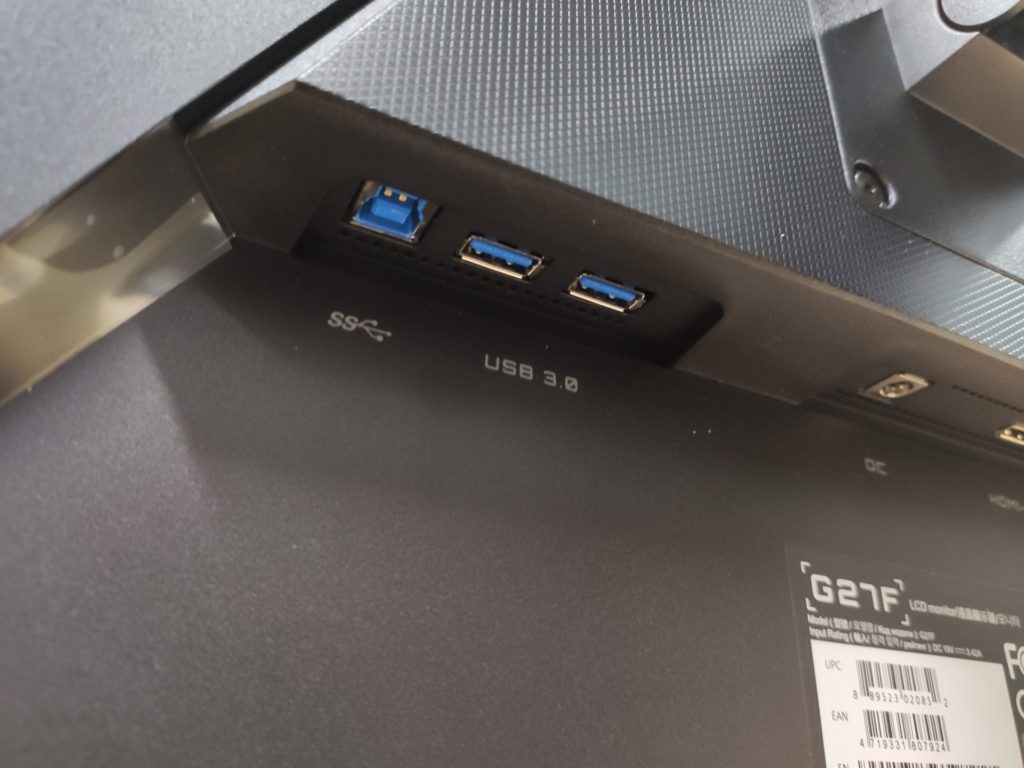 On the other side, we can see that this monitor also comes with a USB 3.0 hub. By connecting the monitor to your PC, you can use the two USB 3.0 ports on the monitor. At the same time, your PC will be able to recognize your monitor, and you will be able to use the included software to control the features of the monitor.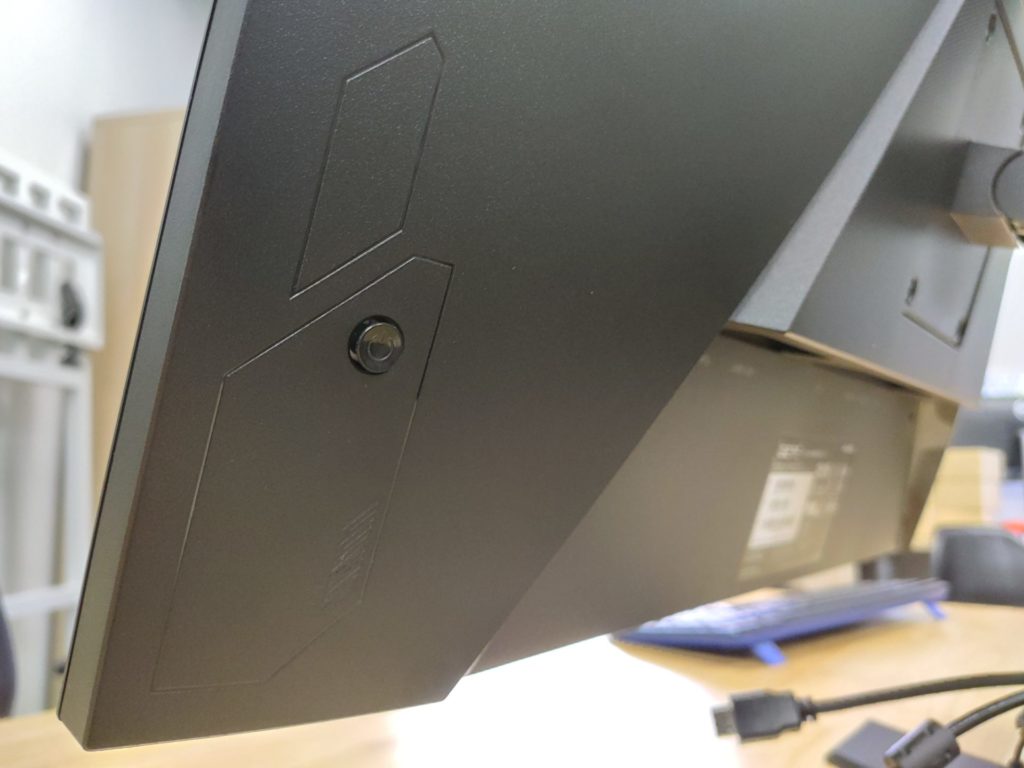 Both the G27F and G27Q Gaming Monitor also comes with a little knob/joystick that allows you to easily navigate the different functions and features through the built-in menu settings. I found it to be quite intuitive as compared to the standard multi-buttons approach.
This slideshow requires JavaScript.
There isn't really a lot of options for you to change the position of the display. At most, you can only adjust the display panel's height and its tilt angle. Nothing more. You can't swivel or rotate the device to change its orientation.
Menu Options
The menu on the GIGABYTE G27F or G27Q Gaming Monitor is also fairly conventional. I like the design where the key applied settings appearing on the top of the menu, instantly telling me what my current settings are. Navigating through the menu is made simple with the little joystick.
I think what makes the GIGABYTE G27F and G27Q Gaming Monitor stand out from competition, and defines it as a "Gaming" monitor, is its gaming features built right into the monitor. You can use Black Equalizer feature to have an unfair advantage while in games, where dimly lit areas will appear brighter than usual. Also, you can also add a perpetual crosshair on the screen to help you with your aiming in games.
Also, by installing the OSD Sidekick software, you will have the ability to control all the different settings on the monitor via software. However, do remember that you will need to plug the USB cable from the monitor to your PC in order to enable OSD Sidekick.
Another interesting features of OSD Sidekick is the Monitor Firmware feature. You can download the latest monitor firmware and flash it to the monitor easily. If GIGABYTE decides to release new features on the monitor, you can simply download and install those new features as well!
Black Equalizer – Does it work?
Black Equalizer artificially modifies the pixels of the display to make images look brighter. You can also set the Black Equalizer Level in order to get the optimal black level for your games.
As you can see in the images above, increasing Black Equalizer Level can significantly reduce the image quality. Things can look washed out, affecting the whole gaming experience. We found Black Equalizer to be somewhat useful, but I wouldn't find myself activating it for most of my games as I'm a non-competitive gamer. Graphics is definitely more important for me.
Which to choose – GIGABYTE G27F or G27Q Gaming Monitor?
While most of the main specifications of these two monitors remain the same, they are still some significant differences that we will go into detail.
| | | |
| --- | --- | --- |
|   | GIGABYTE G27F | GIGABYTE G27Q |
| Panel Size | 27" | 27" |
| Panel Type | IPS | IPS |
| Color Saturation | 95% DCI-P3 / 125% sRGB | 92% DCI-P3 / 120% sRGB |
| True Resolution | 1920 x 1080 | 2560 x 1440 |
| Brightness | 300 cd/m2 | 350 cd/m2 |
| Contrast Ratio | 1000:1 | 1000:1 |
| Dynamic Contrast Ratio | 12M:1 | 12M:1 |
| Display Colours | 8 bit | 8 bit |
| Response Time | 1ms (MPRT) | 1ms (MPRT) |
| Refresh Rate | 144Hz | 144Hz |
| HDR | N/A | VESA Display HDR400 |
One of the considerations to ensuring smooth gameplay on your computer system, is to find out whether your graphics card can handle the games which you play at a higher resolution. If you are limited by your system's graphics card or other components, I'd recommend that you should just go for the GIGABYTE G27F, as you would enjoy a higher frame rate at the lower native resolution.
At the same time, if colour accuracy is of a concern, you should also have a look at the G27F as well. Its panel has the ability to reach a wider colour space on the DCI-P3 and sRGB.
If those two points are not a concern, then definitely go for the GIGABYTE G27Q. Despite being the same size as the G27F, the G27Q comes in higher display resolution. This means that it has a higher pixel density, and images will look sharper. Moreover, it also supports HDR400, so that you can enjoy HDR content in both videos and games. You will definitely have an overall better experience on the G27Q than the G27F, if your system can support all these features that it comes with.
Nonetheless, both monitors are still excellent for any kinds of use case. Be it using them for games or just general work, both the GIGABYTE G27F and G27Q will fit your requirements. Both are running at 144Hz refresh rate, and you will enjoy the smooth and responsive movements on your monitor. With AMD FreeSync Premium support, the monitors will also be able to adapt to your application's refresh rate to prevent tearing and flickering. Both models seem to be made to reach a standard that is much higher than any other monitors in the market.
Final Words
We found both the Gigabyte G27F and G27Q Gaming Monitors to be very capable at performing well regardless of your use case. Both are monitors which we will recommend, as they were able to perform well based on our tests while using them.
However, we do find the monitor's gaming features, such as Black Equalizer to still be lacking. It changes the whole scene shown on the screen, affecting graphics quality. We understand that Black Equalizer 2.0 has already been released in some of the other monitors, and hope that it can be rolled out to these two monitors as well.