Singapore, June 9, 2020 – Lenovo (HKSE: 992) (ADR: LNVGY) Singapore today introduces its latest line-up of devices for the next generation workforce, meeting the needs and demands for enhanced productivity and collaboration across workspaces.
ThinkBook Plus – This latest ThinkBook notebook is designed with purposeful features for workplace efficiency. Featuring an innovative e-Ink cover display with intuitive and convenient features, the ThinkBook Plus helps improve user productivity, especially when multitasking, by improving focus, collaboration, and creativity
ThinkSmart View – A dedicated personal business communications device under the ThinkSmart portfolio. This device encourages smarter collaboration and enhances the working experience. It enables employees to connect with colleagues responsibly and securely in workspaces of all types and sizes, unlocking the potential of modern workers through smarter workspaces
ThinkPad P14s and P15s – A mobile workstation that is designed for power and performance yet is thin and light. This device is suitable for those working on the go and require a balance between power and mobility. The device also comes with a comprehensive suite of security features to allow for the freedom to innovate fearlessly
Reimagining Productivity for the Future
In this current COVID-19 global pandemic situation where employees are required to continue working from home, technology tools used in the office are being mirrored in the home office setting to enhance productivity and encourage collaboration across workspaces. According to a recent survey by Lenovo, 46[1] percent expressed that their current work from home productivity is on par as in the office, but many are uncertain that this can be maintained in a prolonged situation.
"Today's workplace needs to be reimagined, and we aim to provide solutions that enable employees to navigate this new environment," said Ronnie Lee, General Manager, Lenovo Singapore. "Smarter technology can improve productivity, collaboration and the overall working experience."
Furthermore, as the workforce faces a bigger composition of Gen Z and millennials, this will change the way businesses interact with technology. Around 60 percent of today's workforce is comprised of Gen Z and millennials[2], and while these digital natives are familiar with multitasking across devices, research[3] has proven that this may not be the most efficient way of working where employees can lose up to 2.1 hours per day due to time required to refocus on a task. Moreover, employees in Asia have also expressed interest in adopting new form factors into the workplace.
With the new ThinkBook Plus, ThinkSmart View and ThinkPad P14s and P15s, businesses can look forward to improved focus and productivity, regardless of their role, task and working environment.
ThinkBook Plus
The design innovation around ThinkBook Plus was based on customer insights and data relating to multitasking work practices. The device is a new kind of laptop designed help users fully maximise their multitasking efficiency:
Collaborate better by staying focused during meetings by receiving only essential notifications on the cover display such as calendar appointments, instant messages or important emails. Take notes instantly with the integrated Precision Pen, which can be synced with Microsoft OneNote. Control VoIP calls quickly with meeting hotkeys and experience better audio clarity with Harman speakers and Skype-certified microphones. With Amazon® Alexa® for PC integrated, users can quickly execute several common tasks, without the need to open the laptop. ​
Create and convert real time ideation into diagrams and notes by sketching on the cover screen with the Precision Pen. Personalise the device with a unique screensaver on the laptop cover and enjoy the laptop experience with a narrow bezel FHD IPS., and dTPM 2.0 enables enhanced hardware security.
Review documents quickly without distractions on the cover display that supports annotations. Open the laptop for more complex revisions leveraging the power of 10th Gen Intel® Core™ processors, Windows 10, standard solid-state storage (SSD) and available Intel® Optane™ memory.
Respond quickly thanks to Modern Standby which ensures emails and updates are received, even when the lid is closed. Smart Power On simplifies Windows Hello authentication with the fingerprint integrated into the power button.
ThinkBook Plus is now available online with a starting price of S$2,199.
ThinkSmart View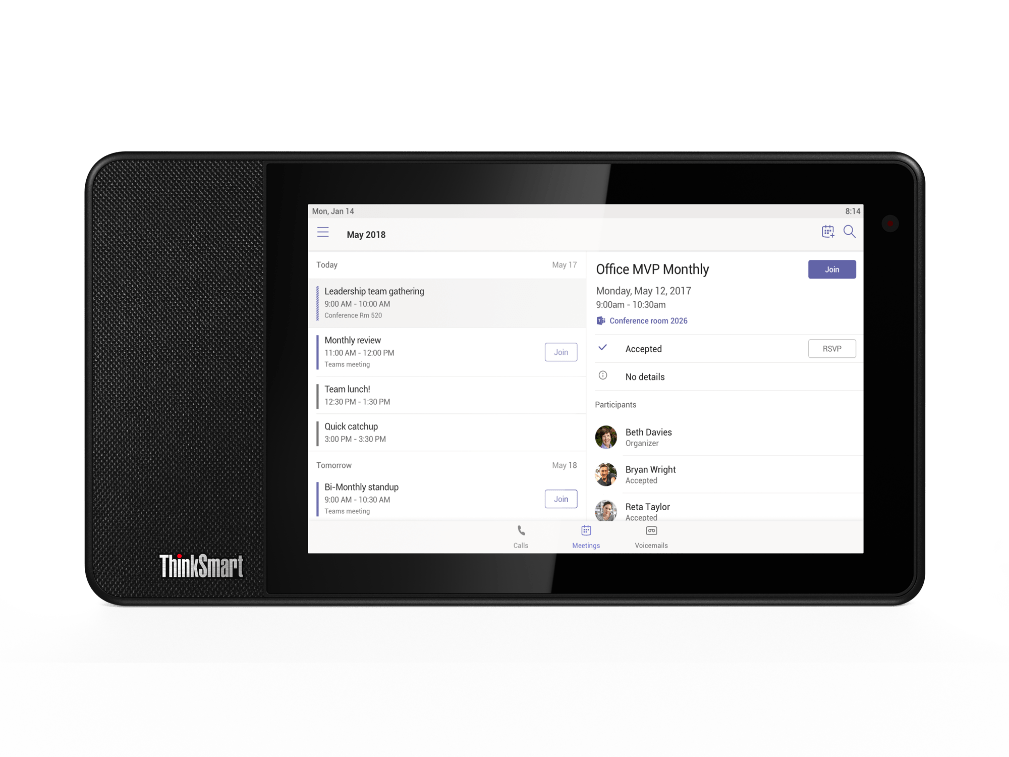 Powered by Qualcomm® APQ8053 system-on-chip (SoC), ThinkSmart View expands the desktop canvas and handles the collaborative and administrative aspects of meetings, freeing up the PC's resources. Engineered for reliable, always-on usage, the device features excellent collaboration capabilities. ThinkSmart View is also designed to be flexible across a variety of workspaces, including those outside an office. The intuitive, user-friendly design is easy to deploy.
More efficient meetings: By using the one-touch meeting start, via a built-in 8-inch HD touchscreen display, users can join meetings instantly. It is equipped with a built-in 2x 360-degree microphone array with mute button, 1.75" 10W full range speakers with 2x passive tweeters and a 5MP 720p wide angle camera, allowing users to manage voice or video calls without impacting the work on their personal computers. Users can also virtually eliminate background noise by pairing ThinkSmart View with a Bluetooth headset.
Enhanced security for confidentiality: As leading companies re-think their workspaces, both within and outside the office environment, they face the growing challenge of enforcing privacy and confidentially. Equipped with an in-built Trueblock privacy shutter and microphone mute, ThinkSmart View protects users from being seen or heard when they don't want to be. In addition, the device stays locked with a four-digit personal identification number (PIN) when not in use.
ThinkSmart View is expected to be available in July 2020, starting at S$499.
ThinkPad P14s and P15s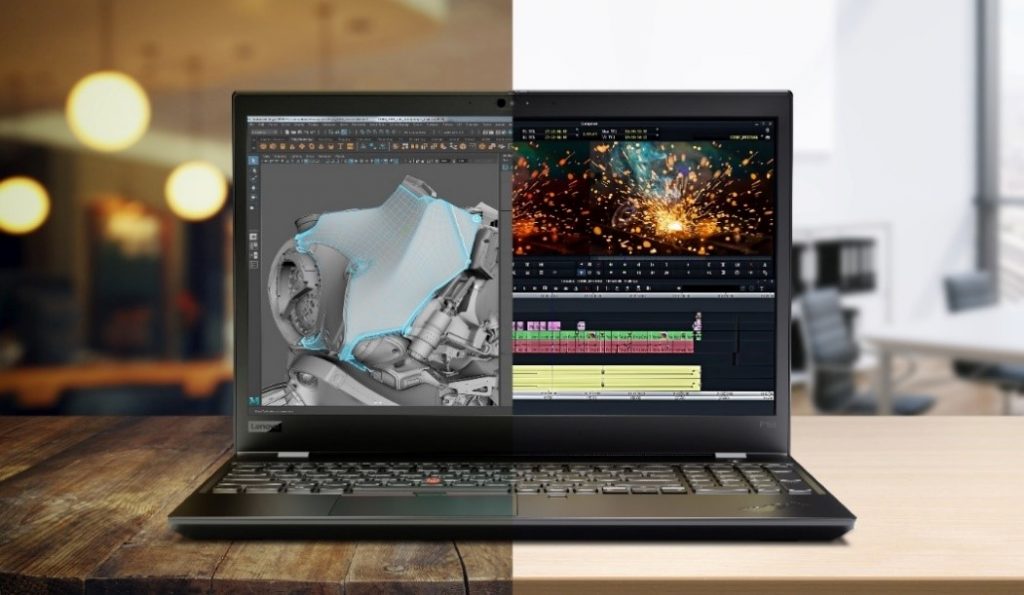 Perfect for highly mobile power users, the ThinkPad P14s and P15s boasts up to 14 hours of battery life, giving designers, engineers, educators and students alike the ability to be creative anytime, anywhere – from working remote, to collaborating in the office, on a jobsite, or when visiting customers.
Featuring 10th Gen Intel® Core™ processors, including the Core i7-10810u, with a turbo boost clock speed of 4.9GHz, this duo is geared for those within AEC and CAD users alike. In addition, these systems boast NVIDIA Quadro professional graphics, WiFi 6, up to 2TB of storage and Ubuntu and Red Hat Linux support. The 14" P14s and 15" P15s both offer up to 4K UHD displays with Dolby Vision HDR and X-Rite Pantone Factory Color Calibration for truer color and a clearer picture.
ThinkPad P14s is expected to be available in second half of 2020, starting at S$2,299.
ThinkPad P15s is expected to be available in second half of 2020, starting at S$2,399.
Visit http://www.lenovo.com/think/ for more information.
[1] Lenovo research "Workplace Transformation": Total (n=1031) | US (n=202), CHN (n=213), JPN (n=202), GER (n=204), ITL (n=210) conducted by Forrester Consulting on behalf of Lenovo from 6 to 12 March, 2020
[2] Lenovo research, "Two-part PC Study: SMB vs. Consumer," 2016 & 2018. N = 8,000
[3] Research sources include: Bergman, P. (2010, May 20). How (and why) to stop multitasking. Harvard Business Review, Joshua Rubinstein, Jeffrey Evans and David Meyer, 2001. https://www.hcii.cmu.edu/news/event/2004/10/work-fragmentation-common-practice-paradox-it-support; Systems Thinking by Gerald Weinberg, Computer scientist and psychologist, Univ. of California, San Diego