When AMD first announced the introduction of PCIe 4.0 interface on the X570 chipset at COMPUTEX 2019, they also stirred up innovation in the SSD space. With the new interface, SSDs now have more bandwidth to operate, and we are seeing many new high performance SSDs with speeds that were unheard of.
Even though AMD has gained significant market share in the consumer PC space, most of the PCs are still based on a chipset that only supports PCIe 3.0. What if they would also like to have a crazily fast SSD drive for their PC? What options do they have?
This is where the AORUS RAID SSD 2TB AIC(Add-In-Card) fits into the market. The new SSD AIC from Gigabyte still comes with the PCIe 3.0 interface. To ensure maximum performance and compatibility, this AIC configures 4 x M.2 NVMe SSD in RAID 0 mode to provide 4 x the performance of a standard M.2 NVMe SSD.
Specifications and Design
The AORUS RAID SSD 2TB comes in a rather simple design. Despite physically having a full-sized PCIe x16 slot, it only operates at PCIe 3.0 x8 mode. Installing the SSD onto the motherboard is very straightforward – simply plug and play, and the motherboard will recognize the new SSD drive.
| | |
| --- | --- |
| | Specification |
| Interface | PCI-Express 2.0 x8, NVMe 1.3 |
| Form Factor | PCI Express Card |
| Total Capacity | 2TB |
| Warranty | Limited 5 years or 700TBW / per SSD |
| NAND | 3D TLC |
| External DDR Cache | 512MB / SSD |
| Mean time between failure | 1.77 million hours |
| Power Consumption | Avg 19W Active, 7.5W Idle |
| Temperatures | Operating 0°C – 70 °C |
To keep the whole SSD setup cool, an unique thermal design is created for the AORUS RAID SSD 2TB.
Combining both active and passive cooling methods, the AORUS team managed to achieve a 30% lower temperature than just having a bare AIC. This is achieved by a metallic baseplate, high thermal conductivity pad, high density heatsink and a blower fan.
This ensures that the whole SSD AIC can perform at its optimal performance in a stable condition, and also prevents any kind of thermal throttling on the SSD.
On the Inside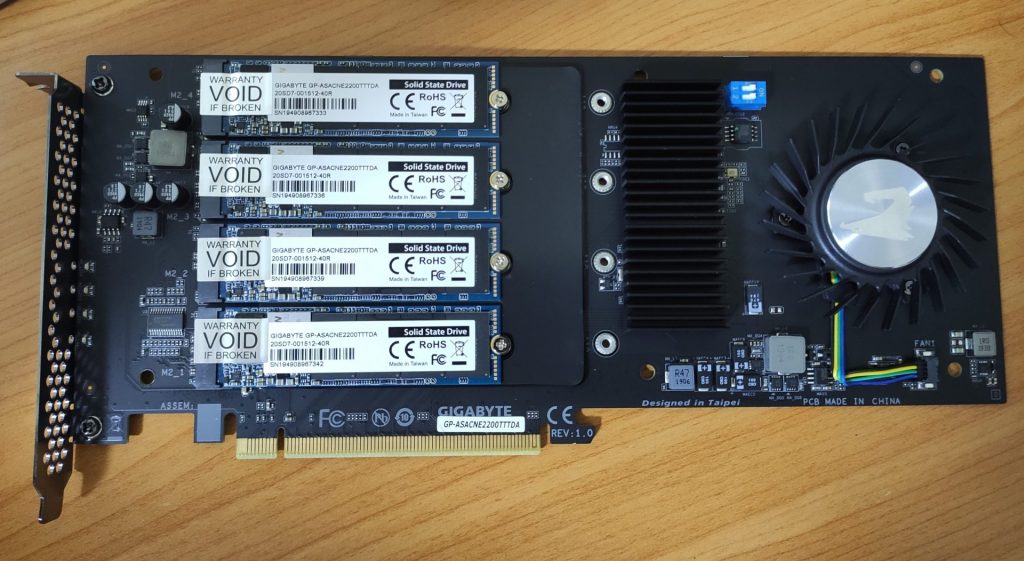 The AORUS RAID SSD 2TB is equipped with 4 x 512GB M.2 NVMe SSD in RAID 0 configuration. This is enabled by the MARVELL 88NR2241 Intelligent NVMe Switch, which is an enterprise class RAID controller. The 4 SSDs are virtualized into a single logical unit in RAID 0, making it completely transparent to users.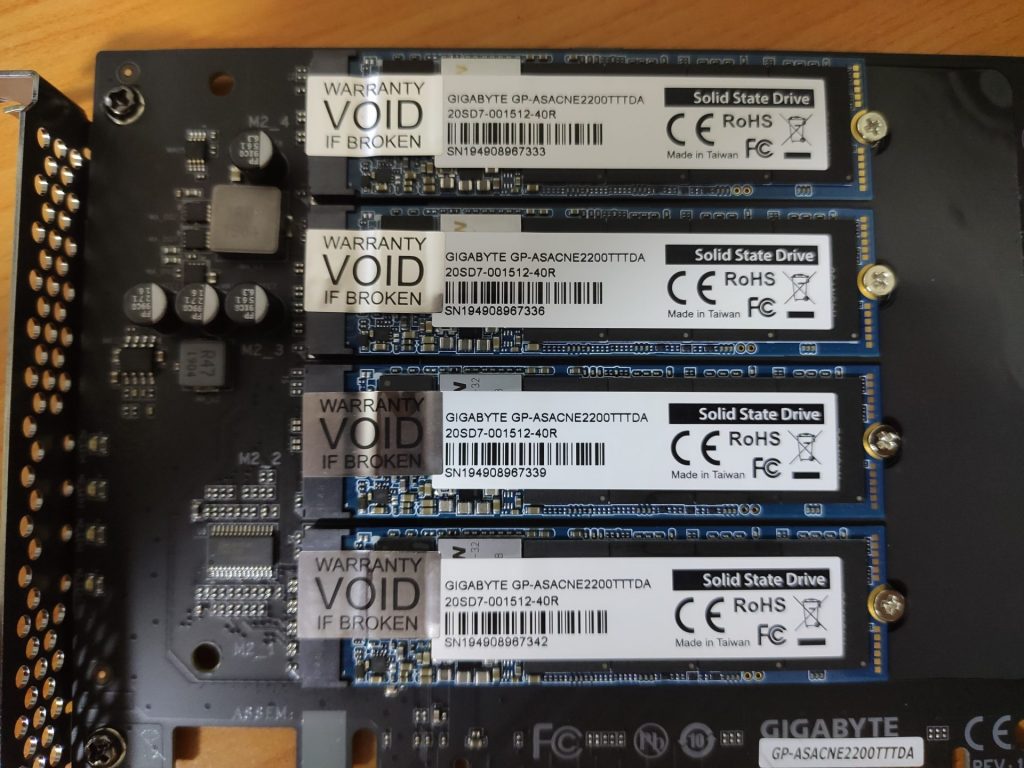 Each individual SSD is equipped with 3D TLC NAND that is managed by a Phison controller. The SSD also comes with 512MB of cache to ensure optimal performance across all drives.
System Configurations and Testing Objectives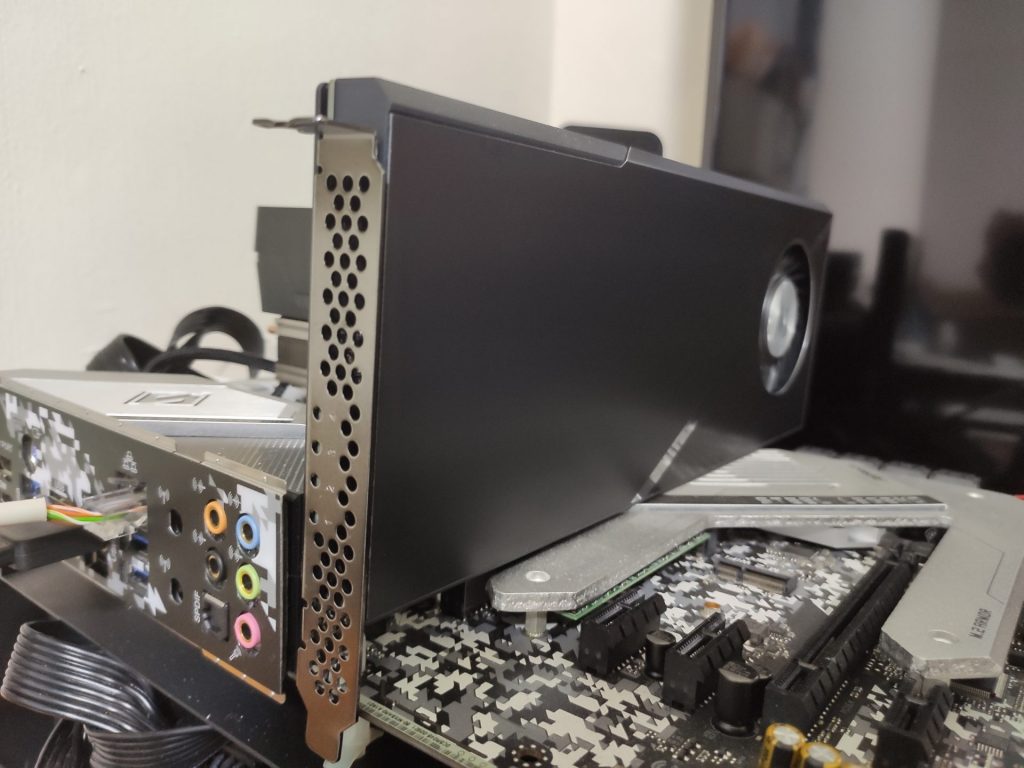 Specs
Main System
CPU
AMD Ryzen 9 3900
RAM
G.Skill Trident Z Royal 3600MHz, 2 x 8GB DDR4 Kit
Storage
Main: Transcend MTE110S 512GB (OS)
Comparison:Kingston KC2000 1TB
AORUS NVMe Gen4 SSD 1TB
GPU
Sapphire Pulse Radeon RX 550 2GB
Motherboard
ASRock X570 Steel Legend
CPU Cooler
AMD Wraith Spire Cooler
OS
Windows 10 Pro 64 bit
In our tests, we are going to compare the AORUS RAID SSD 2TB with the AORUS NVMe Gen4 SSD 1TB and Kingston KC2000 1TB SSD, with all in PCIe 3.0 mode. We wanted to find out if it would make more economical sense to simply get a PCIe 4.0 SSD and run it in PCIe 3.0 mode, or to simply get an RAID based AIC SSD like the AORUS RAID SSD 2TB.
Performance Test







Performance Analysis
There is no doubt that the AORUS RAID SSD 2TB excels in raw performance. In fact, if just purely basing the maximum performance of the SSD, it is in fact more than two times faster than the a standard M.2 NVMe SSD. We also realised that the AORUS RAID SSD 2TB comes close to maximizing the its PCIe 3.0 x8 bandwidth of 7880MB/s. It's not every day that we get to come across a SSD of such speed.
However, putting the AORUS RAID SSD 2TB back into perspective, it's in fact not as fast as expected. Usual M.2 SSDs are limited by a PCIe 3.0 x4 speed. Therefore, we can see that the maximum throughput is about half of what is achieved by the AORUS RAID SSD 2TB. Even having 4 x SSDs in RAID 0, the outcome of maximum performance is only twice as fast as a single drive. In this case, it seems that the individual drives within the AORUS RAID SSD 2TB isn't that fast in the first place.
In the practical world, data transfer workloads are rarely sequential and of fixed size. Therefore, it could be impractical to determine performance of a SSD just simply based on its maximum throughput. If we looked at 4K Q1T1 data transfer tests with CrystalDiskMark, we can see that in fact, the AORUS RAID SSD 2TB performs slightly worse than the other two SSDs.
PC Mark 8 Storage benchmark which simulates real world workload also determines that the AORUS RAID SSD 2TB is the slowest out of the three.
Conclusion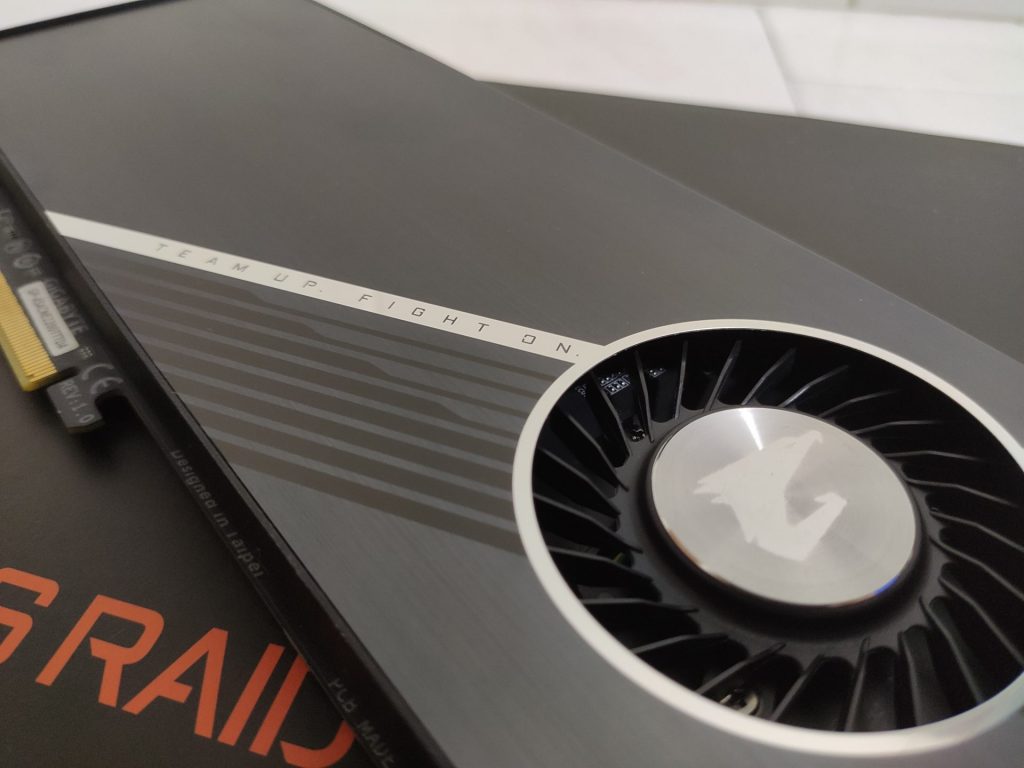 The AORUS RAID SSD 2TB has earned its bragging rights to be one of the fastest PCIe 3.0 based SSD in the market. With such high raw performance, users with the lack of M.2 NVMe slots can easily upgrade their system with this blazingly fast SSD.
However, based on our tests, the AORUS RAID SSD 2TB may not be the best when it comes to real world workloads. We'd rather spend the cash on a solid M.2 NVMe SSD such as those used as comparisons in this article. But don't get me wrong. The AORUS RAID SSD 2TB is still a great choice if you are looking for a high performance SSD.