Taipei, Taiwan, August 21st, 2019 – GIGABYTE TECHNOLOGY Co. Ltd, a leading manufacturer of motherboards and graphics cards, opened its booth at Gamescom 2019, announcing the world's first tactical monitor equipped with HBR3 (High Bit Rate 3). The new AORUS FI27Q-P offers exclusive HBR3 features that provide high bandwidth so that gamers will no longer feel limited as they can enjoy high bandwidth at a refresh rate of 165Hz and QHD gaming. The monitor meets VESA DisplayHDR 400 with 10 bits image processing and 95% DCI-P3 standards, allowing gamers to embrace the splendid display quality. With AMD Radeon FreeSync​™ technology, the monitor synchronizes the panel's refresh rate and GPU framerate to offer smooth and judder-free gaming.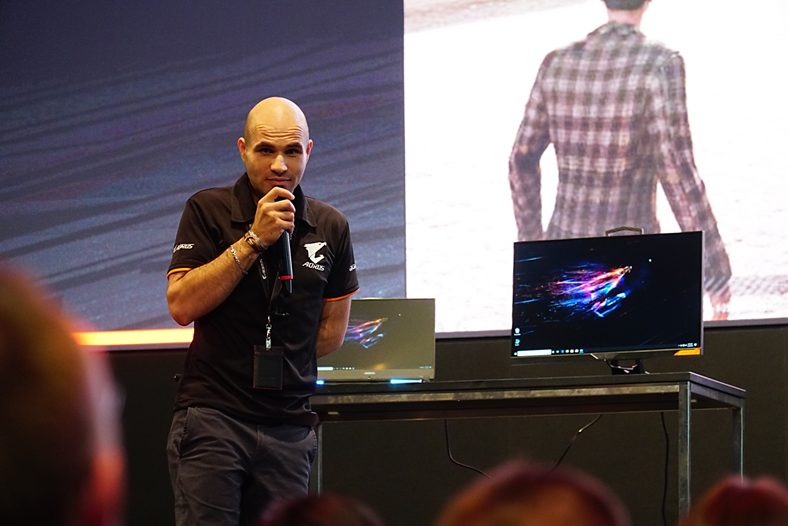 AORUS FI27Q-P features the world's first Black Equalizer 2.0 technology, presenting sophisticated picture to users for both gaming and audio-visual satisfaction. The technology is capable of processing 1,296 partitions simultaneously and optimizes the screen display by bringing extra light to the dark side of the picture for better visibility. The AORUS exclusive feature ANC (Active Noise Cancelling) has been upgraded for FI27Q-P and the new 2.0 version offers gamers with SNR (signal-to-noise ratio) up to 120 db and maximum 600 inputs impedance. By plugging high-impedance headphones to the audio jack on the monitor directly, gamers can immerse themselves in the most appealing music quality that AORUS FI27Q-P presents.
The key idea of our outer design is to replicate the dive of a falcon when it is pursuing its prey. When you look at the back of the product, you can see a falcon diving downwards with the glowing eyes of the falcon on the side of the stand and its wings flapping along with the LEDs flashing on the back of the panel. In order to achieve this, we used digital RGB LEDs instead of traditional LEDs. We value both practicability and aesthetics highly when designing our products so our monitor is not only a beauty from the outside but with several ergonomic features that bring maximum comfort and productivity to our gamers. We designed a handle on the top of the stand so that gamers can easily move their monitor around without any trouble. We also considered that cable management is important to gamers so we designed a rubber cable tie just below the ports and reserved a hole at the bottom of our stand to let the cables go through nicely.
There are lots of exclusive features on this new monitor and they are all delicately designed to meet the gamers' needs giving them a tactical advantage in game. Features such as Black Equalizer, Aim Stabilizer, GameAssist, hardware information Dashboard, OSD Sidekick, and the most unique feature of all, the Active Noise Cancelling function, are all designed to let gamers gain more control of the game and their PC system.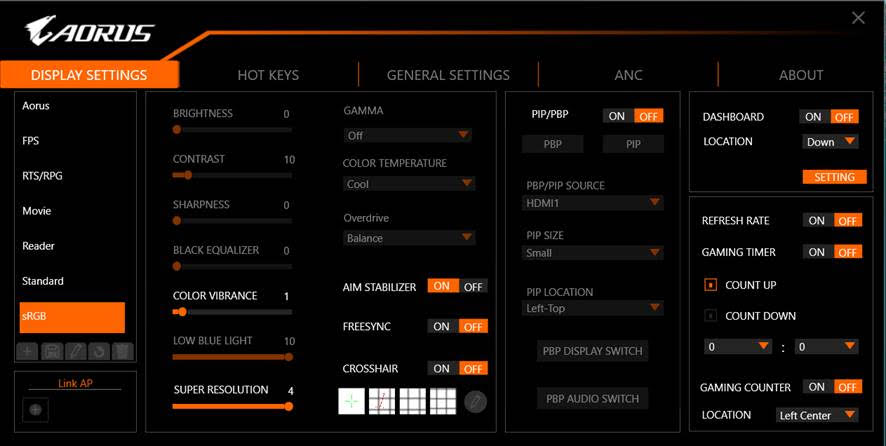 AORUS' tactical features are explained below:
Black Equalizer: Brightens up the dark parts in the picture for better visibility in dark areas.
Aim Stabilizer: This feature will help you reduce the blurriness of the recoil effect while you are shooting in an FPS game. It can also help you trace moving enemies much easier.
GameAssist: This is a kit of OSD functions that helps you in game. It includes a customizable crosshair, a counter, a timer, and multi-screen alignment lines.
AORUS Dashboard: We can display hardware information directly on screen, such as mouse DPI and GPU/CPU information.
OSD Sidekick: You can now control the monitor through this software and control your OSD with mouse and keyboard. A much easier way to adjust your monitor.
Active Noise Cancelling(ANC): When you plug your mic into the monitor, it can help you cancel the noise around you. The only thing that goes through the mic when you are communicating with your teammate is your voice.
Crave more for the AORUS FI27Q-P gaming monitor? Check it out on the AORUS official website!
AORUS FI27Q-P product info:https://www.gigabyte.com/Monitors/AORUS-FI27Q-P#kf
For more GIGABYTE products, please refer to the site below: