PUBG Corporation and Guerilla Games are teaming up to bring skins from the award-winning Horizon Zero Dawn to the PlayStation 4 version of PLAYERUNKNOWN'S BATTLEGROUNDS (PUBG).
From 5th March through 5th April, all PlayStation 4 PUBG players can receive free Horizon Zero Dawn content just for logging in, with additional content available by completing in-game challenges or purchasing directly. The full list of new PUBG + Horizon Zero Dawn items include: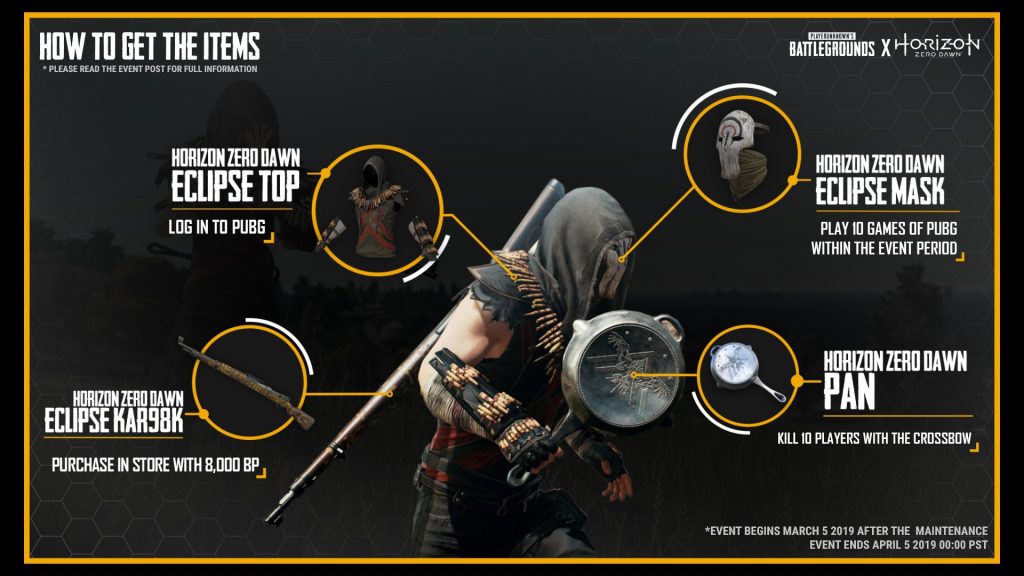 Horizon Zero Dawn Eclipse Mask – Play 10 games of PUBG within the event period
Horizon Zero Dawn Eclipse Top – Every player who logs into the game during event period will receive the item
Horizon Zero Dawn Eclipse Kar98k – Can be unlocked for 8,000 BP
Horizon Zero Dawn Pan – Players who kill 10 opponents using the crossbow during the event period will receive the pan
Check out PUBG's new Horizon Zero Dawn content between now and 28th March. For more information on PUBG, please visit https://www.pubg.com/.