Tuesday, 5 March 2019 – Muzen Audio (Muzen) will make its first foray into Southeast Asia with the launch of its bestselling On The Road (OTR) series of portable speakers with radio functions in Singapore, through a partnership with local distributor iFactory Asia. Featuring the slogan "Hear Singapore – Muzen Audio is Here", sales of the Muzen OTR will commence at the IT Show 2019 from 7th to 10th March, and will be available at select retailers thereafter. More Muzen products will be released in Singapore later on in 2019.
Founded by Mr. Zeng Dejun, a five-time CES Innovation Award winner, Muzen is his labour of love. Mr. Zeng has dedicated his life to radio. In order to create his ideal radio set, he brought his Hi-Fi business to a halt, toiled through years of trial and error, and finally launched the Muzen Original II Radio. This was achieved through a successful crowdfunding campaign in 2015, which led to his creations growing its band of believers.
Muzen and its mission: Bringing radio back into vogue
With a mission to create bonds between people through a shared love for music and radio, Muzen brings radio back into vogue with a wide range of radios and portable speakers inspired by the radio sets of the 1960s, integrated with modern functions such as Bluetooth and device connectivity. They are meticulously handcrafted, with a fusion of technology and aesthetics – a culmination of Mr. Zeng's decades of research.
Muzen has also developed unique versions of its portable speakers, featuring collaborations with international brands such as Audi, Mercedes-Benz, and Zippo. Muzen further collaborated with productions such as La La Land (2016) and events such as NY NOW, the International Jazz Festival and Beijing Fashion Week. Beyond Singapore, Muzen's products are currently being sold in China, Hong Kong, France, Germany, Netherlands and the United States.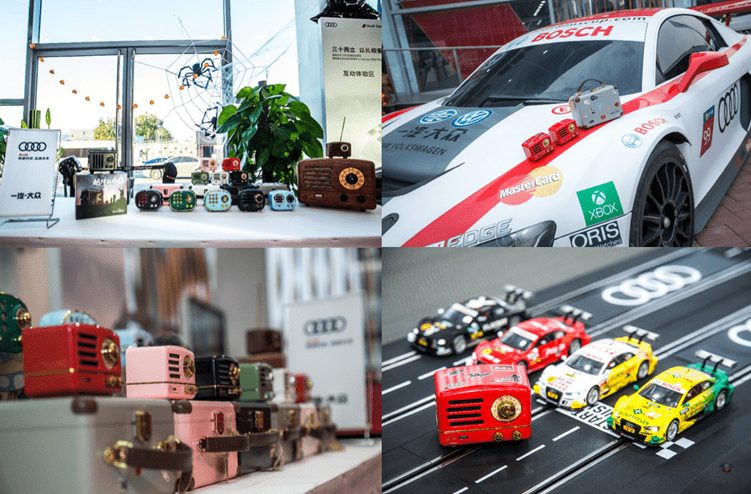 Figure 2: Muzen collaboration with Audi
Choosing Singapore as its Launchpad
The choice to hold the launch in Singapore was made because she is a gateway into Southeast Asian markets. Singapore also used to be a hub for music and radio for the region in the earlier half of the 20th century – all records and music from around the world would pass through Singapore's port before being distributed to the rest of Southeast Asia.
"Muzen's design philosophy is fully based on human aesthetics. It belongs to the global market. Being an international, and one of the most culturally diverse countries in the world, we believe that Singapore is the perfect starting point in Southeast Asia to spread our mission, and radio culture", said Mr. Ben Dai, Co-founder and Chief Marketing Officer, Muzen Audio.
iFactory Asia specialises in premium audio products and technology solutions, and will be the sole distributor for Muzen Audio in Singapore.
"The iFactory Asia team is excited to be collaborating with innovators like Muzen Audio, who place emphasis on quality workmanship and creativity. We are proud to be able to assist Muzen with their launch in Singapore, and look forward to bringing Muzen's line of portable speakers to local music enthusiasts, vintage souls and radio-lovers through our distribution network, starting with the IT Show 2019," said Mr. John Chung, Managing Director, iFactory Asia Pte Ltd.
Muzen OTR and its specifications
The Muzen OTR features both Metal and Wood coatings. The OTR Metal weighs 440g and the OTR Wood weighs 195g. The two signature models both have a battery life of 10 hours and are capable of FM radio tuning and compatible with Bluetooth 4.0, complete with auxiliary input. Apart from a detachable antenna and leather padded carrying case, locally-purchased Muzen OTR units will also come with unique accessories including a leather carrying strap and a sticker set – making them the perfect lifestyle companion at home, or on the go.
The Muzen OTR Metal is built using a high density alloy, and coated using acrylic stoving enamel – a type of paint used for automobile finishes in the 1960s. It comes in Jet Black, Crimson Red, Flamingo Pink, and Mint Green colour options.
The Muzen OTR Wood replaces the hardy metal coating with handcrafted walnut, which is a light, resonant tonewood used in instruments, and helps to produce a richer sound.
The Muzen OTR Metal and OTR Wood series of radios and portable speakers will be available for sale at the IT Show 2019, and will be available for purchase from local retailers.
The Muzen OTR Wood will be sold for $129, while the Muzen OTR Metal will cost $139.
-End-
About Muzen Audio
Muzen Audio was borne of the creative and technical genius of Zeng Dejun, who has dedicated more than 40 years of his life to audio research. Every Muzen Audio product is created by hand – adept craftsmanship can be seen in every detail of the product and heard with every beat of music. Zeng, a five-time recipient of the CES Innovation Awards, founded Muzen Audio with a mission, "Keep Radio On."
About iFactory Asia
iFactory Asia is a dedicated value-added distributor based in Singapore that specialises in premium audio products and technology solutions. Since 2010, the team has been committed to sourcing and bringing quality and unique products from around the world to Singapore through its strong distributorship network, with a view to enhancing people's music experience, hence upgrading their lifestyle.