It was an exciting year for gamers, as major graphics card manufacturers have been pushing out new graphics card with innovative technologies to improve gaming experience. After the launch of their flagship RTX line-up in September last year, NVIDIA has been progressively releasing new graphics card to meet the needs of the various market segments.
One of which is the NVIDIA GeForce RTX 2060. This card is priced and marketed to be an affordable choice for gamers who wants to experience the new RTX graphics, while not wanting to spend too much. These cards are also specifically created for those who are planning to game at 1080p.
In this article, we will be looking at the features and performance of the RTX 2060, represented by the Gigabyte GeForce RTX 2060 Gaming OC 6G. We will also zoom into the various design features that Gigabyte included in this card to see how it stands out from the rest.
Specifications and Features
Specifications
GeForce RTX 2060 Gaming OC 6G
Graphics Processor
GeForce RTX 2060
Core Clock
Core Clock: 1830MHz
CUDA Cores
1920
Memory Clock
14000MHz
Memory Size
6GB
Memory Type
GDDR6
Memory Bus
192 Bit
Memory Bandwidth
336GB/s
Card Bus
PCI-E 3.0 x16
Card Size
 116.7 x 280 x 40.4 mm
Recommended PSU
500W (1 x 8-pin connector)
I/O
3 x Display Port 1.4
1 x HDMI 2.0b
Based on our previous experience of the GeForce RTX series of graphics cards such as the RTX 2070 Gaming OC and AORUS XTREME from Gigabyte, we were pretty confident with their products. They have consistently performed well to meet the requirements of gamers, regardless of the different variants that are available.
The Gaming OC family, being one of the more affordable series from Gigabyte, are still adequately factory overclocked. In fact, the RTX 2060 Gaming OC 6G card we have on hand today already has been overclocked from its reference 1680MHz to 1830MHz. As such, gamers can expect higher performance on the Gigabyte RTX 2060 Gaming OC 6G as compared to reference cards right out of the box.

The Gigabyte RTX 2060 Gaming OC 6G comes with 3 x Display Port (DP) 1.4 and 1 x HDMI 2.0B. Gone were the days where DVI was a standard requirement for most consumer grade graphics card. New RTX series of graphics card simply just comes with DP and HDMI. It is also worth noting that the RTX 2060 does not come with a dedicated USB Type-C port like those found on the RTX 2070 and above. This also means that you will not be able to hook up your new VR headsets directly to the graphics card via VirtualLink technology.
This graphics card will utilize two expansion slots in your system. Its heatsink and fans also fits within the width of two slots, and will not hinder the placement of other expansion cards that are placed next to it.

The Gigabyte RTX 2060 Gaming OC 6G requires a single 8-pin connector to power it up. The card lacks SLI or NVLink support, which means that you won't be able to buy multiple of these cards and combine their processing performance together.
Thermal Design

To effectively cool the whole graphics card, the Gigabyte RTX 2060 Gaming OC 6G comes installed with 3 x 80mm fans. If you have a sharp eye, you would have realized that the fins of the middle fan is aligned different from the rest. Gigabyte purposefully designed it to spin in the opposite direction, so as to smoothen the overall airflow. This allows cool air to reach a larger area on the card, thus cooling the card more effectively.

There are three main blocks of heatsink on this graphics card. They are connected to one another via heatpipes, which are in direct contact with the card's components. This design can help to effectively dissipate heat away towards a larger area. Together with the fans, the heatsink can quickly cool the card down and maintain the temperatures at a lower point. The heatsink not only covers the GPU, but also the video memory and power components. This allow users to enjoy a more reliable operation of the graphics card without the worry that any individual component of the card will overheat.

Furthermore, the Gigabyte RTX 2060 Gaming OC 6G is also equipped with a metal back plate. This plate helps in both the physical strength of the card, extending its durability, as well as bringing heat away from the components at the back of the card. For the thermal performance, it will be tested at a later section in this review.
Software
There are two main software that comes together with the Gigabyte RTX 2060 Gaming OC 6G. They can be downloaded directly from Gigabyte's official website.
AORUS ENGINE
The AORUS Engine is the main software utility for the management and configuration of the Gigabyte RTX 2060 Gaming OC 6G. This software allows users to control the graphics card's frequency, fan curve and also monitor its various key vitals. The Auto-Scan feature within the AORUS Engine helps novice overclockers to detemine the right voltage level to the suitable GPU frequencies. However, we did realised that such a feature was not well executed within the software, as only a graph was drawn without any specific voltage and frequencies level shared. Moreover, the division between each graph row is 600MHz, and we had to literally estimate the frequency of the GPU at the point that is drawn within the graph.
RGB FUSION
Within the AORUS Engine Software, there is a direct link to the RGB Fusion Utility. RGB Fusion has been upgraded to the 2nd version, which now allows the synchronization of RGB lights across multiple RGB Fusion compatible devices. There are also various customizations available for users to choose from, such as the lighting effects, speed and brightness.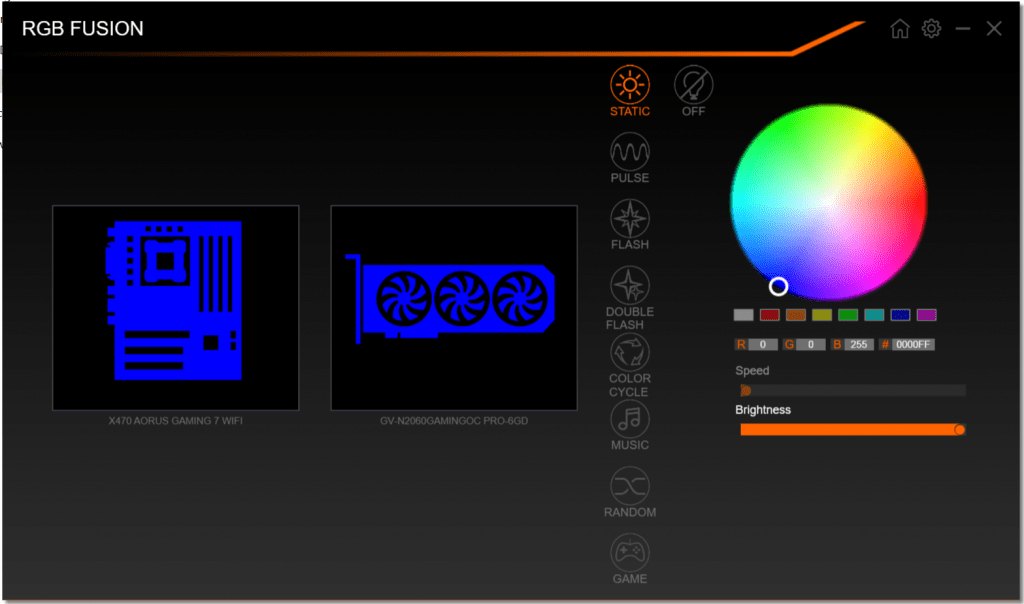 The Gigabyte RTX 2060 Gaming OC 6G isn't too fancily decorated with RGB lights. Depending on your preference, you may either love such a design or hate it. For us, we actually enjoy a simpler and minimal design, and liked the fact that the Gigabyte RTX 2060 Gaming OC 6G has kept its RGB lightings to a minimum. Only the top Gigabyte logo found at the top of the graphics card is RGB lit. Such a design is good enough for a powerful build, allowing the system to be kept professional and refined.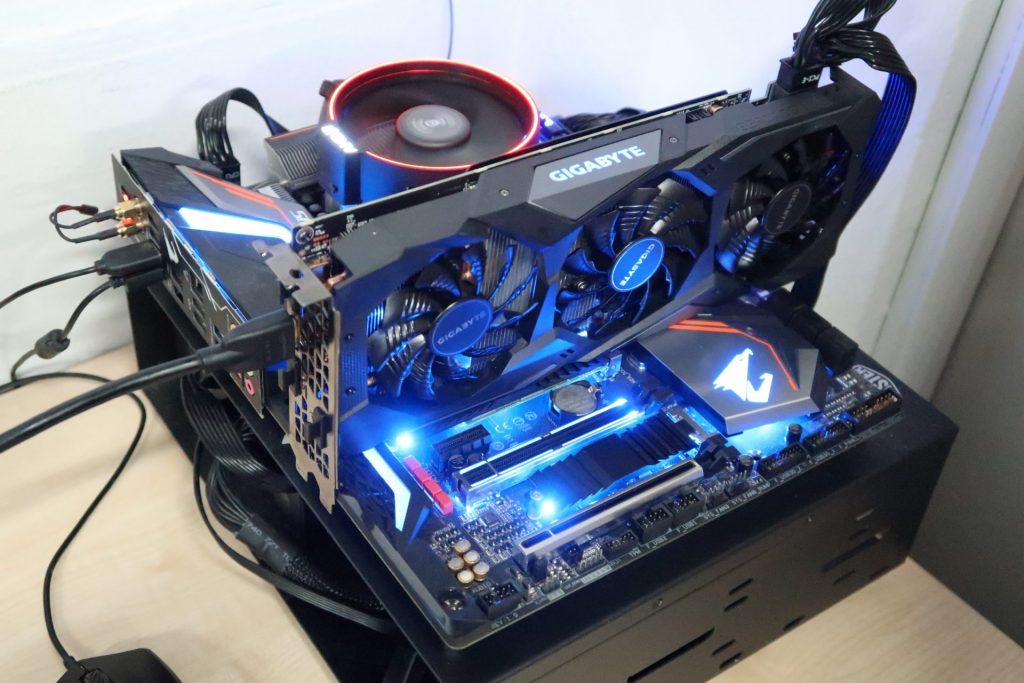 Test Setup and Objectives
For our tests today, we are going to compare the Gigabyte RTX 2060 Gaming OC 6G with NVIDIA's previous generation GeForce GTX 1070 graphics card. We want to find out if the XX60 variant of the newer architecture is able to take up higher end XX70 variant of a previous generation. Of course, this could really be a good guide for those who are seeking to upgrade your graphics card from a GTX 1070.

Specs
Main System
CPU
AMD Ryzen 7 2700
RAM
G.Skill 3200MHz, 2 x 8GB DDR4 Kit
Storage
Plextor M8V M.2 SATA SSD 256GB
GPU
Gigabyte GeForce RTX 2060 Gaming OC 6G
Palit GTX 1070 GameRock
Motherboard
Gigabyte X470 AORUS GAMING 7
CPU Cooler
AMD Wraith Spire Cooler
OS
Windows 10 Pro 64 bit
Drivers
NVIDIA 419.35
We also want to find out if the RTX 2060 is capable of running some of the latest titles in high settings in 1080P resolutions. Therefore, most of the games tested will be configured in this settings.
| | | |
| --- | --- | --- |
| No. | Benchmark | Settings |
| 1 | 3DMark FireStrike | Default |
| 2 | 3DMark TimeSpy | Default |
| 3 | 3DMark Port Royal | Default |
| 4 | DOTA 2 | 1080p, DirectX 11 – as per Guide |
| 5 | Far Cry – New Dawn | 1080p, High Settings |
| 6 | Warhammer 2 (Battle Scene) | 1080p, High Settings |
| 7 | Rise of the Tomb Raider | 1080p, High Settings |
| 8 | Shadow of the Tomb Raider | 1080p, High Settings |
| 9 | Deus Ex: Mankind Divided | 1080p, High Settings |
| 10 | Middle Earth: Shadow of War | 1080p, High Settings |
| 11 | Assassins Creed Odyssey | 1080p, High Settings |
| 12 | F1 2018 (Australia Track) | 1080p, High Settings |
| 13 | Tom Clancy: The Division | 1080p, High Settings |
| 14 | World of Tanks Encore | 1080p, Ultra Settings |
| 15 | Final Fantasy XV | 1080p, High Settings |
Performance

Based on the synthetic graphics benchmarks, we can see that the RTX 2060 performs better in DirectX 12 benchmarks. It was able to achieve a higher score on 3DMark Time Spy, a DirectX 12 benchmark. However, comparing the raw performance of the graphics card in DirectX 11, the RTX 2060 was considered to be slower than the GTX 1070. Perhaps, in the upcoming performance benchmarks, we should be able to see similar results.
Moreover, the Gigabyte GeForce RTX 2060 Gaming OC 6G is fully equipped with Ray Tracing capabilities. It is therefore, able to run 3DMark Port Royal, a benchmark that tests a graphics card's Ray Tracing capabilities. Such features were totally not available in previous generation graphics card, and therefore, the GTX 1070 was unable to produce a result in this test.


As expected, we can see that the RTX 2060 is slightly lacking in terms of pushing out frames per second in games, when compared to the GTX 1070. However, we did see an advantage of the RTX 2060 when it comes to DirectX 12 based games. The RTX 2060 was able to better render games based on DirectX 12, which was shown in Deus Ex : Mankind Divided and F1 2018 (Australia track).
Overclocking Performance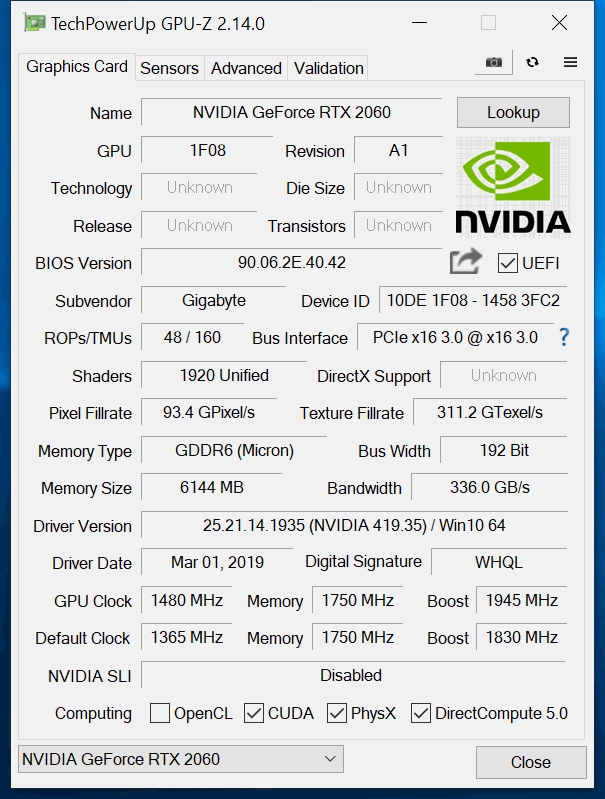 With the AORUS Engine tool, we were able to somewhat understand the best voltage for an overclock. We managed to push the GPU boost clock of the Gigabyte GeForce RTX 2060 Gaming OC 6G from its initial 1830MHz to 1945MHz. We then ran some games on the same system to see the difference in frames per seconds produced on the overclocked card.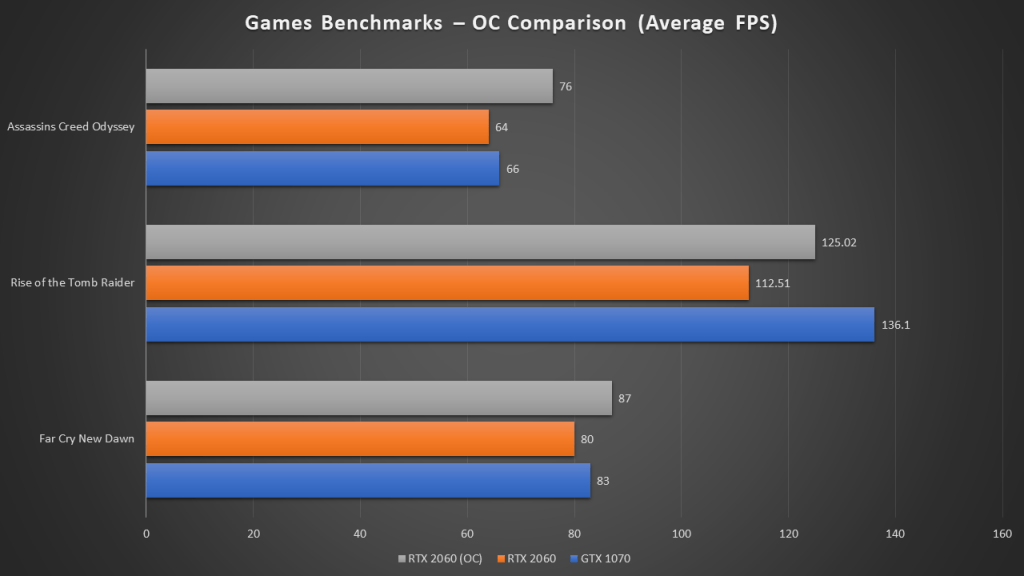 Interestingly, the Gigabyte GeForce RTX 2060 Gaming OC 6G seems to scale exponentially with such a small increase in GPU frequency. By increasing the GPU clock speed by 115MHz, the performance difference was considerably large. For example, for both Assassins Creed Odyssey and Far Cry New Dawn, the overclocked RTX 2060 was finally able to surpass the performance of the previous generation GTX 1070. However, it was still not able to catch up in Rise of the Tomb Raider.
Power Consumption and Temperatures

Our power consumption test was done by taking readings from a power meter. The whole setup's (excluding monitor) power consumption was taken into consideration. At idle, the system consumed electricity at a rate of 65W. When stressed, this value goes up to 255W.
We were really quite surprised by the temperatures of the Gigabyte GeForce RTX 2060 Gaming OC 6G graphics card. In the FurMark graphics card burn-in test which stresses the graphics card to run it at 100%, the maximum temperature recorded was only a modest 69°C. Our fan curve profile was set to automatic within the AORUS Engine application.
Interestingly, even when stressed, the fans don't operate at maximum speed. Despite this, the temperatures were still well maintained and there was nothing much to worry about. Furthermore, a lower fan speed also means there won't be too much noise created from the three large fans on the graphics card. The fans operated silently throughout the whole stress test as the noise from the spinning fans were considered to be insignificant on our setup. From the image above, we can also see that this graphics card idles at about 41°C.
Final Words and Conclusion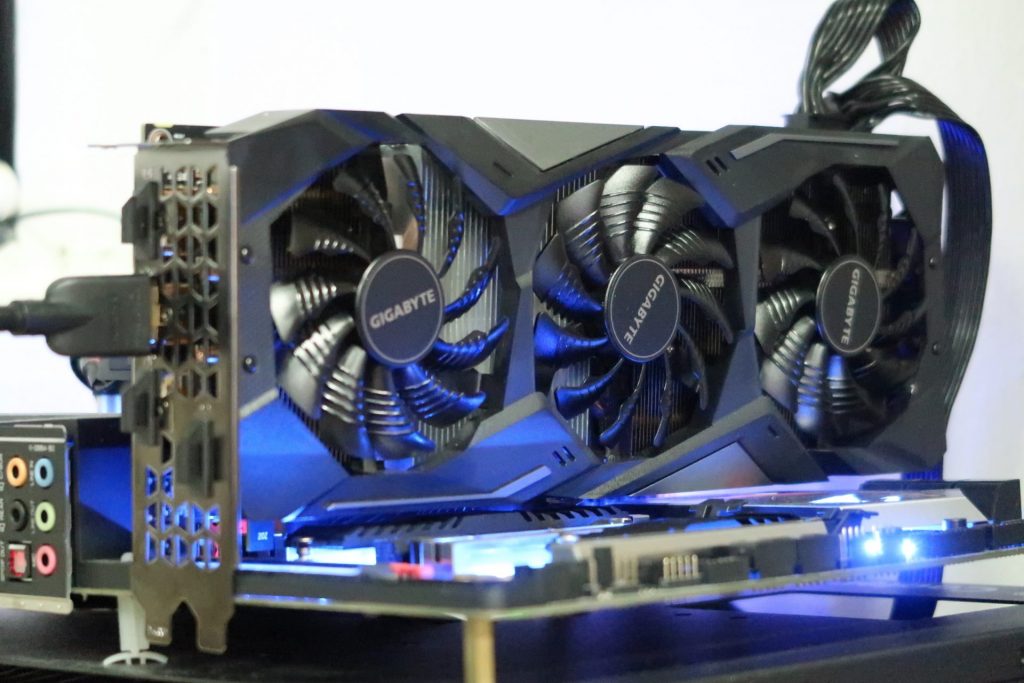 There is no doubt that the Gigabyte GeForce RTX 2060 Gaming OC 6G is capable of running all of the latest game titles at more than 60FPS at High Settings on 1080p resolution. If you are still struggling to find a good graphics card to achieve such a performance result, this card is a great choice. It excels in its good thermal designs, which is able to keep the card cool and quiet. Moreover, this card can also overclock quite well to even higher frequencies to allow you to play games at even higher frame rates.
However, if you are planning to upgrade from a GTX 1070, you should consider if the new Ray Tracing and fancy features such as DLSS matters to you. Or else, the GTX 1070's raw performance is still pretty good when it comes compared with the RTX 2060. Alternatively, there is also the new GTX 1660Ti for you to consider.