BARCELONA – February 25, 2019 – Neffos, TP-Link's sub-brand for smartphones, will be exhibiting at the Mobile World Congress 2019 in Barcelona, Spain, on February 25. The theme for the year's biggest technology convention for mobile products and innovations is intelligent connectivity, which is in line with TP-Link's slogan of "Faster Wi-Fi, Better Signal Phone, Smarter Home."
TP-Link has been recognized as the industry's best-selling brand for home Wi-Fi devices for eight years in its two decades of operations. Its products are distributed in more than 170 countries and used by hundreds of millions of customers worldwide.
At the MWC 2019 tech show, Neffos will display its current-generation smartphones, including the Neffos C9, C9A, X9, and P1 with a built-in projector feature for beaming HD content onto a large wall.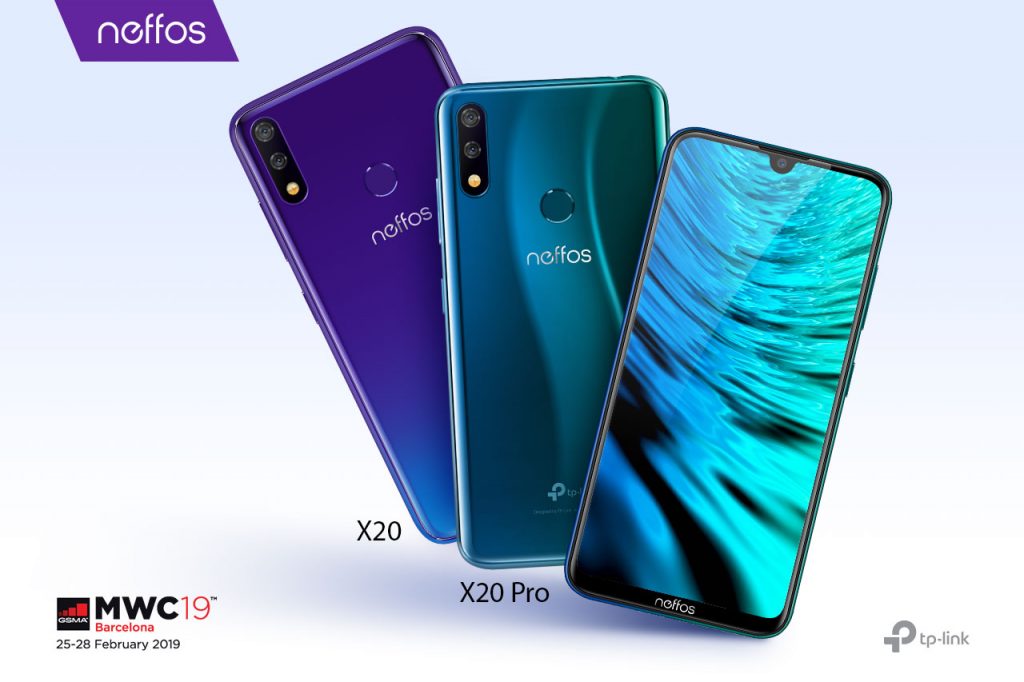 Neffos X9
Neffos X9 boasts a large Full-View touch display that spans 5.99 inches and features narrow bezels to maximize the screen real estate without expanding the phone's overall footprint. It also has an advanced dual-camera setup on the back, with 13-megapixel and 5-megapixel sensors working in tandem to produce quality portrait shots that keep the foreground crisp and in-focus while slightly blurring the background.
Neffos C9 and C9A
The Neffos C9 and Neffos C9A likewise impress with their tall, 18:9 HD+ displays that arrive in generous sizes of 5.99 and 5.45 inches, respectively, for immersive, full-screen experiences that are sure to please.
Similar to the X9, both the C9 and C9A incorporate fingerprint sensors into their designs as well as facial recognition for quick and convenient unlocking using the front camera. Powered by the latest AI technology, the C9 and C9A read facial features with incredible accuracy.
Neffos P1
Neffos P1, adds a laser projector that can throw a picture as large as 200 inches onto a wall or any flat surface in high resolution.
Neffos X20 and X20 Pro
For the first time, the company will also showcase its new Neffos X20 and X20 Pro flagship phones. The two models are expected to hit the market sometime in June, along with Neffos' own NFUI 9.0 software based on the Android 9.0 Pie operating system. As NFUI 9.0 hasn't launched yet, the X20 and X20 Pro will be the first devices to run the latest user interface out of the box.
Both phones feature immersive screens with dewdrop-style display notches, gradient designs, and dual back-facing cameras enhanced by artificial intelligence (AI). Thus, it's fitting that they'll launch under the campaign slogan "See the Beauty."
The Neffos X20 will be available in 4 colors; Black, Blue, Red, and Aurora Purple. The Neffos X20 Pro is going to be offered in Obsidian Black, Sapphire Blue, Malachite Green, and Sunset Purple.
The color gradient effect on the back is achieved by using a nanocrystalline multilayer coating technique, which not only looks eye-catching and distinct but also feels pleasant and comfortable to the touch. Not to mention, it adds some flair and draws attention to the phones' 3D curved panels.
he Neffos X20 and X20 Pro pack 6.26-inch screens with a taller 19:9 aspect ratio for a great viewing experience while on the go. Inside, you'll find a multi-core processor with up to 4 GB of RAM and up to 128 GB of expandable storage. There's also a generous 4,100 mAh battery to offset heavier usage and get you through the day with ease.
The Neffos X20 and X20 Pro use a 13-megapixel and 5-megapixel camera setup on the back, with one of the sensors acting as a depth sensor for portrait or bokeh shots. Another highlight is NFUI 9.0, which is layered on top of Android 9.0 Pie.
NFUI 9.0 introduces several camera-app improvements such as an improved Bokeh Portrait which is available on both rear and front cameras and adds background blur to an image.
There's also AI Beauty mode for better selfies. It uses deep learning and AI to identify and enhance a person's facial features. Enabling AI Scene Recognition allows the camera to detect up to 17 different scenes and objects to automatically select the best settings to take ideal photos.
Market data for 2018 reveals that global shipments of Neffos smartphones grew by 300 percent year-over-year. With wider distribution and more impressive devices slated for this year, the company is confident more remarkable gains will be achieved this year.
Communicating via a video call, voice message, or text chat is one of the core functionalities of mobile phones. Signal quality is the most important factor affecting the user's calling and texting experience. Since its introduction in 2015, Neffos has produced phones that provide exceptional signal quality and performance for the price.
Neffos is committed to continue making phones with better signal quality by adopting a high-performance baseband chip and power amplifier, alongside anti-electromagnetic interference EMC technology, to make the signal stronger, faster, and more stable. Additionally, Neffos phones use a high-standard antenna design to boost connection strength and stability.
Also central to the brand is the belief that excellent products don't have to be expensive. According to research, more than 60 percent of consumers prefer smartphones that deliver a great user experience while being cost-effective. Neffos offers unbeatable features and price through supply chain integration, sales and channel control, and a better understanding of its customers.
Editor's Note
Neffos X9, C9 and C9A is currently available in Singapore. The new X20 and X20 Pro is scheduled for a launch in end of June, in Singapore. Local retail pricing for the Neffos X20 and X20 Pro will be announced at local launch date.
About Neffos
Neffos, TP-Link's smartphone brand, was born with the commitment to provide customers from around the world with a fully integrated mobile experience. http://www.neffos.com