Organised by Shopee in partnership with 59 organisations and groups, NDSC 2019 sees students and professionals competing in a month-long coding competition to solve real-world challenges
Singapore, 23 February 2019 – Shopee, the leading e-commerce platform in Southeast  Asia and Taiwan, officially launched the inaugural National Data Science Challenge (NDSC) at MAX Atria, Singapore EXPO, with over 1,700 attendees. The opening ceremony, which was officiated by Minister for Education Mr Ong Ye Kung, included a panel discussion on the 'Revolution of Data Science in Singapore' with the judges of the competition.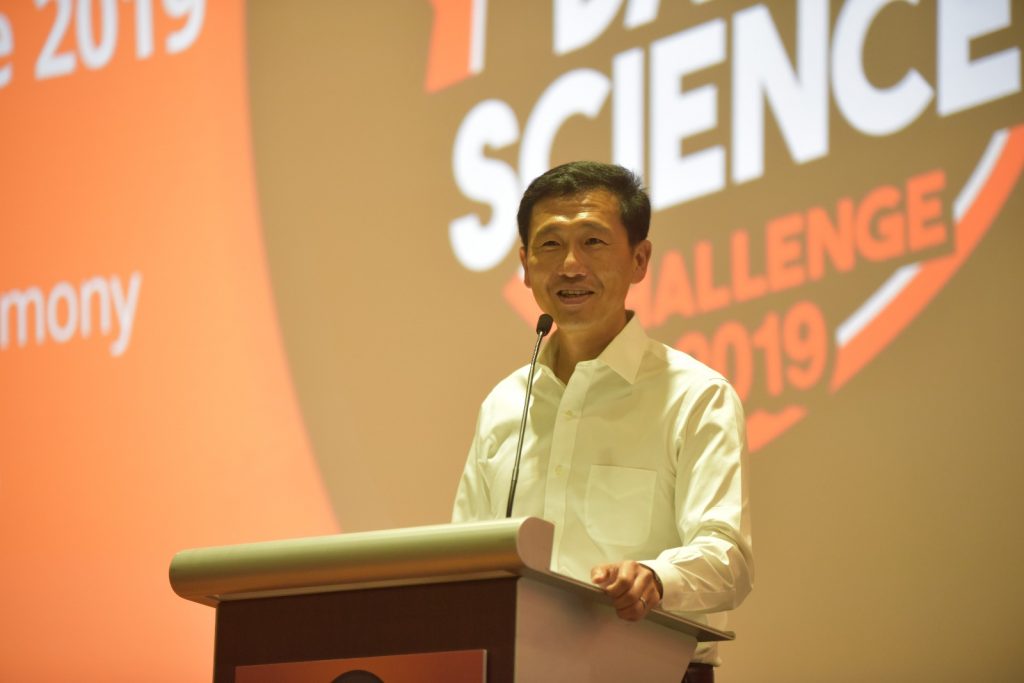 NDSC 2019 is organised by Shopee in collaboration with 59 partners including government agencies such as Info-communications Media Development Authority (IMDA), local educational institutions like Ngee Ann Polytechnic (NP), as well as tech organisations such as SGInnovate. This is the first and largest national data science competition in Singapore, which aims to showcase the ubiquity and usefulness of data in getting actionable insights to drive business outcomes in the current digital economy. It also aims to provide an accessible environment that brings the community closer, and aid in the development of innovative solutions in the approach to data. Participants were treated to mentoring clinics on-site, as well as a series of booth activities displayed by NDSC 2019 partners.
"NDSC 2019 is a huge milestone for Shopee and for data talent in Singapore. This Challenge demonstrates our commitment to raise awareness of data science and to build deep capabilities in this field," said Lim Teck Yong, Head of Regional Operations and People Team, Shopee. "NDSC 2019 has exceeded our expectations on all fronts, particularly in terms of the participation rate and the number of partners who came forward to support this initiative. We are grateful for their support. We believe that it is especially important in the current digital landscape for everyone to be equipped with some form of data skills, and we look forward to continue working with our partners to shape the future of data science in Singapore."
"We highly encourage our students to take part in tech competitions to gain valuable industry insights and develop technical skill sets essential for the jobs of the future. Our partnership with Shopee for NDSC 2019 will help in our efforts to prepare the next generation for their future success," said Mike Wee, Course Chair and Senior Manager, Ngee Ann Polytechnic's School of InfoComm & Technology.
"NDSC is a great opportunity for our students to explore the field of data science and gain hands-on experience solving real-world challenges. We encourage our students to apply their multi-disciplinary education and design thinking skills to real problems to hone their skills through competitions like NDSC and become original innovators to design a better world when they graduate," said Corinna Choong, SUTD Senior Director for Marketing and Communications.
"We are always happy to collaborate with industry partners to help people interested in the fields of data science and artificial intelligence acquire essential technical skills that they need to solve real-life applications. Coding in the classroom is extremely different from coding in real-life, and it is our goal to use our expertise in these fields to help educate the next generation of Data Scientists and Machine Learning Engineers," said Paul Yuan, Founder of YiDu AI.
Open to everyone in Singapore, the competition offers two challenge tracks (Beginner and Advanced) to cater to the different levels of technical expertise amongst participants. Both tracks will address the overall theme of Product Information Extraction in the Wild, in two difficulty levels, which requires participants to solve real-world challenges that Shopee faces on the product development front.
Eligible participants are grouped into teams of three to four members. They will be given four weeks to extract insightful knowledge from large volumes of textual and visual data, and use machine learning techniques to submit their solution. Leading up to the competition, complimentary and pa id workshops ranging from Data Science 101 to Fashion Product Recommendation Systems, were offered to equip or enhance participants existing technical skill sets. During the competition period from 23 February to 23 March 2019, participants will also have access to industry expertise and mentorship provided by Shopee Data Scientists.
Submitted solutions will then be judged by the following data science professionals:
Prof. Bo An, Associate Professor, School of Computer Science and Engineering, NTU
Prof. Dai Bing Tian,  Assistant Professor of Information Systems (Education),
Director, MITB (Artificial Intelligence) Programme, SMU
Prof. Ng See Kiong, Director, Translational Research (Data Science) Professor (Practice), Computer Science, NUS
Dr. Pan Yaozhang, Head of Data Science, Shopee
Winning teams will be announced on 30 March 2019 at the competition's closing ceremony at MAX Atria, Singapore EXPO. The top three teams and Most Creative Team from each challenge track will win cash prizes, and both full-time and internship opportunities with Shopee. In addition, the top team from both challenge tracks will also win return tickets to visit Shopee's Shenzhen Tech Centre, to witness the behind-the-scenes development of the Shopee app.
For more information on the NDSC 2019, partners and prizes, please visit https://careers.shopee.sg/ndsc/
– END –
About Shopee
Shopee is the leading e-commerce platform in Southeast Asia and Taiwan. It is a platform tailored for the region, providing customers with an easy, secure and fast online shopping experience through strong payment and logistical support. Shopee aims to continually enhance its platform and become the region's e-commerce destination of choice.
Shopee has a wide selection of product categories ranging from consumer electronics to home & living, health & beauty, baby & toys, fashion and fitness equipment.
Shopee, a Sea company, was first launched in Singapore in 2015, and has since expanded its reach to Malaysia, Thailand, Taiwan, Indonesia, Vietnam and the Philippines. Sea is a leader in digital entertainment, e-commerce and digital financial services across Greater Southeast Asia. Sea's mission is to better the lives of consumers and small businesses with technology, and is listed on the NYSE under the symbol SE.
About Ngee Ann Polytechnic
Ngee Ann Polytechnic started in 1963 and is today one of Singapore's leading institutions of higher learning with 15,000 enrolled students in over 40 disciplines. It seeks to develop students with a passion for learning, values for life, and competencies to thrive in a global workplace. (www.np.edu.sg)
About Singapore University of Technology and Design
The Singapore University of Technology and Design (SUTD) is Singapore's fourth public university, and one of the first universities in the world to incorporate the art and science of design and technology into a transdisciplinary, human-centric curriculum. SUTD seeks to advance knowledge and nurture technically-grounded leaders and innovators to serve societal needs. SUTD also recently topped a list of emerging engineering schools in the world in a study conducted by MIT.A research-intensive university, SUTD is distinguished by its unique East and West academic programmes which incorporate elements of innovation, entrepreneurship, design thinking and local and international industry collaborations. SUTD's key focus areas are Healthcare, Cities and Aviation, supported by capabilities in Artificial Intelligence/Data Science and Digital Manufacturing. Multiple post-graduate opportunities are available. In addition, skill-based professional education and training courses are also available at SUTD Academy. (www.sutd.edu.sg)
About YiDu AI
Yidu AI was established to build a community for people who are interested in data science and artificial intelligence. Founded in 2017, we have already formed a community with more than 1000+ data scientists, AI researchers, PE/VC investors. There are thousands followers in our social medias. Yidu AI organizes free machine learning seminars, data science talks, workshops, with speaker from universities (NUS, NTU, SMU, SUTD, etc.), research institutes (A*STAR, I2R, IHPC, etc.), industry companies (Shopee, Microsoft, GoJek, Google, etc.) and so on. Events are updated on our social media channels, and also on the website.
Recently, Yidu AI is going to launch a training program in data science and Fintech and Master Data Science in 4 Weeks. Yidu AI was incubated by NUS Enterprise. (www.yiduai.sg)