Today, Ubisoft® announced the content of Tom Clancy's The Division® 2 Private Beta, including early game and endgame missions, running from February 7 at 10 am CET through February 11 at 10am CET. Private Beta preload begins on February 6 at 10 am CET. Xbox One, PS4, and PC players can secure their access to the Private Beta by pre-ordering The Division 2 at participating retailers. Already the fastest registering beta in Ubisoft history, players can register for beta access now for a chance to play at http://thedivisiongame.com/beta.
In the Private Beta, players will be able to get a taste of what awaits them in Tom Clancy's The Division 2. After establishing their Base of Operations in the White House, Agents will be able to venture into a transformed Washington D.C., unlocking new skills and abilities while they upgrade to a level cap of seven and discover the eastern part of the open world featuring the following content:
Two main missions, available in Story, Normal and Hard Mode
Five side missions and additional activities in the open world
Unique PvPvE gameplay in one of the three new Dark Zones
Organized PvP gameplay in one Conflict mode, Skirmish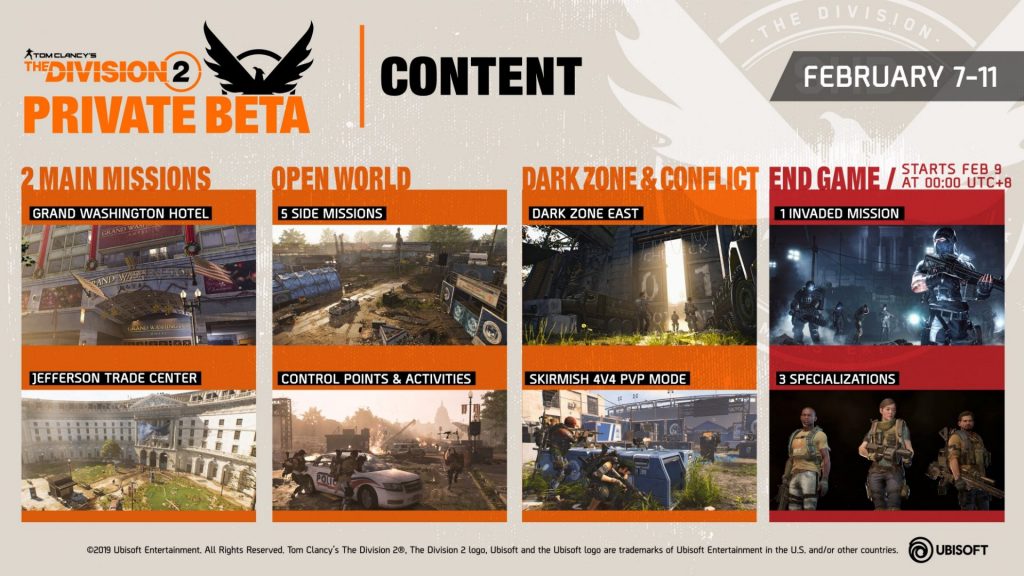 In addition to this content, beginning Friday Feb. 8th at 5pm CET, The Division 2 fans will have the opportunity to have a first hands-on with endgame content with one Invaded mission. Players will experience gameplay at the level cap of 30 and unlock brand new Survivalist, Sharpshooter or Demolitionist specializations.
For further details about the Private Beta, please visit: www.thedivisiongame.com/faq/beta. Tom Clancy's The Division 2 releases worldwide on March 15, 2019, on the Xbox One family of devices including the Xbox One X, PlayStation®4 computer entertainment system and Windows PC.
For more information on Tom Clancy's The Division 2, please visit: tomclancy-thedivision.ubisoft.com. For the latest news on Tom Clancy's The Division 2 and all of Ubisoft's games, visit Ubisoft News: news.ubisoft.com. Please follow us on Facebook at facebook.com/UbisoftSEA and on YouTube at youtube.com/UbisoftSEA for more Ubisoft excitements and updates.