Introduction
With the growing demand for gaming oriented peripherals in the market, Cooler Master has been constantly innovating and pushing new products out. Other than their usual focus on DIY PC products such as computer cases, fans and CPU Coolers, the brand has also placed a focus on gaming audio products this year. At COMPUTEX 2018, we first saw their MH751 and MH752 Gaming Headset which we reviewed just a couple of weeks ago. No doubt, even though they are new in this area, these headphones performed much better than we expected.
More recently, Cooler Master has released the new MH703 and MH710 gaming Earbuds to complete their product lineup. Today, we will take a closer look at the MH703 to learn more about the values this product has to offer.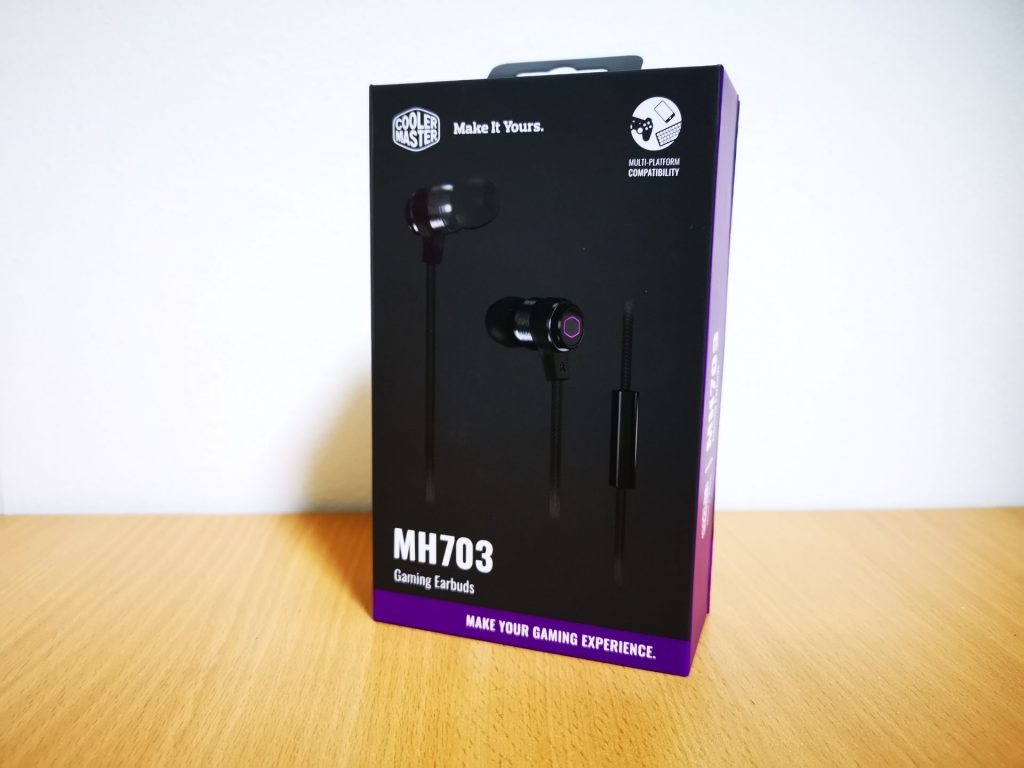 Packaging and Accessories
To make it convenient for users, Cooler Master has also included a small carrying case for the MH703 in package. This carrying case will ensure that the earbuds can remain protected from excess physical wear and tear when stored. Moreover, to adapt the headset for different usage scenarios, the retail package also comes with a audio/mic splitter. This splitter can allow users to connect the headset to your PC or any other devices such as PS4 and Switch with its dedicated audio and microphone jack.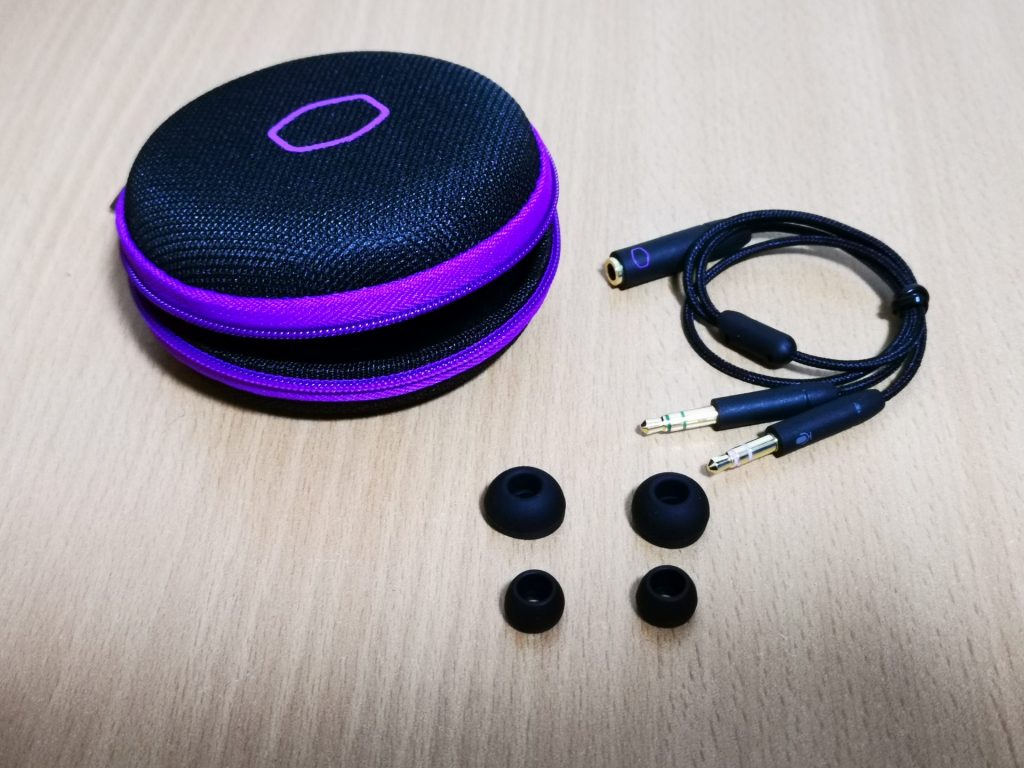 Moreover, the MH703 can also be customized to fit different ear sizes. The product comes with ear tips in small, medium and large sizes. This ensures that both comfort and its audio quality aspects are all achieved.
Build Quality and Features
Cooler Master did not scrimp on the build quality of the MH703 gaming earbuds and has went the extra mile to braid the cables. This will definitely extend the durability and strength of these cables as opposed to usual cables with rubber coverings.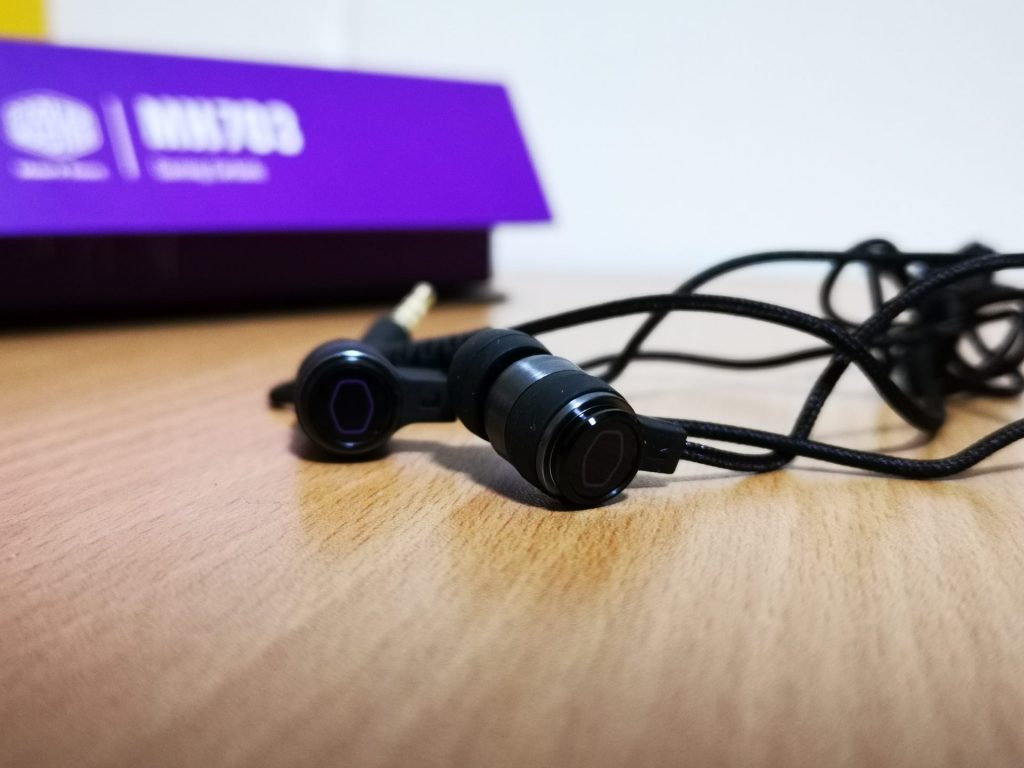 The MH703 Gaming Earbuds also have a in-line microphone that allow gamers to easily join their game chat without any additional accessories. Forget about buying an expensive dedicated microphone, as the MH703 makes it extremely easy and simple to be hooked on to your favourite team games and chat channels.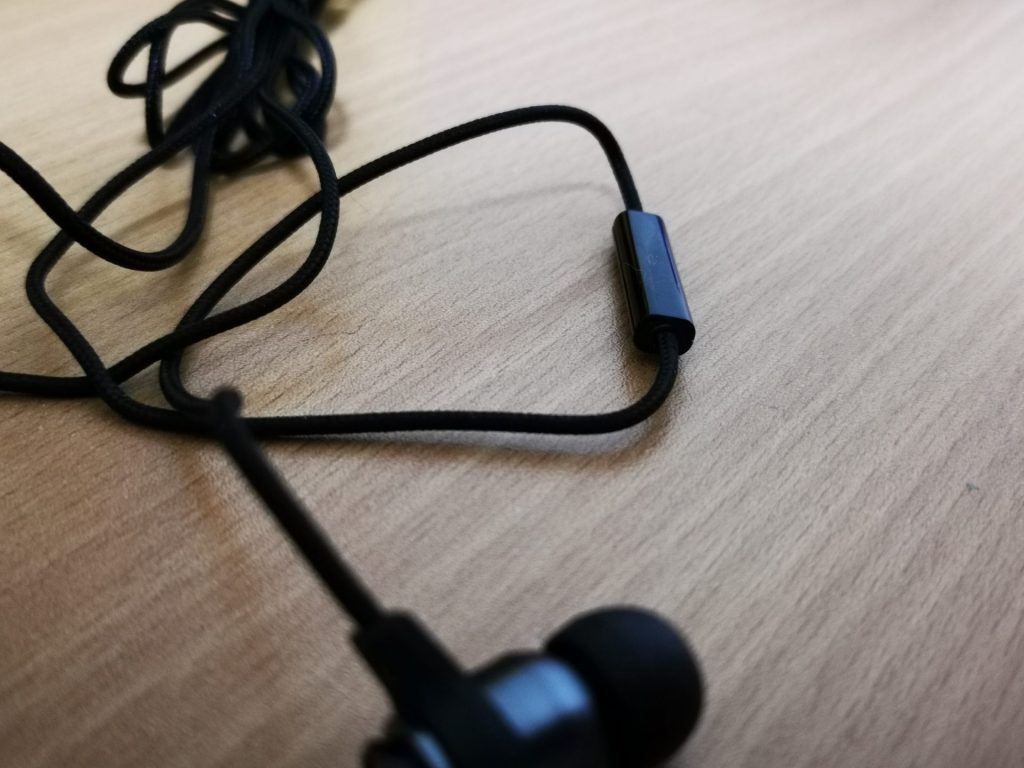 On top of that, the MH703 also supports in-line audio controls. To play or pause songs playing on your smartphone, simply tap on the button found on the microphone unit. The single button on the MH730 also supports other functions such as "Next" and "Previous". However, these functions are not intuitive, as users have to double tap to skip their song and triple tap to move to the previous song. Regardless, as these earbuds are connected to the smartphone directly via a wired connection, these functions are highly responsive and it was really easy to control the play back of the playlist.
Audio Quality
For general music, we can say that the MH703 is well balanced. There is a clear distinction of clarity across all different frequencies, as the lows, mids and highs are able to effectively showcase their true form. This is the biggest strength of the MH703, but it could also be one of its weakness. As there is a lack of focus on a certain section of its frequency range, the earbuds could sound rather flat for listeners with a personal preference with either low bass or high and crisp treble. Nonetheless, as a casual listener who has had many experiences with different earbuds, I can comment that the MH703 is far above average.
Moving on, we also tried the MH703 in some games. No doubt, we felt that the MH703 excelled in this usage scenario, especially in FPS. It seems that these pair of earbuds were specifically tuned for FPS games, as it was able to produce gun shot sounds with an impact. Moreover, its balanced audio profile also allowed the whole game to sound natural. This resulted in a game play experience that was a lot more engaging and immersive.
However, do take note that audio quality is a very subjective matter, and please take our comments above as comments in general.
Conclusion
In our opinion, the MH703 Gaming Earbuds worked particularly well in FPS games. It is able to bring out details of each sound effects in these fast paced games. The well balanced audio profile across all frequency levels will also be a selling point for general audio listeners. However, if you are purely seeking for a headset that focuses solely on deep bass or clarity in voice, there will be other choices that will be more suitable in the market. Taking into the account that the MH703 is branded as a gaming earbuds, we are certain that these earbuds had met our expectations.