The third edition of the Legion of Champions tournament has finally ended, with team Korea emerging victorious amidst very fierce competition
SINGAPORE – January 28, 2019 – Lenovo (HKSE: 992) (ADR: LNVGY), the world's leading PC and smart device manufacturer, today saw its Legion of Champions Series III (LoC III) Grand Finals come to the end of its journey in a spectacular fashion, with team Awe Star from Korea, lifting the championship trophy in triumph as part of their first LoC tournament win. The annual eSports tournament, held in conjunction with Intel, pulled in an impressive crowd, bearing witness to the intense competition that unfolded over the last three days.
"I'm proud to share that this is the third consecutive year that we have provided an excellent platform for the next generation of gamers to gather, compete and network with each other. It is also a chance for us to engage them and ensure that the Legion brand is evolving with their needs", said Ken Wong, President, PCs and Smart Devices, Lenovo Asia Pacific. "Since the first edition of LoC in 2017, we have doubled the number of participating teams. The results have exceeded our wildest expectations and we look forward to taking eSports to the next level in Asia Pacific."
"Intel congratulates the winners of the Lenovo Legion of Champions and is thrilled to be associated with the league. Along with partners like Lenovo, Intel is helping transform the future of eSports by inspiring and supporting this vibrant community of fans and gamers by delivering the best in class technology that pushes the boundaries of performance," said George Chacko, Director of Global Account for Lenovo, Intel Asia Pacific.
Team Awe Star's triumphant efforts saw them walk with a total prize money of USD$7,000 and USD$5,000 worth of Legion Y530 notebooks, while the first and second runners-up, team Diamond from Taiwan and team Mega Esports from Thailand, took home USD$3,000 and USD$2,000, respectively.
"Team Singapore has made us proud by showing up so strong at LoC this year. Given the rise of eSports in Singapore, we are excited to be a part of today's vibrant gaming culture. This is our third time participating in LoC and we can't wait to see even more exciting developments in the eSports space next year," said Eddie Ang, Singapore Country General Manager.
Said Aaron from team Rayning Jelly Bears (RJB), "It was an intense showdown but I'm glad the team was able to stay composed and execute our strategy to the tee. LoC has been a great platform for me to connect with other avid gamers and sharpen my skills, especially since we got to hear from a professional gaming expert about gameplay strategies. This was truly an exhilarating experience given the stiff competition we faced, but I am already looking forward to next year's LoC and seeing my fellow gamers from across the region come together in friendly competition again!"
LoC III 2019 this year also saw attendees being entertained by the likes of popular Thai idol group, Sweat16!, who gave the crowd something to dance about! Here are some highlights from LoC III 2019 and all the action that came with it: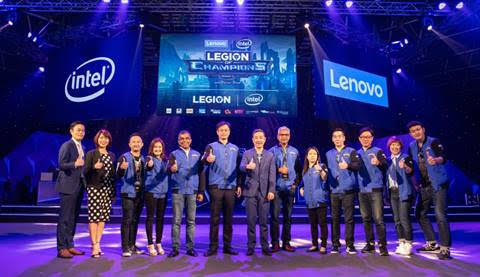 Lenovo with co-sponsor Intel, and partners Microsoft and NVIDIA at the Legion of Champions opening ceremony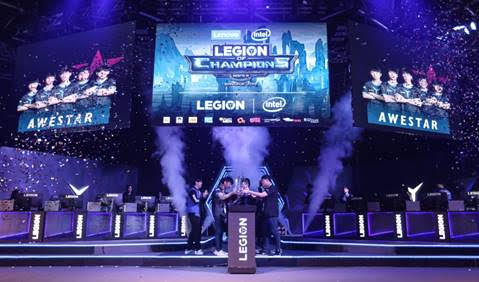 Team Awe Star from Korea celebrates an impressive victory in the LoC III 2019 finals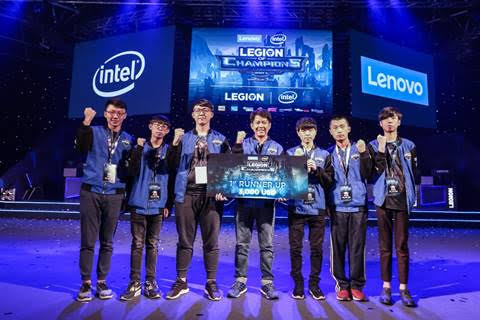 Team Diamond from Taiwan clinches the first runner-up prize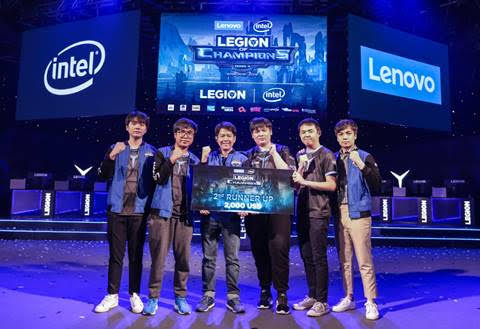 Thailand's team Mega Esports came in third place, snagging the final spot on the podium
Celebrities such as Stamp Apiwat and Sweat16! and cosplayers graced LoC with their presence to get everyone moving their feet!
For more information, visit https://www.legionloc.com/.