Plantronics, an audio pioneer and communications technology leader, today announced the Plantronics Elara 60 Series, a new category of productivity solution – the mobile phone station – designed for the increasingly mobile-first worker. Thirty-six percent of employees are reliant on mobile phones for day-to-day business communications, so putting the mobile phone in the center of the collaboration experience with native Microsoft Teams support is a natural way to enhance employee productivity.
Plantronics Elara enables a mobile phone with desk phone-like capabilities, including headset, speakerphone, and handset options. This mobile phone station receives Microsoft Teams notifications and provides users with a one-touch or voice-activated Microsoft Teams experience. To operate, merely set your mobile phone on Plantronics Elara and get to work – available wireless charging can keep your battery full. With no network wires, nothing could be easier.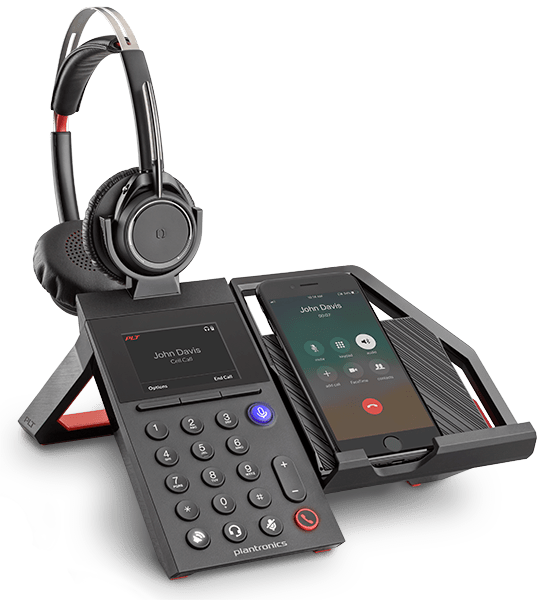 The Plantronics Elara 60 Series offers customers great flexibility to design the mobile phone station that suits user preferences. In addition to having native one-touch Microsoft Teams integration, built-in dial pad, convenient headset integration, and support for iOS and Android smartphones, customers can select other options including:
Multi-coil wireless phone charging capabilities
Speakerphone with crystal-clear audio performance
Phone handset
These special options transform Plantronics Elara into a productivity engine for mobile employees. There are additional standard features in every Plantronics Elara model such as Microsoft Cortana voice activation integration, color LCD screen to display charging status, connected devices, call status and other customizable settings, and Kensington lock capability to keep this new mobile station from going mobile.
Plantronics and Polycom support of Microsoft Teams goes beyond the new Plantronics Elara, as Teams support will be available on the Polycom Trio conference phone and through the interoperability cloud service, RealConnect, in the fourth quarter of 2018. Plantronics and Polycom are committed to supporting customers using any of Microsoft's collaboration platforms – Teams, Skype for Business, or Office 365 – at the desk, in the conference room or on the go.
The Plantronics Elara 60 Series continues the momentum of Plantronics and Polycom connecting endpoint solutions to cloud services. With Plantronics Manager Pro software-as-a-service (sold separately), IT professionals get easier device management and provisioning capabilities along with insights from analytics on device usage to anticipate and support employees before any problems may arise.
Plantronics Elara 60 Series will ship in early 2019 – additional information to follow when available locally next year. For more information on the Plantronics Elara 60 Series go to www.plantronics.com/product/plantronics-elara-60. For more information on Plantronics and Polycom solutions for Microsoft platforms go to Plantronics.com/microsoft.