In 2017, almost one-in-three network users – including corporates – were attacked by web threats. Consequently, it is no surprise that reducing potentially risky online actions of employees remains a challenge for 50% of businesses. To help address this, Kaspersky Lab has renewed its Kaspersky Security for Internet Gateway solution with a new application, Kaspersky Web Traffic Security, which reinforces web gateways to protect employees from all kinds of web-based attacks, as well as reducing risks and decreasing IT support overheads.
Whether it's by chance or by design, employees can put corporate networks and sensitive data at risk. Businesses can combat this human risk element by not only educating staff and implementing strict security policies, but supplementing endpoint protection with a solid first line of defense. Kaspersky Web Traffic Security adds this risk-mitigation layer, by stopping threats at the point when they attempt to penetrate the network and before they even reach employee endpoints.
Kaspersky Web Traffic Security has a powerful multi-layered ML-based anti-malware engine. Besides, with a renewed anti-phishing engine, featuring deep learning-based technologies at its core, the application helps reduce the hazards associated with dangerous actions – like clicking on phishing links – as well as potentially harmful activities, such as opening untrusted web pages. In addition, by filtering ingoing and outgoing content, the application reduces the risk of infection and data leakage, for example, prevents corporate data being uploaded to public clouds. The web control feature of the application also helps manage which categories of web resources employees are permitted to visit.
For even better detection rate, Kaspersky Web Traffic Security uses global threat intelligence from the cloud – including reputation data about files, URLs and IP addresses from Kaspersky Security Network and unique data acquired during expert research.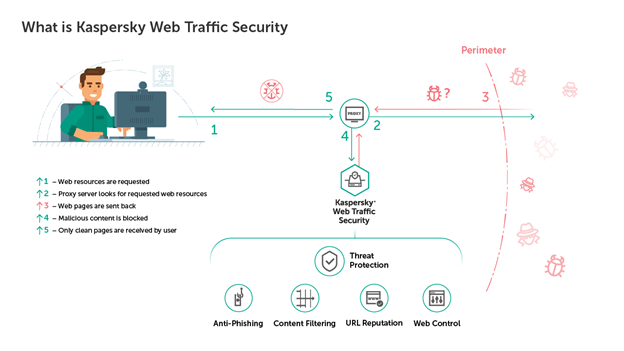 "Social engineering is one of the key techniques used by attackers trying to penetrate the business perimeter. Kaspersky Web Traffic Security is designed to reduce this risk as well as relieve some pressure from IT support staff who have to resolve problems which have resulted from other employees' inappropriate online activities. The application will boost business defenses, providing a proven Next Generation cybersecurity engine, with arguably the lowest false positive rates and highest detection rates in the industry – governing internet use via a single application point," comments Sergey Martsynkyan, Head of B2B Product Marketing, Kaspersky Lab.
Besides superior protection, Kaspersky Web Traffic Security provides businesses with enhanced management capabilities, such as:
· A graphic user interface, used for event-centric gateway security management and monitoring;
· SIEM integration to add gateway security context to the infrastructure-wide picture of security events;
· Multi-node management allowing to tackle heavier loads and easily work with distributed infrastructures.
· Special multitenancy mode for MSPs and diversified companies, which allows them to assign dedicated workspaces for different customers or projects/offices and manage them separately;
· Role-based access control allowing the management of access levels for security administrators who have different responsibilities.
Kaspersky Web Traffic Security is a part of Kaspersky Internet Gateway Security. More information about the application can be found here.
About Kaspersky Lab
Kaspersky Lab is a global cybersecurity company, which has been operating in the market for over 20 years. Kaspersky Lab's deep threat intelligence and security expertise is constantly transforming into next generation security solutions and services to protect businesses, critical infrastructure, governments and consumers around the globe. The company's comprehensive security portfolio includes leading endpoint protection and a number of specialized security solutions and services to fight sophisticated and evolving digital threats. Over 400 million users are protected by Kaspersky Lab technologies and we help 270,000 corporate clients protect what matters most to them. Learn more at www.kaspersky.com.