With the launch of the immensely popular Nova 3i smartphone, Huawei paired their release with the Kirin 710 chipset. This chipset is based on the 12nm process technology which will replace Huawei's aging Kirin 659 chipset that is still on the 16nm process node. This new replacement will be used to power the upcoming mainstream to high-end devices to come. Wonder what can the new Kirin 710 chipset do? Let's take a deep dive into what we know about this new chip.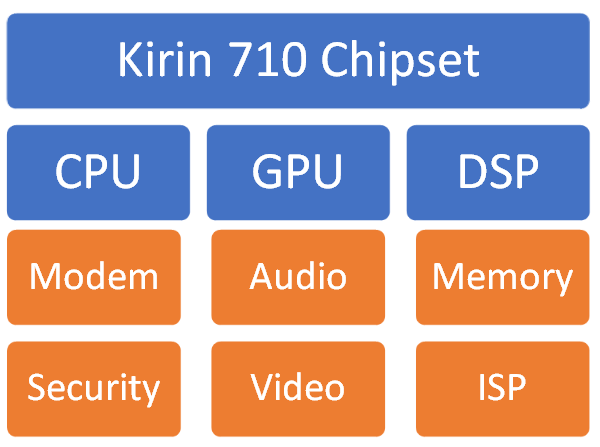 CPU –  ARM A73 + A53 Computing Cores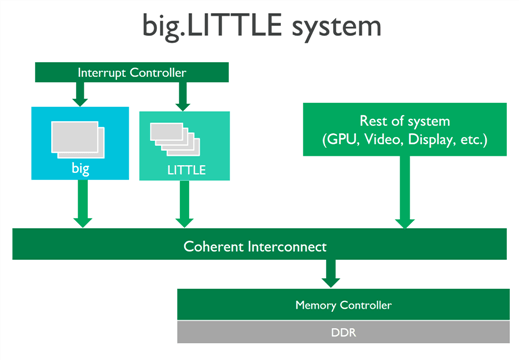 The Kirin 710's SoC is equipped with 4 x A73 ARM processor that is clocked at 2.2GHz and 4 x A53 ARM processors at 1.7GHz. This is based on ARM's big.LITTLE architecture, which can effectively reduce the power consumption of the entire SoC that is crucial in smartphones. When there is a need for more computational resources, the Kirin 710 will switch to the larger and more powerful A73 cores to process the workload. Alternatively, when the phone is in idle mode or processing simple background tasks, the less power-hungry and efficient A53 cores will kick into action. Contrary to popular beliefs, even though the Kirin 710 is marketed as an Octa-core processor, not all cores are used at the same time.
Specs
Kirin 710
Kirin 960
Process
TSMC 12nm FinFET
TSMC 16nm FinFET
ISA
ARMv8-A
ARMv8-A
CPU
Cortex-A73(Big) @ 2.2GHz (quad cores)
Cortex A53(Little) @1.7GHz (quad cores)
Cortex-A73(Big) @ 2.4GHz (quad cores)
Cortex A53(Little) @1.8GHz (quad cores)
GPU
Mali-G51 MP4
Mali-G71 MP8
Nav
A-GPS, GLONASS, BDS
A-GPS, GLONASS, BDS, GALILEO
Cellular
Dual SIM LTE Cat.12/13
Dual SIM LTE Cat.12 LTE 4x CA, 4×4 MIMO
WLAN
802.11b/g/n (2.4GHz only)
Wi-Fi 802.11 a/b/g/n/ac, dual-band
Bluetooth
4.2, A2DP, LE, EDR, aptX HD
BT4.2, A2DP, LE, aptX
Interestingly, if you look at the previous generation flagship Kirin 960 chipset, it actually features the same type of cores as the Kirin 710. They both use the A73+A53 combination. This also means that the Kirin 710 is probably comparable to the flagship Huawei devices of yesteryear in terms of raw compute performance on the CPU. (Please also take note that the Kirin 960 is still clocked slightly higher, and is expected to perform better than the Kirin 710).
GPU – Mali G51
The Mali G51 GPU was announced in 2016 with ARM's Bifrost architecture. This GPU is targeted for the mainstream market, as it is capable of handling the most basic graphics workload while retaining an affordable price for manufacturers to adopt. The first generation Bifrost architecture chip is also capable of the popular Vulcan API, which many of today's mobile games can take advantage of.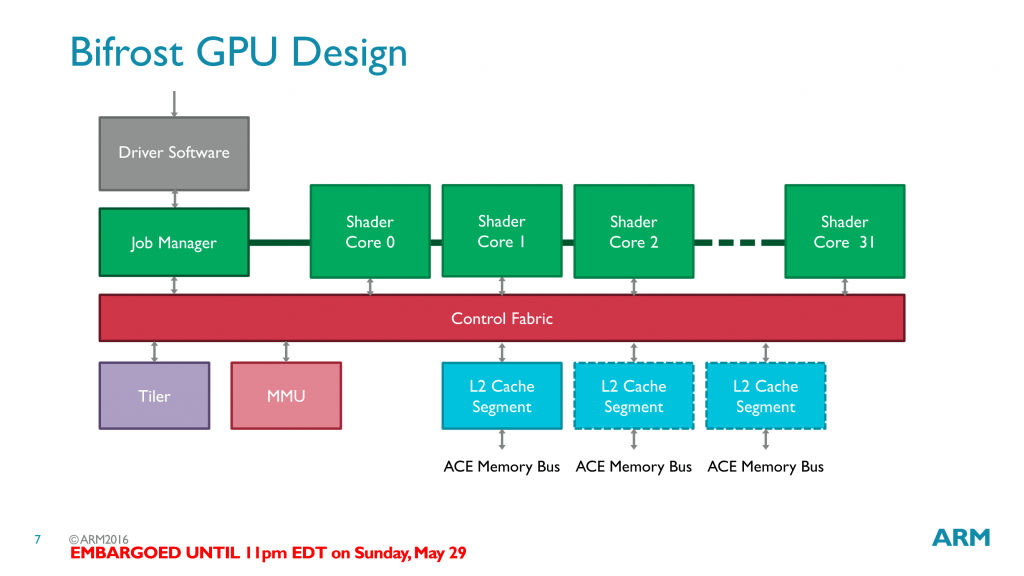 As compared to the flagship Kirin 910, which uses a high-end G72 GPU that is based on the 2nd generation Bifrost graphics architecture, the G51 will be slower due to a lower clock speed and scaled down features. It is also in a different product segment for a different target device. Regardless, the G51 was dubbed as the "Smallest GPU for 1080p to 4K displays".
However, ARM has already announced the new Mali G52 that refreshes the Mali G51. It also comes with new features and is more efficient that the G51. We thought that Huawei still retained the Mali G51 in their Kirin 710 simply because due to the consideration on cost.
Lack of dedicated Neural Processing Unit (NPU)
An interesting point about the Kirin 710 is that this chipset lacks a dedicated NPU. Unlike the Kirin 970's NPU which can accelerate multi-dimensional matrix multiplication and other operations used in artificial neural network processing, the Kirin 710 uses its CPU and GPU instead.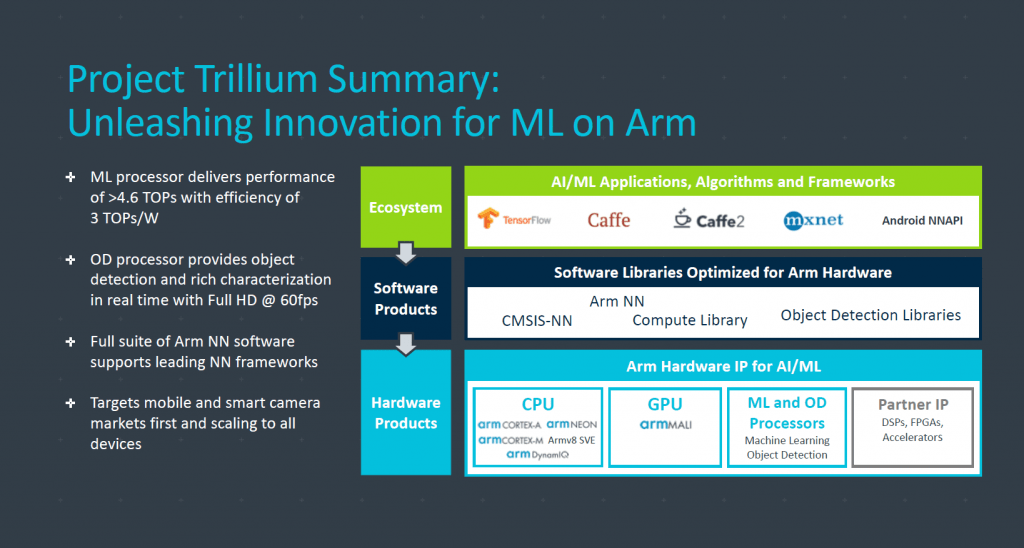 This is enabled by a compute library made available by ARM's Project Trillium, which brings machine learning capabilities to the Cortex and Mali processors. Of course, this is not as efficient than a dedicated NPU, but it will still do the job for main A.I. computations such as enhancing image quality. We believe that most of the inferences done on the Kirin 710 for its use case is done via this method.
Enhanced ISP + DSP
With the Kirin 710 chipset, image processing from its camera is done with its built-in dedicated Image Signal Processor (ISP) and Digital Signal Processor (DSP). The combination of these two gives the phone its capabilities to capture photos effectively. With the enhanced ISP, the Kirin 710 is said to perform 30% better than its predecessor (Kirin 659). This also means that the action of photo captures will be a lot more responsive. The DSP give the Kirin 710 its strength in better HDR performance and noise reduction as well. Similarly, performance of the DSP on the Kirin 710 is also reported to be better than the Kirin 659 by 30%.
Others – Modem
The Kirin 710 has its stand in the market today because its modem supports dual CAT 12 and CAT 13 4G LTE simultaneously. This means that there is no need for users to switch their SIM cards between SIM slots. Moreover, Voice over LTE (VOLTE) is also enabled on both SIM/Networks on the chipset as well.
Conclusion
The Kirin 710 effectively replaced the outdated Kirin 659 with improvements in performance across the board. However, its 12nm architecture seems to not be the best, as there are already 10nm parts available. Regardless, the Kirin 710 still performs well for smartphones in the entry-to-mainstream segments of today. With the new Huawei Nova 3i's success, it seems like the decision of designing and engineering Kirin 710 has not been put to waste.