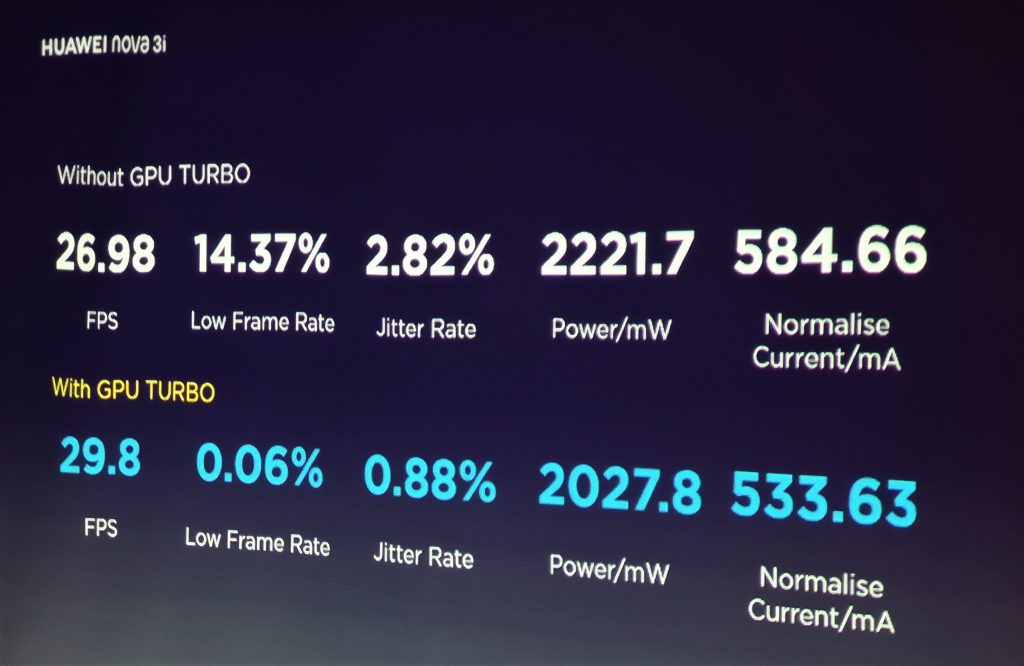 Update (18/07/2018) : Based on the numbers showed to us, do expect smoother gameplay as well as lower battery usage while playing games.
Starting this August, Huawei will be releasing an update to their later lines of smartphones. This update, termed "GPU Turbo", will supposedly improve graphics processing efficiency by up to 60% while reducing power consumption by 30%. What can owners expect? No doubt better battery life and performance in regards to the GPU utilization. This mostly covers games, AR/VR, and even their entire operating system – EMUI.
In regards to the support for GPU Turbo, there will only be an initial support for just two titles – "PUBG MOBILE" and "Mobile Legends: Bang Bang" with additional games coming in a later date. Hopefully this optimization will not be locked to several titles and be open to all applications.
The first wave of smartphones that will be getting the update this August 2018 are Mate 10, Mate 10 Pro, PORSCHE DESIGN Mate 10, P20, P20 Pro, and PORSCHE DESIGN Mate RS. The entire schedule can be seen below.
| | | |
| --- | --- | --- |
| Model | Regions | Release Date |
| HUAWEI Mate 10, Mate 10 Pro, Mate RS | Europe, Russia, Asia Pacific, Middle East, Africa | August 2018 |
| HUAWEI P20 and P20 Pro | Europe, Russia, Asia Pacific, Middle East, Africa | August 2018 |
| HUAWEI Mate 10 Lite | All Markets | September 2018 |
| HUAWEI Nova 2i | All Markets | September 2018 |
| HUAWEI P Smart | All Markets | September 2018 |
| HUAWEI P20 Lite | Europe, Asia Pacific, Middle East, Africa | September 2018 |
| HUAWEI Y9 2018 | All Markets | September 2018 |
| HUAWEI Mate 9 and Mate 9 Pro | All Markets | November 2018 |
| HUAWEI P10 and P10 Plus | All Markets | November 2018 |
Huawei Upgrades Devices' Gaming Performance with GPU Turbo Update
Arriving to Huawei devices starting in August, the innovative solution is Huawei's answer to surging demand for greater graphics processing power
SINGAPORE — 16 July, 2018: Huawei Consumer Business Group revealed the release schedule for GPU Turbo, a graphics processing technology built from the ground up, that will revamp the ability of smartphones to process graphics-intensive applications like games. Arriving as part of an EMUI update to a range of Huawei devices, GPU Turbo will allow users to enjoy much-improved gaming performances without having to upgrade their devices.
The industry is faced with a challenge whereby GPUs are unable to keep up with the demand of more graphically-intensive applications, such as gaming and VR. Huawei's approach to re-architect how graphics are processed at the system level is a novel method, representing the company's commitment to innovation and supporting its devices for an extended period of time post-launch. Huawei engineers took design cues from a car's turbocharger, which uses a cylinder to feed extra air into the combustion engine to give a vehicle an extra boost of power at no additional fuel cost. The same concept was applied to GPU Turbo, which takes its namesake from the turbochargers of automobiles.
GPU Turbo is able to accelerate performance by optimizing system utilization of software and hardware resources. GPU Turbo will raise the bar for GPU performance across Huawei smartphones, beginning with the HUAWEI Mate 10 and P20 Series in August. With GPU Turbo installed, graphics processing efficiency is improved by up to 60 percent while overall SoC power consumption is saved by 30 percent. This is beneficial since graphically demanding operations typically consume battery quickly.
This update exemplifies how Huawei addresses customer pain points through innovation. The improvement will be felt widely when playing graphically intense games. GPU Turbo will initially support PUBG MOBILE and Mobile Legends: Bang Bang, two leading MOBA (multiplayer online battle arena) titles, each with millions of active users. Support for additional games will be announced at a later date.
"Graphics performance is becoming a keystone of mobile devices, powering a wide array of applications, in particular gaming," said Ryan Lui, AVP, Software Marketing, Huawei Consumer Business Group. "Gaming on mobile devices is the platform seeing the most innovation, with users enjoying more sophisticated, beautiful and graphically-demanding games. GPU Turbo makes high-end gaming experiences possible while also unlocking the potential for other demanding applications possible such as energy efficient AR/VR for shopping, learning and fun."
The unveiling of GPU Turbo comes at a critical juncture, especially as mobile gaming is on a sharp rise globally. In 2017, gaming spend on mobile devices was more than two times greater than on PCs and almost four times more than traditional game consoles, according to IDC. The mobile gaming segment represents US$46.1 billion worldwide, encompassing 42 percent of the total US$108.9 billion market for gaming revenues in 2017, reported Newzoo, a market intelligence organization for the gaming, mobile and eSports industries. The figure for mobile shows a 19 percent gain compared to the prior year.
Aside from mobile gaming, GPU Turbo will deliver an optimized EMUI experience for Huawei devices. The performance boost will also benefit nascent technologies such as AR and VR, opening up boundless opportunities including for virtual classroom, online shopping, telemedicine and more. For instance, through AR and VR, users can take a tour of a location through their smartphones, as though they were actually there in-person. The GPU Turbo gives the hardware a helping hand to ensure these graphically taxing applications run as smoothly as possible.
Huawei will be pushing out updates on a rolling basis, first launching in August with the HUAWEI Mate 10, HUAWEI Mate 10 Pro, PORSCHE DESIGN HUAWEI Mate 10, HUAWEI P20 Pro and HUAWEI P20 and PORSCHE DESIGN HUAWEI Mate RS.