Yahoo today is proud to unveil two new major initiatives that will give mobile users with a new and enhanced Yahoo Mail experience. Firstly, a completely modern Yahoo Mail for mobile browsers that is fast, lightweight, and has improved features. And secondly, a new Yahoo Mail Go app optimized for Android Go phones.
These major initiatives are designed to meet the needs of the growing mobile users market worldwide. By 2025, the number of global mobile users is predicted to expand by over 50%, according to The Mobile Economy 2018 report by GSMA.
---
Yahoo Mail for All: Introducing Our New Mobile Web Experience and Android Go App 
Singapore, 20th June 2018: By 2025, the number of global mobile internet users is ​predicted to expand​ by over 50%. We believe it is important to understand and meet the specific needs of this massive wave of new mobile users, and deliver the same first-class Yahoo Mail experience regardless of device, location, storage capacity, or network speeds.
As such, our team has been working to deliver on this promise of global access and equality and, today, we are proud to unveil two new major initiatives: 1. a completely modern Yahoo Mail mobile web experience, and 2. a new app optimized for Android Go phones.
New Mobile Web Experience: The Best Mail in your Browser
In order to deliver a beautiful, high-quality Yahoo Mail experience no matter where you are in the world, it was critical for our team to make the mobile browser experience extremely fast and lightweight, while significantly improving current features. The difference between the old and new is striking.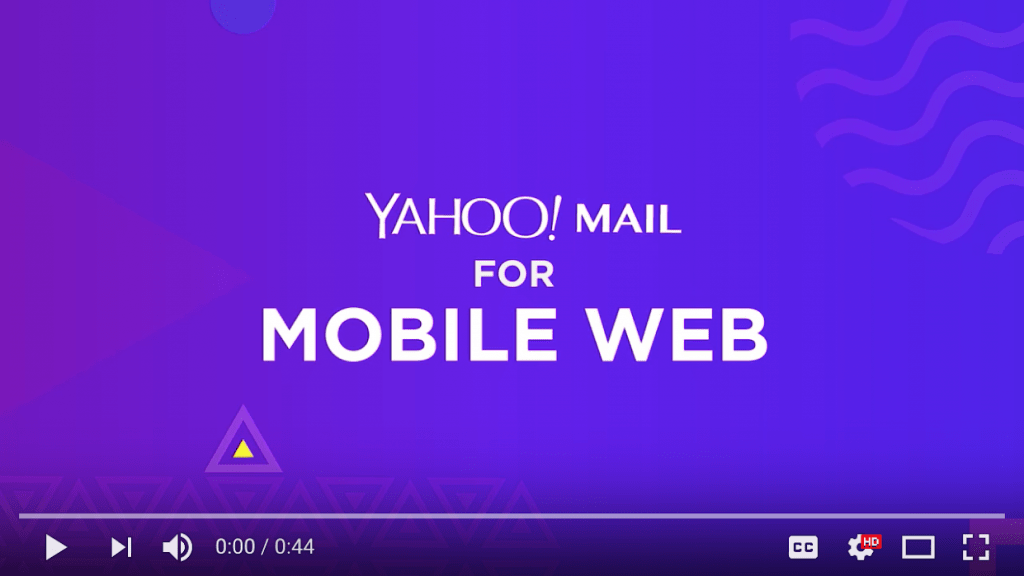 The new, enhanced mobile browser experience shares many of the same features as the top-rated Yahoo Mail app with the added benefit of freeing up space, including:
Swipe through your inbox: ​The ability to take actions on emails quickly and easily by swiping right to ​mark as read​ and left to ​delete​.
Customize your look and feel: ​New color themes with light and dark backgrounds that allow you to personalize your inbox.
Get organized easily with folders: ​Beautiful sidebar menu with folders for easy organization.
Never hunt for an email address: ​Auto-suggest your most frequent email addresses when you type the first few letters, so sending an email is faster than ever.
Infinite scrolling inbox:​ Scroll all the way down your inbox without having to hit "next" to see more emails.
Take quick action on emails:​ Easily delete, forward, reply and do more from the easy access toolbar once you open a message.
For convenience, you can add an icon to your home screen that links directly to the Yahoo Mail mobile browser experience. By introducing smooth transitions, an updated design, modern fonts, and native-like interaction animations, Yahoo Mail mobile browser takes what users love about our app experience and brings it to the web. If you're already familiar with the app, using Yahoo Mail in your mobile browser will feel virtually indistinguishable, letting you jump right in without missing a beat.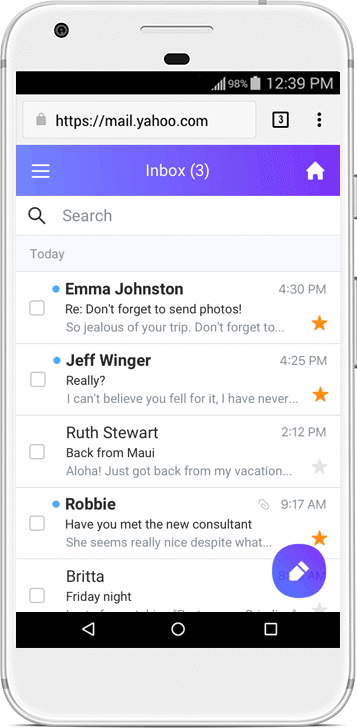 In addition to the dramatic feature and design updates, what's changed for Yahoo Mail on mobile browser behind the scenes is equally as notable. The architecture supporting the new browser experience is the same as our ​modern desktop tech stack,​ which is developed on React and Redux. Further,
The enhanced version is written in JavaScript and built using Node.js. The basic version of Yahoo mobile web is written in PHP and built using Apache.
The enhanced version uses ​AJAX​. The basic version uses form submit for all user actions.
In the enhanced version, there are no reloads – all actions (e.g., deleting, marking as read, marking as spam, emptying trash) are instant. The basic version reloads the page on every interaction.
The enhanced version is a fully interactive app-like experience. The basic version has limited interactivity.
As we look ahead toward future improvements (we're always looking for new ways to give you what you want), whenever you launch Yahoo mobile web, your inbox will automatically access the most current code base. You'll always have the latest and greatest experience, so no need to worry about missing out!
Yahoo Mail Go for Android Go: Same Yahoo Mail Speed and Reliability, but Lighter on your Data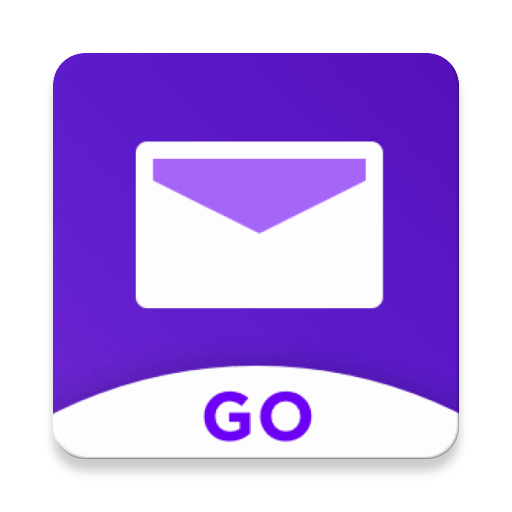 Our new mobile browser experience is just one part of how we're delivering Yahoo Mail for everyone. Today we are also announcing Yahoo Mail optimized for the new Android Go devices (entry-level smartphones).
The Yahoo Mail Go app delivers the same stunning features enjoyed by our current Android app users, while keeping the RAM usage on devices below 50MB and the install size below 10MB. In fact, the original Yahoo Mail app is already extremely lightweight, so we didn't have to remove major features to reduce the standard Yahoo Mail app size for Go. And we did not compromise on performance – the Go app uses the exact same architecture as the standard Yahoo Mail app.
If you have a phone with the Android Oreo (Go edition) operating system and would like to download Yahoo Mail Go, follow this link:
https://play.google.com/store/apps/details?id=com.yahoo.mobile.client.android.mail.lite
No matter where you live in the world, what language you speak, or how you access Yahoo Mail, if you have any suggestions for future updates, we'd love to hear them. If you're using the mobile browser, go to the side panel and tap on "Send feedback". If you're using Yahoo Mail Go, go to Settings and tap on "Send feedback".
###
About Oath
Oath, a subsidiary of Verizon, is a values-led company committed to building brands people love. We reach one billion people around the world with a dynamic house of media and technology brands. A global leader in digital and mobile, Oath is shaping the future of media. For more on Oath, visit http://www.oath.com.