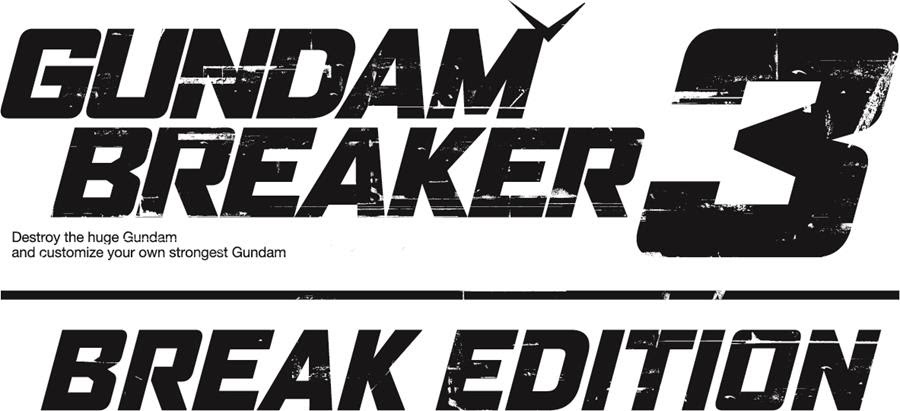 「Gundam Breaker 3 BREAK EDITION」 English Language Package Bundle Launching On 2nd May 2017
SINGAPORE – March 24, 2017 – BANDAI NAMCO Entertainment Asia announced today that the English language version of GUNDAM BREAKER 3 BREAK EDITION will become available on May 2, 2017 as a PlayStation®4 / PlayStation®Vita exclusive title.
Includes all DLCs! Enjoy GUNDAM BREAKER 3 with its Complete Content Updates


GUNDAM BREAKER 3 BREAK EDITION is a special edition title that includes the base GUNDAM BREAKER 3 game and all 6 DLC expansion packs. Customization possibilities have multiplied with the varied line-up of new units. Through additional missions, discover how the story unfolds after the finals of the Gunpla Battle World Tournament.
​Battle with more than 150 Gunpla Units Compiled from Different Gundam Works!
GUNDAM BREAKER 3 is the third instalment of the popular GUNDAM plastic model (also known as "Gunpla") action game that lets players freely combine Gunpla heads, torsos, arms and other parts to create their very own original unit. Players destroy enemy Gunpla units to acquire new parts, and use them to create new original Gunpla to fight alongside their comrades in co-op battles against huge enemy Gunpla units. The newest game features enhanced equipment that units can be fitted with for advanced levels of customization, aside from recombining parts in different ways. SD Gundam BB Senshi have also been added as player support units. Choose between 1/144 scale HG (High Grade) and 1/100 scale MG (Master Grade) parts. Use your imagination and creativity to conceive your very own original Gunpla!
The GUNDAM BREAKER 3 BREAK EDITION PlayStation®4 / PlayStation®Vita exclusive title will be on sale from May 2, 2017.
※ GUNDAM BREAKER 3 will be available with English language subtitles.
※ GUNDAM BREAKER 3 BREAK EDITION game save data will override existing GUNDAM BREAKER 3 save data on the device. The save data can then only be used with GUNDAM BREAKER 3 BREAK EDITION, and GUNDAM BREAKER 3 will no longer be playable thereafter.
※ If the device has game save data from GUNDAM BREAKER 3 and all DLCs 1-6, these versions as well as GUNDAM BREAKER 3 BREAK EDITION will be playable.
Product Information
Product Title: Gundam Breaker 3 Break Edition
Platform: PlayStation®4, PlayStation®Vita
Genre: Build & Break Action Co-op
Release Date: 2nd May 2017
©SOTSU・SUNRISE ©SOTSU・SUNRISE・MBS ©SOTSU・SUNRISE・TV TOKYO
Press Release © 2017 BANDAI NAMCO Entertainment Asia Pte Ltd.
"PlayStation" is a registered trademark of Sony Computer Entertainment Inc.
All other trademarks are properties of their respective owners.
For the LATEST tech updates,
FOLLOW us on our Twitter
LIKE us on our FaceBook
SUBSCRIBE to us on our YouTube Channel!