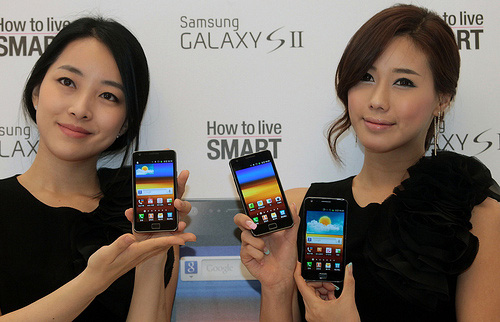 Who likes Korean girls?
By the way, The Samsung Galaxy S II is currently the fastest phone on the planet right now. In Korea, their number of sales has overtaken the Apple iPhone 4.
"The Samsung Galaxy S2 (II) is off to a very good start when it comes to sales in Korea, so much so it is the fastest-selling smartphone in the country, and it spanks the likes of the iPhone 4 sales.
The Android dual-core handset has already reached one million sales in only its first month according to Electronista, the first Samsung Galaxy S to around 70-days to reach one million sales. Earlier on today Phones Review author James reported that the Galaxy S 2 is suffering yellowish screen problems, please let us know if you are having such problems with your handset.
The Samsung Galaxy S2 featuring 4.3-inch Super AMOLED Plus screen, 3G, 21Mbps and a new TouchWiz interface, shipped at the end of April in Korea and got to the 100,000 sales mark in just a mere three days, it got to 200,000 in eight days, then 500,000 in two weeks and then 1,000,000 within the first month.
However, the Apple iPhone 4 in Korea only reached 300,000 pre-orders reflecting. Apple has limitations by only selling through KT. Apple has not even sold one-million iPhone 4's in Korea because of the limitations, but now the iPhone is being sold by both KT and SK Telecom, which means numbers will rise fairly well.
What phone do you prefer out of the Apple iPhone 4 or Samsung Galaxy S2? Please vote below by clicking the relevant field in our poll system."