AI, AI, AI.
No doubt this has been the latest buzzword circulating around the media. It has perhaps also invaded your everyday conversations.
The word ChatGPT may ring a bell to most of you. For those of you who are unaware, it is a language-processing AI chatbot that gives detailed responses to enquiries.
For example, you could ask ChatGPT for everyday conversation topics and it would generate a list for you. It can even write a whole script out for you.
Now imagine this in a robot vacuum cleaner. But even better.
With just a press of the power button, the AI robot cleaner will do the chores of cleaning for you automatically.
While the AI chatbot is still new and rough around the edges, the AI robot vacuum cleaner has reached revolutionary heights.
Dreame Technology has perfected the AI vacuum cleaner to such an extent that we can confidently promise no lifting of the finger is required!
It not only has a smart brain that can automatically plan its cleaning strategy, but it can also independently take care of itself without any interference.
Yes, you read that right.
This means you are spared from the cumbersome maintenance stuff such as drying the mop pads or trivial chores such as clearing the dirt immediately after the cleaning session.
You'll never be tired of cleaning up after your robot vacuum cleaner simply because you don't need to anymore!
On top of all these automatic features, this time, Dreame Technology has upgraded its L10s Ultra series by pushing the limits of convenience even further.
We are excited to share an additional feature that's first in the market: the new Dreame L10s Ultra SE can now automatically refill and drain the water tank.
No trivial chores, no cumbersome maintenance.
We did say no finger-lifting was needed, didn't we?
Just sit back and have a relaxing day. Let the vacuum cleaner do its job efficiently.
You don't have to wish for more hours in a day when this Dreame vacuum cleaner can save you hours in a day.
So don't hold back. Carry on with your schedule, go out and enjoy your day, while a spotlessly clean house awaits you.
With a fairly smaller dimension, the Dreame L10s Ultra SE takes up less space compared to its competitors.
In addition, it is stylish white in colour, making it easily blend in with and complement the wall colours of most houses.
Besides aesthetics, it has a plethora of practical and outstanding features worth delving into:
Strong Suction, Miraculous Mopping
Let's talk about its suction power since this is a crucial and fundamental feature of vacuum cleaners.
For maximum cleaning effectiveness, you would want to look for a vacuum cleaner with high suction power strong enough to get rid of tiny, stubborn debris and dirt.
The Dreame L10s Ultra SE comes with a suction power of 5300Pa, which is one of the highest in the market.
This powerful suction makes it almost invincible to hard floors or carpets. Not even pet hair and cat litter can withstand its suction power.
This makes the Dreame L10s Ultra SE a perfect vacuum cleaner for those with pets.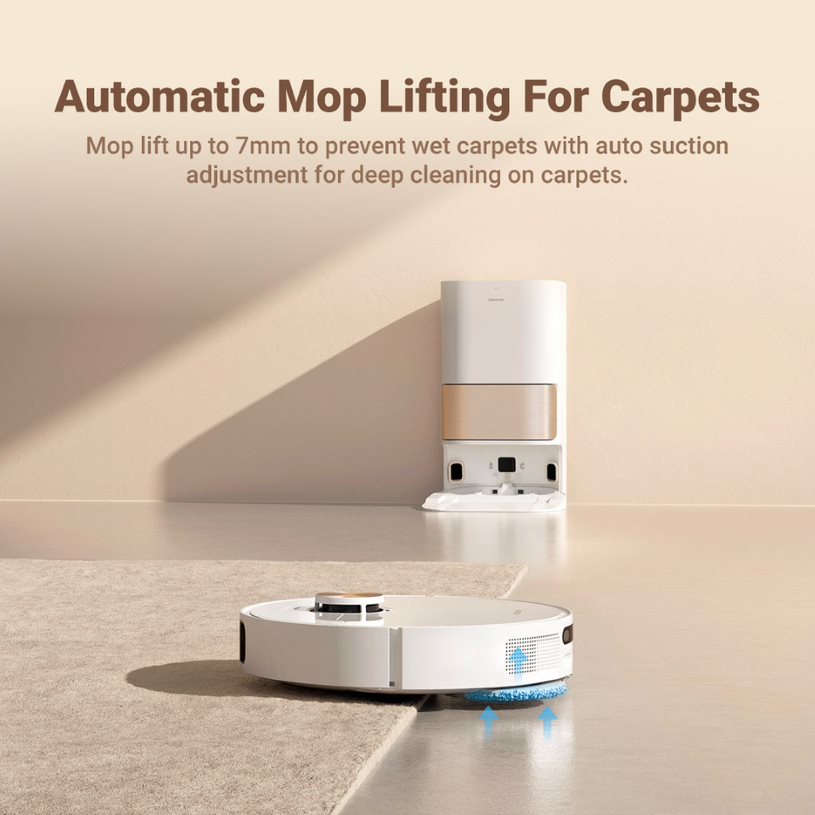 Moreover, thanks to AI advancement, it is truly a Dreame (yes, this is the pun we've been waiting to use) that this robot cleaner can adjust its suction pressure automatically when it detects carpet.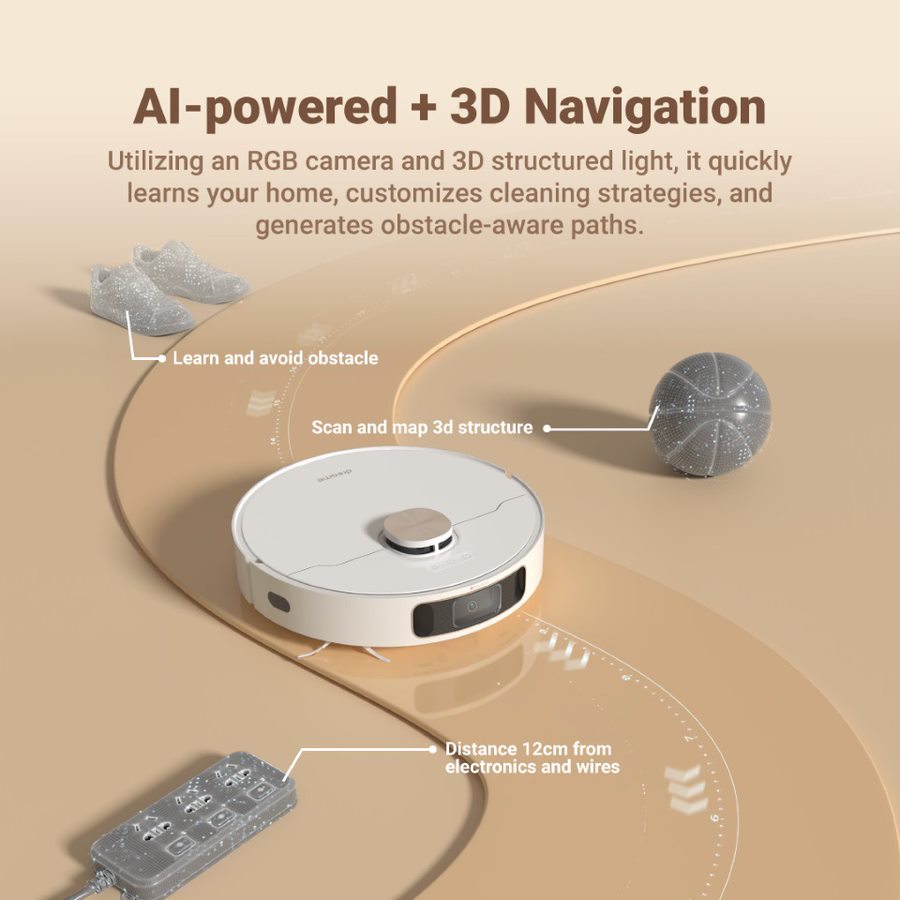 It even comes with a bristle-less rubber brush design that's targeted for deep carpet cleaning. This also spares you the hassle of removing hair mess as a result of the old bristle design.
If there's one thing that is more impressive than the vacuuming feature, it is the excellent mopping feature.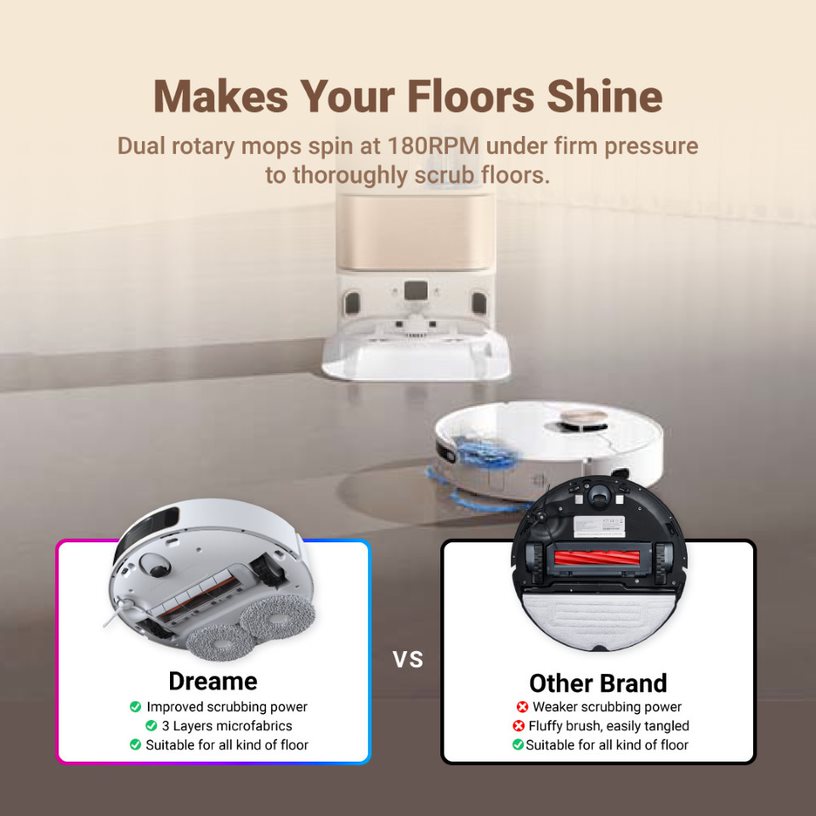 One of the key highlights is the dual rotary mops. It exerts firm downward pressure while spinning at 180 RPM.
In English, this means that not only does it cover a larger mopping area, your floors are also being scrubbed so thoroughly the mop might very well be a better cleaner than you.
It is also rather quiet when it does its job, something we are sure we can all appreciate.
Permission to Rest: Automatic self-cleaning and self-maintenance
Dreame Technology has incorporated so many automatic functions in this Dreame vacuum cleaner.
For instance, the outstanding mopping performance is paired with automatic mopping features to save you the hassle of re-wetting the mops whilst the cleaning session is ongoing.
This means that the mops will consistently be wet throughout the mopping sessions. This is because the robot's water tank is automatically refilled at the base station.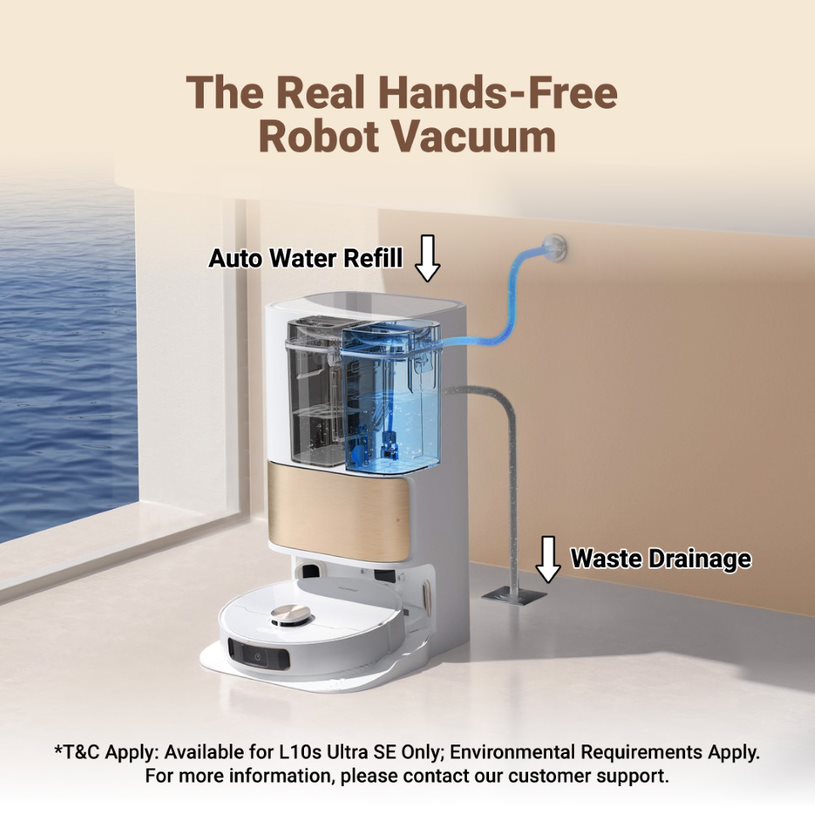 It even automatically adds Dreame solution at the base station before the robot starts mopping so you don't have to worry about the little robot running out of cleaning detergent midway.
The base station is even able to ensure that the solution to water ratio is calculated to precision for optimal cleaning.
So for those of you who hold a personal grudge against mathematics, this vacuum cleaner is your Dreame come true.
And the vast possibilities do not stop there.
When the mop ends its cleaning session and makes its way back to the base station, it automatically raises the mop pads up to avoid dirtying the well-cleaned and speckled floor.
How amazing is that?
And there's more! The self-cleaning function of the mop is made better as the base station comes with a hot air-drying feature.
Once the vacuum cleaner parks itself at the base station, the mops are soaked in water and spun at a high speed against grooves to dislodge dirt.
Following that, the mops are automatically and quickly dried using hot air flow from the base station.
The Dreame Waterhook up kit
An additional feature that we are sure everyone will be onboard is a water hookup kit that hooks the base station to a water inlet.
This would allow the base station to refill the water tank automatically and also drain the dirty water automatically.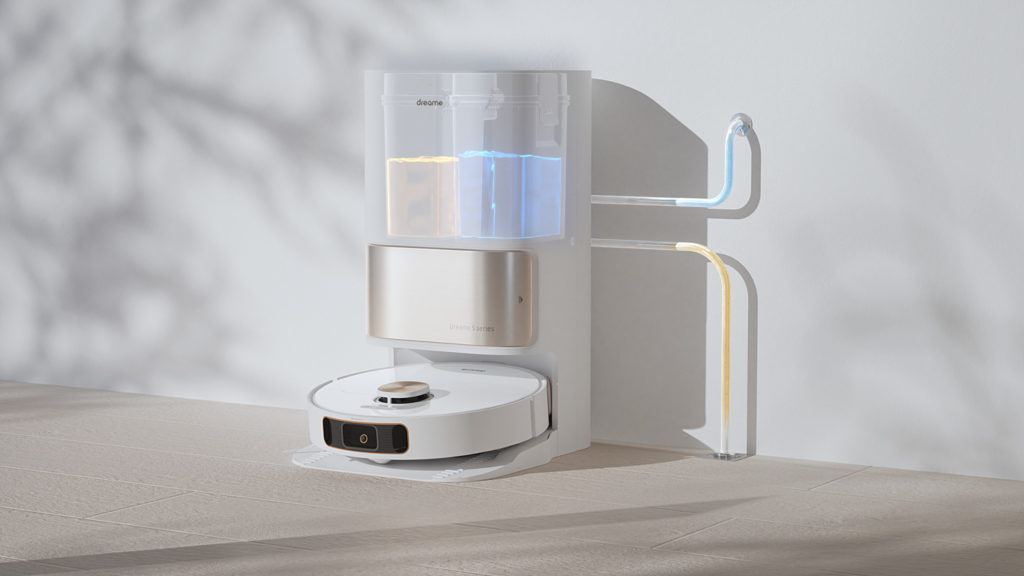 The previous L10s Ultra model lacked this feature but with this new improvement, you no longer need to manually refill or empty your water tank anymore.
Dreame Technology has also made it easy to install the station to a water inlet.
There are many places you can consider such as the balcony, the bathroom, under the washbasin, or in the kitchen beside the sink or the cabinet.
Auto-Emptying After Vacuuming
The vacuuming of dust, debris and hair also comes with automatic functions. The vacuum cleaner will auto-empty itself of the debris at the base station.
The Dreame L10s Ultra SE model comes with an exclusive DualBoost 2.0 system that blows air into the robot's dust box to transfer the dirt from the robot's dust bag into the 3L dust bag in the base station.
This powerful system increases airflow, which helps to ensure the box is thoroughly emptied.
A nice little touch Dreame Technology has done is to separate the wet area for mop cleaning from the dry area for dust collection.
This reduces the risk of accidentally intaking water and the risk of mildew.
Having a Dreame L10s Ultra SE is truly akin to having a housekeeper that's capable of doing everything perfectly and independently.
Not only does the vacuum cleaner offer amazing vacuum suction force and mopping ability, it also comes with automatic self-cleaning and self-maintenance features.
Now that the waterhook up kit has been added to the list of features, everything about the Dreame L10s Ultra SE is completely automated.
This grants you the permission to rest completely and enjoy your day.
Human Detection Accuracy and Even Better Cleaning Efficiency
If you're worried about the AI vacuum cleaner not being able to move around the house due to clutter, don't worry.
AI vacuum cleaners have come a long way when it comes to navigation and object detection.
You no longer have to follow the robot around making sure it doesn't get stuck at corners or upon encountering household objects such as toys, or power cords on the floor.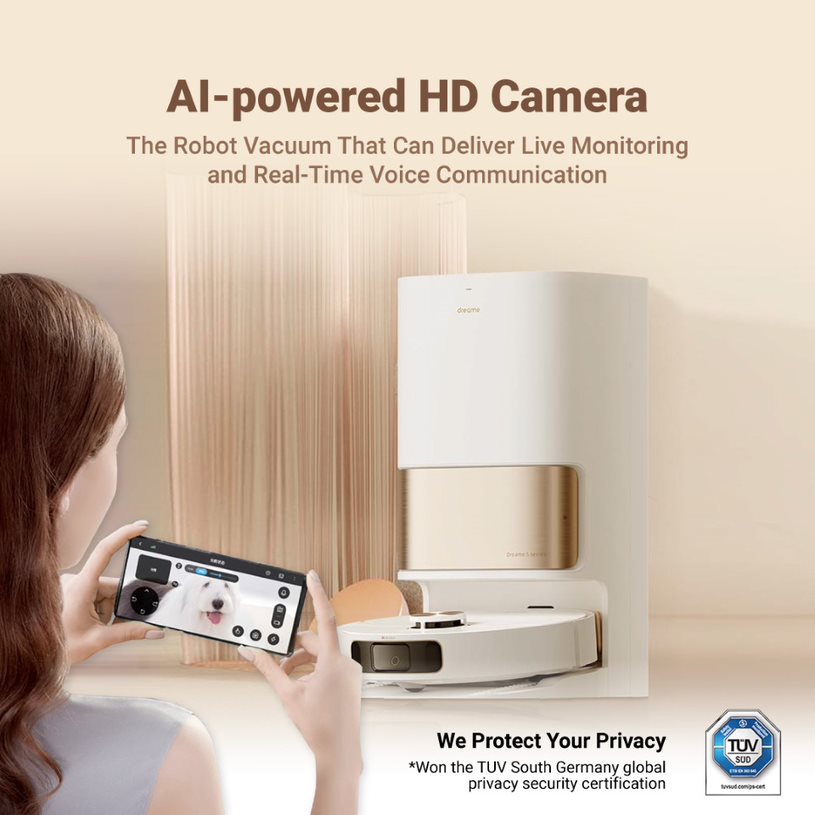 With smarter in-built AI-action, Dreame L10s Ultra SE offers advanced detection and a sophisticated ability to tailor its movement such that it can manoeuvre around household obstacles smartly.
Cleaning has never been made more efficient and hands-free than before.
You can be rest assured that the floor still gets cleaned well despite the clutter as the L10 Ultra SE has an RGB camera and 3D structured light, which detects objects as accurately as a human would.
Simply put, this is a smart vacuum cleaner that needs no help.
It is independent, it is effective. It even takes initiative in providing recommended cleaning pathways.
It maximises the potential of its AI system by coming up with cleaning strategies according to your floor type and the clutter it detects.
So you can take a break from micromanaging and enjoy your day-off.
Customised Cleaning and Remote Supervision
If you would like to customise the cleaning strategies, you can fine-tune them using the 3D map and the different modes available in the app.
There are so many different settings for you so don't worry even if your house layout or floor type isn't the most cohesive. This can be easily countered with the multiple floors mode.
There's even a no-go zone mode available for those of you who don't want your little robot entering a certain area of the house.
You can not only customise the suction power and water volume, you can even further customise these settings by the floor type.
When you're away from home, you can also monitor the cleaning using Alexa, Siri, and Google Assistant via voice control.
You'll have access to a video that shows what's going on at home while the robot makes its meticulous rounds cleaning the rooms.
Convenience is just a voice call away.
It also lies in your hands. All you have to do is grasp it with a click of the button.
The Dreame L10s Ultra SE is everything you want from a vacuum cleaner. Fuss-free, independent, smart with no effort required on your part. A self-cleaning and self-maintaining vacuum cleaner that does its job perfectly without any interference needed. So what are you waiting for?
🔥 For a limited time only, use promo code "DREATTRSE" and enjoy an incredible $120 off your purchase! 🔥 But hurry, this offer is valid until July 31, 2023.
Don't wait any longer! Click the link below to discover the Dreame L10s Ultra SE and experience the future of cleaning.
👉 Shop here: shorturl.at/yBJQS now! 👈
To learn more about Dreame, check out their official website to look for your dream vacuum cleaner!