When it comes to choosing a value-oriented and affordable smartphone, the Redmi series from Xiaomi comes to mind. Since its inception, the Redmi was popular with many as these smartphones could come with incredible specifications at a price that no other brands could match. Continuing its legacy, the Redmi Note 12 Pro+ was recently launched.
Looking at the surface, the Redmi Note 12 Pro+ is a smartphone which features a 200MP camera with OIS, 120Hz AMOLED, and 120W HyperCharge capabilities. Typically, these features are only seen on flagships. Even so, it is expected that a smartphone with such capabilities will be priced beyond S$1000, but unbelievably, the Redmi Note 12 Pro+ only retails at S$569.
Too good to be true? We've got our hands on the brand new Redmi Note 12 Pro+ to better understand if there are any potential traps.
The Redmi Note 12 Pro+
Based on first impressions, the Redmi Note 12 Pro+ looks just like any other smartphone in the market today. It is designed with minimalism in mind, with the smartphone coming in a single-toned theme. Our review unit came in Polar White, but it is also available in Midnight Black and Sky Blue for the Singapore market. The smartphone also features the use of a metallic material for its frame and camera housing, saving it from being called "simply plain in design".
What's impressive is the smartphone's large 6.67-inch AMOLED display, and it's the first thing that drew my attention.
Redmi Note 12 Pro+
Xiaomi 13
Design
●  Dimensions: 162.9 x 76 x 8.9 mm
●  Weight: 208.4g
●  Corning® Gorilla® Glass 5 front
●  Glass back
●  IP53
●  Colors: Midnight Black, Sky Blue, Polar White
●  Dimensions: 152.8mm x 71.5mm x 7.98mm
●  Weight: 189g
●  Corning® Gorilla® Glass 5 front
●  2.5D glass back
●  IP68
●  Colors: Black, White, Flora Green
Imaging System
Rear
●  200 MP, f/1.7, 24mm (wide), 1/1.4″, 0.56µm, PDAF, OIS
●  8 MP, f/2.2, 120˚ (ultrawide), 1/4″, 1.12µm
●  2 MP, f/2.4, (macro)Front
● 16 MP, f/2.5, (wide), 1/3.06″, 1.0µm
●  LEICA VARIO-SUMMICRON 1:1.8-2.2/15-75 ASPH.
●  23mm f/1.8 Leica main camera
●  54/50MP(total/effective) wide
angle camera
–  IMX800
–  1/1.49″/1/1.56″ (total/effective) sensor size
–  1.0μm pixel size, 2.0μm 4-in-1 Super Pixel size
–  f/1.8, 7P lens, HyperOIS
–  Xiaomi ProFocus
–  Portrait Night mode
–  8K video recording
–  Create in Dolby Vision® up to 4K 60fps
–  Ultra Night Video
–  One-click AI cinema
● 75mm f/2.0 Leica telephoto  camera  –  10MP6 telephoto camera
–  f/2.0, 5P lens
● 15mm f/2.2 Leica ultra-wide  camera  –  12MP ultra-wide angle camera
–  f/2.2, 120° FOV
●  Two photographic styles: Leica
Authentic Look & Leica Vibrant
Look
●  Master-lens system: 35mm Black
and white lens, 50mm Swirly bokeh lens, 90mm Soft focus lens, and 75mm Portrait lens
●  32MP in-display selfie camera
–  1.4μm 4-in-1 Super Pixel size
–  f/2.0, 5P lens, 89.6° FOV
–  Dynamic Framing (0.8x, 1x)
–  Night mode
–  Portrait mode
–  HDR
Display

● 120Hz FHD  6.68″ AMOLED Display

● OLED, 1B colors, 120Hz, Dolby Vision, HDR10+, 500 nits (typ), 900 nits (HBM)

● 2080 x 2400

● 120Hz FHD+ 6.36" AMOLED display  –  20:9, 2400 x 1080, 413 ppi
–  120Hz AdaptiveSync– Up to 240Hz touch sampling rate – E6 OLED materials
– Brightness: HBM 1200 nits (typ),
1900 nits (peak) – P3 color gamut
– TrueColor display, JNCD≈0.32, Delta E≈0.36
● Pro HDR display
● Dolby Vision®, HDR10+, HDR10,
HLG
● Adaptive reading mode
● Sunlight mode
Performance
Mediatek MT6877V Dimensity 1080 (6 nm)

–          Octa-core (2×2.6 GHz Cortex-A78 & 6×2.0 GHz Cortex-A55)

–          Mali-G68 MC4

–          256GB 8GB RAM, 256GB 12GB RAM

–          UFS 2.2

Snapdragon® 8 Gen 2  –  4nm power-efficient
manufacturing process
–  Qualcomm® AdrenoTM GPU
–  Snapdragon® X70 5G Modern-RF
System
● LPDDR5X + UFS 4.0 Storage – 8GB+256GB, 12GB+256GB ● MIUI 14 based on Android 13
Battery & Charging
●5000 mAh (typ) battery
●  Xiaomi
●  Xiaomi 120W
●  4,500mAh (typ) battery
●  Xiaomi AdaptiveCharge
●  67W wired turbo charging
●  50W wireless turbo charging
●  10W reverse wireless charging
Audio
●  Dual speakers
●  Dolby Atmos®
●  Dual speakers
●  Dolby Atmos®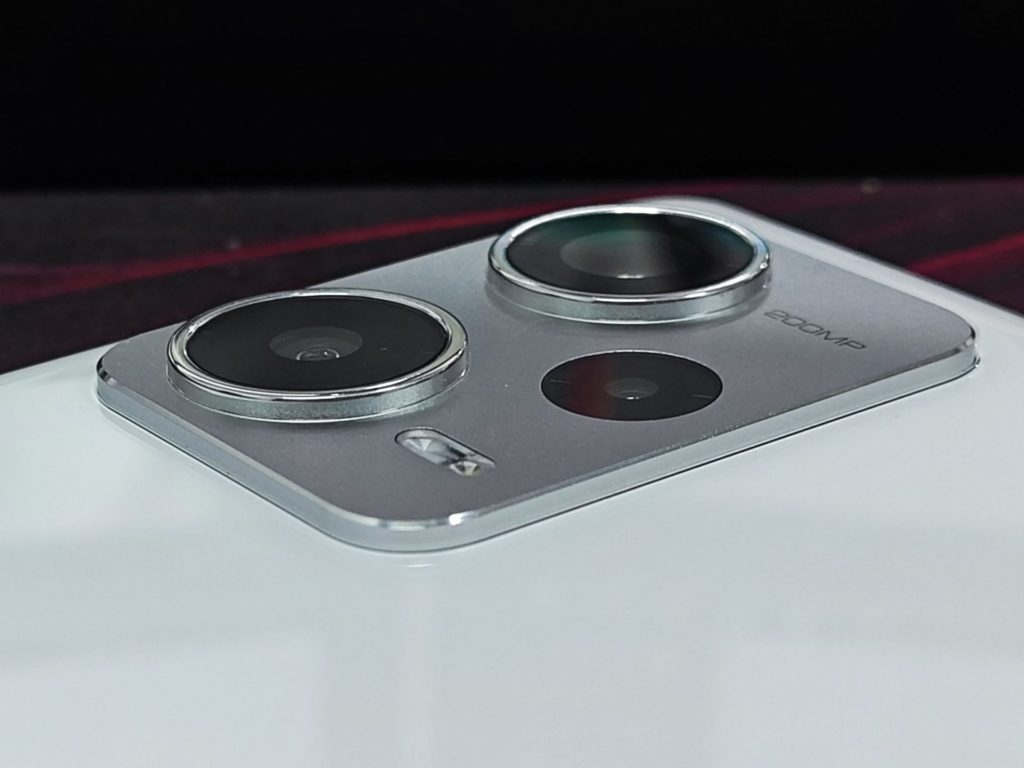 Thanks to the Dimensity 1080 chipset, the Redmi Note 12 Pro+ can support capturing photos at 200MP with its main camera. On top of that, the smartphone also features an 8MP ultra-wide camera and a 2MP macro camera.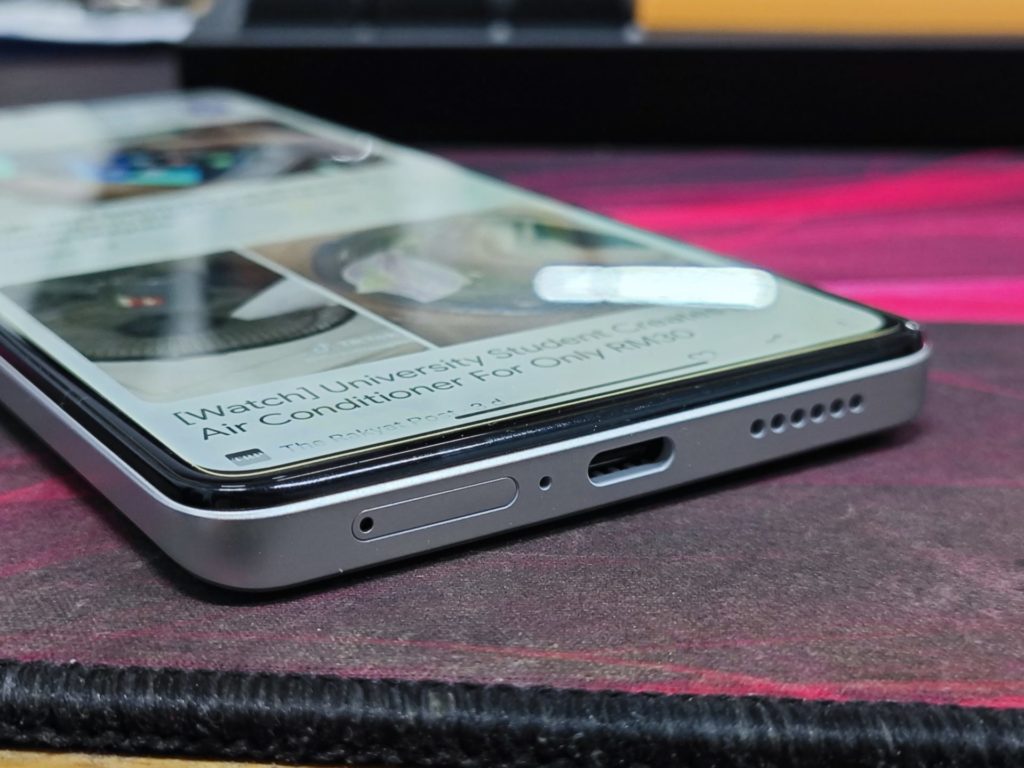 At the bottom of the phone, we spotted the USB Type-C charging port, the SIM Card slot, and the microphone/speakers.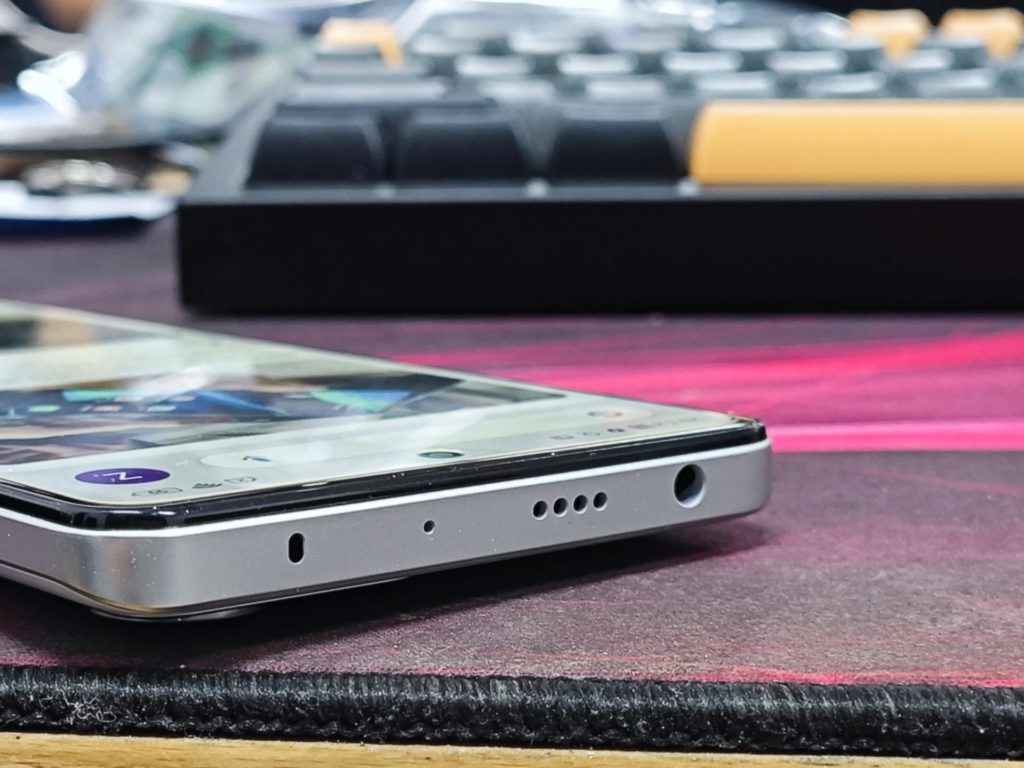 At the top, we spotted a 3.5mm audio jack (thank goodness), IR blaster, and the 2nd speaker unit.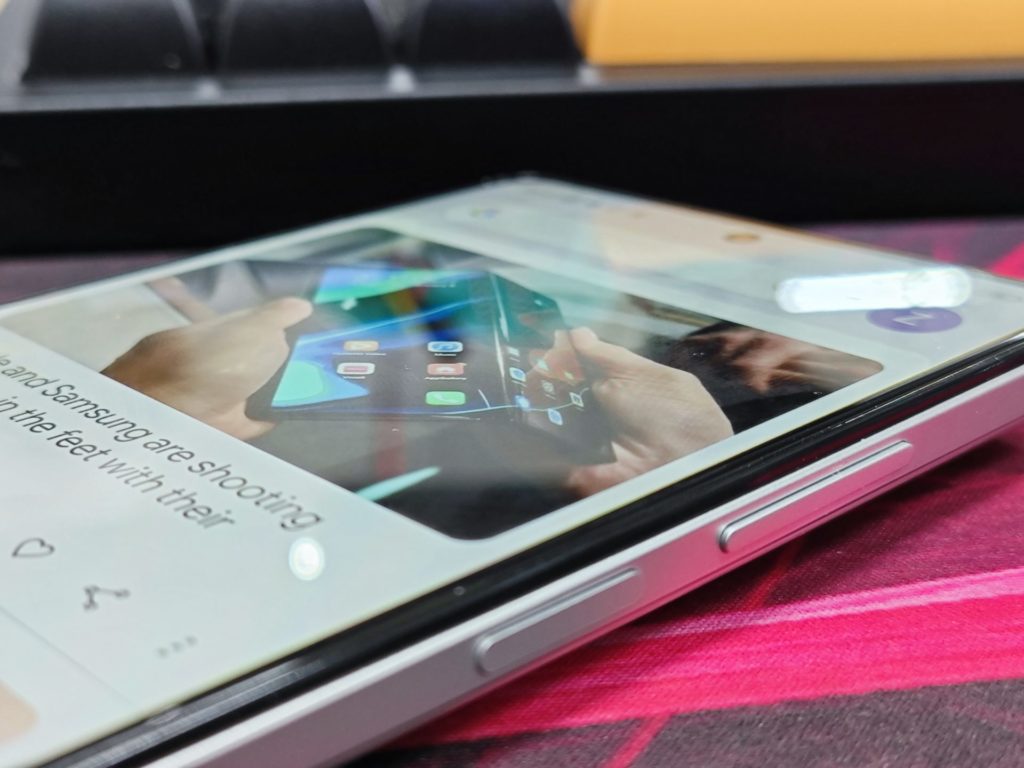 On the right side, we spotted the volume buttons and the power button. The power button also acts as a fingerprint sensor for fingerprint authentication.
I've got to say that the Redmi Note 12 Pro+ does look quite sleek, as the metallic frame brings about a certain uniqueness in the industrial design of the smartphone. Everything seemed good thus far, and there aren't any obvious flaws in the smartphone.
In terms of specifications, other than the chipset and camera system on the Redmi Note 12 Pro+, it is more similar to the flagship Xiaomi 13 than it seems. Interestingly, the Redmi Note 12 Pro+, is even better equipped than the Xiaomi 13 in certain aspects, such as battery capacity, and 120W hyper-charging capabilities.
In fact, it has even cast some doubts on us. With our recent review of the flagship Xiaomi 13 smartphone, we can't help but question ourselves on whether the Xiaomi 13 was indeed a waste of money, priced at almost twice the price of the Redmi Note 12 Pro+.
We are going to compare the Redmi Note 12 Pro+ to the Xiaomi 13, to better understand the key differences between the smartphones, despite certain similarities in terms of specifications. Meanwhile, we will bring in other smartphones in the mix for comparisons too.
Performance Benchmarks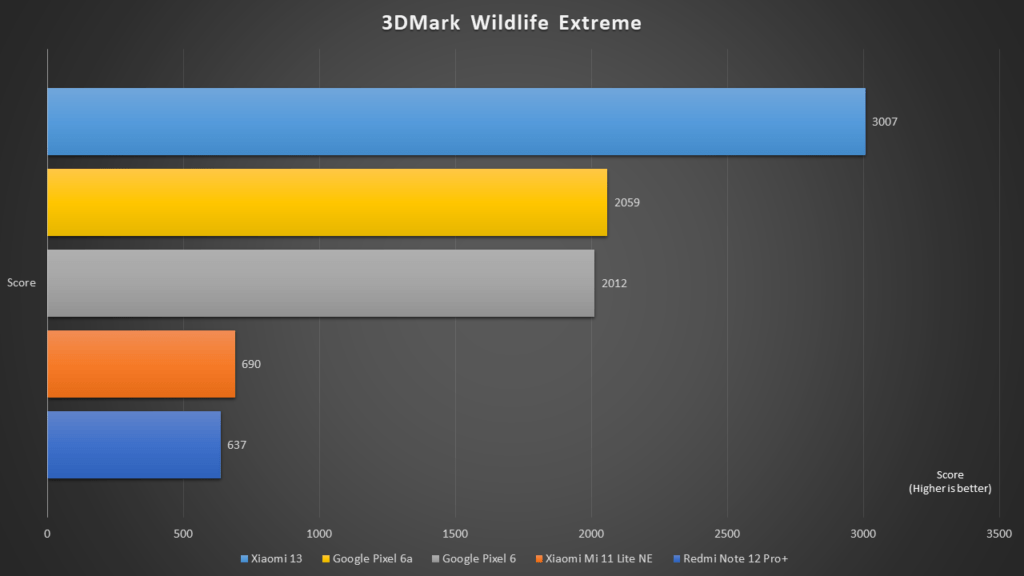 When it comes to 3D applications and games, the Redmi Note 12 Pro+ isn't the best smartphone you can get out there. While it gets the day-to-day work done, it suffers when it comes to rendering 3D graphics. Games that feature many 3D graphics will not run well on this smartphone.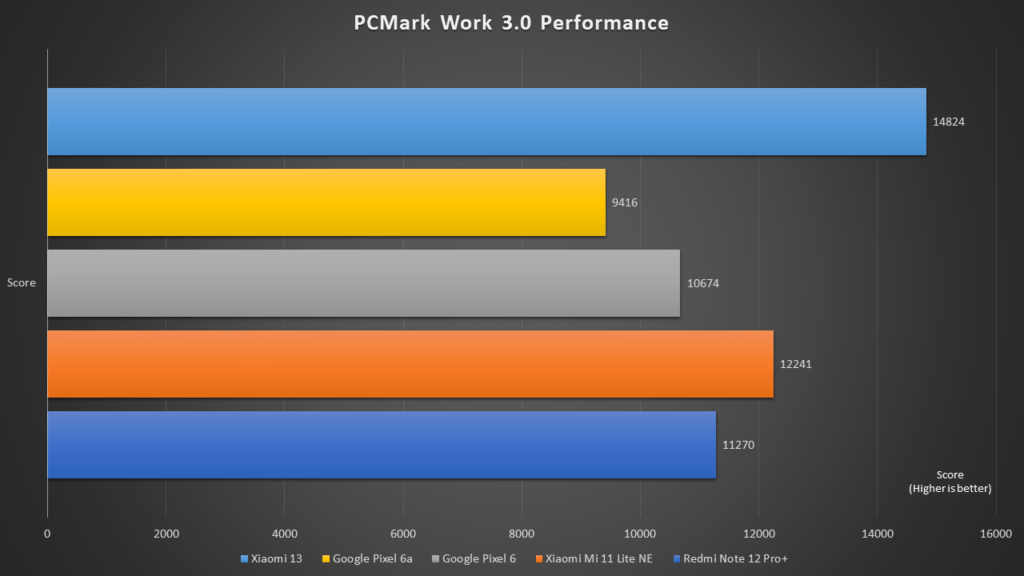 For the day to day usage, the Redmi Note 12 Pro+ runs absolutely fine. The Mediatek MT6877V Dimensity 1080 is designed for such use cases. Be it web browsing, instant messaging, or scrolling social media, this smartphone is going to run well. Moreover, since the smartphone is also equipped with an excessive amount of RAM (8GB), you can even run more than usual apps simultaneously.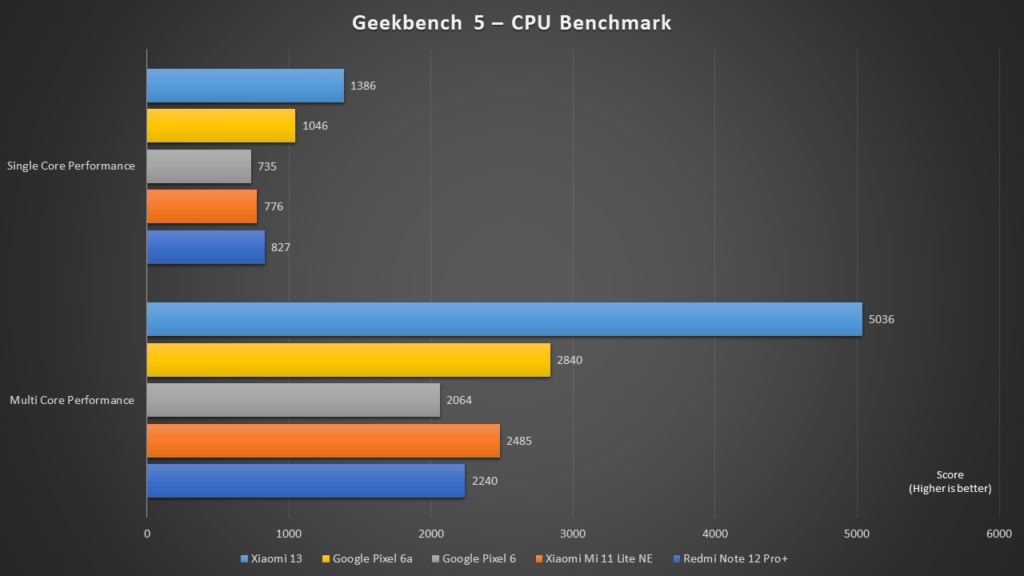 As expected of the Mediatek MT6877V Dimensity 1080 CPU, it performs similarly to other mainstream smartphone CPUs in the market. It's quite impressive to see that the single-core performance was better than both the Xiaomi Mi 11 Lite NE (Snapdragon 778G) and the Pixel 6(Google Tensor).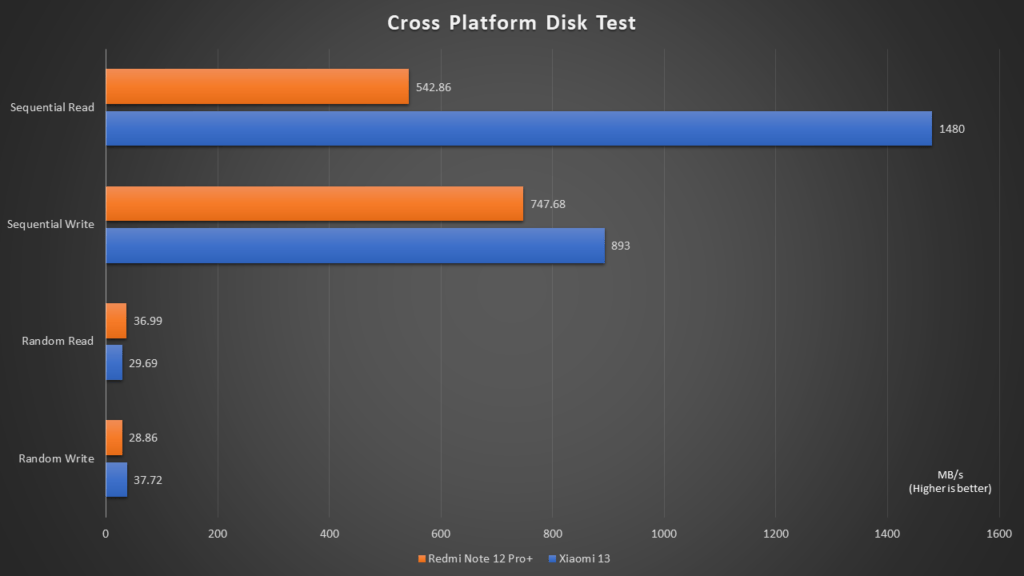 The Redmi Note 12 Pro+ uses UFS2.2 storage, as compared to UFS 4.0 storage found on the flagship Xiaomi 13. Even though UFS 4.0 was tested to be much faster than UFS 2.2, there wouldn't be much difference in terms of the real-world usage of a smartphone. Most users wouldn't copy large files from one place to another on a smartphone. But we've got to admit that if you are downloading a lot of movies or files onto your smartphone, you may feel some differences.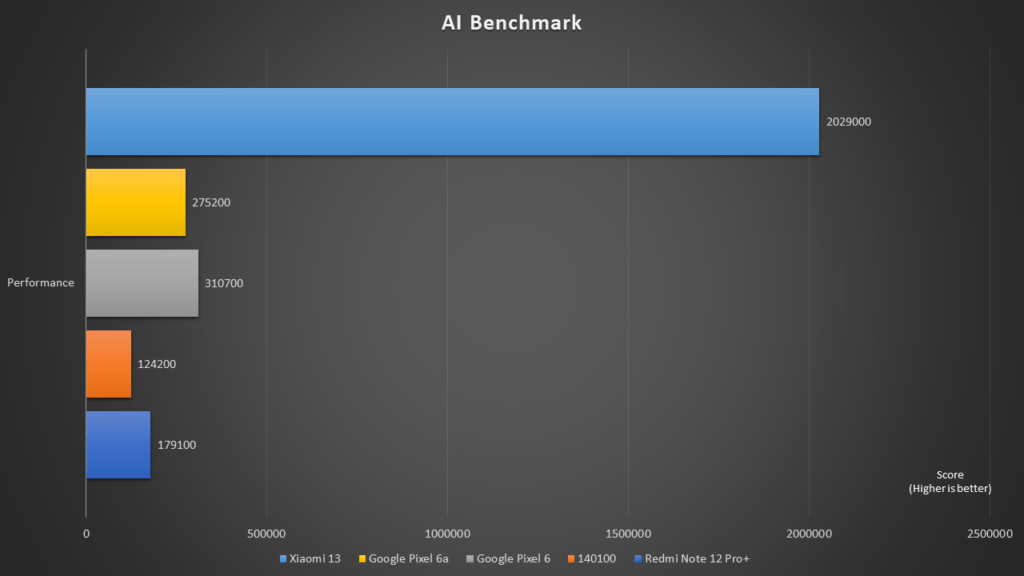 Putting the Xiaomi 13 aside, the Redmi Note 12 Pro+ performs decently when compared with other mainstream smartphones too. It features a dedicated AI processing unit, which aids in camera applications and simple AI inferencing and computation.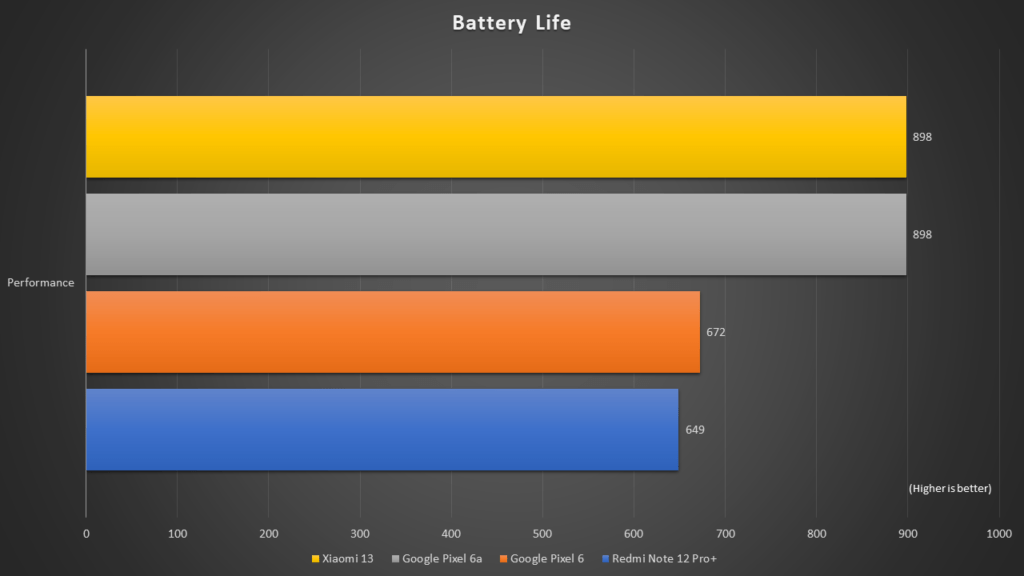 Having a larger battery capacity doesn't simply mean a longer battery life. When running the PC Mark Battery test, we realized that the Redmi Note 12 Pro+ performed the worst compared to the other smartphones in the mix. Interesting, more powerful and high-end smartphones, such as the Xiaomi 13 was able to last longer. This is likely because of its more efficient core architecture, which was lacking in the Redmi Note 12 Pro+'s MediaTek Dimensity 1080.
Regardless, with a continuous workload, the Redmi Note 12 Pro+ still achieved 10 hours 49 minutes. No doubt, the Redmi Note 120 Pro+ will be able to run a full day without the need for a charge. Furthermore, with its 120W charging capabilities, charging a smartphone isn't that much of a chore after all.
Photo Comparisons
Day Shots:
The Redmi Note 12 Pro+ managed to capture photos that were clear and precise. However, the colours on the photos captured by it weren't as vibrant as those captured on the Mi 13.
Another key feature of the Redmi Note 12 Pro+ is that it features a dedicated macro lens. You can take very close up pictures, similar to the one above. The Xiaomi Mi 13 on the other hand, didn't have this feature.
Same photo, but which looks more appetizing?
Night Shots:
In auto mode, the Redmi Note 12 Pro+ failed to better adapt to the scene, and the photo looked too dark. On the other hand, the Xiaomi 13's composition was somewhat professional, with details captured and well-lit.
Both cameras captured night modes well. The Redmi Note 12 Pro+ has a longer shutter speed and thus was able to capture a brighter photo. However, we also noticed that the photo taken was also slightly noisier.
Xiaomi Mi 13
Redmi Note 12 Pro+
Generally, the Redmi Note 12 Pro+ was able to capture good enough photos at night. However, as the zoom was applied, we can gradually see how much detail in terms of colors was lost. It was almost as if at 10x, the photo from the Redmi Note 12 Pro+ became a black-and-white photo.
The shots from the Redmi Note 12 Pro+ were brighter, but it also seems noisier and less expressive in terms of its color reproduction.
When it comes to portrait mode, and getting bokeh effects on the background, I found the Xiaomi 13's approach to be much more natural. As for the Redmi Note 12 Pro+, I'm just simply glad that this feature was available, and that it was still dealt with quite decently.
Usage Experience
My experience with the Redmi Note 12 Pro+ was generally positive. If you wouldn't brand the smartphone as a Redmi, I believe many would consider this smartphone a top-tier smartphone.
In terms of media consumption, the Redmi Note 12 Pro+'s AMOLED display and stereo speakers were the perfect combination. I liked the speakers on the Redmi Note 12 Pro+ more than those found on the Xiaomi 13. I found the sounds coming out from the Redmi of higher clarity and more comes in with more depth. Moreover, since the smartphone supports Dolby Atmos, I was also able to get a sense of surround sound when streaming movies. It's certainly not something I would expect from a mainstream smartphone. AMOLED is perfect for media consumption too. I truly enjoyed watching the movie on the Redmi Note 12 Pro+, as the colors just pop. This is because of the true blacks you can get out of AMOLED displays.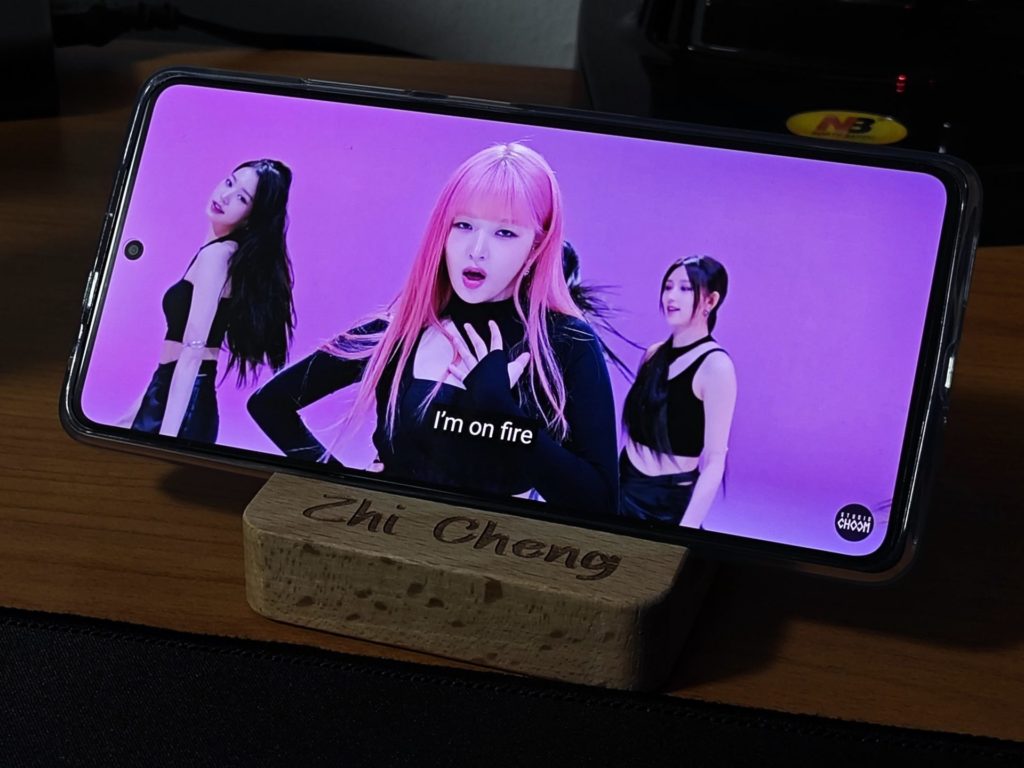 Unfortunately, the Redmi Note 12 Pro+ falls short in its performance. Specifically, its rather poor graphics processing capabilities did take a toll on the overall user experience. Some graphical effects from the smartphone utilize the GPU for processing. I believe that when such more intensive graphics are loaded, you will feel the stutter at times, just by navigating around the phone's OS. However, we got to say that the situation did improve after a system update, and it doesn't feel as bad as when the phone was first turned on.
Another issue I had with the Redmi Note 12 Pro+ was that the smartphone was preinstalled with too many third-party apps and bloatware. I understand that you can simply uninstall those apps, but the fact that those apps are preinstalled on the smartphone, makes you wonder what other things could be there without you knowing.
Other than that, I don't have any more complaints about the Redmi Note 12 Pro+. It's great that Xiaomi still included the 3.5mm audio jack, which I appreciate. There's also the IR Blaster, which is a feature that you won't want to lose out on once you've gotten used to it. Truthfully, I'm more impressed that being that whiny b*.
Conclusion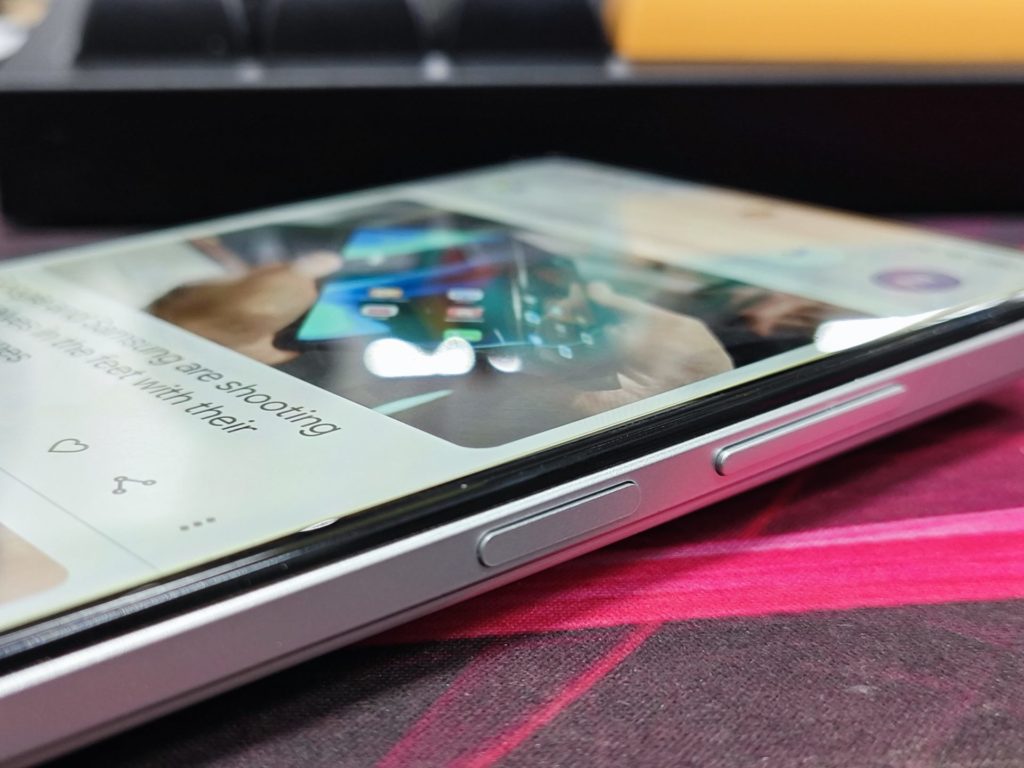 The Redmi Note 12 Pro+ has certainly had me impressed. All its high-end specifications and features are not just for show, but indeed carefully executed as well. There is no doubt that you are getting a lot of value from this SGD569 smartphone, and if you were really to purchase it, be also contented that you wouldn't have to waste a cent on any of its features.
You win some, you lose some. The Redmi Note 12 Pro+ doesn't isn't the top-end high-performance smartphone that you are looking for. But at half the price and all the useful features of the flagship smartphone without the bells and whistles, I'm prepared to live contented with the tradeoffs.
I don't think any other smartphones in the market come close to the Redmi Note 12 Pro+ with the same feature set. Confidently, I will recommend the Redmi Note 12 Pro+ to anyone sensitive to value and want to get the bang for the buck.