Introducing the Radiance, our latest table top option that features a diffused LED that runs edge-to-edge along the entire desk. Ideal for gamers looking create a futuristic next generation look for their battle station, this tabletop allows you to control the ambient mood of your space at the push of a button.
Key Product highlights:
✔️  5 unique lighting options
✔️  Select from a colour spectrum to get the exact colour you desire
✔️  360° Edge-to-edge LED
✔️  Available in black and white
✔️  Exclusively available with the Omnidesk Ascent
The Radiance RGB top is the first of our Special Edition Series and exclusive to the flagship Omnidesk Ascent. Stand out from the crowd with a one-of-a kind desk that is fully integrated with RGB lighting and colour control.
At Omnidesk, listening to our users is always a top priority. Our signature tabletops have always been a combination of timeless wood styles as well as modern clean options. Built on your feedback, the Radiance top is designed to deliver a futuristic, next generation look for your ideal battle station, complete with surface materials that are designed to stand the test of time.
Light up your life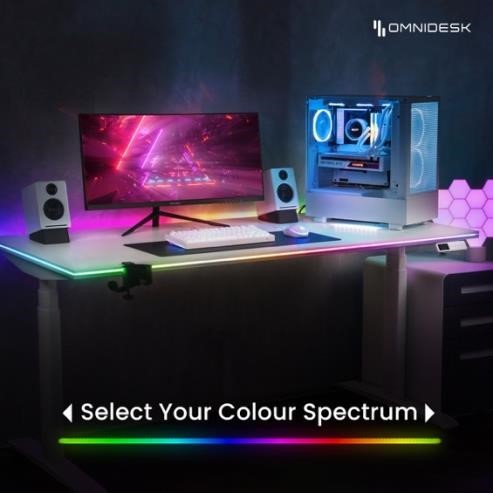 Choose from 5 lighting options and 24 colours to create an environment that perfectly matches your style and space. The Radiance's unique 360-All-Round RGB lighting provides an exceptional smooth, homogeneous, seamless light emission that is visible from all angles
Built on the smartest desk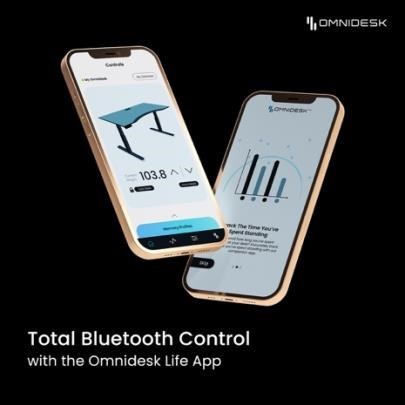 The Radiance tabletop is developed to be fully integrated only with the Omnidesk Ascent, our flagship standing desk. Enjoy easy light activation and choice of colours through the Ascent Controller. Omnidesk Life app control will also be available at a later stage.
Aesthetics and functionality, without compromise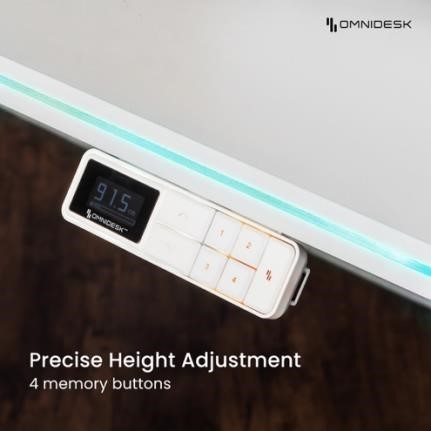 Developed with our quality MDF and top-grade textured melamine, the Radiance has a scratch and water-resistant top with a durable premium finish. You can still protect your work surface for a long time with additional desk mat options.
Price point & Pre-order Promo
The Ascent Radiance with a Pre-order promo (till 31st Dec 2023) has the price starting from $1000 (Usual Price: $1636). It is currently available in 2 sizes the 48" (122cm) & 60" (153cm) and comes in both Black or White. In addition, Pre-order customers will have FREE white-glove installation service worth $80.
The Ascent Radiance is currently available online for Pre-Orders, with an expected delivery date of Q1 2023.
Ascent Radiance Product Page: https://theomnidesk.com/collections/ascentradiance
Ascent Radiance Info Landing Page – https://theomnidesk.com/pages/specialedition–radiance
Complete Your Setup with Omnidesk
Other new launches that will be at the Tech Show include our latest ergonomic chair, the Embrace Pro. With over 12-points of ergonomic adjustments, this chair features the highest level of personalised comfort allowing you to customise the chair to your exact preference.
Embrace Pro: https://theomnidesk.com/products/embrace–pro
The Tandem Mobile Steel Drawer is also another top favourite to supplement the Omnidesk with additional storage. Not only that, it also functions as a mobile seat with our addon cushion the Saddle, facilitating on-the-fly collaboration.
Tandem: https://theomnidesk.com/products/tandem
About Omnidesk™
Omnidesk began in 2018 as a rethinking of the traditional. Our story starts as a rallying call for all to hear: a sound rejection of the idea that comfortable workspaces are a privilege few can afford.
We do this by streamlining processes, innovating technologies and blending new techniques with superior craftsmanship. Our improvements to traditional workspaces forge the way forward for ergonomics by focusing on a single idea: that true comfort for all begins with deeply customisable, adaptive experiences molded to suit each user.
Not all workspaces are created equal.
Create one that truly fits you.