When it comes to smart tech products, it's all about convenience, convenience, and…you guessed it, convenience!
Investing in convenience can save you so much time and money in the long run.
We'll give you a simple example:
Say you buy a smartphone, not only does it allow you to call and text, but it also allows you to read digitally, write notes, watch entertainment videos, listen to podcasts, and play mobile games.
What you're saving on is the money you would have spent on a physical book, notebook, and even TV.
You also save time when you can do your activities via the smartphone on the go, anywhere and anytime.
Much like our multipurpose smartphones, the vacuum cleaners of today are starting to become smarter and more multifunctional.
Case in point, the star of today – the all-in-one vacuum cleaner: the Dreame H12 Pro vacuum cleaner.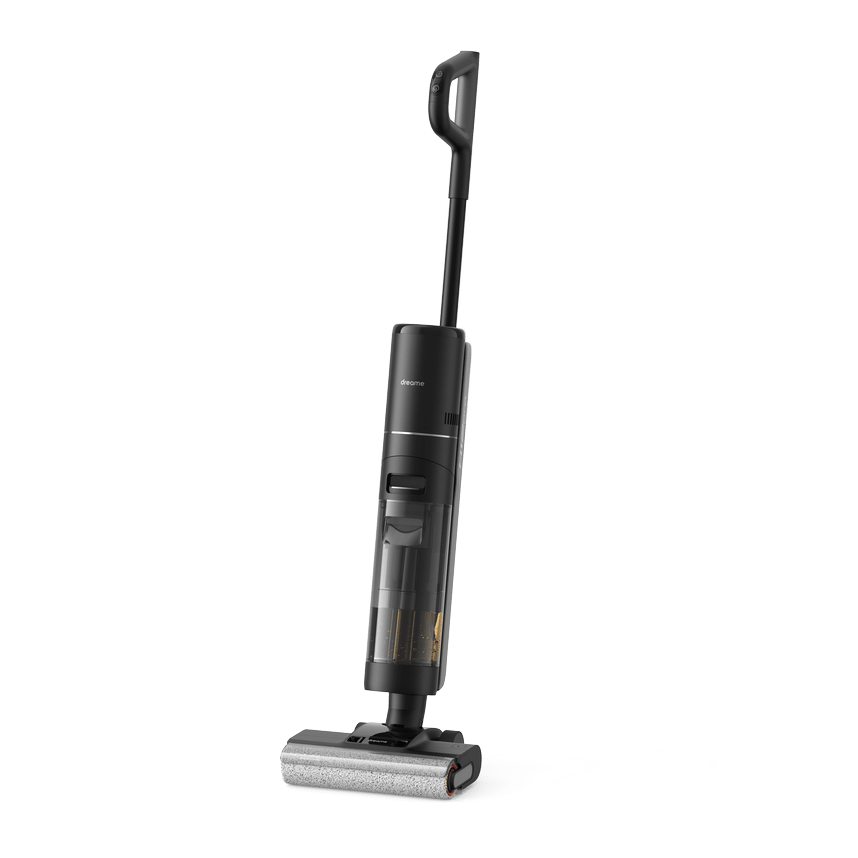 Typically, cleaning the floor involves a two-stage process: it starts with sweeping with a broom or a vacuum cleaner, followed by a mop.
The Dreame H12 Pro goes beyond that to offer convenience by combining these two stages with its simultaneous wet and dry cleaning function. 
In a single wipe, the machine is able to vacuum and mop at the same time. With that, the two-step process has smartly been reduced to one. 
You can be sure to save time and energy when using this vacuum cleaner. 
The Dreame H12 Pro can even adjust the suction power automatically according to the type of dirt. 
All you have to do is grip the handle and let your machine do the work.  It'll get rid of dry and wet mess all in one go. 
And this isn't even the best part. The Dreame H12 Pro has a self-cleaning function, and it can even blow itself dry. 
No hassle at all from your side. 
But we'll get to this later. Let's first delve into the main features. 
Clean Wet and Dry Mess in One Go
Sleek and modern in design, the Dreame H12 Pro will look good in any house. The vacuum cleaner also delivers powerful suction and robust mopping. 
It effectively removes dirt, debris, grim, and almost any type of mess.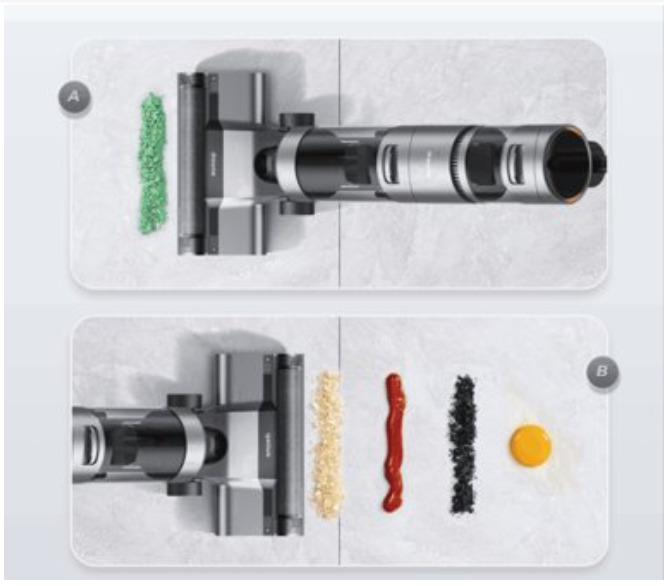 Dry mess? Hair from your pets? Tiny dirt particles that the broom can't pick up?
Don't worry, the Dreame H12 Pro comes with strong forward traction and powerful suction, so almost every type of dirt no matter how minuscule gets picked up. 
Minimal effort is required when maneuvering this wet and dry vacuum cleaner. 
Wet mess? No problem. 
You don't have to inconvenience yourself by taking out the mop, followed by a separate dry wipe to clean the wetness from the mop. 
The Dreame H12 Pro gets rid of the wet mess in an instant with its suction mode.            
In fact, it promises to get rid of all types of mess instantly.
It also conveniently converts most types of mess be it smashed eggs, tomato sauce, or coffee spill into liquid, which gets stored in the used water tank. 
All the dust, dirt, and grime along with the different spillage will get mixed with this water.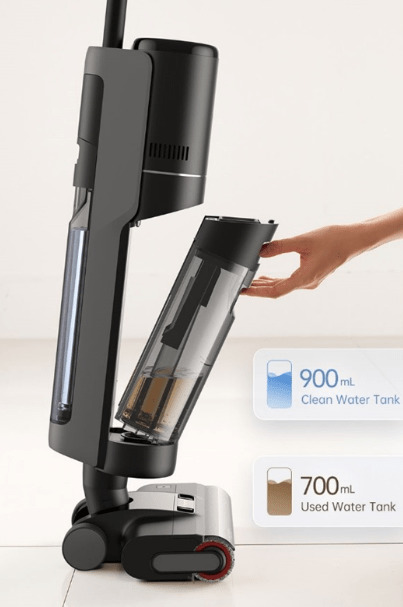 And all you have to do is simply pour the dirty water out. 
So don't hold back from making a mess in your house! 
You can trust that the Dreame H12 Pro can get rid of them in an instant. 
Intelligent Mess Detection and Interaction
Now you must be wondering, what cleaning mode do I use if the messes are of different types? Light mess? Medium mess? Heavy mess? What function do you use? 
Relax. Because the Dreame H12 Pro makes cleaning a breeze with its smart function, called the frequency conversion technology. 
This amazing feature allows the Dreame H12 Pro to intelligently detect the type of mess. 
It will then adjust the power and suction accordingly. 

You'll also be able to monitor this detection as the ring colour of the LED display changes according to the level of dirt. 
A green loop means slightly dirty, an orange loop stands for dirty, and a red loop, for extremely dirty. 
So you don't have to mull over the different cleaning modes. Let the vacuum cleaner think and do the work for you. 
Another lovely feature of this smart technology is that you can tell the state of your vacuum cleaner at a glance on the LED display.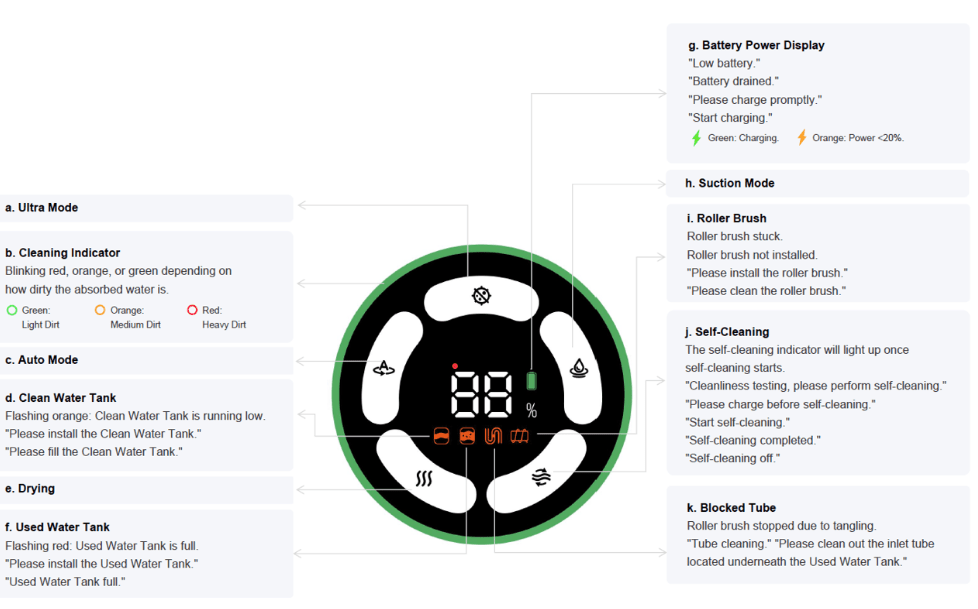 It intuitively displays everything you need to know such as the battery life, the clean and used water tank storage space, the cleaning mode, and more.
And as with all smart products, it comes with voice assistance that can provide clear operating instructions. 
So if you ever need cleaning instructions or guidance, the voice assistant is there to help you clean more thoroughly and effectively. 
If you are someone who prefers audio to visual, you'll enjoy this feature.
Say Goodbye to Stubborn Debris in Corners
A key feature to highlight in the Dreame H12 Pro is that the brush design has undergone a major enhancement.
It now comes with a dual-side edge brush roller.
What this means is that the vacuum cleaner is able to pick up stubborn debris in hard-to-reach places such as the notorious corners of houses.
This edge-to-edge brush is a step up from its predecessor, which had a single-side edge brush. It can now effectively clean all corners and tight spaces.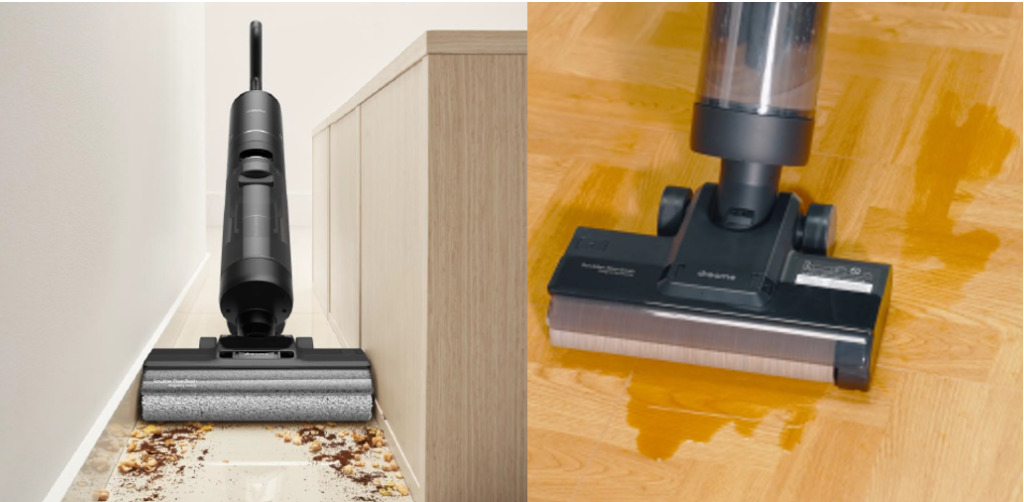 With this new brush design, gone are the days when you would have to clean untouchable debris in the corner manually.
The Dreame H12 Pro professionally reaches into nooks and crannies in your beautiful home.
Long Run Time
The Dreame H12 Pro is packed with six 4000mAh mega batteries – it is truly made to run for a long time.
The vacuum cleaner can run continuously for a decent 35 minutes to keep your home clean and dust-free.
It also comes with a larger water tank capacity, which is a significant improvement as compared to its predecessor. The Dreame H12 Pro is able to hold 900ml of clean water, and 700ml of dirty/used water.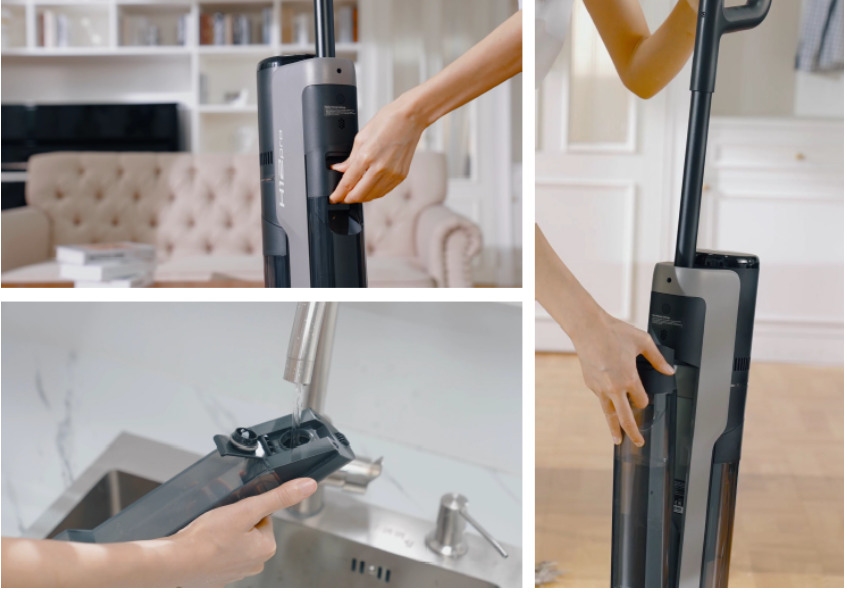 With a higher water tank capacity, less time is wasted on refilling the water tank. You can now enjoy cleaning a larger area within the same time span. Besides, refilling the water tank is such an energy-consuming process. With the Dreame H12 Pro, that's another worry taken off your shoulders.
Self-cleaning: Double Direction, Doubly Clean  
If you already have a high-maintenance partner, the last thing you'd need is a high-maintenance vacuum cleaner.
Besides its outstanding cleaning features, the Dreame H12 Pro requires extremely low maintenance.
Once you're done using the vacuum cleaner, it can do this wonderful thing called self-cleaning.
The brush is rinsed, rotated, and scraped clean with an innovative combo scrubbing strip.
All you have to do is activate it with a push of a button. You no longer have to manually dismantle and clean the machine.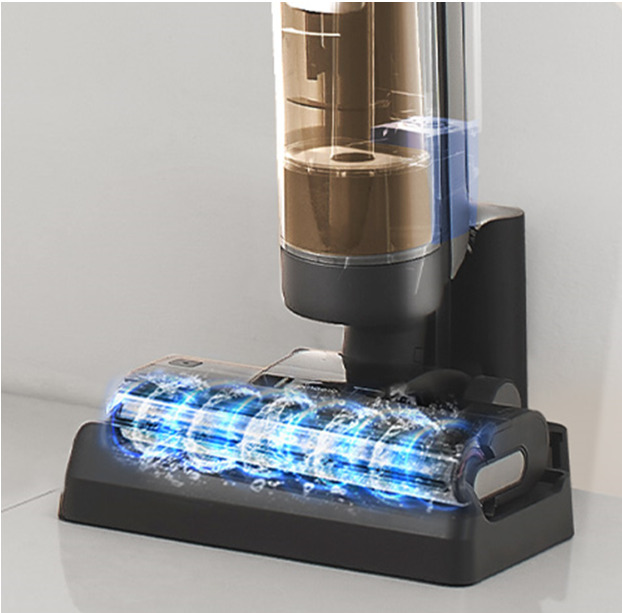 On top of that, the Dreame H12 Pro offers better and more effective self-cleaning.
While self-cleaning vacuum cleaners are common, what makes the Dreame H12 Pro stand out from its competitors is its ability to do double-direction self-cleaning.
This unique feature is extremely useful in reducing tangled hair and chunks of dirt that get stuck in the brush rollers.
As compared to single-direction self-cleaning, the ability to clean in two directions ensures that the brush roller is doubly clean.
Simultaneous Blow-drying and Charging 
As we all know, anything that cleans wet messes always has a risk of developing odour and mildew.
This is especially so for wet and dry vacuum cleaners whenever they're wet and left to dry at the charging dock.
If you've sworn off wet and dry vacuum cleaners because of the musty smell that is commonly associated with them, the Dreame H12 Pro is the product of your dreams.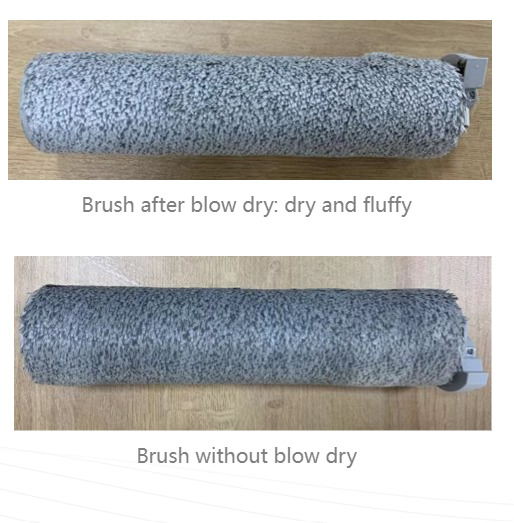 In addition to its impressive self-cleaning function, the Dreame H12 Pro outdoes itself with an additional feature that is rare in the market: it boasts of the ability to blow itself dry with hot air, which is a lovely bonus.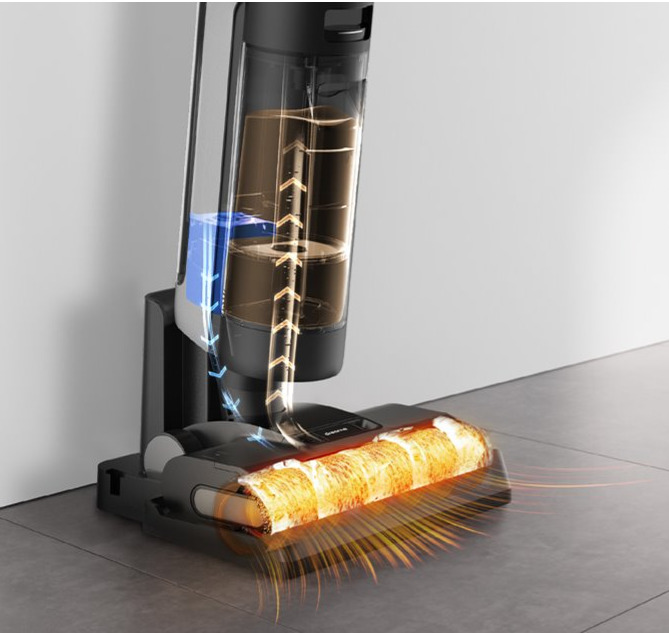 No extra time is required for blow-drying because this amazing blow-dry function takes place while the Dreame H12 Pro is charging.
You can sit back and relax as the blow-drying and charging functions run simultaneously. More importantly, you can bid goodbye to mildew and foul smells in your home.
Convenience – Just a vacuum cleaner away
Convenience, convenience, convenience has become the keyword of our time. 
And luckily, convenience is just a vacuum cleaner away.
Invest in convenience to save yourself some time and energy in the long term. 
With this low-maintenance, all-in-one vacuum cleaner, you'll be sure to reap the benefits of convenience with the Dreame H12 Pro. 
The Dreame H12 Pro is available here at SGD $729. 
Dasher Singapore (link) is the exclusive distributor for Dreame products in Singapore. 
Psst, if you read till the end, here's something special for you: 
Dreamesg will be having an Early Bird Discount on 25.10 on Shopee. 
Instead of SGD$729, early birds can purchase the DreameH12 Pro for just SGD$649.
That's not all – exclusive vouchers ($35 off) will be made available for TheTechRevolutionist readers – that's right, you!
Simply apply Shopee voucher code: DREATECHR for massive savings!