This article first appeared on CTO Guide – NVIDIA Enables TVCONAL's Game-changing Sports Video Analytics Solution With NVIDIA Metropolis
In a world of digital transformation, data is king. That is true for industries across the board – the sports industry included. Data lets teams and organizations track performance, make predictions, and make smarter decisions on the field. From algorithmic performance forecasting to player statistics, one does not have to be a sports enthusiast to be aware that data, analytics, and statistics play a huge role in the world of sports.
This use of analytics in the sports industry will only continue to grow and evolve as the amount of data that continues to flow increases. In fact, according to a 2021 report from Research and Markets, the global sports analytics industry is expected to reach $3.4 billion by 2028.
Standing at the forefront of sports analytics is TVCONAL, a Singapore-based deep-tech start-up established in 2016. Made up of a highly specialized team of Artificial Intelligence (AI) and computer vision practitioners, the company has been focusing on multiple sports including cricket and racket sports like tennis, table tennis, and badminton. Recently they have been expanding to Australian football.
With a full understanding of the importance of data and analytics, TVCONAL's core business lies in automated content comprehension; their sports analytics solutions span a wide array of applications in predictive analytics, real-time tracking, and video analytics.
The Challenge: Sports analytics – an arduous process
By definition, sports video analytics, or tagging, refers to a way of marking events in a videoed sports activity. Tagged events can then be used to generate detailed reports that provide measurable performance gains as well as easy-to-understand visual feedback for coaches, players, athletes, and sports fans.
Data, therefore, plays a big role in sports and is essential for better playing and more efficient consumption of the sport. As a result, there is a need for detailed and accurate data collection. Additionally, as the amount of data one requires increases, a more sophisticated team will have to be deployed to collect the data by punching, logging, and processing it for use.
For reference, playing actions and game events happen quickly, so, in some sports, around twenty professionals do live logging while others are in the control room to process the live data for broadcast and media use. These professionals have to stay focused at all times so as not to miss anything or make any mistakes.
It is, therefore, safe to say that while the promise that sports video analytics aims to deliver may be bright, the process through which it is done can be time-consuming and labour-intensive.
The Solution: Going for the goal with NVIDIA
The introduction of automation to the entire workflow of data collection, processing, curation, and maintenance was crucial to overcoming the challenges faced in sports video analytics.
TVCONAL's sports analytics solutions see the introduction of Artificial Intelligence (AI) applications that can do the job of logging more reliably and accurately.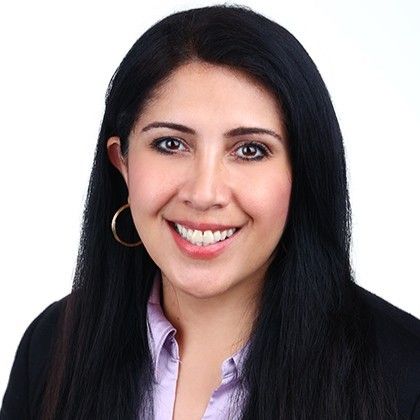 "For every single play in cricket, for example, there are over fifty tags generated. These are high-level tags that are understandable by humans. We collect millions of data points for each ball delivery from every moving object visible in every frame of the video. This rich data is consolidated with fifty parameters in a team profile and seventy parameters in the player's profile to extract insights. If a player does an illegal action such as not respecting a distance while running really fast, we are able to detect that through the video signals we receive in another part of the world, just in time to inform the umpires to take an action.  This is beyond human's ability to process in a few milliseconds." said Masoumeh Izadi, Managing Director at TVCONAL.
This real-time tracking and analysis, which would not have been possible just a few years ago, is enabled by the technology of today. TVCONAL employs the use of NVIDIA Metropolis, an end-to-end application framework and collection of tools that includes pre-trained models, training and optimization tools, deployment SDKs, CUDA-X libraries, and the NVIDIA EGX platform.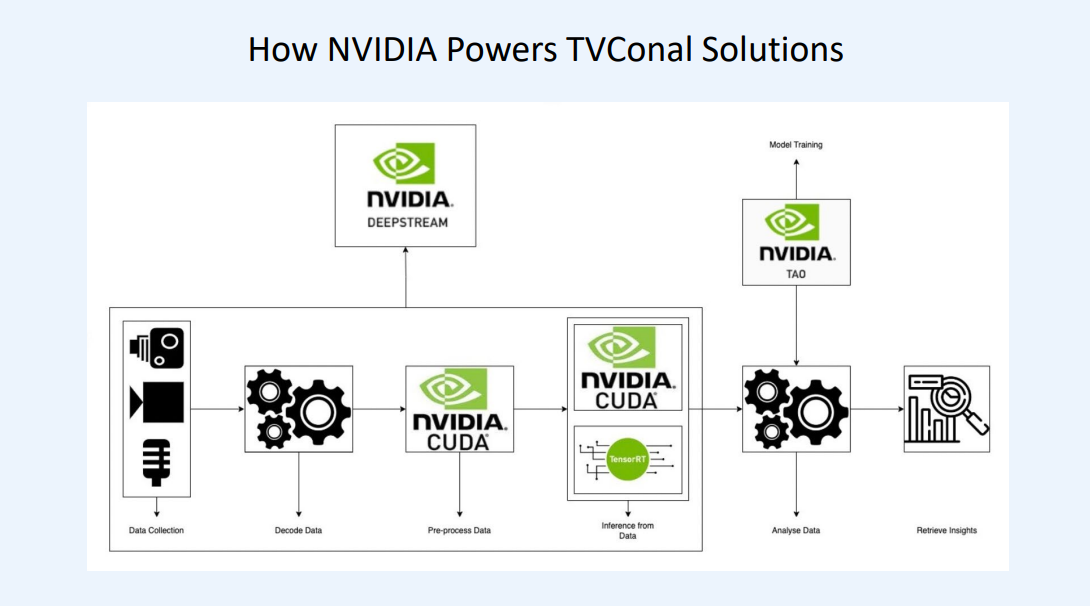 The application framework simplifies the development, deployment, and scale of AI-enabled video analytics applications from edge to cloud, making it easier for developers to combine common video cameras and sensors with AI-enabled video analytics to provide operational efficiency. Applications are also optimized to run on a wide range of NVIDIA EGX™ platform hardware, allowing developers to deploy anywhere securely, from the edge to the cloud.
Specifically, TVCONAL uses the NVIDIA CUDA toolkit through various ML frameworks, TensorRT to speed up processing, DeepStream for simplifying video processing pipelines, the TAO toolkit, and NVIDIA pre-trained models for comparison, training, and benchmarks. NVIDIA Docker containers are also used to help the team quickly set up environments for experiments.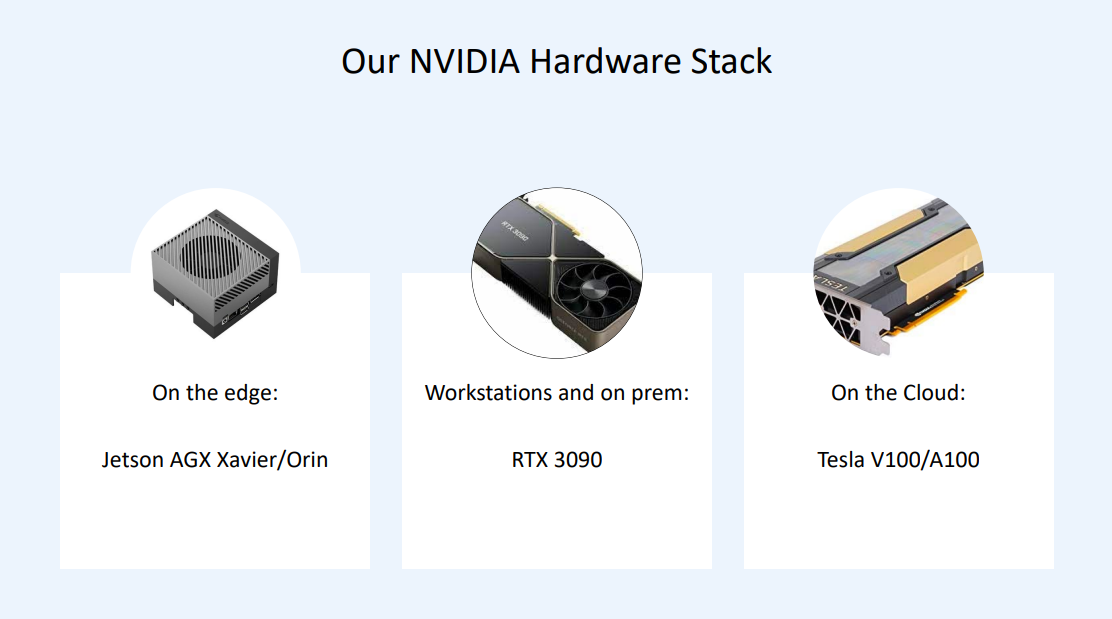 Taken together, these technologies allow TVCONAL to overcome obstacles and exploit videos for the analysis of minute details.
The Impact: A game-changer in the sports industry
The solutions supplied by TVCONAL have had far-reaching consequences and are deeply felt by various segments of the sports data ecosystem – from broadcasters to publishers, teams, leagues, and sports governing bodies.
"The field of automated video processing is revolutionary in sports and the current data-centric culture in the sports industry will continue to respect and welcome the revolution. Everyone we have been pitching to has been very impressed with the way our technology can ease their work, enable perfectionism in their job, save them significant costs and time and increase the bandwidth in their operations," said Masoumeh.
A team analyst, whose job requires the timely extraction of insights, for example, could have his or her questions answered with just a few clicks because of content that has been enriched with search tags and a business intelligence layer on top of all the statistics and data points. Without TVCONAL's solutions, the same team analyst would likely require at least a week to dig deep into statistics and video reviews.
Similarly, stakeholding boards, with TVCONAL's solutions, can detect illegal playing actions that would otherwise have been left undetected even with two field umpires and one TV umpire.
There is a clear value that AI provides in the sports industry. In particular, the application of automated tagging in sports makes it possible to use the increasing volume of content that is easily available to extract values from.
By providing resources and solutions that enable incredible insights from statistics and information, TVCONAL offers its clients a competitive advantage and at the same time frees individuals within the sports data ecosystem from time-consuming and arduous work processes so that they can better dedicate their time.
Looking to the future
The Pakistan Cricket Board, NEP broadcasters, and Titans Cricket team are just some of TVCONAL's clients. TVCONAL isn't stopping there, though. Just as the global sports analytics industry is growing, the company is looking to expand its client base as well as its applications to produce even more game-changing results. These verticals, in addition to its strong foundation in the science of video analytics, cement TVCONAL's position as an established leader in the future of sports video analytics.
Furthermore, the improvements in Machine Learning, AI, and related technologies have enabled an increase in the accuracy of predictions and improvement in hardware acceleration, all of which will bring sports video analytics to even greater heights.
"We are excited to see more advanced models and pipelines being able to run in real-time, analyzing multiple video sources at high frame rates. Improvements in software tools, frameworks, and hardware will allow us to iterate faster and bring ideas to market with shortened life cycles and reduced costs," said Masoumeh.