We've seen smartphones with amazing cameras hit the market in recent times. So much so that smartphones are the "weapon of choice" when one whips out a device to snap up scenic shots or #OOTDs at events. But photos and videos are often ruined by shaky hands – even with Optical Image Stabilization OR Electronic Image Stabilization (EIS). If your photos always turn out like they've been taken by a potato, a good gimbal can help. In today's review, we'll put the Hohem iSteady V2 Gimbal to the test.
Launched in 2014, Hohem is known for producing mobile gimbals with a certain wow factor. The Hohem iSteady V2 Gimbal, for one, is packed with extra features like a built-in AI tracking sensor for face and object tracking. Let's see if it iSteady V2 lives up to its name.
Hohem iSteady V2: Specifications
| | |
| --- | --- |
| Weight | 263g |
| Dimensions (mm) | 179 x 79 x 39 (Folded), 230 x 80 x 40 (Unfolded) |
| Phone Compatibility | Up to 280g weight, 11mm thickness, 90mm width |
| Rotation range | Pan 320°, Roll 320°, Tilt 270° |
| Bluetooth | 4.2 |
| Battery | 2800 mAh Li-on |
| Charging | Bidirectional USB Type-C port |
| Operating System Support | iOS 10.0 and later, Android 6.0 and later |
| Gimbal | 3 axis motorized with iSteady 4.0 anti-shake algorithm |
Hohem iSteady V2: Unboxing
The package includes: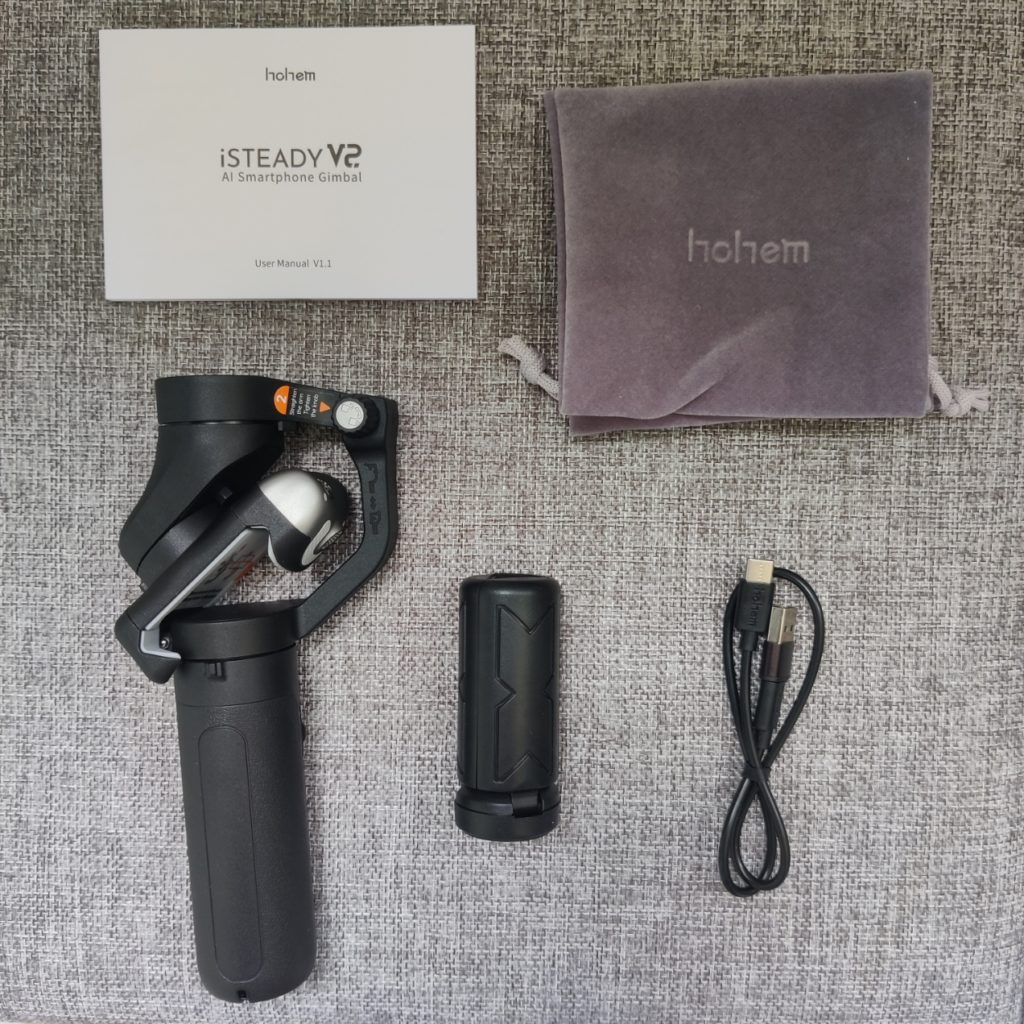 iSteady V2
Mini tripod
Charging cable
Storage pouch
Wrist strap
Quick start guide
Hohem iSteady V2: Design and build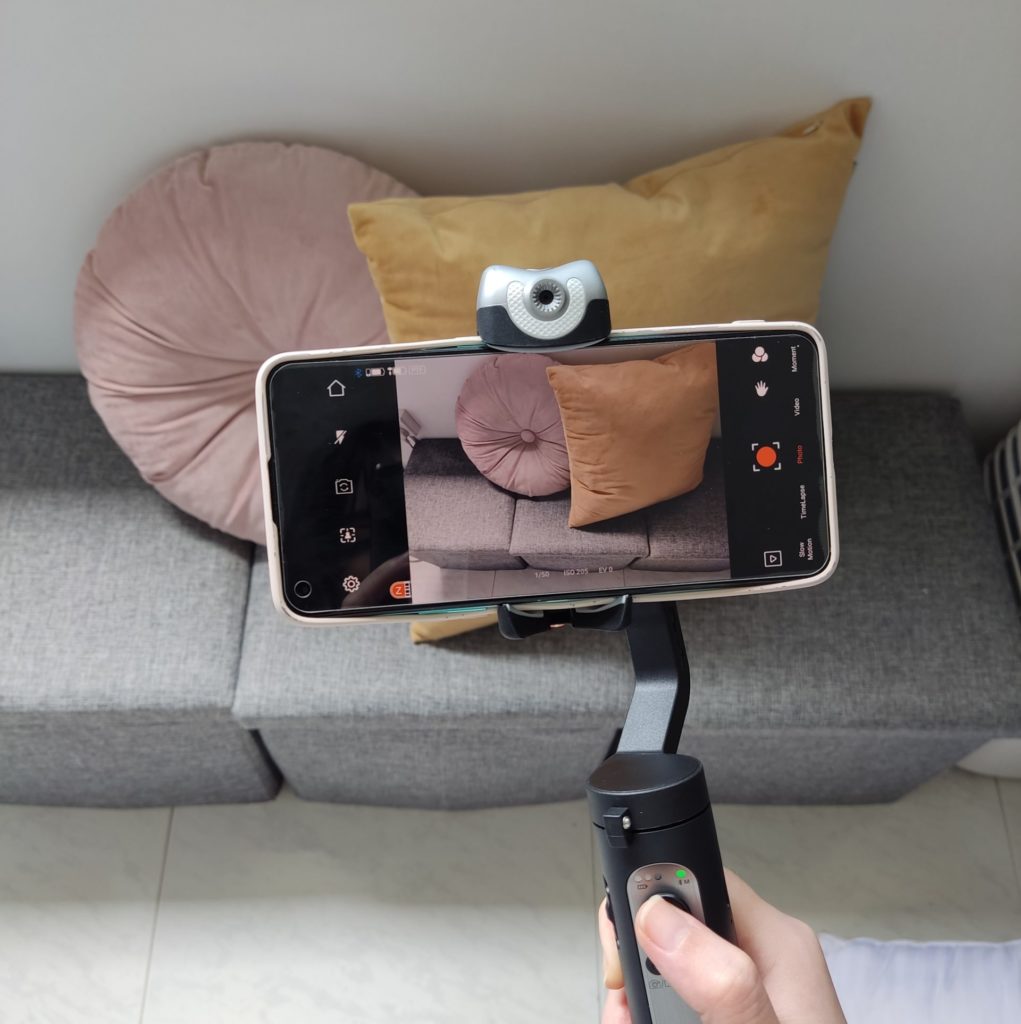 The Hohem iSteady V2 comes in 2 color options – black or white. We got our hands on the black one. At first glance, the design of the iSteady V2 will not surprise you – it looks like most gimbals you see out there.
Once you take it out of the box? You'll feel the difference.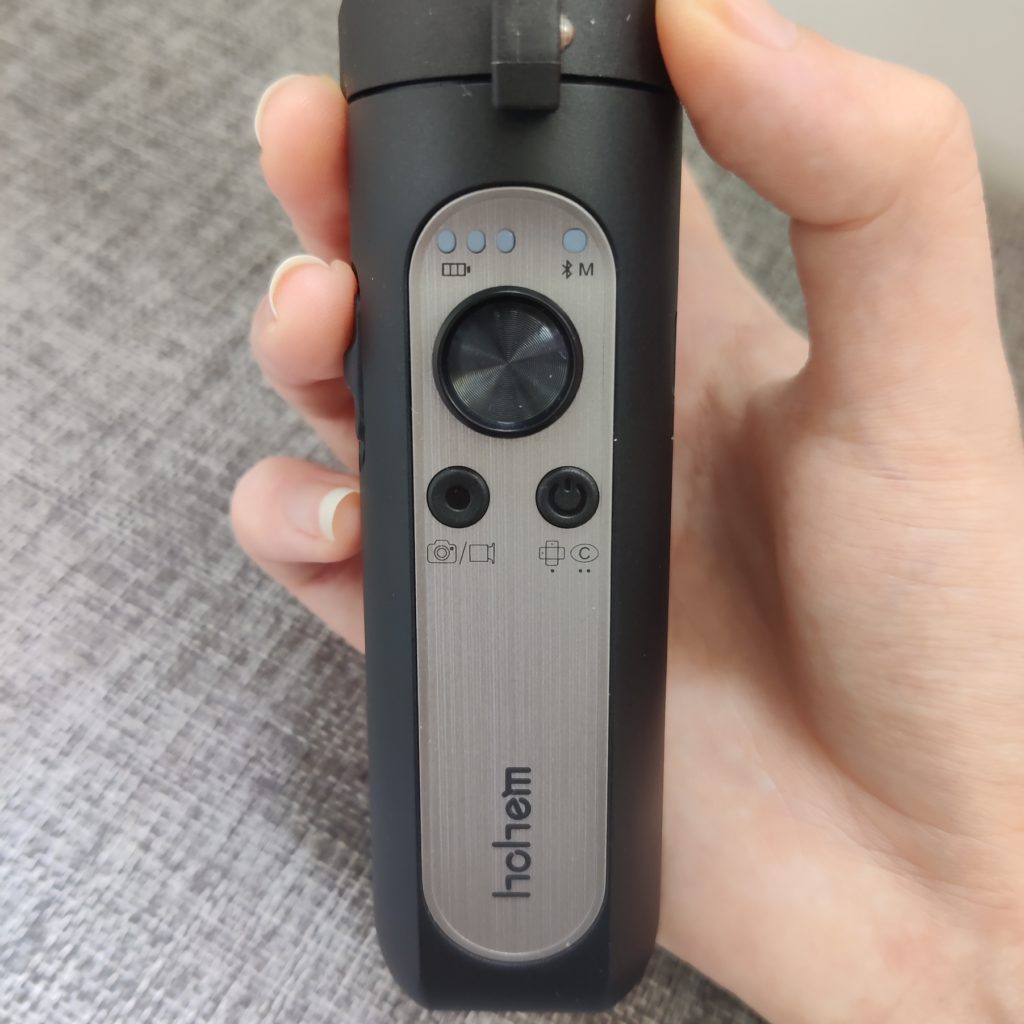 Made of a matte non-slip plastic, the Hohem iSteady V2 feels sturdy, premium, and is offers a good grip. On the handle of the gimbal, you'll find the power and orientation buttons, a joystick, a zoom button on the left, as well as the charging port at the right. All the buttons work well and are very responsive. There's also a battery indicator and a Bluetooth indicator so you don't have to guess if the gimbal has successfully connected to your phone.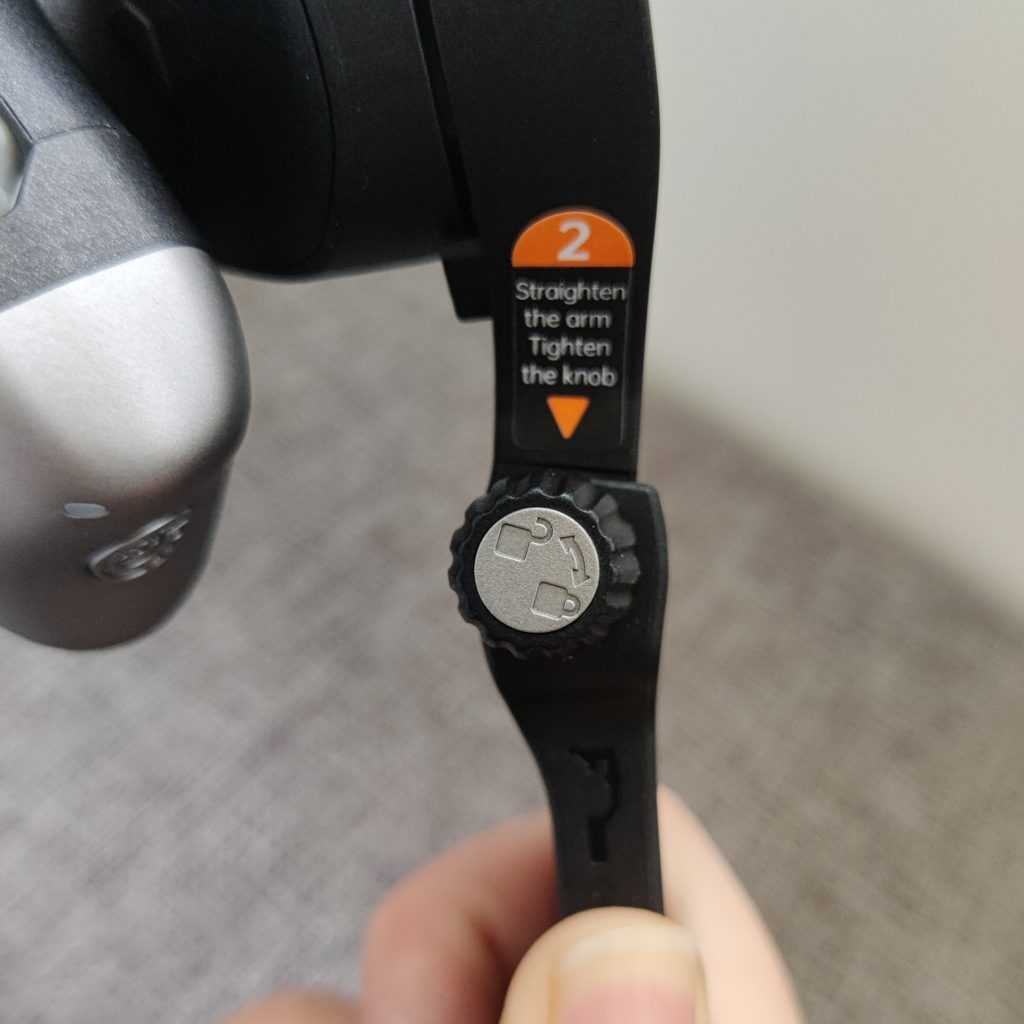 Along the neck of the gimbal, there's a locking mechanism in the form of a knob for you to lock the gimbal into folded-up or folded-out modes. When folded, the gimbal is pretty compact and you can easily throw it into your bag with the carrying case provided.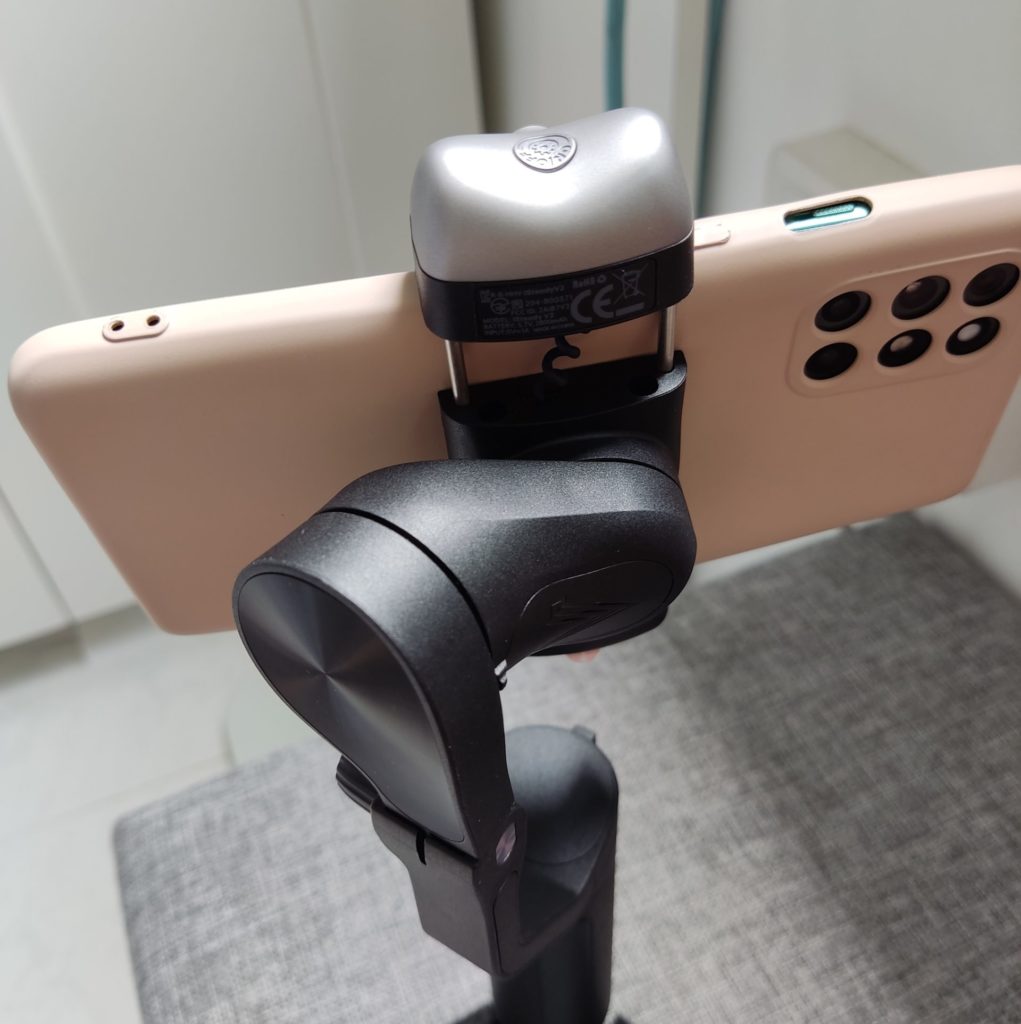 At the end of the neck stands the clamp-style phone holder of the gimbal. It offers a nice amount of grip and is lined with rubber along the sides to protect your phone.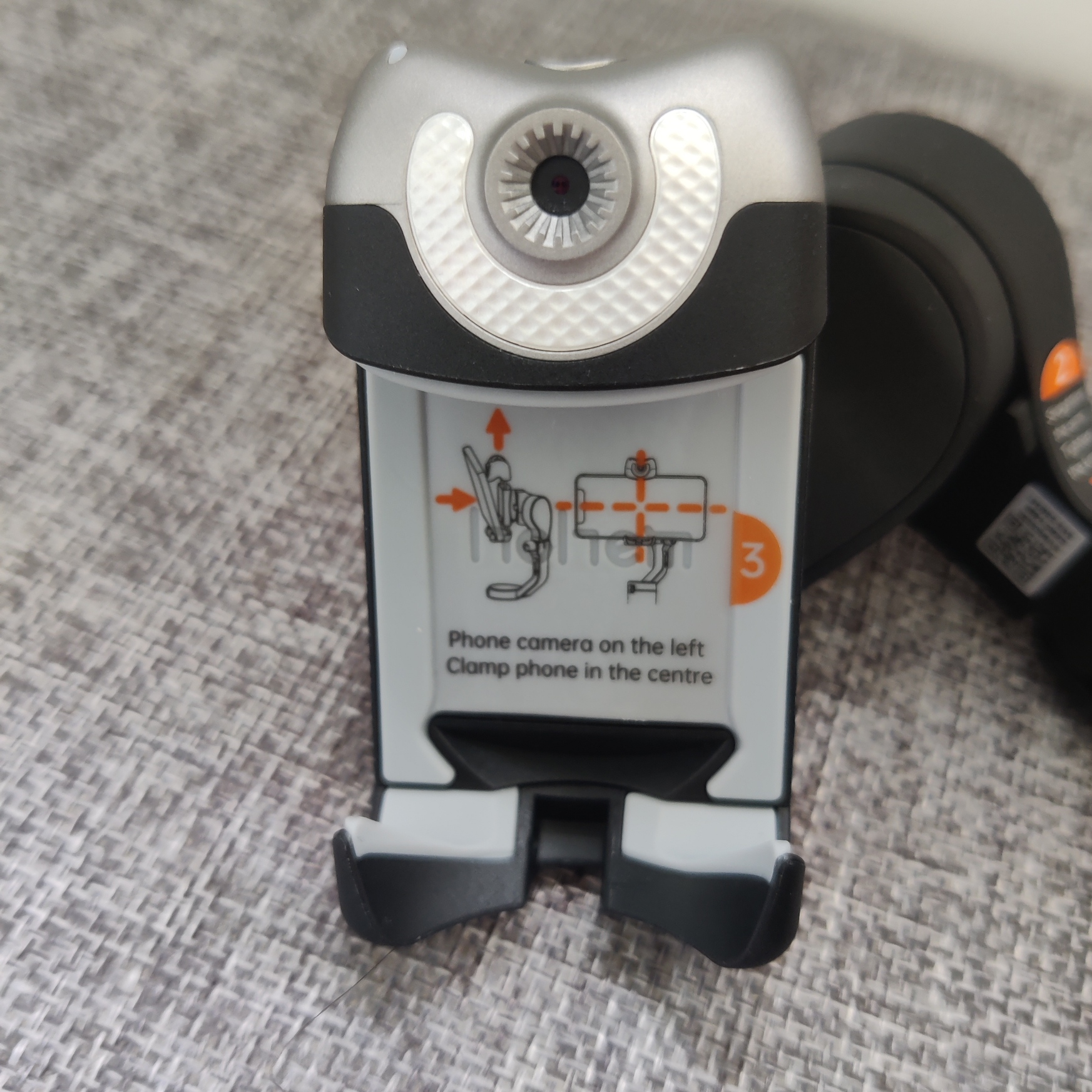 The phone holder is also fitted with a ring light with adjustable brightness and a webcam for the gimbal's AI-assisted camera feature (more on that later). You can turn on the camera with the button that sits right above it. We were impressed that Hohem integrated dozens of components in the phone clamp without adding any extra weight and size.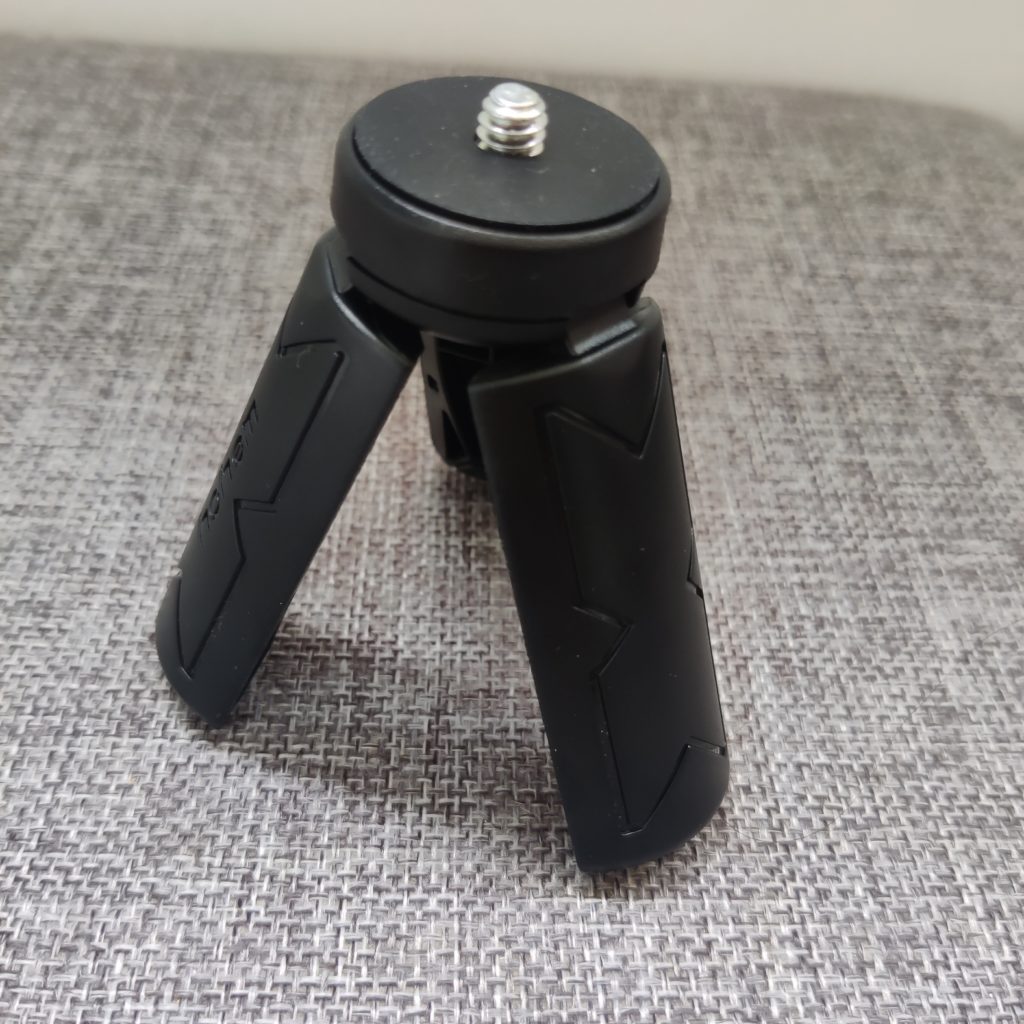 On the bottom, you'll find a standard camera tripod mount. You can use it to attach the gimbal to a tripod or selfie stick. Hohem has kindly included a light and handy mini tripod in the box.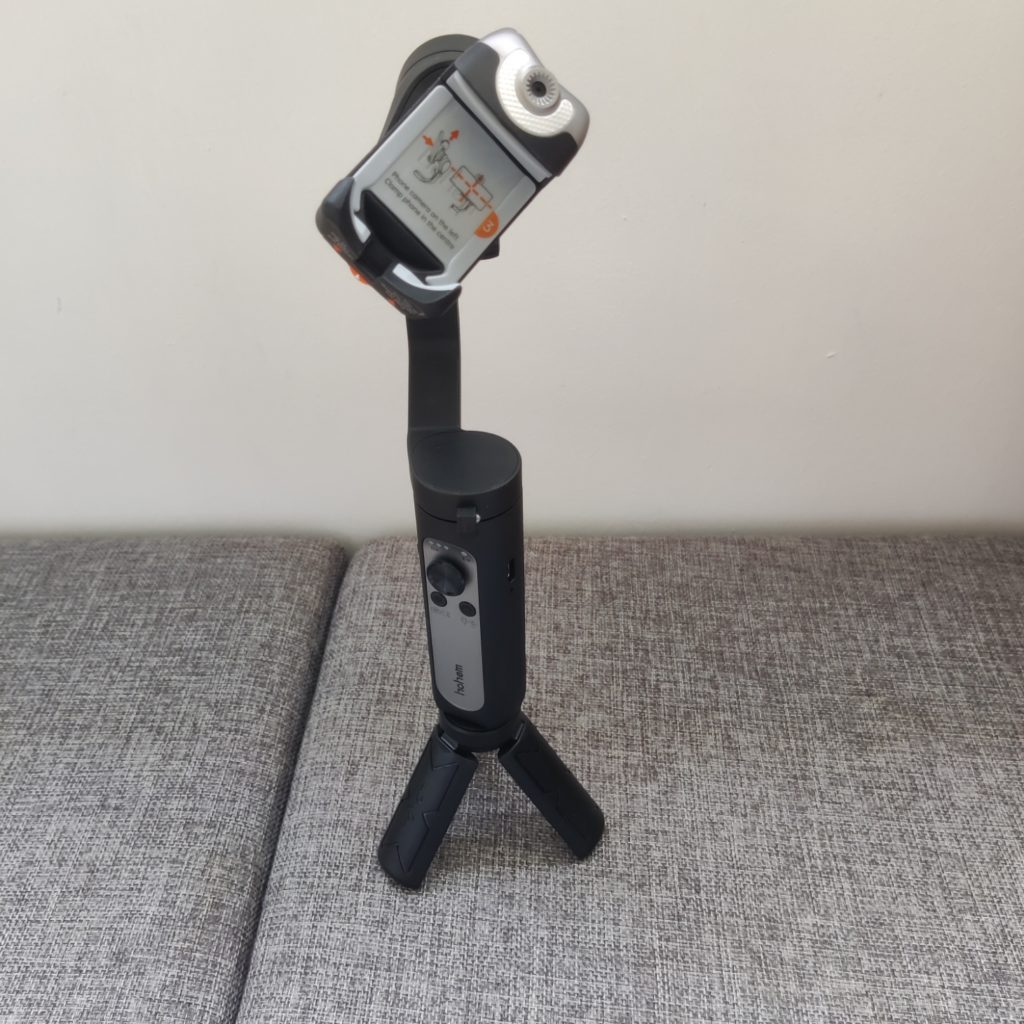 Overall, we liked the design of the Hohem iSteady V2 – it looks good, feels good in the hands, and isn't too heavy. If we had one complaint? The iSteady V2 isn't waterproof – so if you're into taking shots in the rain, this isn't the gimbal for you.
Hohem iSteady V2: Installation and getting started
Because Hohem included stickers and markings on the gimbal, the setup and installation process was pretty simple. To start using the gimbal, you just have to unscrew the knob, unfold and extend the gimbal, re-tighten the knob, and turn the power on by long-pressing the power button.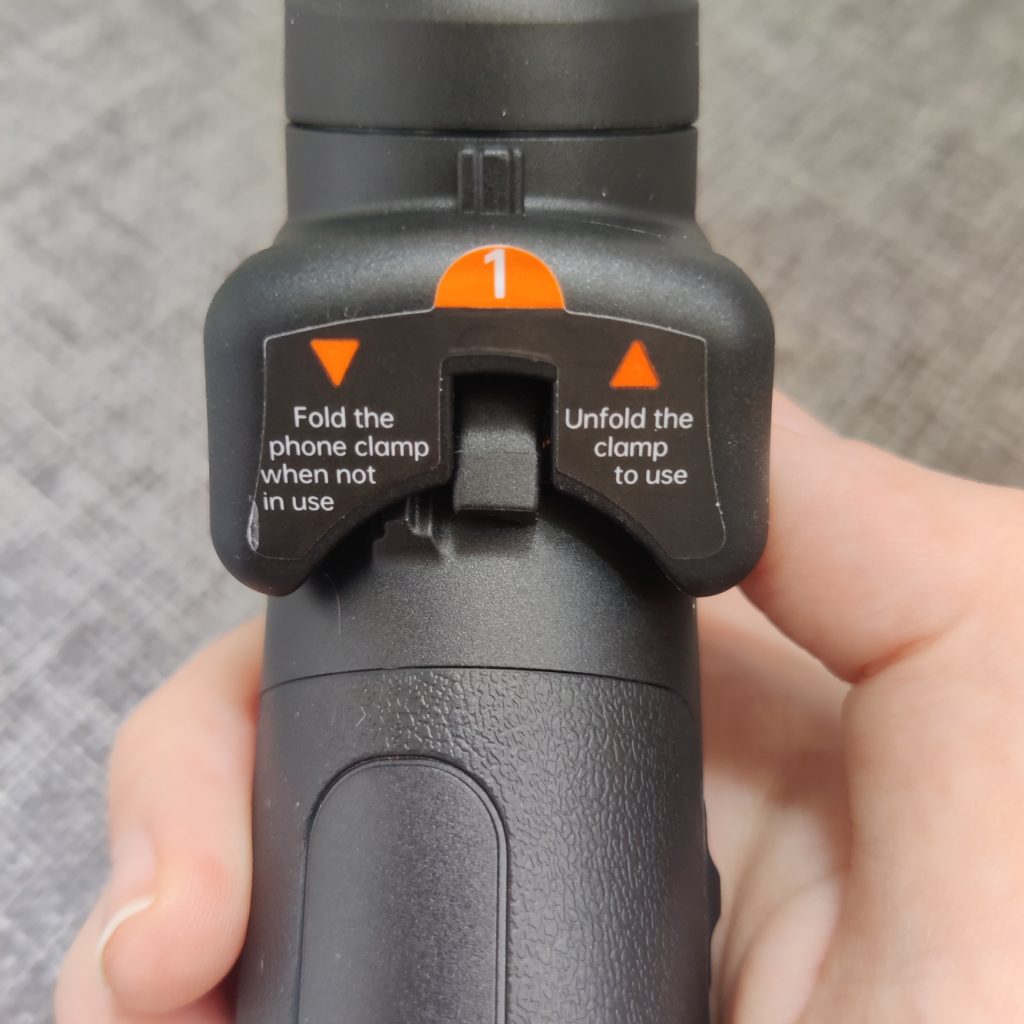 There is also an app that – thank god – is optional. I dislike having to download a new app each time I get a new device, so I was glad to know that the iSteady V2 can work without its accompanying app. With the app, however, you do get some cool stuff like templates for shooting and special shooting modes. Overall, the app was easy to use, intuitive, and actually pretty fun.
Hohem iSteady V2: Features and performance
Now that we've got the nitty gritty out of the way, let's dive into some of the notable features of the Hohem iSteady V2 and how they perform in action.
AI Vision Sensor
Naturally, we were most excited about iSteady V2's built-in AI vision sensor. You can activate the AI tracking via the app or by pressing the button on top. With the sensor equipped, the gimbal is able to do smart tracking automatically without any apps. Even if your mobile is not connected to Bluetooth, you can still use the smart tracking by its built-in AI vision sensor anytime, anywhere. The sensor is also compatible with third-party apps.
On our test, the AI vision sensor did a great job keeping the face centred in the frame. If you do selfie-style videos frequently, you'll love that you don't have to look at the phone to adjust the frame – the gimbal will do that automatically for you.
Take a look at the video below to see how this AI tracking works with object tracking of a tiny bird stuffed toy.
As observed, the gimbal tracks the object decently well and only starts to lose the object when it moves too quickly or out of frame.
Additionally, if you worry that the gimbal will make loads of noise when it moves about, fret not. The gimbal makes use of a quiet and fan-less cooling solution equipped with an innovative double-column cooling system. This prevents the AI sensor from heating up and aids in its cooling so that it can work seamlessly throughout the day.
Gesture control
The Hohem iSteady V2 supports gesture controls, which we thought was pretty fun. To enable AI Vision Sensor, hold up an OK sign with the front-facing camera turned on. A small red light will turn green, signalling that the gimbal is now tracking you.
Other than that, you could use these gesture controls:
Stop tracking: Hold up your hand
Switch to landscape mode: Thumbs up with both hands
Switch to portrait mode: Two thumbs pointed to the right
Of course, you can stick traditionally to using the buttons and switches on the gimbal itself. Gesture control is just an additional feature that surprisingly worked really well on our tests.
Although this isn't exactly about gestures, we found it pretty cool that the iSteady V2 intuitively switches to low-angle shooting when you turn it upside down.
Built-in LED video light
As mentioned, the gimbal comes with a built-in LED video light. The video light has a touch button and its brightness level can be adjusted three ways. You could adjust the brightness level depending lighting condition and your needs so that the footage turns out looking good.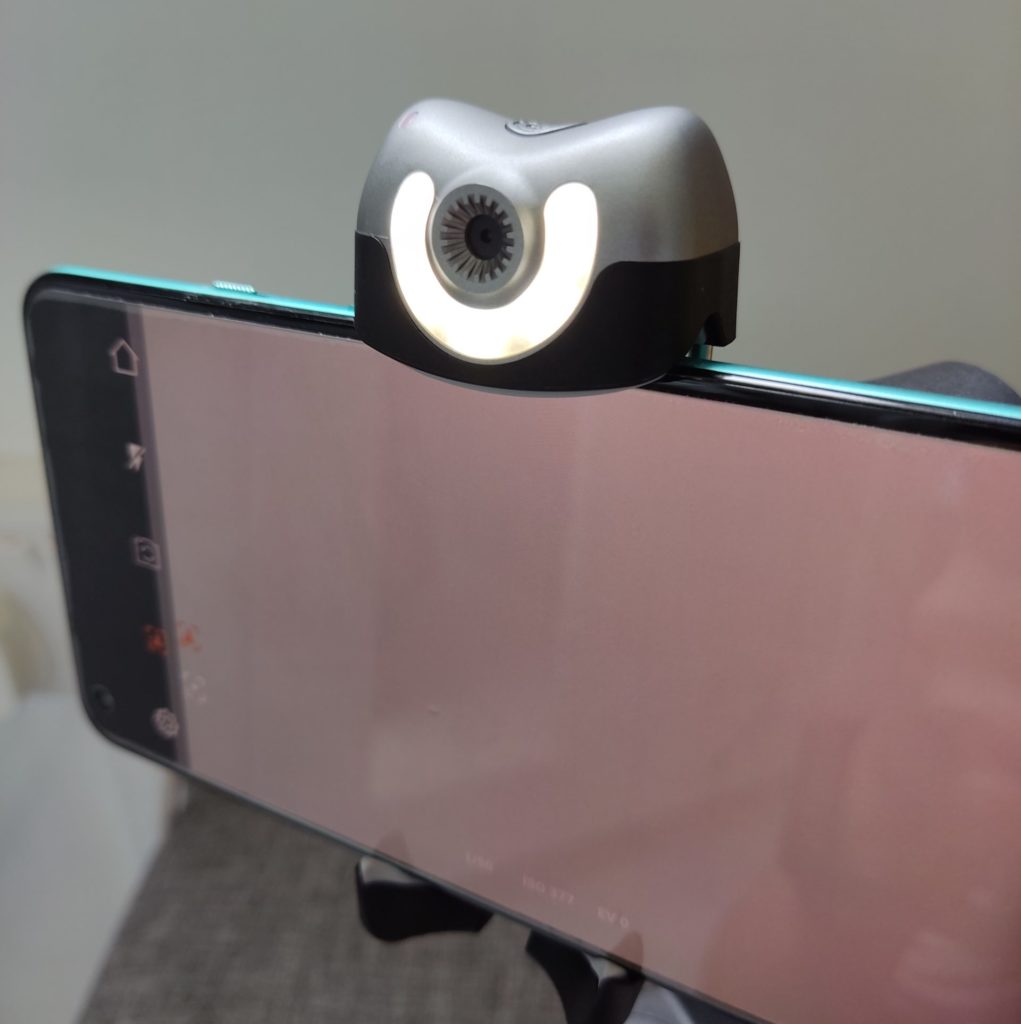 In low-light settings, the video light worked well. But if you're going to use it under an already bright environment, it's not going to do much. It is also worth mentioning that the AI-tracking feature continues to work with the video light turned on.
3-axis stabilization
The iSteady V2 is equipped with a 3-axis anti-shake algorithm with a brushless motor for smooth transitions as well as stabilization. The gimbal's Roll and Pan motors can be rotated up to a maximum range of 320° and the Tilt motor supports a controllable range of 60°.
On our tests, it is obvious that the 3-axis mechanical gimbal stabilization is much better than the electronic image stabilization or even the phone camera's optical stabilization in producing stable footage.
Needless to say, compared to recording something on a phone with or without stabilization features, using the gimbal made a difference. Check out the specific tests below as we recorded the same video three ways.
Phone camera stabilization off
Phone camera with stabilization on
App functions (Moment templates)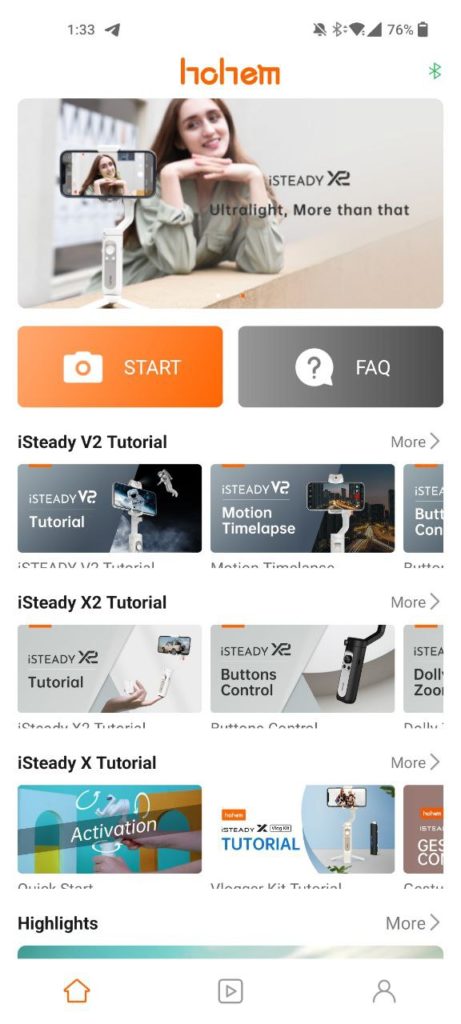 If you choose to download the gimbal's accompanying app, you will be granted access to moment templates that are very entertaining to play around with.
In addition to moment templates, you'll find these functionalities on the app:
Auto-inception Mode
Motion Timelapse
Real-time Beauty Mode
Auto-Calibration
Online Firmware Upgrade
Camera settings
Personal specifications settings
Here are some of the modes in action:
Battery life
Hohem packed the iSteady V2 with a 2800mAh battery, which can continuously power the gimbal for around 9 hours. The gimbal even supports reverse charging and can also turn momentarily into a power bank to charge up your phone.
Hohem iSteady V2: Price and availability
The Hohem iSteady V2 is available here at SGD $199.
Hohem iSteady V2: Verdict
Overall, the Hohem iSteady V2 is a gimbal that is great for those who are already vloggers or filmmakers as well as beginners aspiring to be one. The gimbal is easy to set up and lightweight enough to carry around conveniently. The accompanying app was flowered with useful tutorials that will help you along the way of things.
For SGD $199, you get a sturdy and durable gimbal with impressive AI tracking, multiple modes and functions, and a whole lot of fun.