Singapore, 2 March, 2022 – Leading global technology company, vivo today announces its new vivo V23 5G smartphone in Singapore. The vivo V23 5G is the latest in vivo's longstanding V-series smartphones, which has continually provided consumers with fashion-forward, Front Camera-focused devices at competitive prices.
The new vivo V23 5G offers high-performance 5G experience, along with exceptional photography features for eye-catching selfies with an industry-leading 50MP Auto-Focus Dual Front Camera and Dual-Tone Spotlight which sets new standards in mobile camera performance.
The exterior has been designed to deliver an outstanding look and feel to the smartphone: its innovative exterior design combines vivo's flat one-piece aluminium frame design with a unique body surface using Fluorite AG technology that makes the phone soft to the touch. The V23 5G also features a special colour-changing exterior that changes colour under direct UV light[1].
Demanding consumers, style-conscious trend setters and high-performance photographers will find the V23 5G is an ideal combination of design elegance, premium photography features and outstanding performance for gaming, as well as mission-critical and resource intensive apps.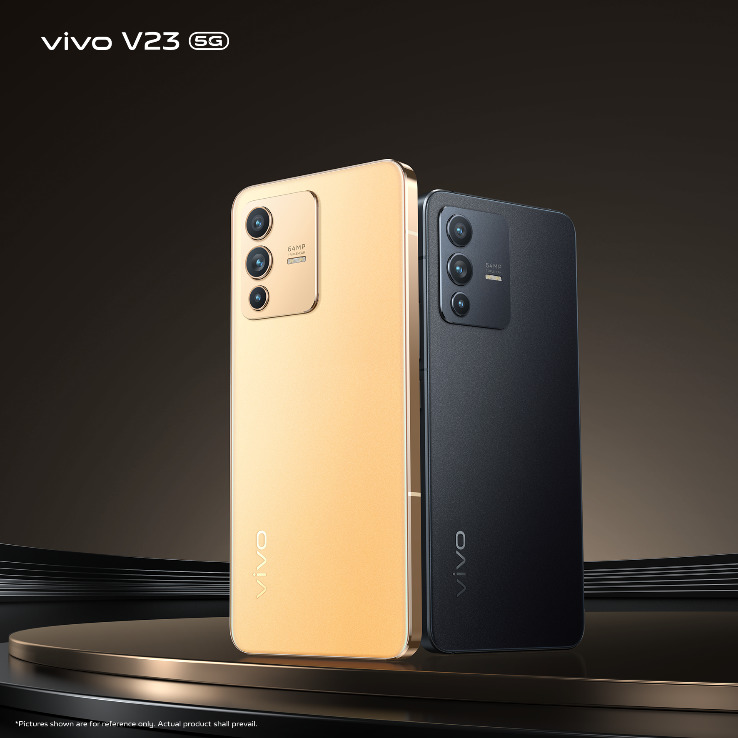 The V23 5G is available in two distinctive colours including Sunshine Gold and Stardust Black
"At vivo, we strive to create the ultimate mobile experience combining innovation, cutting-edge capabilities and style for people who seek daring new ways to express their individuality. The V23 5G delivers exceptional camera capabilities in various aspects for stunning quality selfies and portrait shots, while wrapped in a lightweight, elegant design that is fashionable yet diverse in appeal with its unique colour-changing surface," said vivo Singapore CEO, Mr. Liu Hong Bin.
Elevating both front and rear camera systems with 4K video capabilities
The V23 5G features a dual-front camera system which consists of a 50MP Auto-Focus main camera and a 8MP wide-angle camera to deliver a range of new features to meet the demanding needs of individuals who desire both style and functionality.
The all-new 50MP Auto-Focus main front camera has been designed with a customised JNV image sensor and autofocus function, allowing users to capture portraits with a high level of detail and quality. Additionally, the 8MP wide-angle front camera enhances users' selfie experience by allowing more people to fit into the shot, without having to leave out anyone in a selfie. the V23 5G comes packed with a triple camera system on the back of the phone, consisting of a 64MP main camera, a 8MP wide-angle camera and a 2MP Macro camera.
Both front and rear main cameras are capable of shooting videos in 4K resolution. Coupled with vivo's AI features, the V23 5G is well tailored to deliver high quality and superior 4K videos.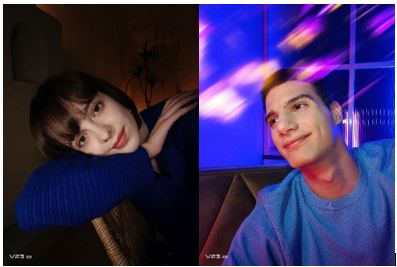 AI detects key details of your face and automatically enhances it for more texture and clarity
 Exclusive Feature: Dual-Tone Spotlight
The V23 5G comes with an exclusive feature: the Dual-Tone Spotlight which remains unique to vivo's V series. The Dual-Tone Spotlights are LED lights that are built into the front of the device, on either sides of the front cameras. The Dual-Tone Spotlight acts as an additional light source for users who are taking selfies or videos in low light settings, enabling the camera sensors to capture much more detail and depth. The Dual-Tone Spotlight also gives users the flexibility to switch between warm light settings, cool light settings or a mixture of both, allowing users to better express their creativity in their selfies and videos.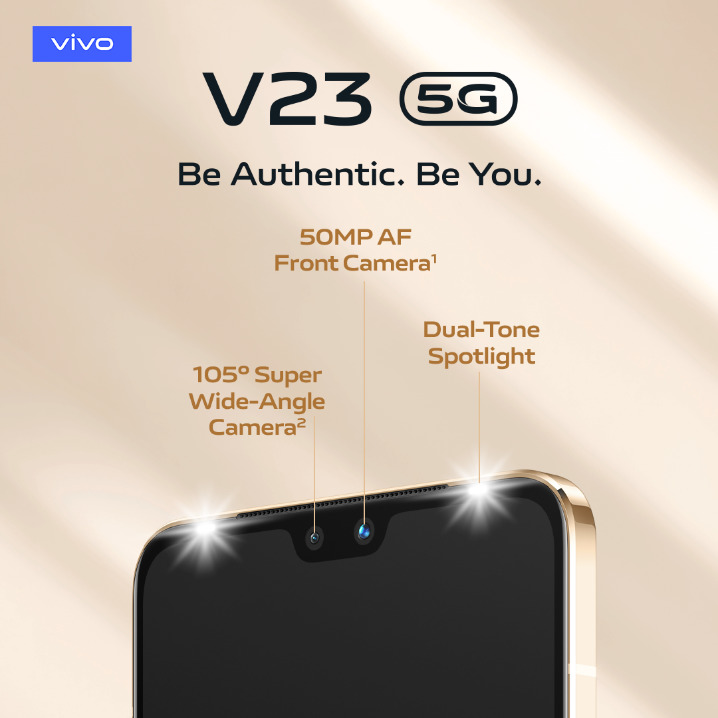 The vivo V23 5G delivers stellar selfie quality with its innovative 50MP Auto-Focus Front Camera, Super Wide-Angle Camera, and Dual-Tone Spotlight
Ideal for style gurus
The V23 5G is designed with a unique look and feel to appeal to a wide range of users. It's 7.39mm ultra-slim body[2] and one-piece aluminium flat frame creates the perfect fit in hand. The design is complemented by Fluorite AG to provide a super-fine and textured feel that is soft to the touch, yet resistant to fingerprints. The sleek form-factor is enhanced by the colour-changing surface to reflect diverse and expressive individuals in appearance and mood, from warm comforting hues to cool, sharp tones.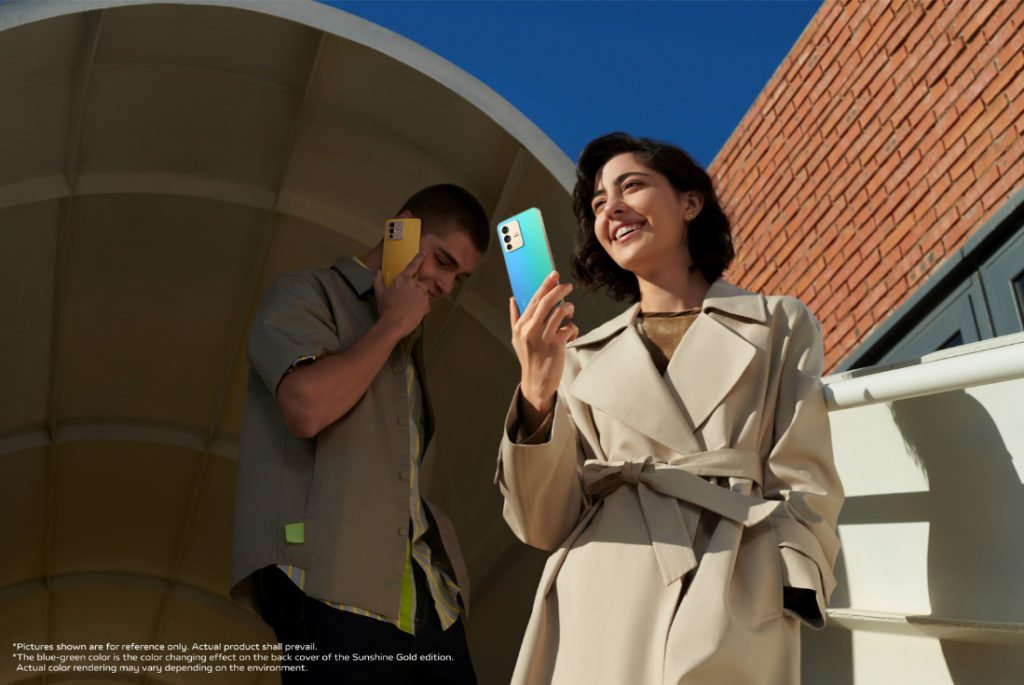 With a layer of crystals along the Fluorite AG glass, the phone shines with a rich finish that changes at different angles of the light
Smooth user experience
Finally, the V23 5G features new hardware upgrades to deliver industry-leading and flagship level performance via the MediaTek Dimensity 920 processor, helping vivo to continue delivering premium user experiences with fast app startup times, performance, installation speeds, and lightning-speed connectivity with dual-mode 5G[3].
Gamers can enjoy super smooth performance with its 90Hz refresh rate display, extended RAM 2.0, an ultra-thin vapor chamber cooling system and Ultra Game Mode for optimal gameplay. The V23 5G also features a 44W FlashCharge capability that can power up the super-slim 4,200mAh (TYP) battery quickly and efficiently.
Price and Availability Information
The vivo V23 5G will be available in Singapore in two colours, Sunshine Gold and Stardust Black from 5 March 2022 onwards. The recommended selling price for the V23 5G is S$699 (without contract). It can be purchased through major telcos including M1, Singtel, StarHub, vivo's official store on Lazada, Qoo10, Shopee, consumer electronics and IT stores, authorised retailers and vivo's concept store at Causeway Point.
Pre-order is currently available between 25 February to 4 March 2022 and customers can receive an additional S$50 off when they place their order via Challenger, Lazada and Shopee.
For a limited time, customers who purchase the vivo V23 5G smartphone through official platforms will receive a free phone case worth S$19.90. Additionally, customers who purchase the phone at selected channels can receive an auto-soap dispenser worth S$21.90. *The promotion is available while stocks last and terms and conditions apply.
-Ends-
About vivo
vivo is a technology company that creates great products based on a design-driven value, with smart devices and intelligent services as its core. The company aims to build a bridge between humans and the digital world. Through unique creativity, vivo provides users with an increasingly convenient mobile and digital life. Following the company's core values, which include Benfen*, design-driven value, user-orientation, continuous learning and team spirit, vivo has implemented a sustainable development strategy with the vision of developing into a healthier, more sustainable world-class corporation.
While bringing together and developing the best local talents to deliver excellence, vivo is supported by a network of 10 R&D centres in Shenzhen, Dongguan, Nanjing, Beijing, Hangzhou, Shanghai, Xi'an, Taipei, Tokyo and San Diego, focusing on the development of state-of-the-art consumer technologies, including 5G, artificial intelligence, industrial design, imaging system and other up-and-coming technologies. vivo has also set up seven production bases (including brand-authorised manufacturing centres), across China, South- and Southeast Asia, and more regions, with an annual production capacity of nearly 200 million smartphones. As of now, vivo has branched out its sales network across more than 60 countries and regions, and is loved by more than 400 million users worldwide.
*"Benfen" is a term describing the attitude on doing the right things and doing things right – which is the ideal description of vivo's mission to create value for society.
Stay informed of the latest vivo news at https://www.vivo.com/en/about-vivo/news

[1] The colour-changing exterior is only applicable to the Sunshine Gold edition.
[2] Actual dimensions and weight of each colour version may differ due to variations in processes, measurement method, material supplies.
[3] Actual SA network compatibility depends on available networks and software. Actual 5G network mode and coverage are subject to local carrier's network situation.