You may be unfamiliar with IINVICTOR, a new brand entering a saturated gaming market. But its parent company, Intricon, a brand with extensive experience in developing audio products for a variety of industries, may ring a bell. Today, we'll be reviewing IINVICTOR's very first product, the IINVICTOR SOTURI gaming headset.
Soturi is a Finnish word for "warrior". Let's see if this warrior puts up a good fight.
Technical Specifications
| | |
| --- | --- |
| Driver Size | 50 mm |
| Frequency Response | 20Hz –20,000 Hz |
| Sensitivity | 100 dBSPL |
| Impedance | 32 ohms |
| Weight | 295g |
| Microphone Polar Pattern | Omni-Directional |
| Microphone Sensitivity | -32 dBV ref 1 V/pa |
| Microphone Frequency Response | 100 – 12,000 Hz |
Unboxing
Open up the box and you'll find:
IINVICTOR SOTURI Gaming Headset
Detachable microphone
Transporter DSP USB Soundcard
Headphone stand
Drawstring bag
There isn't a manual provided (yay, less waste), but you can find it here.
Look and Feel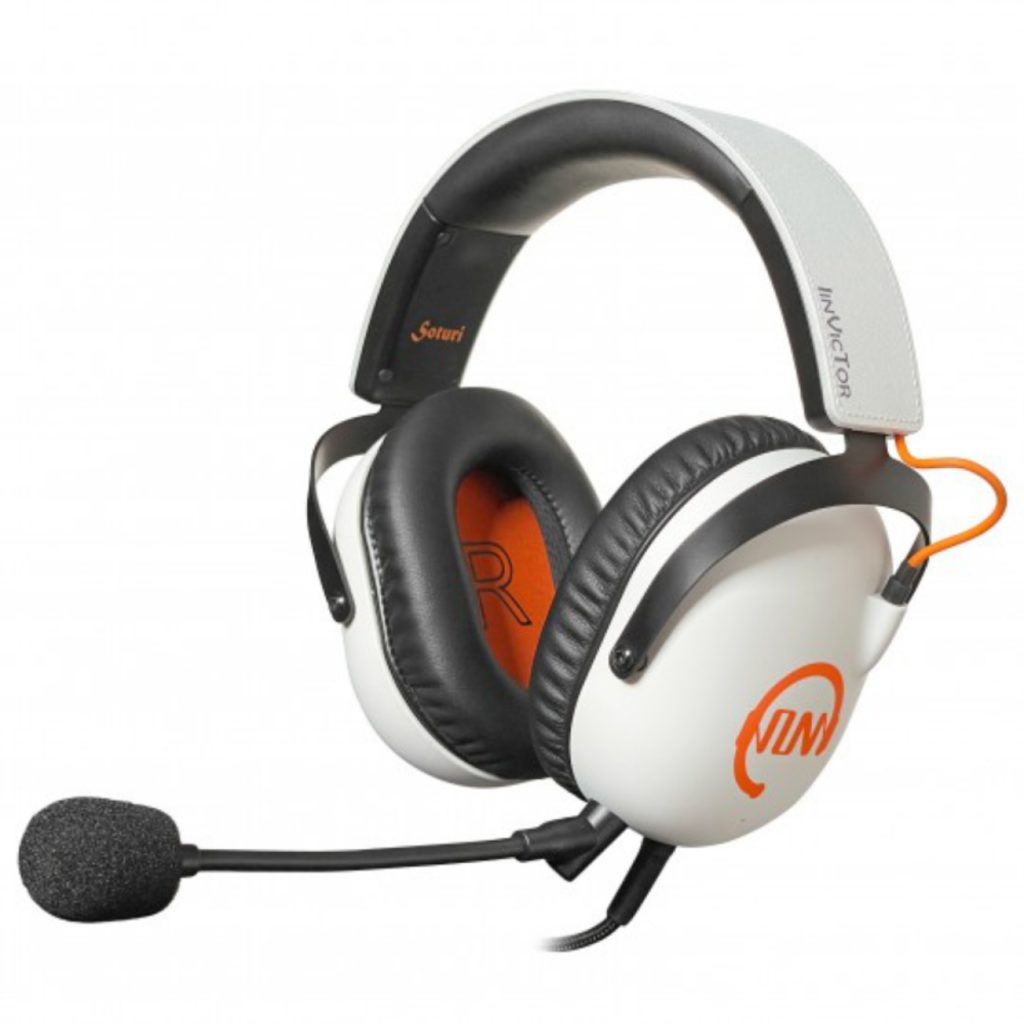 The IINVICTOR SOTURI is currently only available in white. There are also hints of orange and black all around the headset. It'd be nice if there were more color options to fit into more gaming setups.
The headset itself looks like a hearing protection earmuff that shooters use on the field to protect their ears. So if you're into shooting games, this headset may just fit well into your aesthetic.
The headset doesn't just look like it belongs in the field – it feels like it too. The ear cups and headband are made of a robust, solid plastic casing. Feeling the IINVICTOR SOTURI in the hands, it is clear that it was made to withstand hard knocks and bumps. There is also a great amount of flexibility on the headband so that it wouldn't creak when you bend it around.
The IINVICTOR SOTURI does not come fitted with any buttons on it and all cables feel pretty durable. Instead, you can use the soundcard attachment to modify the volume and microphone on the go.
The earmuffs and the headband are fitted with a PU leather cushion that feels springy and comfortable – but we'll look at that in the next section. There are also large prints of "L" and "R" for you to distinguish between the left and the right of the headset.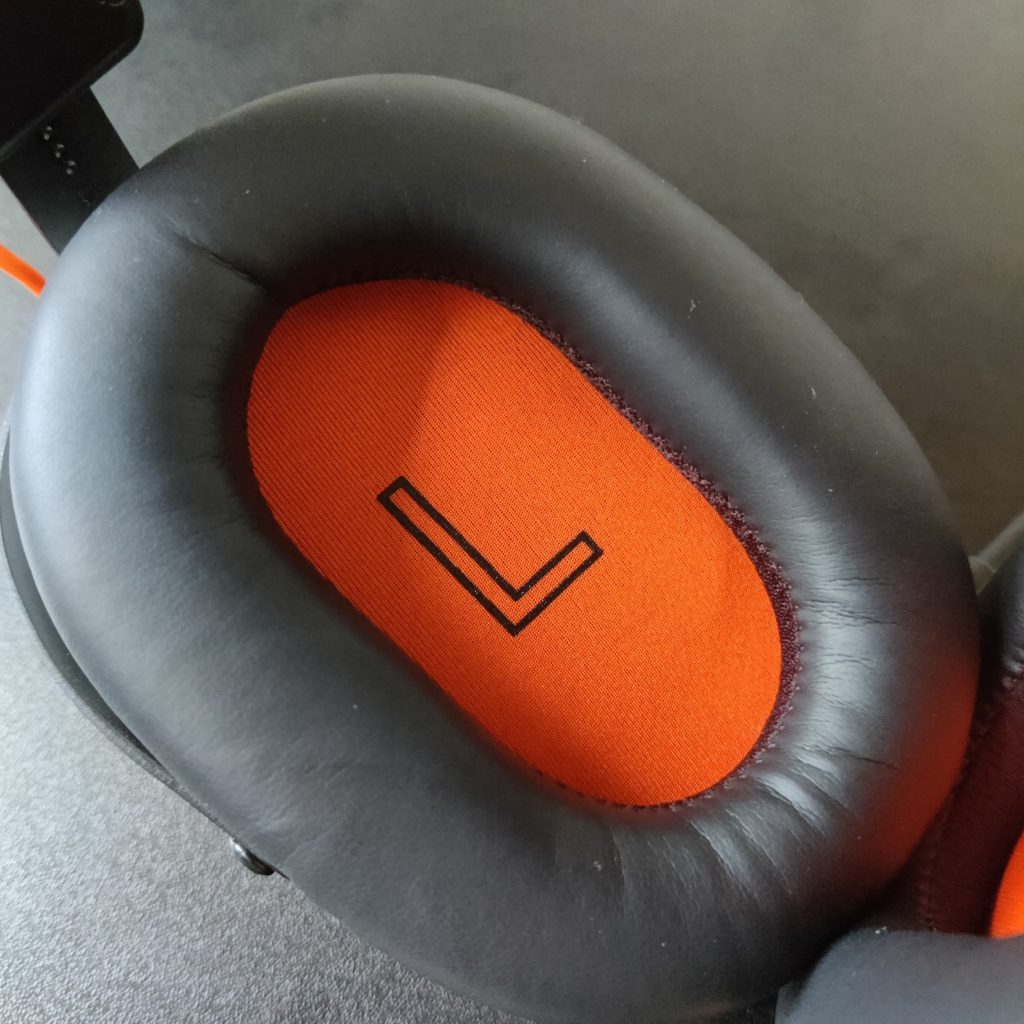 Along with the headset, you'll receive a headset stand for you to place the SOTURI so as not to create too much clutter on your desk. The headset stand doesn't feel as sturdy as the headset itself. It topples rather easily. That said, we weren't expecting much from a free stand anyway.
To get a feel of what the IINVICTOR SOTURI is like in the hands, take a look at this video where we bend the headset around:
Comfort
At 295 grams, the IINVICTOR SOTURI was designed to be lightweight and comfortable enough for long hours of gaming. In terms of gaming headsets, clamping pressure is extremely important. In this respect, the IINVICTOR SOTURI does pretty well – with a comfortable clamping force of 350 grams. It isn't too tight (and headache-inducing), nor is it too loose that it falls off your head easily. And because of the wide headband, the weight feels like it is evenly distributed across your head.
As mentioned, the headset sports PU leather cushions at the earpads. These cushions are soft and do not feel cheap. However, because the earpads cannot be swiveled around or folded in, it may not be the perfect fit for some. The good news? If the earpads aren't "perfect" enough to create a snug seal around your ears, you'd realise that your ears are given some space to breathe. And that's pretty important for those who WFH without the comfort of an air-conditioner.
Audio Quality
The audio tuning of the IINVICTOR SOTURI is clearly designed with gaming in mind. The sound stage is wide and emphasis is heavier on the mids. The sound profile of the IINVICTOR SOTURI makes it a great fit for FPS game titles.
Your purchase also comes with a USB soundcard for you to switch between different sound modes like Balanced (Blue), Enhanced Clarity (Green), and Enhanced Bass (Red).
We used the IINVICTOR SOTURI for Zoom calls as well. The audio was clear and you'd be able to listen to looooong meetings or classes without fatigue.
Microphone Quality
Whether you use the IINVICTOR SOTURI for work or play, the headset's microphone allows for projected sounds to be clear, crisp and adequately filled with depth. We don't have much to complain about the headset's microphone's quality. But if we were to nitpick, the gooseneck of the microphone can be a tad stiff. It isn't the easiest to move around so it's pretty annoying if you're very particular about where you'd like the microphone to be.
Pricing and Availability
The IINVICTOR SOTURI is available at SGD $138 here.
Take $5 off your purchase when you enter the promo code "soturixTTR" at checkout.
Verdict
There are aspects of the headset we didn't like – like the earpads that don't swivel and a microphone gooseneck that's too stiff. It also doesn't do IINVICTOR any favour that these days, it's easy to find a sub $100 set of headphones. That said, however, these sub $100 headsets may not offer the same build quality and comfort you'd get with IINVICTOR SOTURI (for $38 more, or $33 if you use our promo code).
Moreover, even though the IINVICTOR SOTURI is marketed as a gaming headset, its decent audio and microphone quality make it a headset that you could easily pick up for online classes or telecommuting.
If you're still on the fence about the SOTURI because you're not a fan of wired headsets, a little bird told us the IINVICTOR is working on a wireless version of this headset. So keep your eyes (and ears) peeled.