Picture a mechanical keyboard in your head. Chances are, you thought of a thick, chunky, plasticky keyboard with a nostalgic-gamer-aesthetic. The typical mechanical keyboards that we commonly find on the market these days seem to completely disregard minimalism as a growing trend. Before you give up on your search for a sleek and minimalist mechanical keyboard, let us introduce to you the Vissles LP85 – a 75% ultra-slim optical-mechanical keyboard crafted for speed, precision, and comfort.
Does it have more than its looks going for it? We'll find out in this Vissles LP85 review.
Vissles LP85: Key specifications
Let's get the keyboard's key specifications out of the way before we dive right into the review: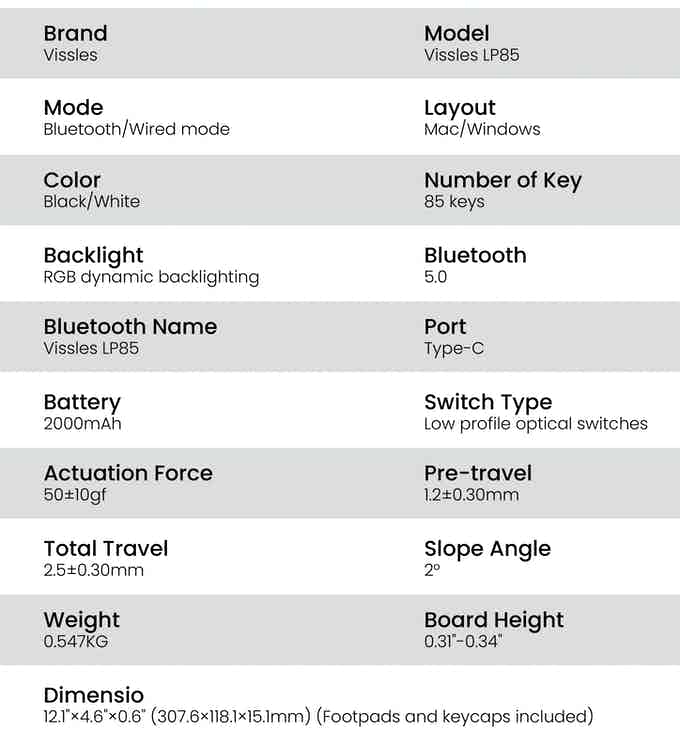 Vissles LP85: Unboxing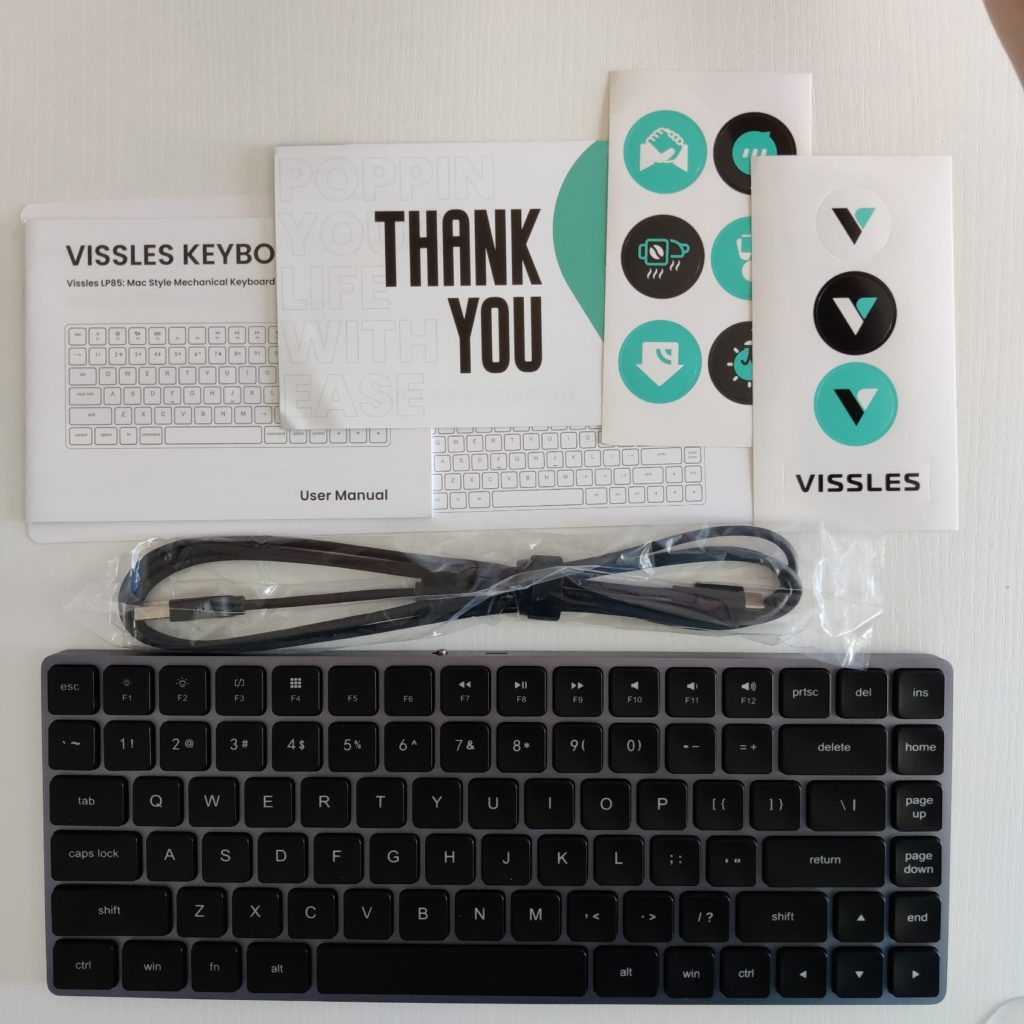 Your purchase of the LP85 comes packed in with the following components:
The keyboard, of course
USB Type-C Cable
User manuals
Fun stickers for you to play around with
Vissles LP85: How it looks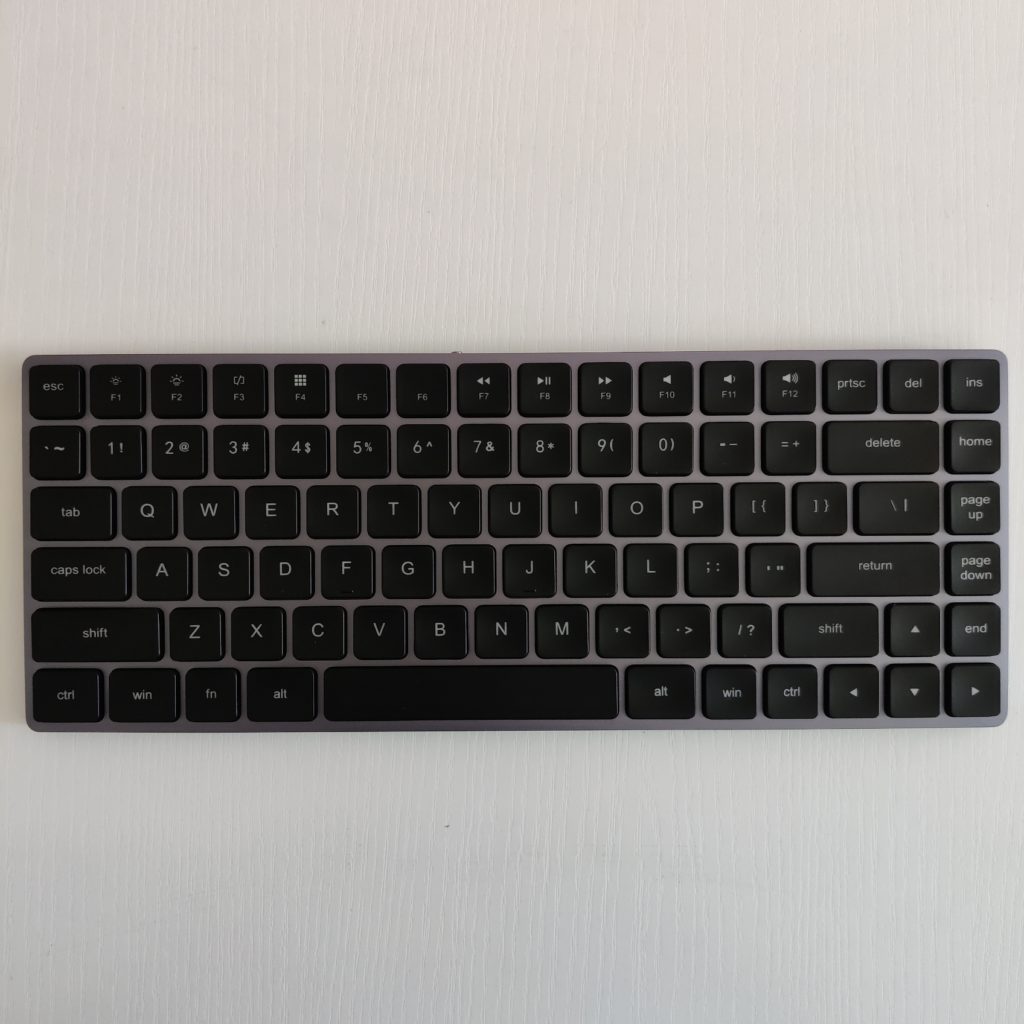 The LP85 is an incredibly thin and sleek keyboard constructed of aluminum. With a maximum height of 12mm, the keyboard prides itself in being one of the slimmest in the world and comes in two colours – white and black.
The 75% keyboard does without a number pad but keeps all the functions and navigational keys. At 547g, the keyboard isn't exactly a lightweight. But we'd argue that the extra weight is a good thing. It makes the keyboard feel sturdy and contributes to the overall build quality of the LP85.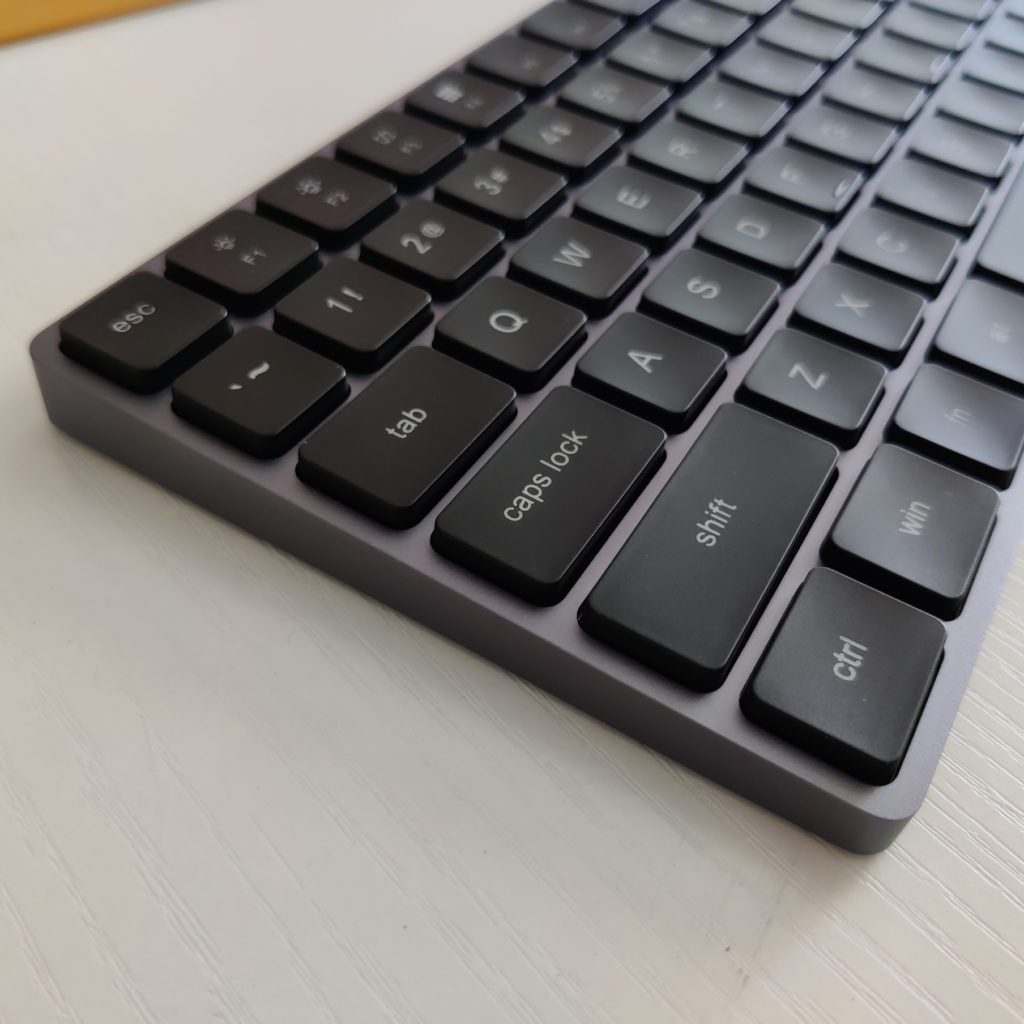 Chassis aside, the keycaps on the LP85 feel premium with surfaces that are slightly concaved and shine-through legends that allow light to pass through beautifully.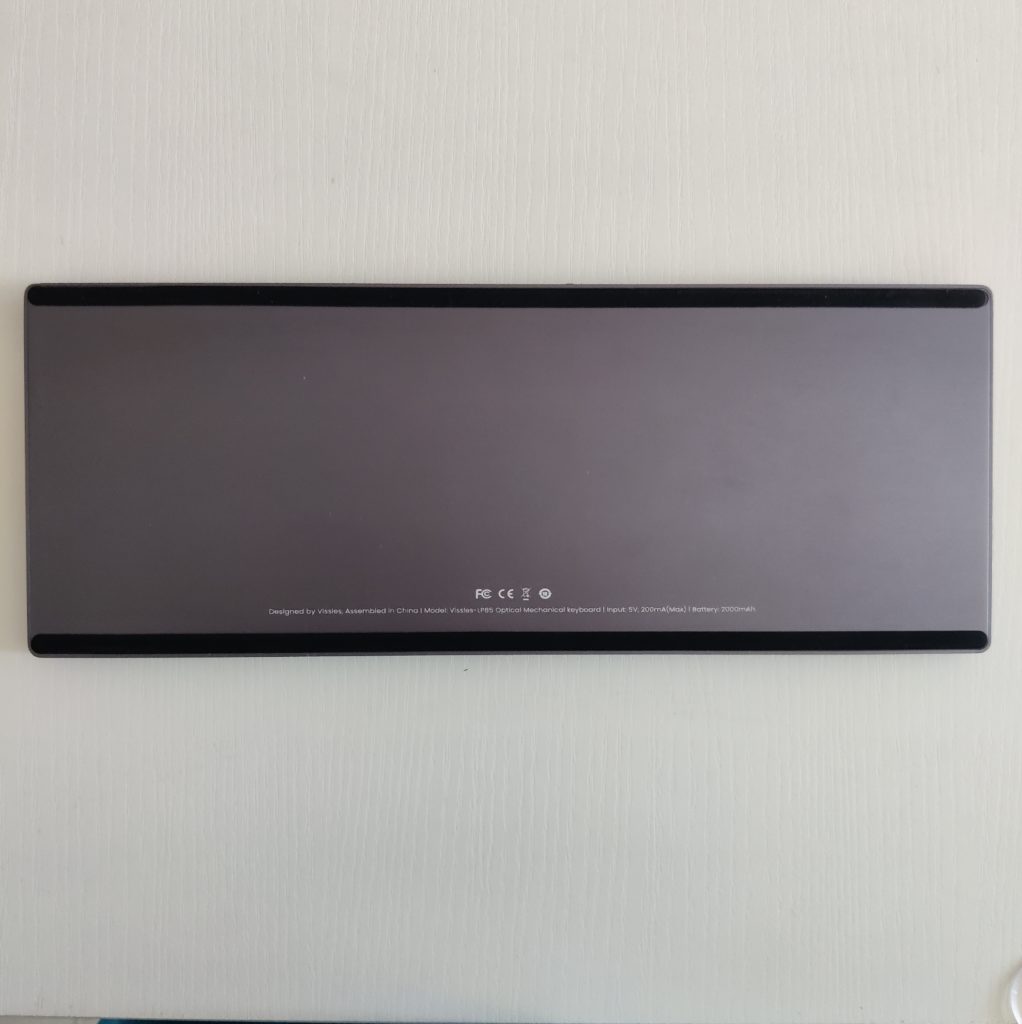 Overall, the LP85 looks good. But there were still some areas that left use wanting more. For example, even though the keyboard is angled slightly, there isn't any adjustable stands for users to change the angle of the keyboard. It's also worth noting that Vissles designed the LP85 to have non-removable keycaps so as not to damage the "keycap buckles and switches."
Vissles LP85: How it sounds
Grab your earbuds and listen to how the keyboard sounds when typed on:
Unlike cheaper mechanical keyboards, the clicky sounds on the LP85 aren't overly annoying. If you're expecting a silent keyboard, though, you'll be left disappointed.
Vissles LP85: Features and functionalities
As we've mentioned, the LP85 is a feature-rich keyboard. Let's take a look at some of the features and functionalities of the Vissles LP85.
Two modes of connection
The Vissles LP85 can be connected through USB-C (a USB-A to USB-C adapter is provided) or Bluetooth, with a button on the rear of the keyboard to switch between the two.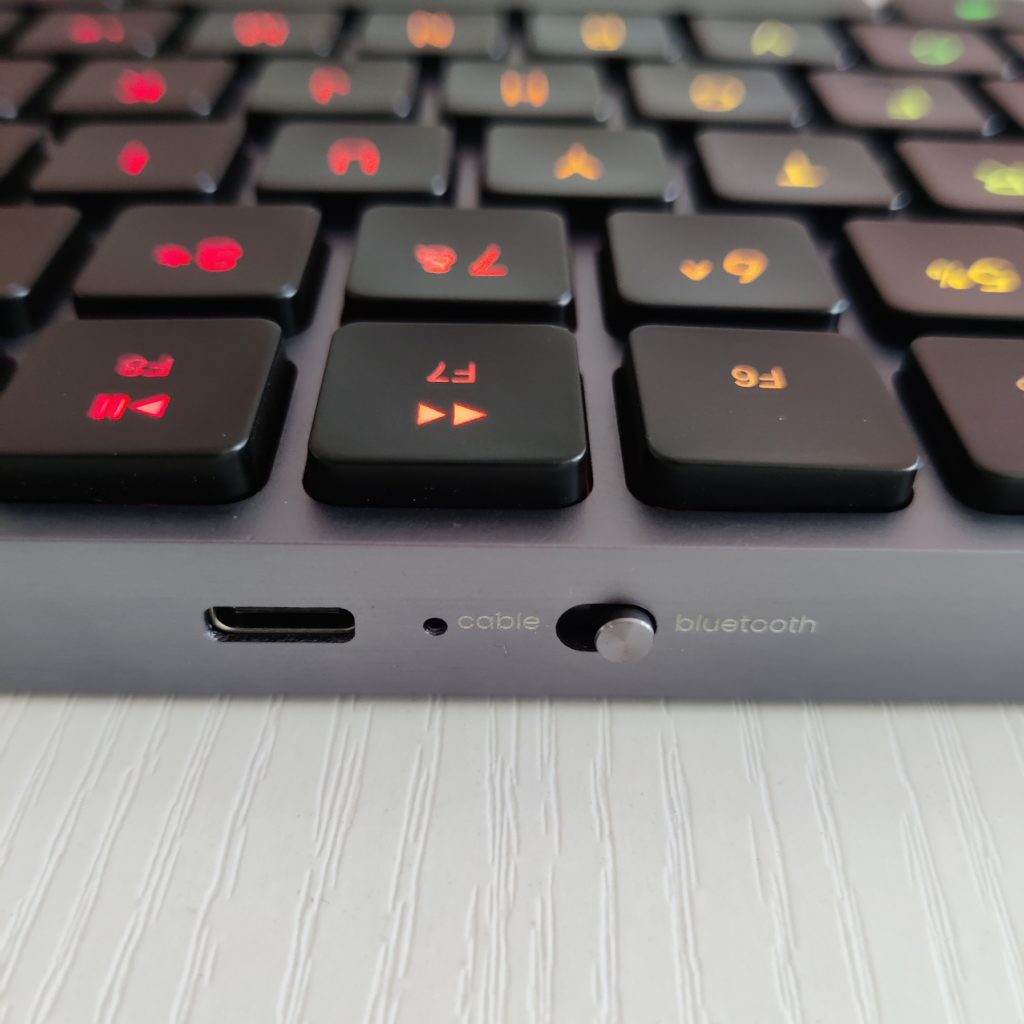 The keyboard can connect to three devices through Bluetooth at the same time. Switching between devices is seamless and literally happens with a push of a button.
Unlike many popular mechanical keyboards on the market, the LP85 does not come with any accompanying software for you to change the settings of the keyboard. To make any changes, just follow the instructions given to you on the manual. Old-school, but that's one less software to download.
Additionally, those with both a Windows and a Mac would love that the keyboard's functionality can easily be swapped in the software by pressing the Fn and S (Mac) or Fn and A keys (Windows).
Fast optical switches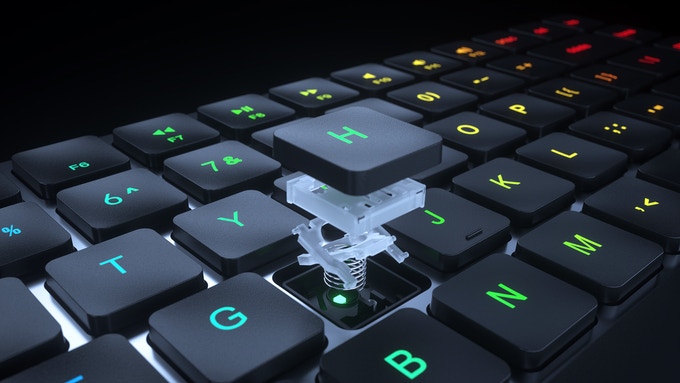 We've mentioned a few times that the LP85 is a 75% optical keyboard. For those who aren't keyboard gurus, an optical-mechanical keyboard is basically a keyboard that, instead of using the force of a spring to detect key registration, uses an opto-mechanical switch to detect whether a key has been pressed or not. These keyboards use infrared light beaming within each individual switch. Optical-mechanical keyboards process keystrokes more quickly than standard mechanical keyboards, and they last longer.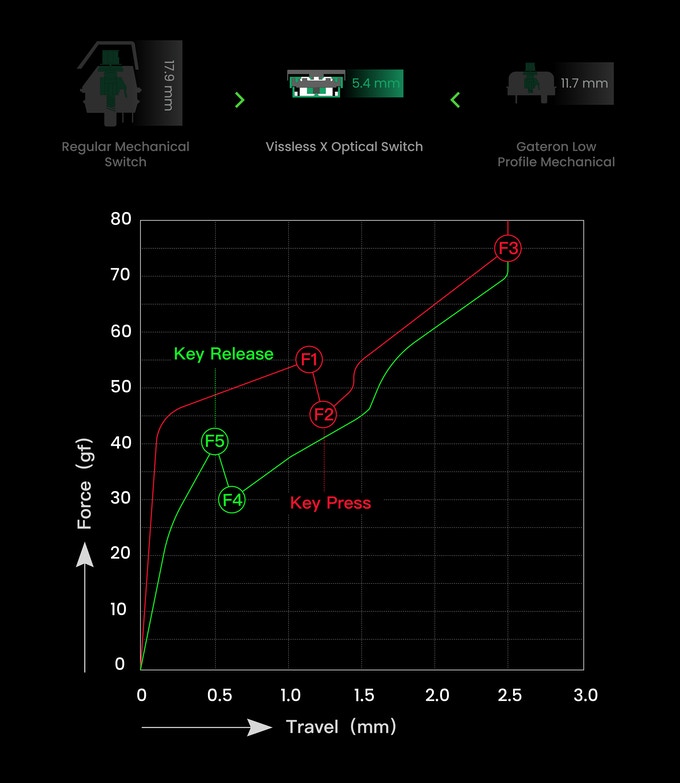 This leads to faster response times and lesser actuation, a key metric for many keyboard enthusiasts.
RGB lighting
What's a mechanical keyboard without RGB lighting? The Vissles LP85 comes pre-programmed with 19 distinct RGB lighting options. They cover a wide variety of options, from simple single-color lighting to eye-catching raindrop and wave lighting patterns.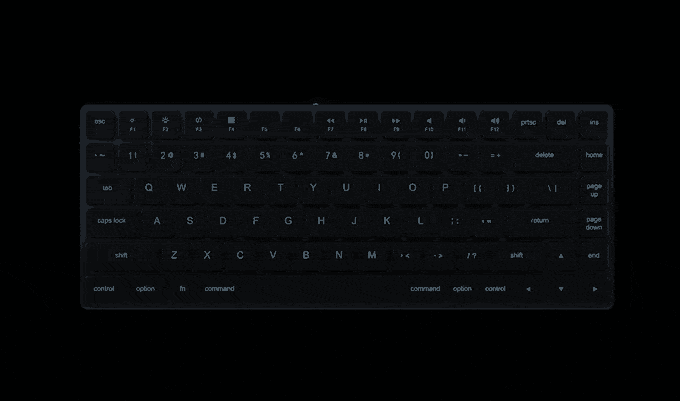 You may also change the brightness level as well as the pace of the lighting patterns if it's starting to get distracting.
You can switch between options with FN + :
DEL = Switch between 19 different RGB backlight effects / modes
→ = Switch between 7 backlight colors
← = Switch the direction of backlight
↑ / ↓ = Increase / Decrease the brightness
Plus / Minus = Increase / Decrease the lighting speed
For the most part, the RGB lighting looks great and will add to the aesthetic of your gaming or work setup. However, it isn't perfect. The pre-programmed lighting does not equally illuminate all of the keycaps. On the Caps Lock key, for example, it is pretty obvious that the light darkens on certain letters (C and K in particular).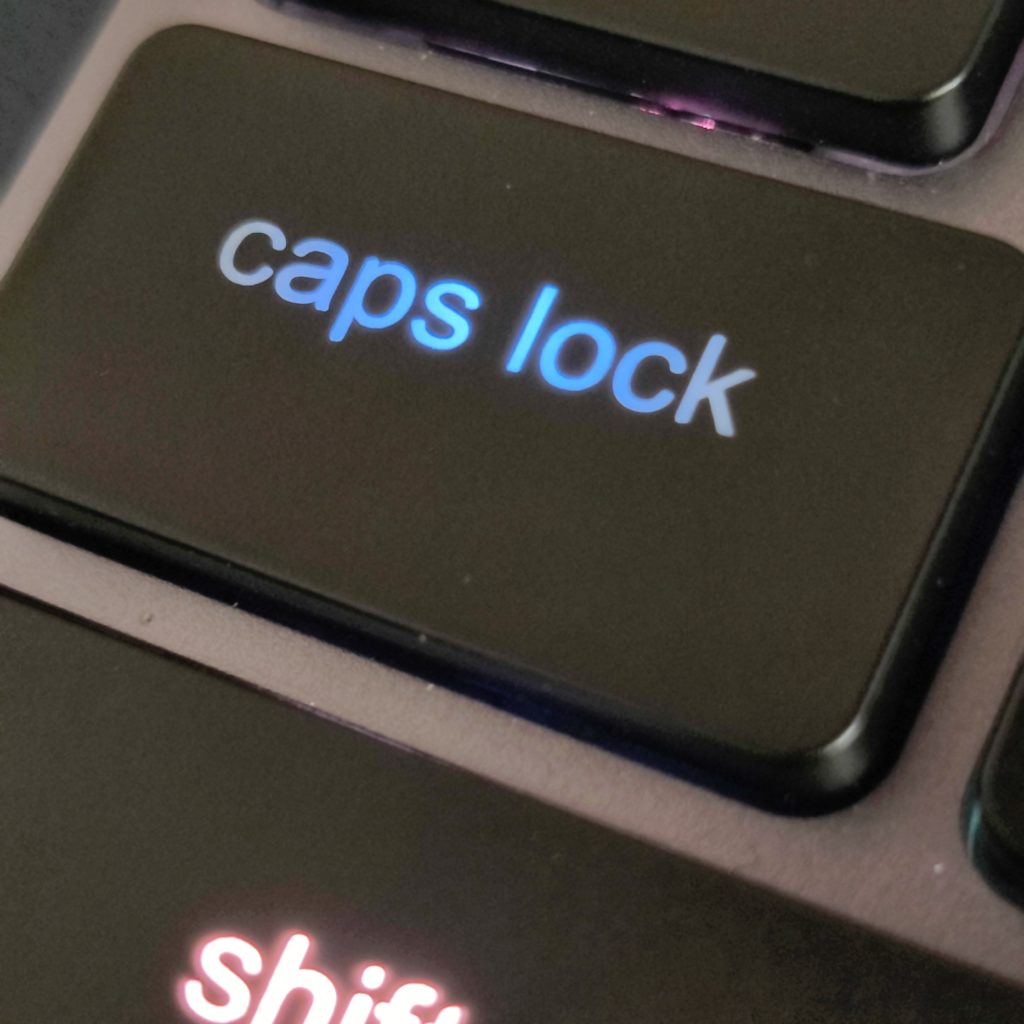 It can also get pretty annoying because you have to cycle through all the lighting modes to get to the one you want.
Ergonomics and typing experience
If you haven't already realised, the Vissles LP85 looks almost identical to Apple's Magic Keyboard – the latter of which is often lauded for its ergonomic design. The LP85 takes Apple's ergonomic design and made further improvements to it.
The keycaps on the LP85 don't just look good, they were a pleasure to type on. Keys are highly responsive and the typing experience feels good despite the short travel distance due to the keyboard's ultra-slim design. Even after hours of usage, my hands did not feel sore or tired. In fact, when I switched back to my laptop's default keyboard, I felt that I needed to use much more force and energy to type.
Battery life
The Vissles LP85 is packed with a 2,000 mAh battery. If you keep your RGB lights on, expect it to last you a few days. Fortunately, you can charge your keyboard while using it with the USB-C cable provided.
Additionally, to save battery life, the keyboard will go to sleep after 5 minutes and hibernate after 30 minutes of inactivity. When you press a key, however, the keyboard wakes up and flashes.
Vissles LP85: Pricing and availability
The Vissles LP85 is available here at USD$99.
Vissles LP85: Final verdict
Despite its small size, the Vissles LP85 was designed to punch way above its weight. With a premium-look, two modes of connection, fast optical switches, RGB lighting that will up your AeStHeTics, decent battery life, and an affordable price, the LP85 is surely worth considering.