The keyboard community grows ever bigger, with mechanical keyboards gaining popularity on social media platforms like Instagram, TikTok, and Reddit. Cooler Master should not be a foreign name, especially for gamers and keyboard enthusiasts, and they have recently released the CK352, an affordable full-sized keyboard.
The Cooler Master CK352
Cooler Master lets you pick between red (linear), brown (tactile), and blue (clicky) switches, and the board I'm reviewing houses red switches. The CK352 uses LC mechanical switches, which is a deviation from most keyboards at this price point that typically use Cherry or Gateron switches.
Upon opening the box, I was greeted with the CK352 in all its plastic-wrapped glory. It comes with a keycap puller and a quick start guide (which proved to be useful). The packaging is simple, as expected for a budget board, but nothing to sneer at – the royal purple cardboard was thick and I assume it offers suitable protection for the keyboard, judging by the lack of dents or scratches on the aluminium chassis. With reverence, I plugged the board into my computer and watched the RGB light up.

Usage Experience
Off the bat, the first thing I noticed was the amount of wobble each switch had, in both North-South and East-West directions. Although prolonged use may acclimatize you to the slight quiver of each keystroke, it left a rather sour taste in my mouth as I proceeded to test the board. Even so, we shall press on with dignity.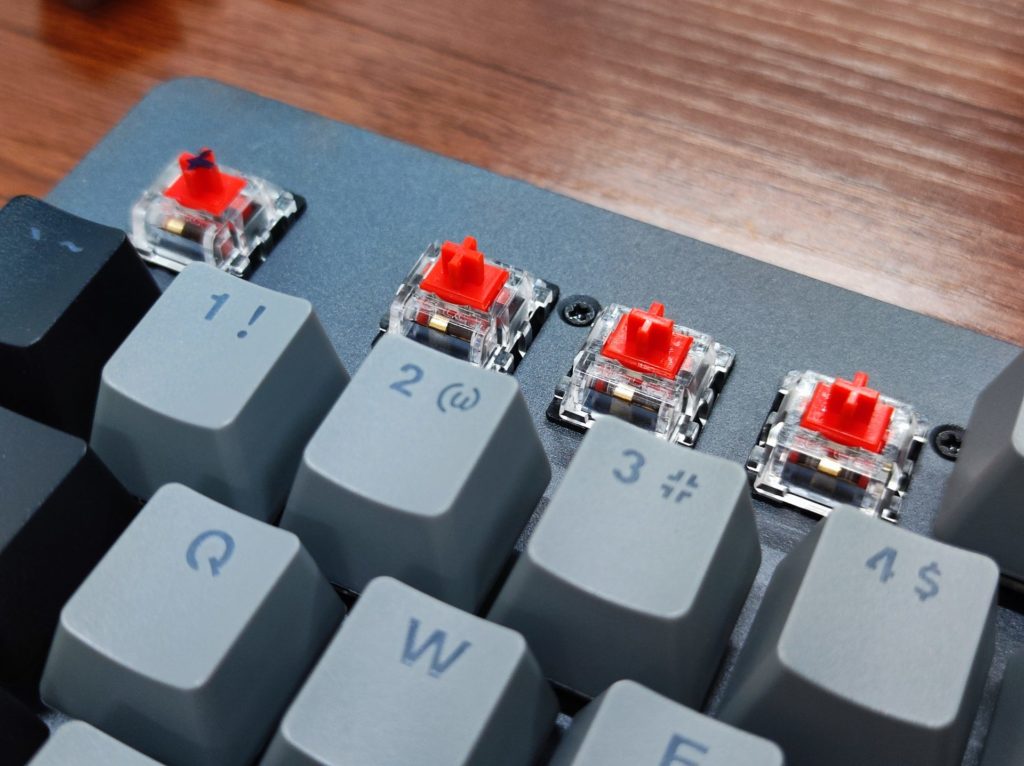 LC red switches have an actuation force of 40±10gf, which makes them easy to press and snappy to respond to a finger's tap. However, I found myself rather prone to making spelling mistakes due to the switches' low pre-travel distance of 1.8±0.5mm, which corresponds to the switch's sensitivity. Linear switches are usually marketed for gaming, so this sensitivity may be a boon to gamers. Typists may prefer tactile or clicky switches instead.
The switches did not feel particularly smooth, presumably because they are stock switches and not lubed. Unfortunately, because the board is not hot-swappable (at least, it is not marketed as a hot-swap board), I could not remove the switches to lube or film them (which makes the typing experience smoother and less mushy, as well as reduces key wobble). A dedicated user can probably desolder the switches to swap them out, but do so at your own risk (and at the expense of the 2 year warranty). However, Cooler Master claims these switches have a lifespan of 50 million keystrokes, which should be enough for the average office worker or gamer.
Each switch is spaced out at a relatively comfortable distance, without being too crowded or too far apart. This made using the CK352 quite enjoyable, as I did not have to stretch my fingers too far or cramp my hand up.
The switches are north-facing, which allows for the RGB to shine through nicely. However, these may interfere with Cherry profile keycaps by preventing proper bottom-out, negatively affecting the sound and feel of typing. To seek the most optimal sound, you may want to consider looking for a board with south-facing sockets, as is the preference for most keyboard enthusiasts.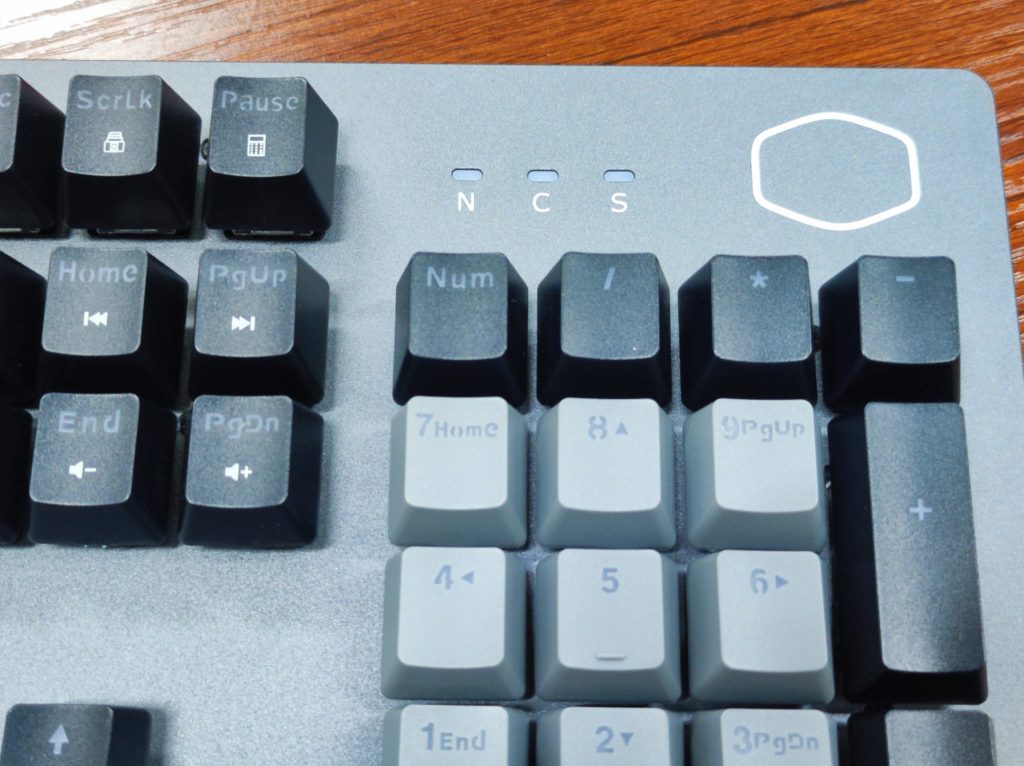 Moving on, the CK352 has a rather rattly, hollow sound when used. I was rather surprised at the clicky noises emitting from the presumed linear board – compared to your typical Gateron and Cherry reds, these have a much sharper sound. This could be a result of the north-facing sockets used, as mentioned above. I believe this may also be due to the chassis of the board – it seems too hollow, which may cause unwanted reverb between the case and the PCB. This can be minimised with modifications to the board, such as placing foam between the PCB and case (known as the foam mod), or pasting painter's tape on the back of the PCB (known as the Tempest mod). This will, however, void the warranty and if you are careless, you may damage the PCB. Even so, the switches do not seem to cause much annoyance to my colleague, as she has not complained about the incessant typing noises coming from my side of the table (yet). Office workers can probably still get away with using this board; find a patient and tolerant deskmate for best results.
Upon close inspection, the stabilisers used in the CK352 seem to be unlubed clip-in stabs. They are definitely functional, and expected for the price tag on this keyboard. Still, part of me yearns to lube the stabilisers and do wire-balancing to improve their performance. If I could, I might clip them too, or use the bandaid/holee mod. But even still, the stabilisers on the CK352 function, at the very least.
The keycaps that came with the board are ABS double-injected and laser engraved – nothing special, but nothing much to gripe about. The RGB backlight shines through each legend on the keycap, which is a nice touch. Grey and black match the minimalist sandblasted aluminium chassis, which would please those with a penchant for industrial or bauhaus aesthetics. The keycaps seem to be of the typical Cherry profile, which is found on most mainstream boards and keycap sets, making them comfortable to type with.
RGB
Candor compels me to admit that I am not the biggest fan of RGB. Even so, I am rather amused (and impressed!) by the customizability of the CK352's backlighting and the adorable light bars found on the side of the board. There is no software required to change the settings; I only needed to simply pick up the user manual to see a list of shortcuts (involving the Fn key) that I could use to scratch my incessant itch to see shiny lights in a myriad of colours and patterns. Perhaps due to my incurable indecisiveness, or the sheer number of options available, I spent a while playing with the settings. One could argue, of course, that less is more, and that these settings are a gimmick. However, I do find a frivolous sort of joy in knowing I have a semblance of power over my keyboard.
Cable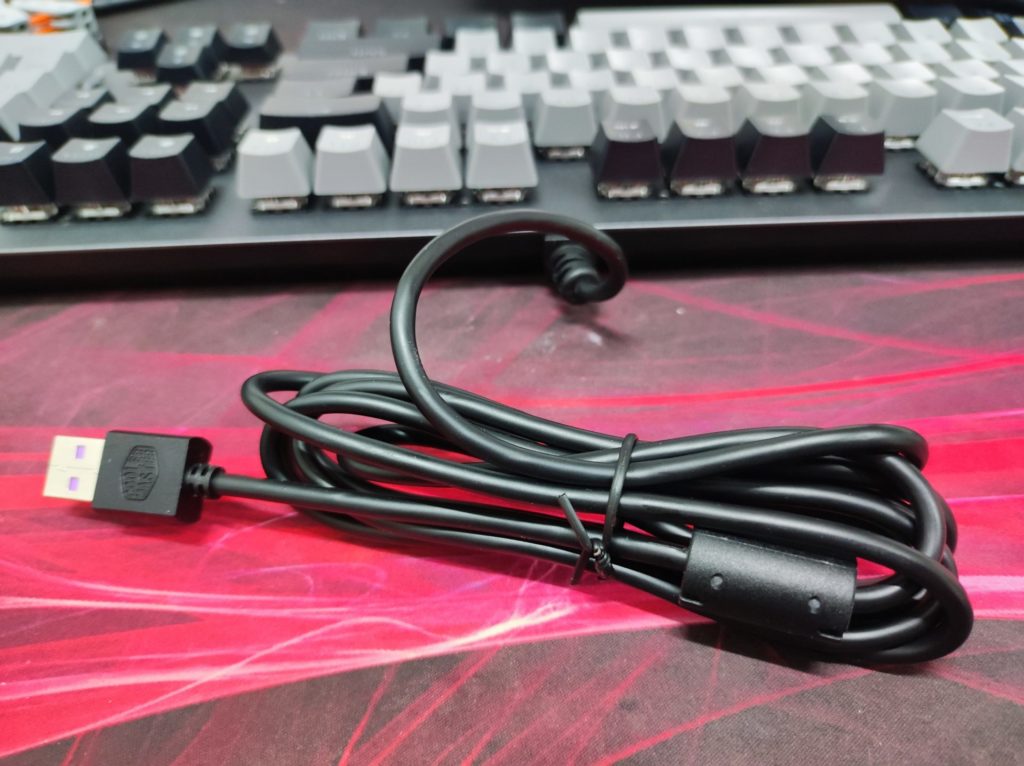 Unfortunately, the keyboard's 1.8m PVC cable is non-detachable. I am also slightly disappointed with it: although it is long, it becomes rather unwieldy; it feels rather cheap; it is also not braided. I would have preferred a detachable cable – dare I wish for USB-C to USB-C? – so I could have swapped the stock cable out for something lighter and more durable.
Incline Settings
Cooler Master's CK352 is not a particularly tall board, and it comes with one incline setting. It is usable without a wrist rest, but I feel that it may be more comfortable with some form of wrist support for those who are more particular about ergonomics. Even so, the incline legs feel sturdy and (thankfully) the board does not wobble when inclined. 
Conclusion
For 89SGD, this board feels like its price – it is definitely functional and a good budget option. However, there are many other budget-friendly boards out there that bring much more to the table – hot-swap options, better choice of stock switches, detachable cable, Bluetooth, and more. Examples of full-sized boards around the same price range would include the Hexgears GK705, and Rosewill RK-9000V2. 
At this price range, I don't think modifications to improve my typing experience are worth the effort either. Even so, I have to admit that the aesthetics of the board match a typical office set-up, and the lights dancing beneath my faltering fingers do brighten up my day (pardon the pun). 
Specifications:
Dimensions:454.6 x 142.6 x 35.95 mm

Net Weight: 904g (without cable)

Gross Weight: 1211g 

Polling rate: 1000Hz

Response time: 1ms

Compatible OS: Windows XP and 7+

Warranty period: 2 years

Software support: N/A
Pros: 
Fun RGB options

Longevity and spacing of switches

Multimedia controls through Fn key
Cons:
Cheap, non-detachable cable

Disappointing switches with noticeable key wobble

North-facing switch sockets

Sad stabilisers 

Hollow-sounding chassis

Lack of hot-swap option