Smartphone cameras are getting more and more sophisticated – so much so that the camera on our smartphones has become as much an inseparable part of our lives as the smartphone itself. I mean, try to think back to the last time you took photos with a digital camera. The rise of smartphone photography brought along related trends for products that enhanced the experience of taking photos with our phones. One such product is the Pivo Pod, a smart and interactive pod for smartphone photography.
What is Pivo Pod?
Simply put, Pivo Pod is a device that makes your smartphone even smarter. Currently, Pivo (the brand that started it all) offers five different types of Pivo Pods for consumers of different needs.
Lite: For creators
Red: For presenters
Silver: For creators who are always in motion
Gold: For business and e-commerce owners
Black: For live streamers
You can read more about the differences here. In this review, we'll be testing out the Pivo Pod Red.
Pivo Pod Red: What's in the box?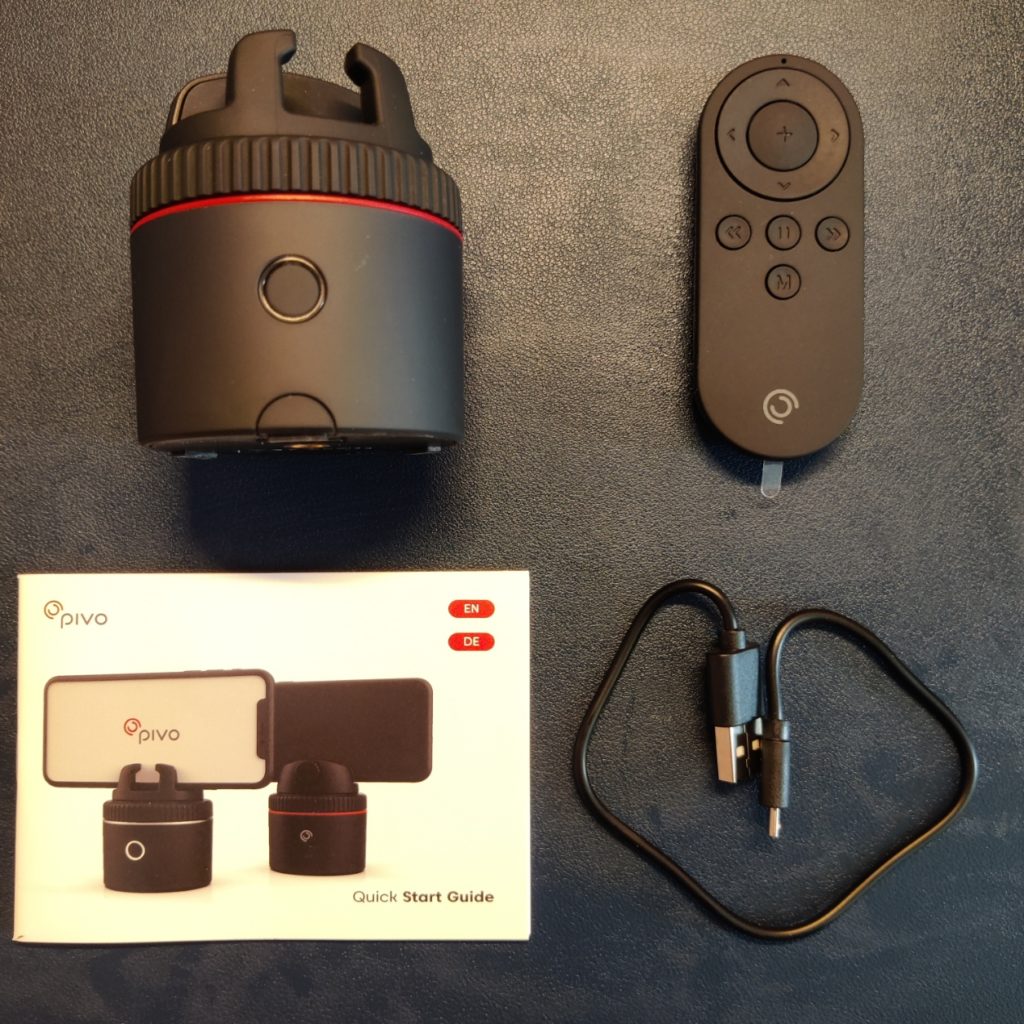 Along with the Pivo Pod Red itself, your purchase comes with a remote control, a charging cable (USB to Micro-USB), as well as a manual for you to get started quickly.
Pivo Pod Red: Look and feel
The pod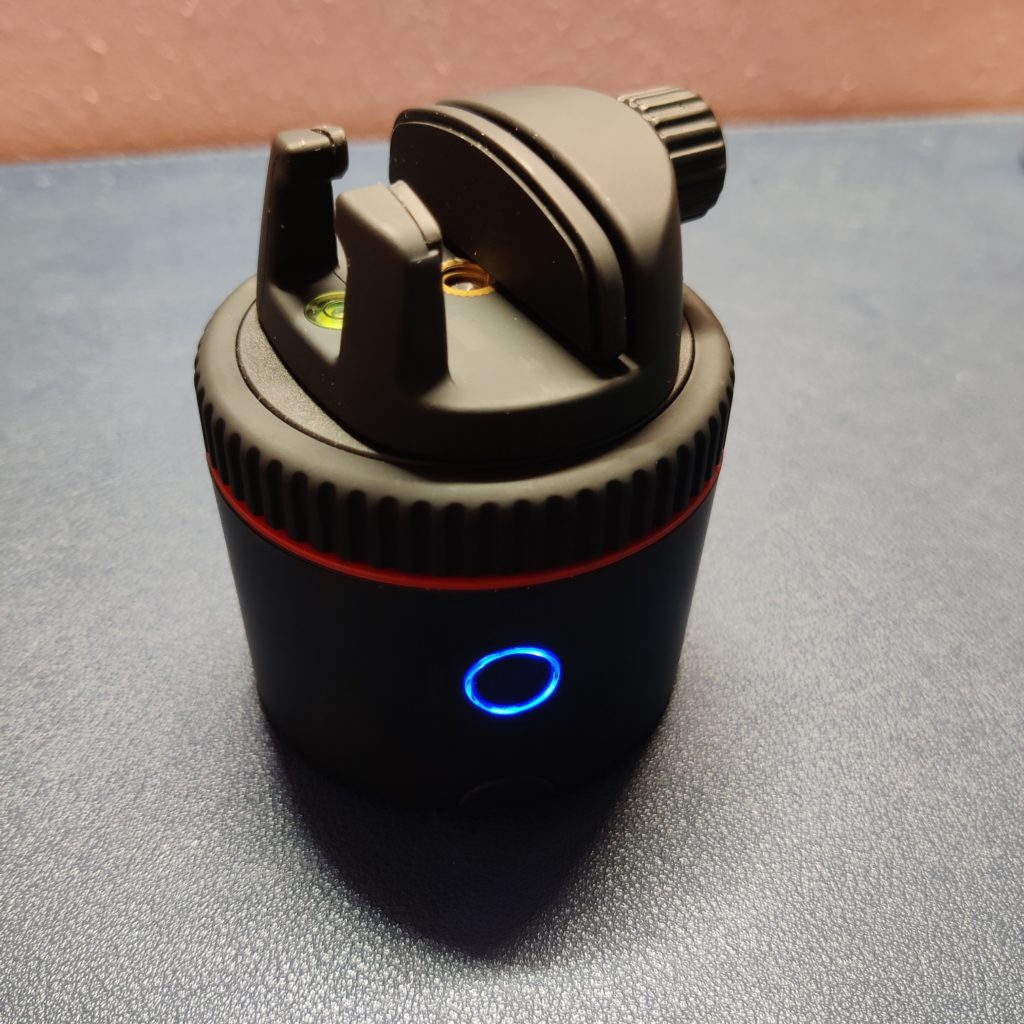 The Pivo Pod Red sees a wireless and small cylindrical design with a 360-degree rotation gear. On top of the rotation gear, you'll see a grip fastener to hold your phone steadily. You'll also find a bubble level that helps you gauge whether a surface is flat.
The charging port is located at the back of the device while the power button is on the front. At the bottom of the device, you'll find extendable legs and a 1/4″ screw thread to mount a tripod.
With a rubberised coating and matte finish, the Pivo Pod Red feels expensive. The slight weight to the device adds on to its perceived quality too.
The remote control
The battery-operated (two CR32 batteries) remote control is made of the same rubbery material as the Pivo Pod Red. It's got a good grip on the back to prevent accidents.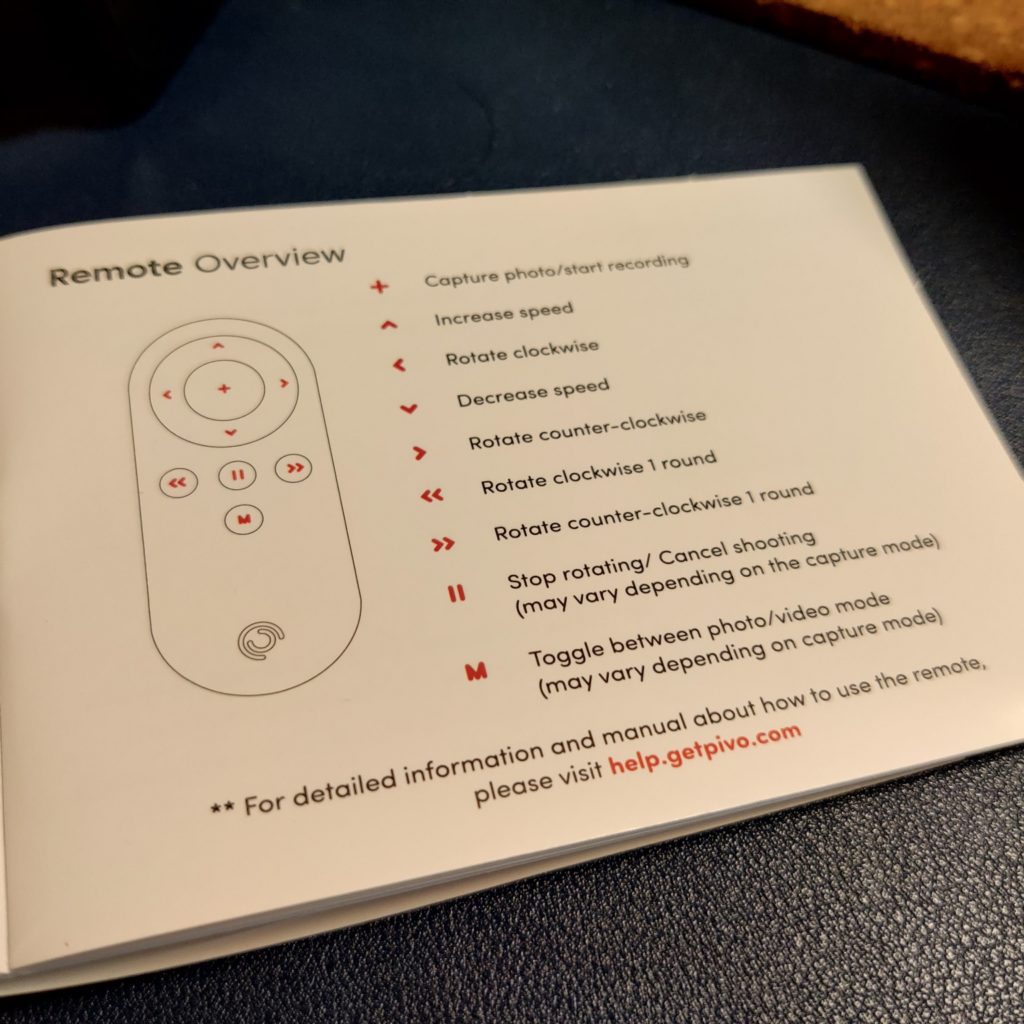 With 9 buttons to play around with, you'll be able to use the remote control to toggle the features of the Pivo Pod Red. We'd love it better if the batteries were rechargeable.
Pivo Pod Red: Features and functionality
Let's dive right into the cool features of the Pivo Pod Red.
The Pivo ecosystem: Phone apps
To get started with your Pivo Pod, you're gonna want to download one of Pivo's (many) apps. The pod is compatible with four apps – Pivo:
+: Multi-purpose app that allows you to take photos, record videos, and conduct 1-on-1 video calls all within the app.
Play: Comes with 12 built-in Fun Create Modes.
Cast: Allows you to cast to your computer and use tracking with your conference calls so you can use Pivo's face tracking technology within your favourite social and calling apps.
Present: Brings your presentations to life as it tracks you while you're presenting and records your presentations.
While it is amazing that the Pivo ecosystem comprises multiple apps, it can get pretty confusing (and annoying) to juggle so many apps on your device. Of course, you can always pick and choose which of the apps you'd use most based on your interests and needs.
Smooth 360-degree rotation
The Pivo Pod Red offers 360-degree horizontal rotation. You can turn your smartphone either clockwise or anti-clockwise through an entire rotation.
But…a tiny pod that rotates 360-degrees? Surely there will be obvious shaking and wobbling, right? Wrong. The Pivo Pod Red is surprisingly sturdy and movement is smooth. Turning and pausing the movement will not cause any bumps or jerks. It is very silent too.
Auto-tracking
Every breath you take
And every move you make
Every bond you break
Every step you take
I'll be watching you
Was The Police referring to Pivo Pod when they sang Every Breath You Take?
Wherever you go, Pivo follows. Creepy? Or convenient? While it may sound creepy, we can think of many use cases of the Pivo Pod Red. Without the need of manual control, the pod's auto-tracking technology automatically tracks you and turns around smoothly.
Multiple shooting modes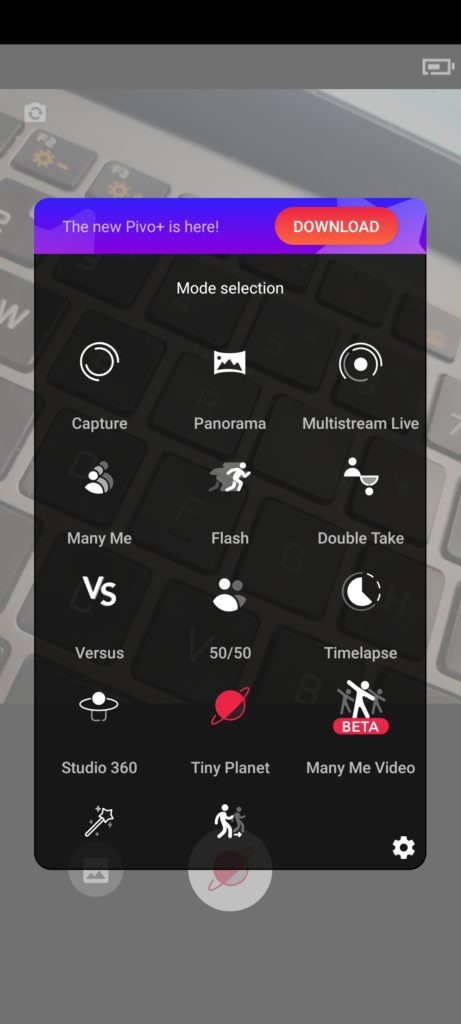 Now comes the fun part – the Pivo Pod Red offers multiple shooting modes to power your creativity. We'll look at some of the most interesting ones here.
Panorama
If you've ever tried taking a panorama shot on your own, you may be familiar with the photo turning out with an extra arm of head. Pivo's Panorama mode makes sure photos turn out seamless and accurate.
Versus Mode
Pans back and forth between two subjects to create videos of GIFs.
Double Take
With Double Take, you can create super-fun meme-ready effects. The ol' look-away-then-back-again.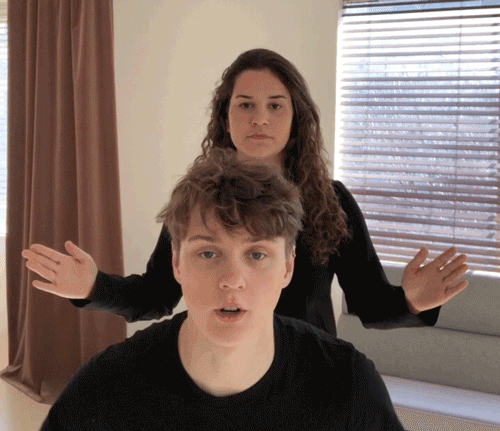 Many Me
Lets you take pictures of yourself all over the place to create the illusion of a party-of-one or a clone army.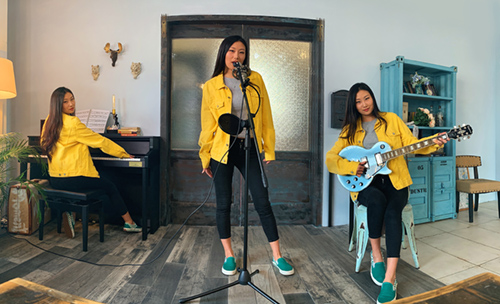 Currently, there's a Many Me Video mode (beta) that works the same way but in video, too.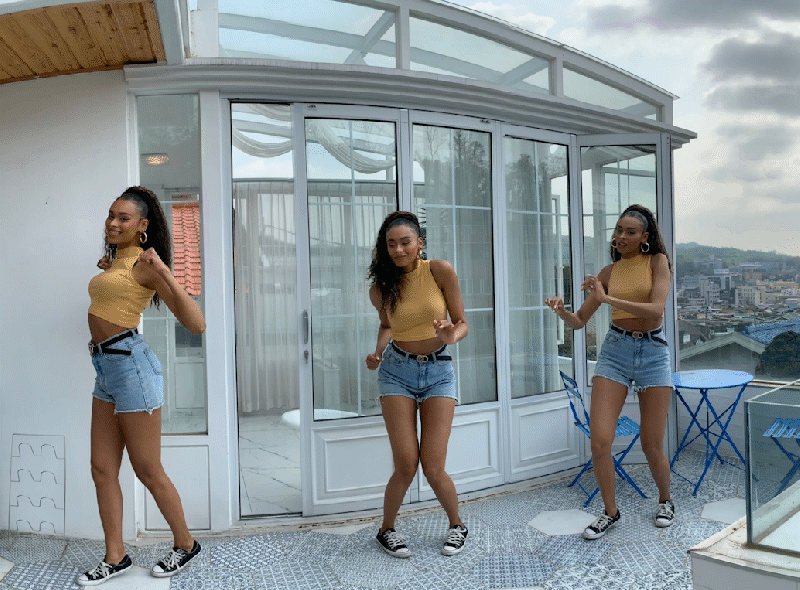 Tiny Planet
This is my favourite feature on the device. It allows you to take spherical images that look like tiny globes with your own high quality smartphone camera. Take a look some of the amazing shots taken using Tiny Planet:
Clone Trail
This mode clones you while you're on the move to capture a trail of your clones.
50/50
This is a half-photo-half-video mode that produces shots like this: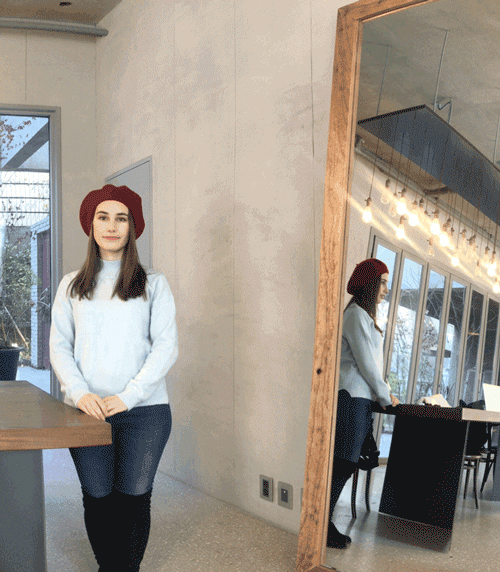 We're just scratching the surface here – to learn more about the full range of modes, check out this guide from Pivo.
Furthermore, Pivo updates its apps frequently, so expect more modes along the way!
Accessory-friendly
As mentioned, at the bottom of the Pivo Pod Red, you'll find a screw thread for you to mount the pod to a tripod. But that's not it, Pivo offers a myriad of accessories that are compatible to the Pivo Pod Red to increase its functionality.
With tripods, mounts, lights, and cases (for you to bring your pod around), you don't have to go around sourcing for accessories from separate stores.
Pivo Pod Red: Battery life and charging
Packed with a 500 mAh Lithium-Ion battery, the pod boasts up to 10 hours of runtime. A completely depleted battery takes about 60 minutes to charge up to full, which is decently quick.
You can check the battery status of your device on the top right corner on smartphone app as seen below. It's just a battery bar though, the percentage isn't indicated.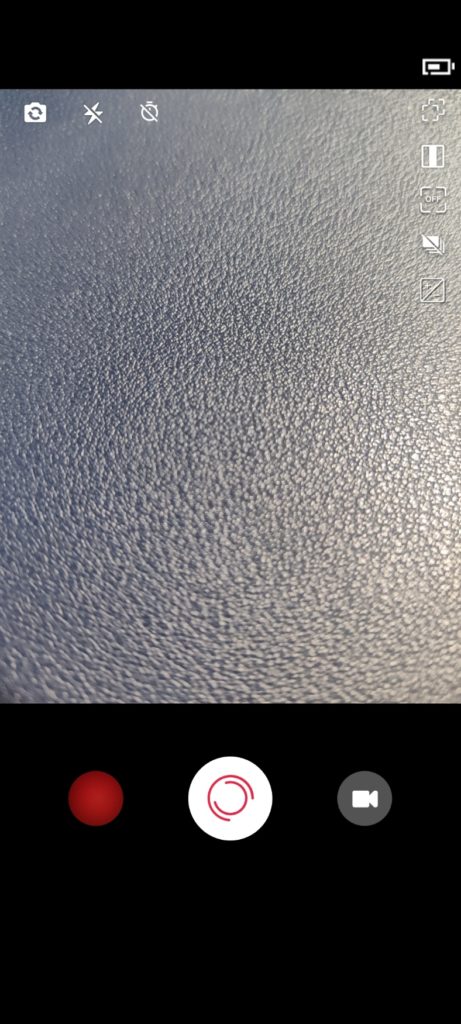 Pivo Pod Red: Price and availability
Ready to take your smartphone photography to the next level? The Pivo Pod Red is available at $109 on Outdoor Sports Travel (OST) here.
OST carries the latest, most innovative devices and accessories for Outdoor, Sports and Travel.
Psst. Here's a pro tip: Reward yourself with a $10 OFF your first order when you sign up as OST's member.
The bottom-line
The Pivo Pod Red is an excellent device for both work and play. It isn't a device made only for content creators. Those looking to jazz up their presentations, take interesting shots, or just play around with their smartphone camera will appreciate the device. We do wish, however, that Pivo could load the remote control with rechargeable batteries. A truly all-in-one app would also be lovely so that our phones will not be cluttered with too many apps.