The latest NVIDIA GeForce Game Ready driver includes support for the highly-anticipated Marvel's Guardians of the Galaxy, the expansive single-player action-adventure game that features Star-Lord and his legendary band of misfits. The new GeForce Game Ready driver ensures the definitive gaming experience in Marvel's Guardians of the Galaxy, and includes day-0 optimisations for 11 other games, six new G-SYNC Compatible gaming monitors are also included, and six new GeForce Experience Optimal Playable Setting profiles.
The Definitive Marvel's Guardians of the Galaxy Experience is on a GeForce RTX-based PC
When Marvel's Guardians of the Galaxy is played on PC, players can experience the game at up to 8K HDR, with higher levels of detail and uncapped frame rates, and all the other benefits of the PC platform, such as ultrawide, multi-monitor and variable refresh rate G-SYNC gameplay. For the definitive experience, play Marvel's Guardians of the Galaxy on a GeForce RTX desktop or laptop, with RTX ON. Graphics are next-level with ray-traced transparent and opaque reflections, and performance is boosted by up to 2x with NVIDIA DLSS.
As a special bonus, GeForce RTX gamers can unlock Star Lord's Sleek-Lord Outfit from the start of the adventure with GeForce Rewards.
NVIDIA's recommended specs will tell them if they are ready to rock on October 26:
Chivalry 2 Gets a DLSS Upgrade Today – 4K with Max Settings for All GeForce RTX Gamers!
Another important aspect of NVIDIA Game Ready drivers is that they are often used as a delivery mechanism to add new features for our GeForce users. This Game Ready driver adds NVIDIA DLSS support for Torn Banner Studios' Chivalry 2, an incredibly entertaining 64-player PvP melee slasher multiplayer title. Today, Chivalry 2 gets a performance upgrade by introducing NVIDIA DLSS in a new update that boosts performance by up to 45% and allows all GeForce RTX gamers to play at 4K at over 60 FPS, with max settings enabled.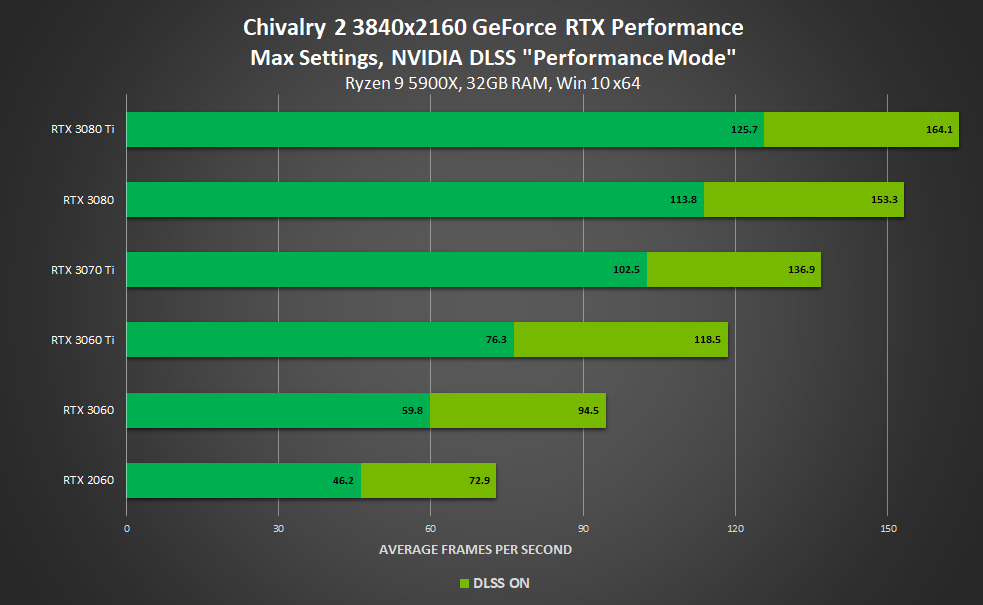 Check it out in action in our new Chivalry 2 NVIDIA DLSS video.
More Game Ready Goodies and Upgrades
The NVIDIA Game Ready Driver for Marvel's Guardians of the Galaxy also adds other features, including:
Day-0 optimisations for:

Age of Empires IV
Battlefield 2042 Early Access
Call of Duty: Vanguard
Chivalry 2
DOOM Eternal
The Elder Scrolls Online
Forza Horizon 5
Grand Theft Auto: The Trilogy – The Definitive Edition
Jurassic World Evolution 2
Riders Republic

The addition of GeForce Experience optimal settings for six new games, including

Crysis 2 Remastered
Crysis 3 Remastered
Gas Station Simulator
Marvel's Guardians of the Galaxy
Qian Nv You Hun
Sword and Fairy 7

Support for six new G-SYNC Compatible gaming displays, including

AOC 24G2W1G4
AOC AG274QS3R1B+
ASUS ROG XG27AQM
ASUS VG32AQ1LA
ASUS XG249CM
MSI MPG321QRF-QD
About NVIDIA Game Ready Drivers
Available on or before launch day, NVIDIA Game Ready Drivers provide the best experience for GeForce gamers because NVIDIA engineers work up until the last possible minute to optimise performance and perfect gameplay. And as an additional verification of quality, every Game Ready Driver is WHQL-certified by Microsoft.
Related links