Let's start this post with a little activity. Picture a desk in mind. Yes, a table! Most of us would have a mental image of the typical wooden table that we used back in our offices. Some of us think of makeshift tables that we were forced to make do with when we started working from home (I have a friend who works off a mahjong table). Whichever it is, today's EverDesk+ review will help you reimagine the typical work desk.
We've been using the EverDesk+ for a while now and here's our honest review of the new desk in town.
EverDesk+: Brought to you by creators of ErgoTune
Unless you've been living under a rock, you must have heard of ErgoTune, the ergonomic chairs that got everyone talking when the pandemic first struck. The creators of ErgoTune taught us that not all chairs are made equal. This year, they are here to tell us the same about desks.
The EverDesk+ is a height-adjustable standing desk that comes in two variants: Max and Lite. The former, which comes fitted with two motors, is great for heavier loads and the latter comes with a single motor. Check this out for a full comparison of the two variants. Our review will be based on the EverDesk+ Max.
EverDesk+ Max: Design and look
The EverDesk+ Max is available in a variety of sizes and finishes – that's great, because you can choose one that's appropriately-sized and blends with your space.
Style your desk any way you'd like:
There are three kinds of material that customers can select from:
Classic: An engineered wood furnished with laminate
Natural Wood: Consists of layers of birch hardwood protected by a water-based coat
WildFolks: Made of American White Oak or Ecuadorian Dark Walnut wood complemented by a beautiful resin river
The size of the table tops varies depending on the material that you choose. As a gauge, the length runs between 120cm and 180cm, and the width varies between 60cm to 70cm. Whichever table top you choose, the EverDesk+ Max's legs are encased in a protective coat for maximum durability.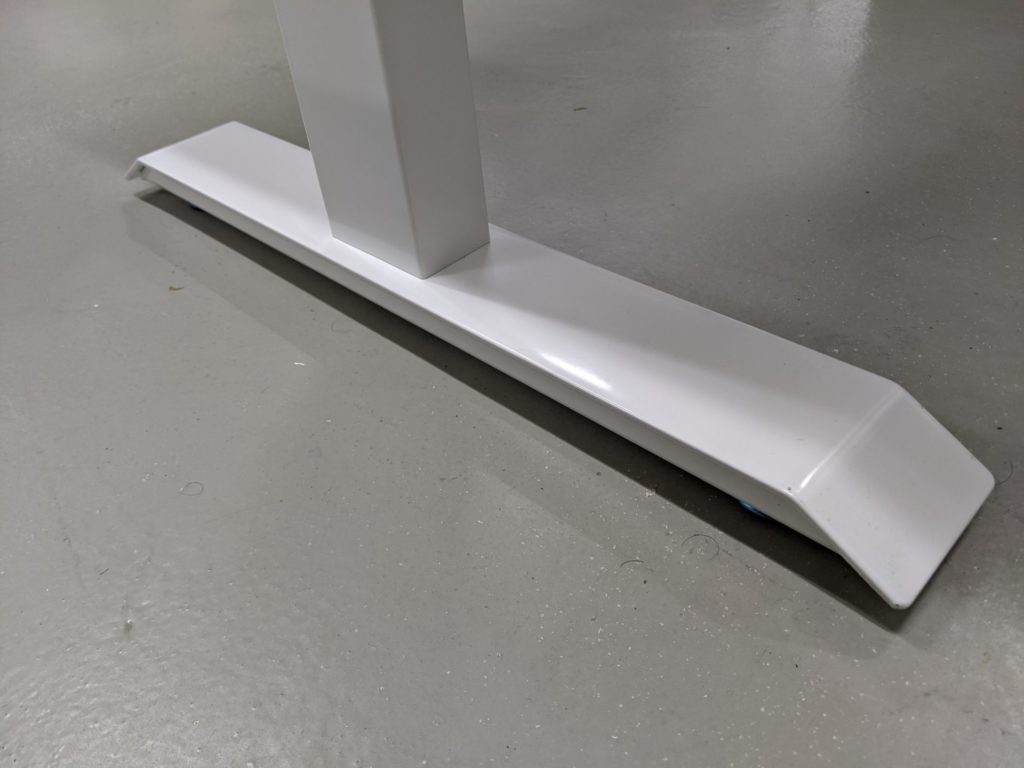 We loved that building the desk required no drilling or no additional tools too – installation was pretty fuss-free.
EverDesk+ Max: Built-in features
The EverDesk+ Max ships with a bunch of nifty built-in features for you to work in style.
Desk Control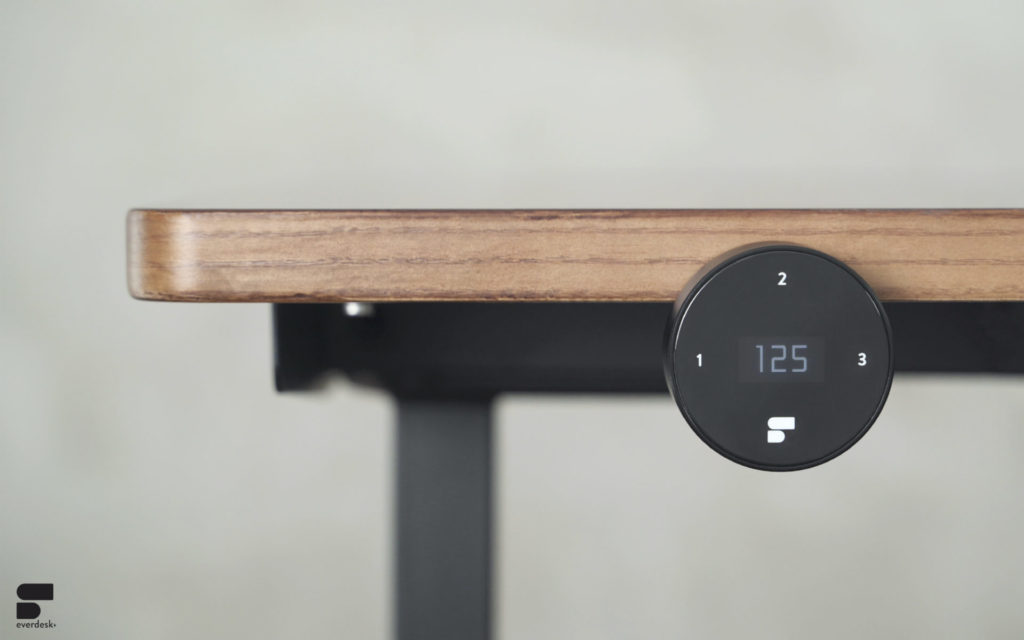 Adjusting the height of the table is easy with a built-in desk control. The adjustable knob can be found on the right of the table. Turn the knob clockwise to make it higher and anti-clock wise to lower it. Equipped with a sweet dual motor system, the desk glides with smooth and swift movements. A GyroAxis Anti-collision system is also in place to stop the desk from moving to prevent bumping into nearby objects.
You can set three preset heights and have the desk adapt to these heights instantly. There's also a setting for you to preset the maximum and minimum height of the desk. On our test, regardless of the height to which the desk has been elevated, it remains sturdy.
For parents working from home, the EverDesk+ Max even comes with a child lock function to prevent uninvited desk movements.
Health Coach
We all know that exercise and physical activity have been proven to improve one's blood circulation and overall health. This theory extends to when you are working as well: you should keep to a healthy routine of movement even while you're working.
But when work is piling up, it's easy to forget to move about periodically. That's why this next feature, the Health Coach, is probably the highlight of the EverDesk+ Max. It is for us, at least.
This smart feature nudges users into healthy desk habits by reminding them to sit and stand at preferred intervals and is seamlessly integrated into the desk control.
You'll be able to set reminders in the time intervals of 15, 30 and 60 minutes. Once the set interval is up, Health Coach emits a vibration to remind the user to adjust the height of the desk in order to switch between sitting and standing.
Turn up your volume and listen to the vibration from the Health Coach feature. It's just the perfect amount of annoying – it's loud enough to make you notice it but not too loud for it to be a disturbance. If you don't like the default vibration setting, you can switch it up in the settings menu.
UniGroove

With cable stoppers that fit neatly into grooves etched on the EverDesk+ Max, the integrated UniGroove™ system is a smart solution for managing cable clutter. Depending on the number of wires you own, you can choose cable stoppers that vary in length and number of cut outs for you to thread your cables through.
The grooves on the desk can also function as an upright phone or tablet holder for easy access and usability without taking up more desk space. Talk about practicality.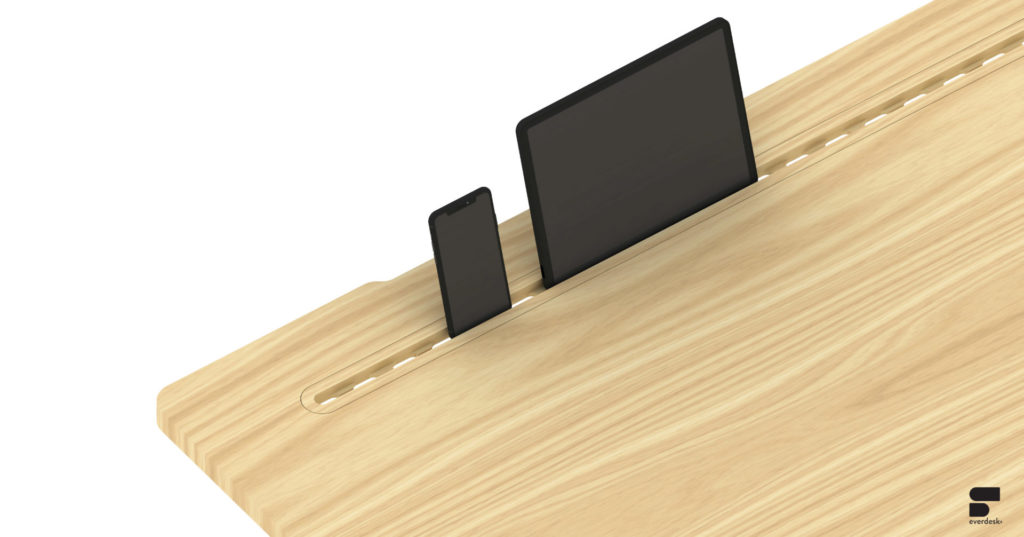 EverDesk+ Max: Limitless customisation
In addition to the built-in features mentioned above, you'll have the option to maximise the functionality of your EverDesk+ Max with add-on accessories. For example, pegboard panels allow us to clip documents, stationeries, and knick-knacks around the desk, without the hassle of drilling a hole into the wall.
We particularly love the Cable-Management Extension add-on. With it, our unsightly and chunky wires and plugs were hidden from plain sight.
You'll also find a series of modular tabletop shelves that can be secured in place via the UniGroove for more surface area to place additional items such as notebooks or plants. Additionally, users can attach a floating monitor arm to prop monitor screens up to the user's ideal height and angle without taking up any precious desk space at all.
We're just scratching the surface here – there's a whole catalog of accessories for you to customise your desk with. Before you go adding a bunch of accessories to your desk, keep in mind that these add-ons will inevitably up the price tag of your EverDesk+ Max. A Curvi Mobile Pedestal with drawers, for example, will bump the price up by $249.
Here's the full range of accessories offered for customisation, along with their price:
Accessory
Details
Price
Pegboard panels
– Can be clipped anywhere on the EverDesk+

– Accessories such as pencil holders can be attached to the pegboard

– Does not require drilling of holes on the wall

– Available in black or white
$49 to $139
Cable-
Management Extension
– A collection of tools to hide all cables and prevent clutter
$29 to $39
Switch Underdesk Drawer
– Offers a deep drawer compartment for users to store their necessities within arm's reach

– Attached to the table leg

– Available in black or white
$179
Monitor Arm
– Allows users to have adjustable screen heights for their monitors, minimising neck pains by correcting uncomfortable screen angles
$79 to $139
Modular Shelves
– Allows users to place plants, mugs and essential devices

– Available in Raw ashen oak or Aged darkened walnut
$79 to $119
Hover Lightbar
– Anti-Glare lighting to give your desk even lighting
$49
Anti-Fatigue Mat
– A mat for you to rest for feet while you sit or stand, ensuring that your feet feel well-cushioned enough to eliminate fatigue
$69
Desk Mat
– Leather mats that help you keep your table organised

– Available in Carbon black or Tan brown
$25 to $40

Laptop Stand
– Eliminate neck pains from looking down at your laptop screens with EverDesk+'s laptop stand, which props your screen up to a comfortable visual height
$29
Curvi Mobile Pedestal
– With three drawers and wheels attached, the Curvi Mobile Pedestal suits your storage needs by pairing with the EverDesk+ seamlessly

– Available in black or white
$249
For lazy beans out there, having the option to purchase these accessories from a single merchant is literally a dream come true. Think about it – you don't have to make multiple trips to different stores to get what you need for your WFH space.
EverDesk+ Max: Pricing and availability
The EverDesk+ Max is available here.
Depending on the tabletop material, dimensions, and presence/absence of castor wheels, the EverDesk+ Max will set you back at least $740.
If that's way above your budget, check out the Everdesk+ Lite which starts at $599. You'll have to forgo certain features, like the Health Coach, though.
EverDesk+ Max: Should you buy it?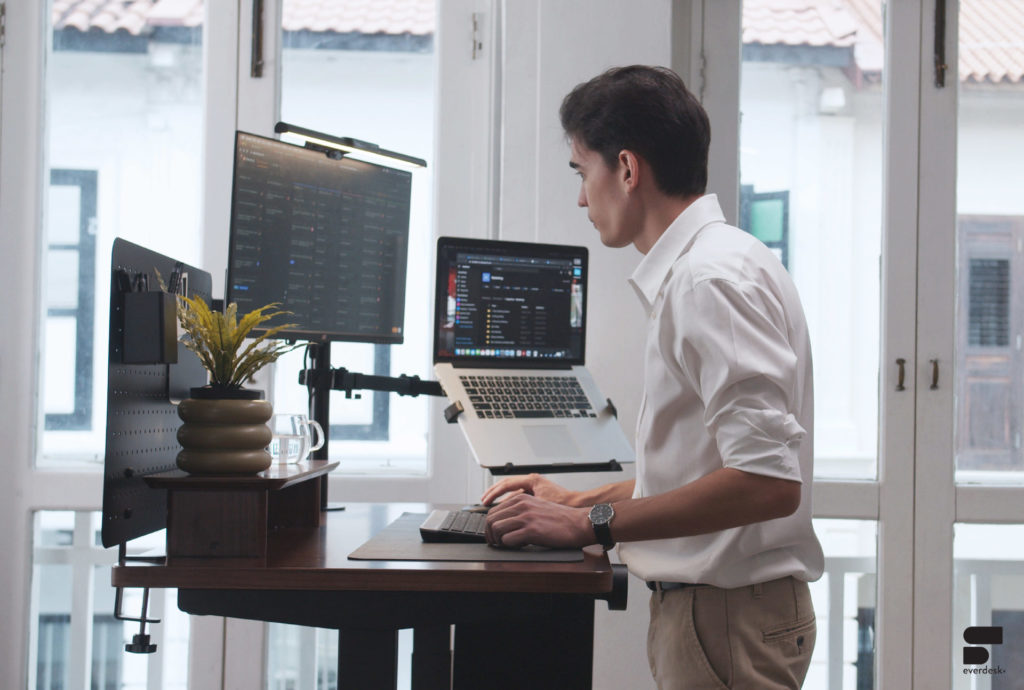 With working from home here to stay for the foreseeable future, it has become imperative for workers to create a conducive home workspace. The EverDesk+ Max offers users an ergonomically healthy workspace with maximised space function and minimal clutter. If these values speak out to you, the desk is worth considering. But to get maximum functionality, be prepared to splurge..
That said, even if you decide to do without add-ons, the EverDesk+ Max, with its classic and durable design and smart built-in features, is still an easy recommend.
Can't stand your current desk? Consider EverDesk's standing desk—if you're willing to invest a pretty penny, that is.