NVIDIA released their latest GeForce RTX 30 series Ti cards at COMPUTEX 2021. The two new cards, namely the RTX 3080 Ti and RTX 3070 Ti brings more choices to consumers, filling the performance gaps between the RTX 3070 and RTX 3090.
Now that the graphics card prices are starting to normalize and availability has increased, it's finally a sensible time to purchase a new graphics card. In this article, we are going to review the NVIDIA GeForce RTX 3070 Ti to understand where this card performs, as compared to the RTX 3070 and the competing brand's AMD Radeon RX 6800.
The NVIDIA GeForce RTX 3070 Ti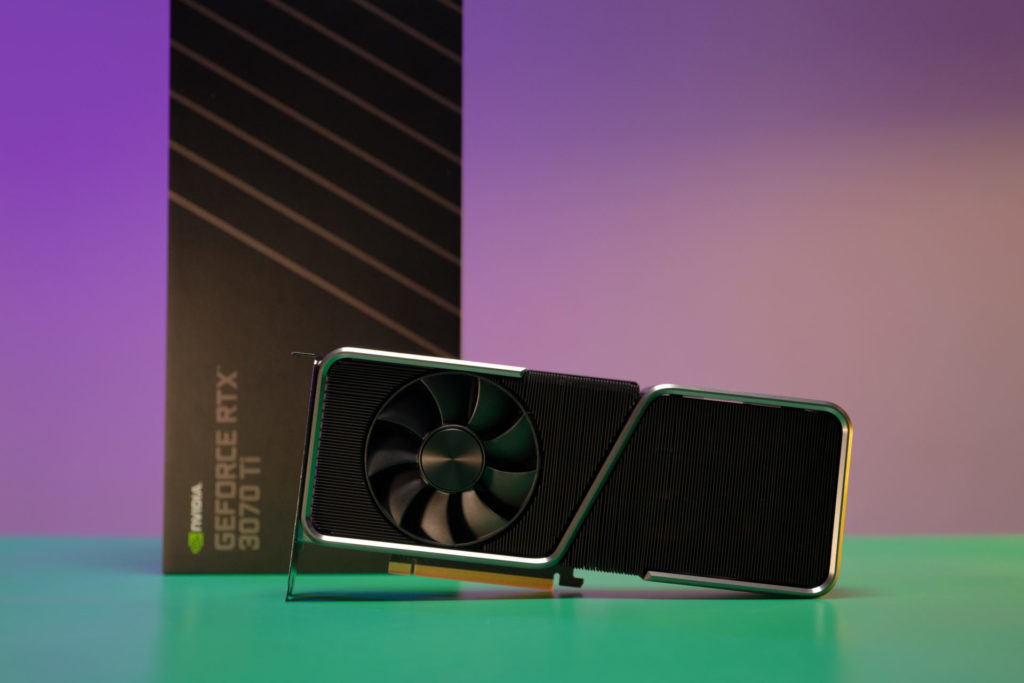 Powered by the Ampere architecture, the GeForce RTX 3070 Ti utilizes the latest enhanced Ray Tracing Cores and Tensor Cores, together with new streaming multiprocessors for optimized graphics processing. As compared to the RTX 3070, the RTX 3070 Ti also features the faster GDDR6X VRAM, instead of the usual GDDR6.
| | | | | | |
| --- | --- | --- | --- | --- | --- |
| | RTX 3090 | RTX 3080 Ti | RTX 3080 | RTX 3070 Ti | RTX 3070 |
| GPU clusters | 82 | 80 | 68 | 48 | 46 |
| CUDAs | 10496 | 10240 | 8704 | 6144 | 5888 |
| RTs | 82 | 80 | 68 | 48 | 46 |
| Tensor | 328 | 320 | 272 | 192 | 184 |
| Memory | 24GB G6X | 12GB G6X | 10GB G6X | 8GB G6X | 8GB G6 |
| Bus | 384-bit | 384-bit | 320-bit | 256-bit | 256-bit |
Our review unit of the NVIDIA GeForce RTX 3070 Ti Founders Edition looks similar to the other Founders Edition cards of the series. It also features the dual axial flow through design which optimizes thermal performance without the expense of noise. The main difference comes in that the two fans, which were once found both on the front of the card, now got separated. One remains to be at the front, but the other one is now moved to the back.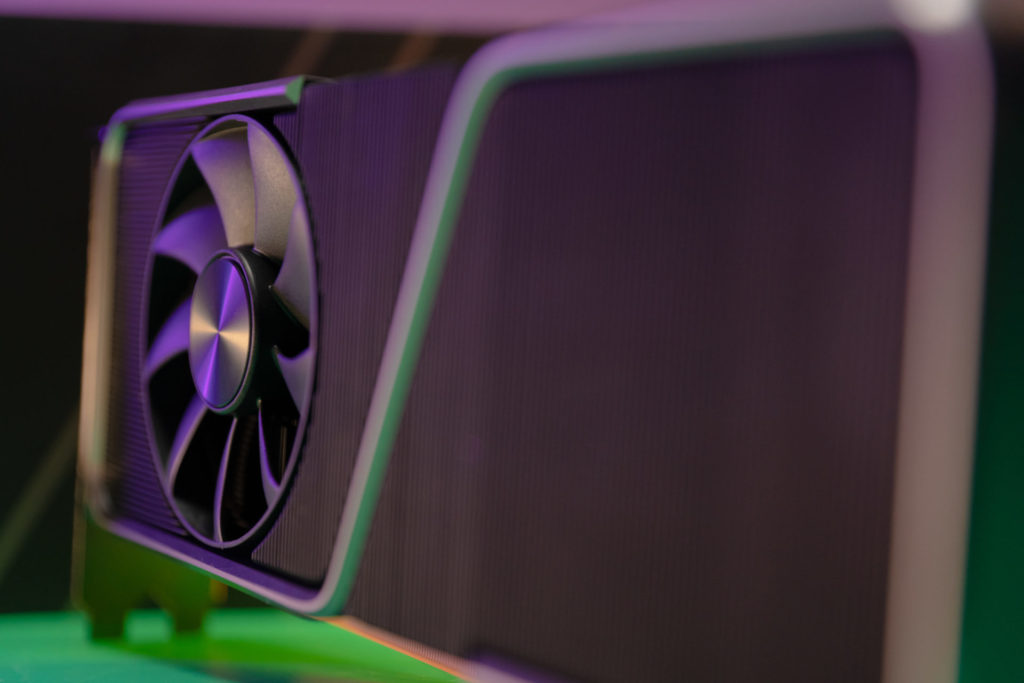 This NVIDIA GeForce RTX 3070 Ti Founders Edition graphics card also comes with 3 x Display Ports and 1 x HDMI port. We took note that NVIDIA decided to remove the USB Type-C Virtual Link port which was available in the previous generation of graphics card.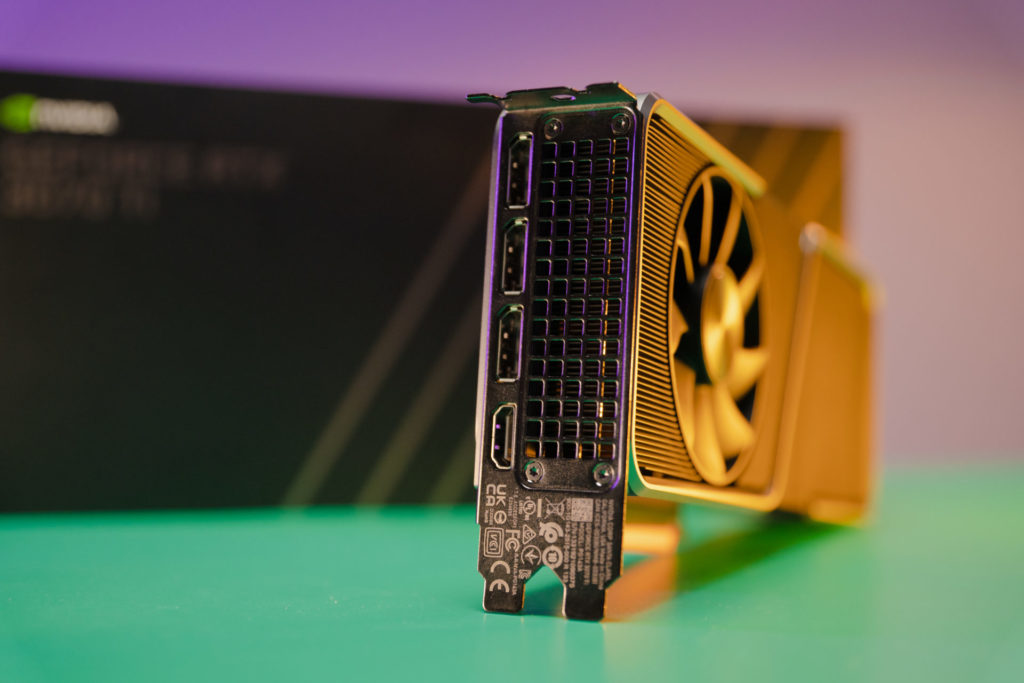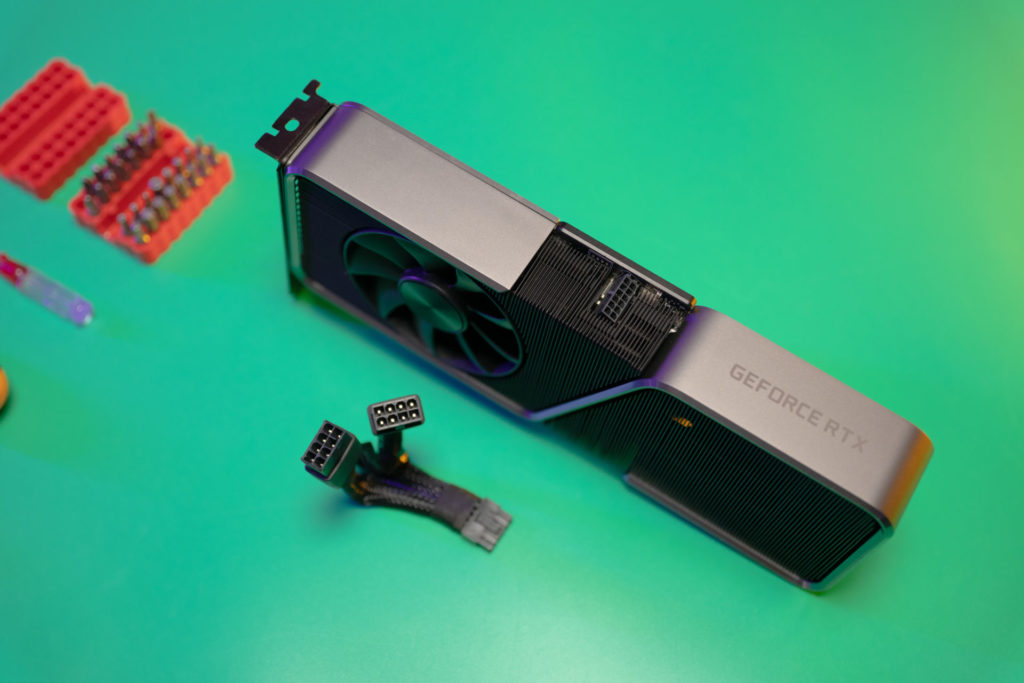 This card also requires 2 x 8-pin PCIe power connectors to properly power it up. Actually, NVIDIA decided to utilize its new 12-pin connector, rather than the 2 x 8-pin connector directly on the graphics card. Included in the package is the converter from its 12-pin connector to the 2 x 8-pin power connectors, which ensures compatibility with most power supplies in the market today.
Test Setup
Benchmark Test Settings:
Graphics Quality
API
3DMark Time Spy
Default
DirextX12
3DMark Fire Strike
Default
DirectX11
3DMark Port Royal
Default
–
3DMark NVIDIA DLSS Feature (1440p) – ON
Default
DLSS2
3DMark NVIDIA DLSS Feature (1440p) – OFF
Default
DLSS2
Far Cry New Dawn
High
DirectX11
Deus Ex Mankind Divided
High
DirectX12
Total War Warhammer 2 (Battle)
High
DirectX11
Tom Clancy Division 2
High
DirectX12
Assassins Creed Odyssey
High
DirectX11
DOTA 2
–
DirectX11
Final Fantasy XV Benchmark
High
DirectX11
World of Tanks enCore
Ultra
DirectX11
F1 2018 Australia
High
Direct X11
Shadow of the Tomb Raider
High
DirectX12
Middle Earth Shadow of War
High
DirectX11
Metro – Exodus
High
DirectX12
Metro – Exodus (RTX)
RTX
DirectX12
World War Z
Ultra
Vulkan
Tom Clancy Ghost Recon Breakpoint
High
Vulkan
Our system is set up as such:
Specs
Main System
CPU
AMD Ryzen 9 5900X
RAM
G.Skill Trident Royal 3600MHz, 2 x 8GB DDR4 Kit
Main Storage
Transcend PCIe SSD MTE110S 512GB (OS)
GPU

ASUS ROG STRIX RTX 2080 SUPER Advanced


Gigabyte GeForce RTX 3070 Gaming OC
NVIDIA GeForce RTX 3070 Ti Founders Edition
AMD Radeon RX 6800
Motherboard

ASRock X570 Steel Legend

CPU Cooler
AMD Wraith Spire RGB Cooler
OS
Windows 10 Pro 64 bit
Performance Results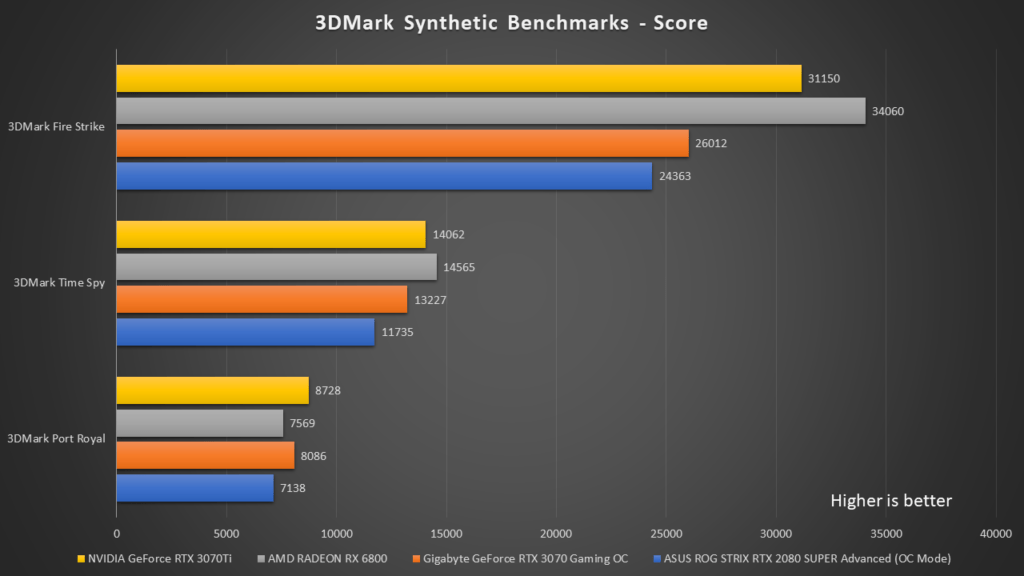 For both the 3DMark Fire Strike and 3DMark Time Spy tests, which are based on DirectX 10 and DirectX 11 respectively, we saw that the NVIDIA GeForce RTX 3070 Ti is slightly slower than the AMD Radeon RX 6800. However, when it comes to 3DMark Port Royal, which also tests DirectX Ray Tracing, we can see that both the RTX 3070 Ti and RTX 3070 had an edge over competition. This essentially means that the new NVIDIA ampere based graphics card are simply better at ray tracing computations and graphics creation.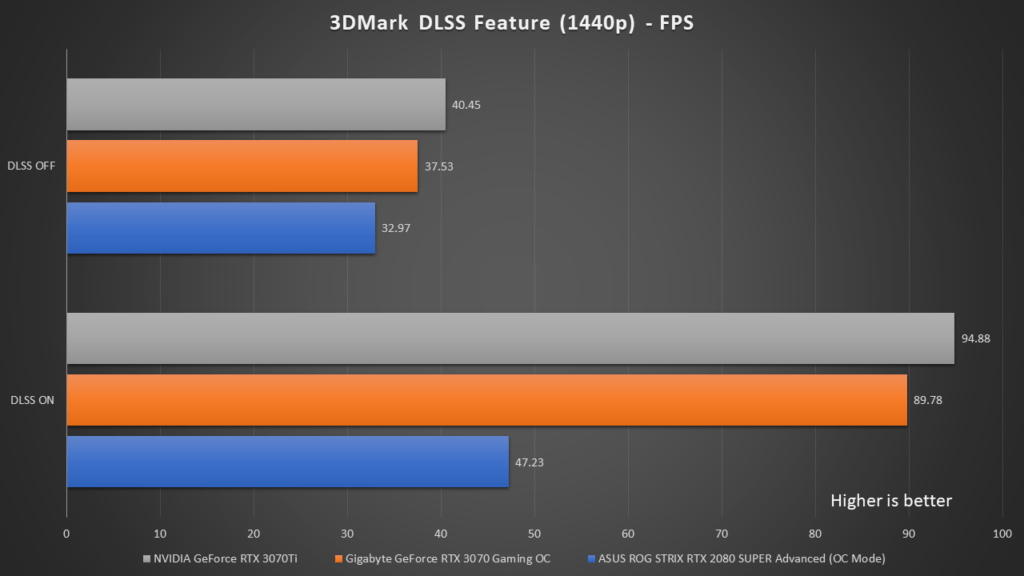 With the improved Tensor Cores, the NVIDIA GeForce RTX 3070 Ti was also significantly ahead of the previous generation RTX 2080 SUPER. This has shown how much improvements NVIDIA has made to their Ampere architecture when it comes to AI processing.
DLSS, which stands for Deep Learning Super Sampling, makes use of AI methods to render games at a lower resolution and upscale them to higher resolutions. This allows much higher frame rates for games at a high resolution, while also maximizing performance without much expense to graphics quality. DLSS, which is unique to NVIDIA RTX graphics card, is what sets it apart from competition. With DLSS, we can really see how well these graphics card can perform with the games it supports.
You can learn more about DLSS in our article here.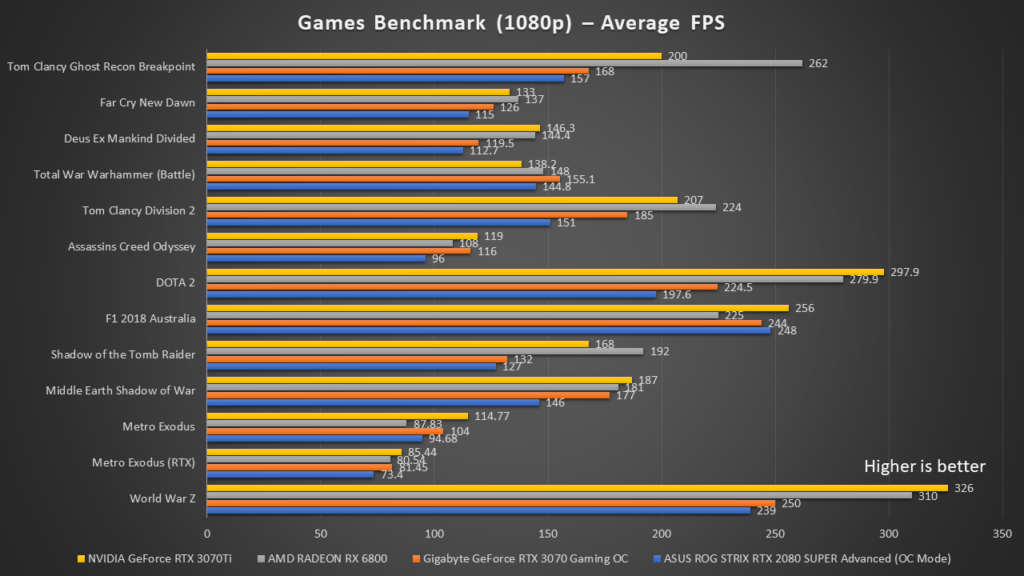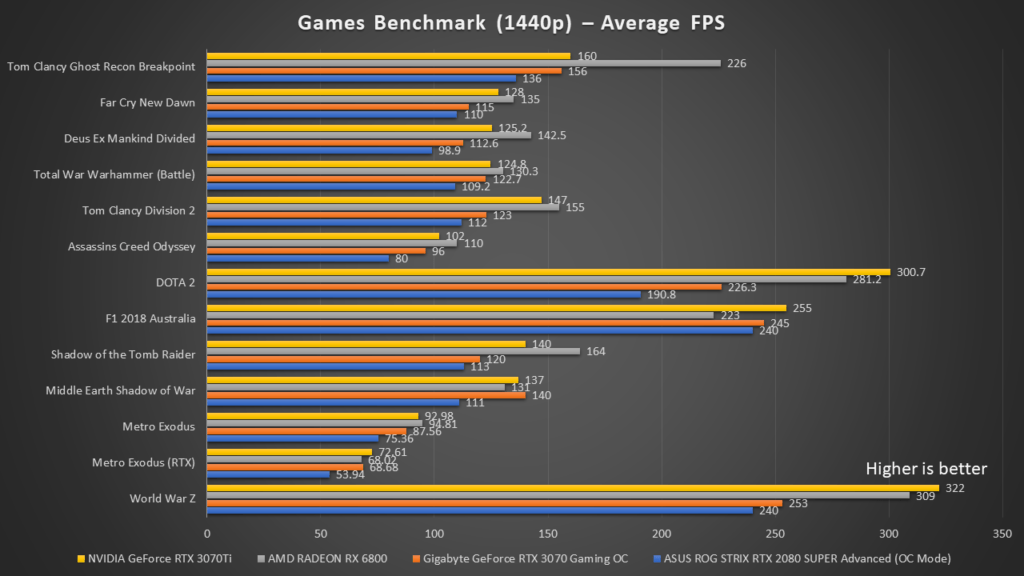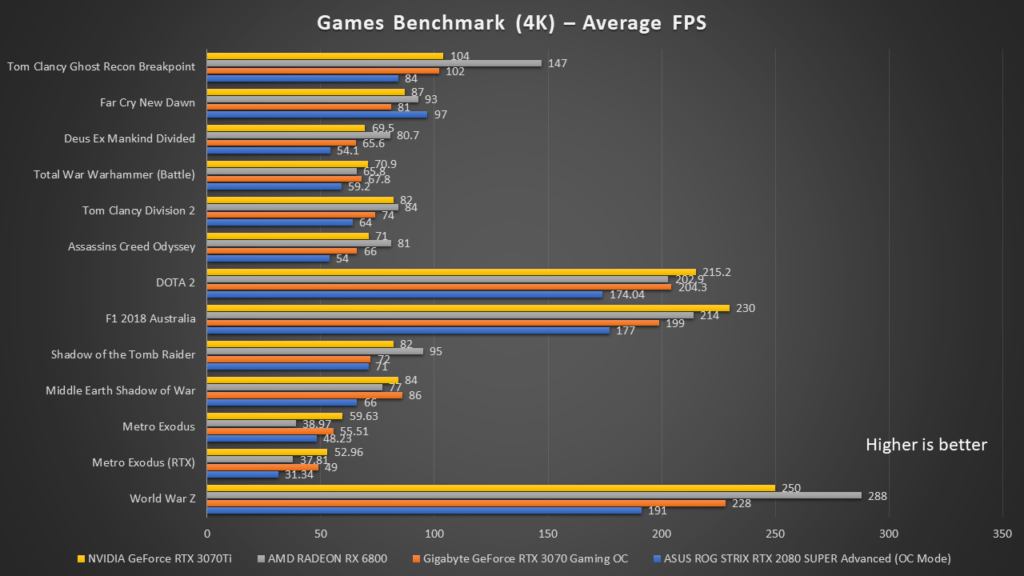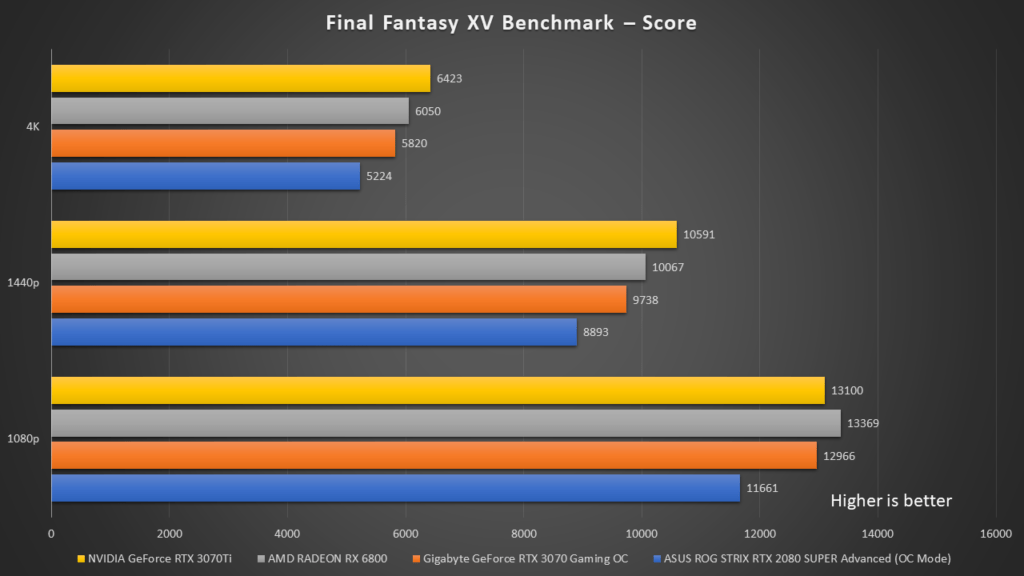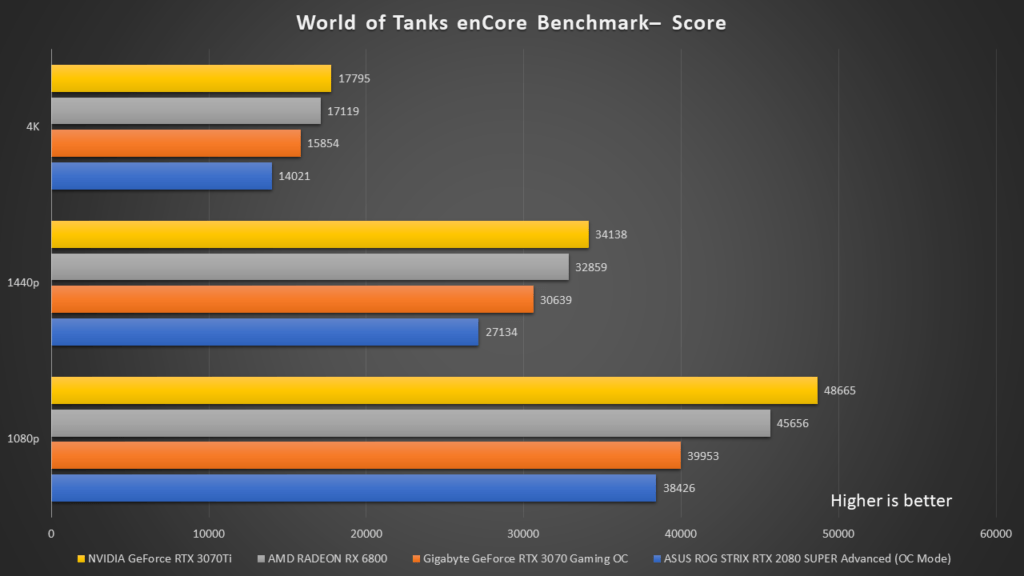 For the games benchmarks, we saw that the RTX 3070 Ti was able to even beat the RX 6800 in certain games which was able to take advantage of its Ampere architecture. For example, the RTX 3070 Ti could consistently come up on top for the Metro Exodus benchmark.
Most of the performance results are game engine dependent. Generally, the AMD Radeon RX 6800 comes up on top, while the RTX 3070 Ti is slightly behind. With games that works better with NVIDIA graphics card, the RTX 3070 Ti was then able to beat the odds.
Thermals and Power Consumption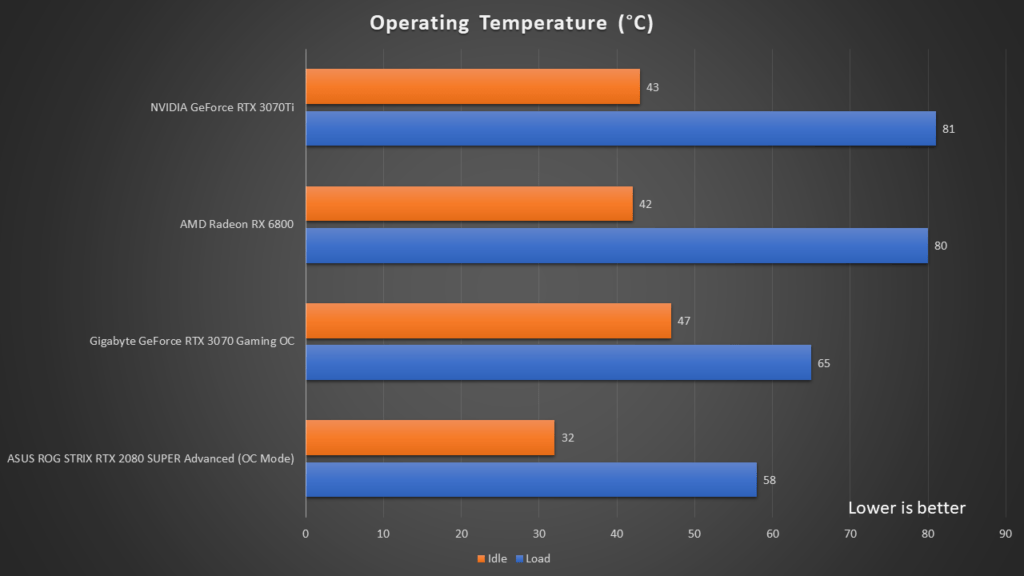 In terms of temperature, the NVIDIA GeForce RTX 3070 Ti runs quite hot on load, but this temperature is still very manageable. There were no instances of thermal throttling, and the graphics card could run at its full potential. Thus, there isn't much to worry about for temperature performance of this graphics card.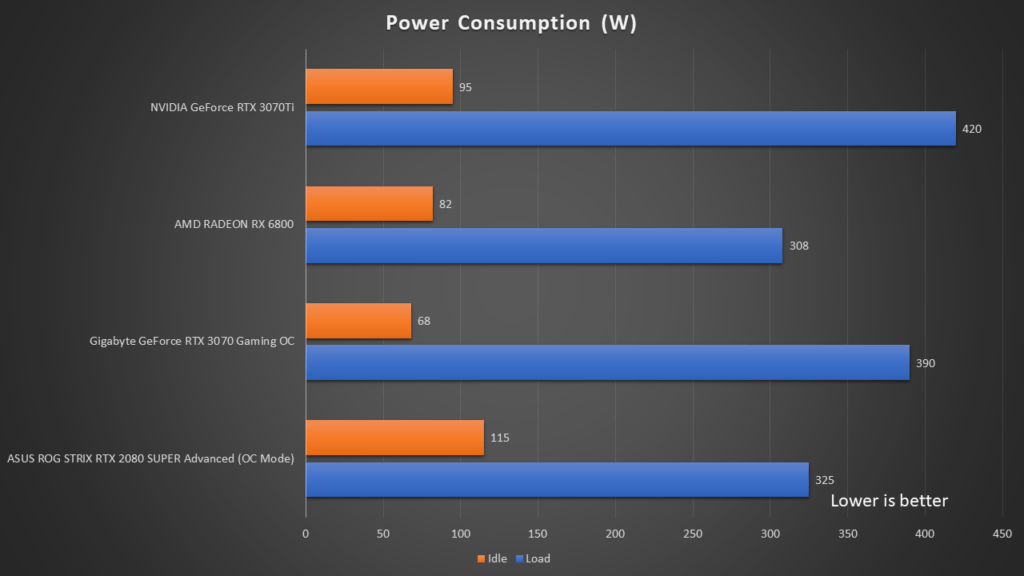 As for power consumption, the RTX 3070 Ti also consumes the most energy as compared to the rest of the other graphics card.
Conclusion
Undoubtedly, the NVIDIA GeForce RTX 3070 Ti is one of the most top performing graphics cards in the market today. It is very capable of playing games even at 4K resolution, which is a benchmark for high performance graphics cards these days.
Furthermore, with the strength of NVIDIA pioneering various kinds of technologies to enhance the overall gaming experience, gamers can fully enjoy their games with the GeForce RTX series graphics card. Technologies such as DLSS, accelerated Ray Tracing (with RT Cores), NVIDIA Reflex, are what makes the GeForce RTX series graphics cards so special, allowing them to stand out from competition.
At a current selling price of about S$1600 as seen on online stores, (actual Founders Edition SRP is S$899), the NVIDIA GeForce RTX 3070 Ti could be considered quite costly. However, when compared the RX 6800 which is similarly priced, the RTX 3070 Ti could be a good choice as well, given its comparable performance level.
Ultimately, it boils down to what is reasonably priced. Currently, the GeForce RTX 3070 Ti can be purchased both in store and online. Hopefully, its price can drop nearer to its SRP, so that it will become an even better deal for gamers.