When it comes to choosing a PC Case, most people will think of a box where your PC components are housed. It is because of this idea of a PC case as a box, that most system units of desktop computers come in a form of a box. What if your PC Case doesn't come in the form of the box? What would it look like then?
The MasterFrame 700 by Cooler Master wants you to change the idea of what a PC case can be. It is simply a frame that you can mount your standard PC components, while posing many unique features that lets you customize it to suit your needs. Particularly, it can convert between different usage modes, such as a test bench or an open air case mode.
As a tech reviewer, the idea of a new test bench excites me. Read on to learn more on what I think about the MasterFrame 700, particularly used as a test bench for my daily work.
The MasterFrame 700 – Assembly
The MasterFrame 700 doesn't come pre-assembled. As it is a highly modular case, you can define how you want the case to be. This is why, Cooler Master has included all the different components of the MasterFrame 700 in the box for your customizations. Most parts are optional, and you can truly just use what you want.
Honestly speaking, assembling the MasterFrame 700 is not a job that's suited for everyone. If you are simply expecting a simple case with parts that just pops into place, please be prepared to test your patience. Due to the sheer number of combinations and parts that comes with the MasterFrame 700 package, the whole instruction booklet also seems rather pointless. The assembly guide provided doesn't help much, as the instructions are confusing. There are simply no numbers or sequential steps to follow. Instead, each section focuses on a certain portion which you can add to the whole case.
For someone who's uncertain of what I want to achieve, it was quite an ordeal trying to piece everything together. I didn't know where to start, nor did I know if I was doing the right thing. This assembly job is simply not for the faint-hearted.
In the end, rather than relying on the instruction booklet, I simply just went online and see what the case is supposed to look like. I then tried to piece the parts together myself, which brought me some success. However, I was uncertain if I used the right screws for assembly though.
After about an hour, I finally was able to get a decent looking test bench built.

Test Bench – How does it work?
Using the MasterFrame 700 as a test bench, I can appreciate some of the features that makes testing hardware easier. Having a bottom mounted power supply with some cable management features, I was able to route the cables into the right place where they are supposed to be. Even when replacing PC components, I can be certain that the cables can still be there where I need them. It makes switching components easy.
As for the unique "wings" which also acts as radiator mounts or other component holders, you'll either love it or hate it. Don't get me wrong, as I'm specifically speaking from the point of view of reviewing the MasterFrame 700 as a test bench. Most test bench frames don't come with dedicated mounts for radiators. Having the wings of the MasterFrame 700 sets it apart from other test benches as a radiator mount. However, I just simply thought that the whole setup just seemed to take up too much space. As my typical test bench doesn't come with an AIO water cooling solution (or perhaps, it's time to upgrade?), I found the side wings to be somewhat pointless.
To ease motherboard installation, there are also clear indications on the motherboard tray on where to screw the spacers onto for the right motherboard size. However, as we tend to frequently switch system components, I found the permanent mounting mechanism to be quite troublesome.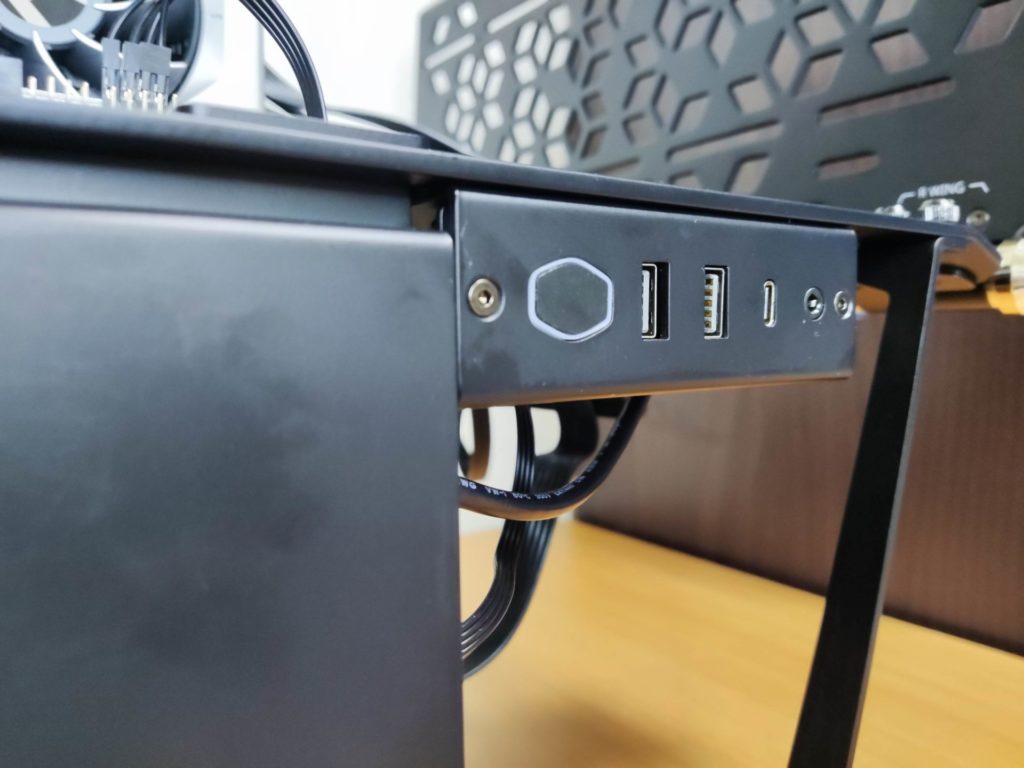 However, one plus point about the MasterFrame 700 is its front panel expansion ports. These ports make it easy for testers to have quick access to the power and reset buttons. The additional 2 x USB 3.1 Type-A ports is also useful for quick swapping of USB peripherals and storage drives. It also comes with a USB 3.2 Gen 2 Type-C, making it easier for us to test external high speed SSD drives.
General Thoughts using the MasterFrame 700 as a test bench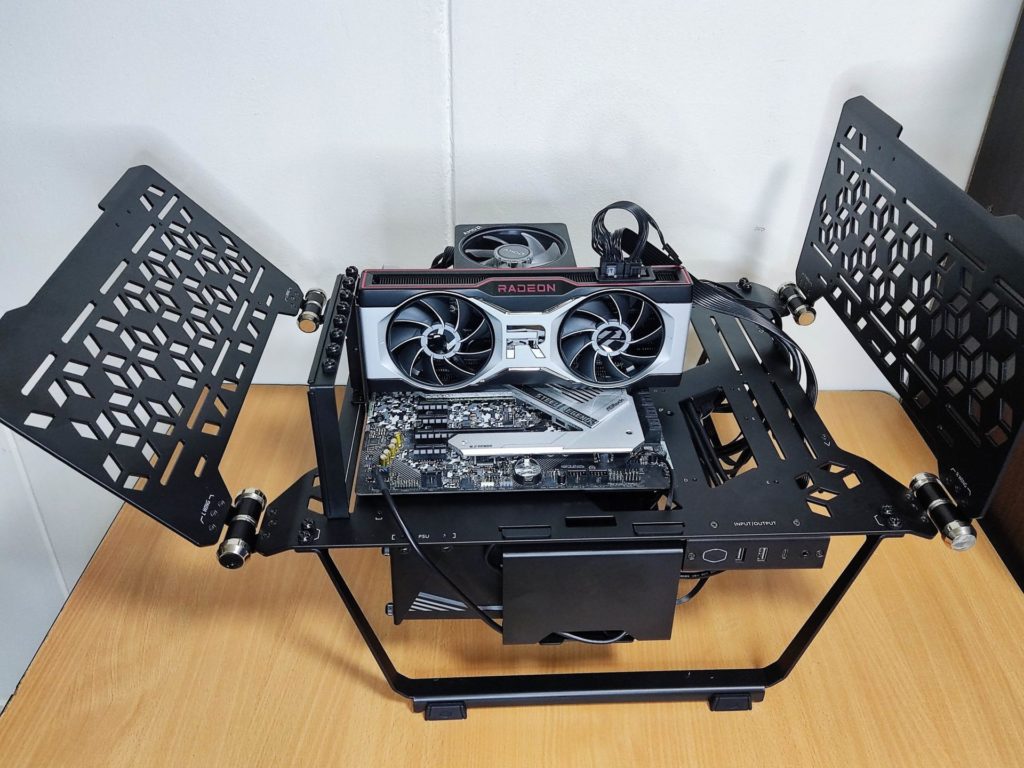 Personally, I thought that a test bench should be portable and usable. Even though the MasterFrame 700 comes with many features that aims to make the tester's life easier, it still has to cater to its other alter ego of a showcase frame. Therefore, I would say that it's simply not purpose built as a test bench, but can work as a test bench. For example, because of its steel material, making it extremely sturdy, the whole case actually weighs quite a bit. I had trouble trying to move the case around during assembly and testing.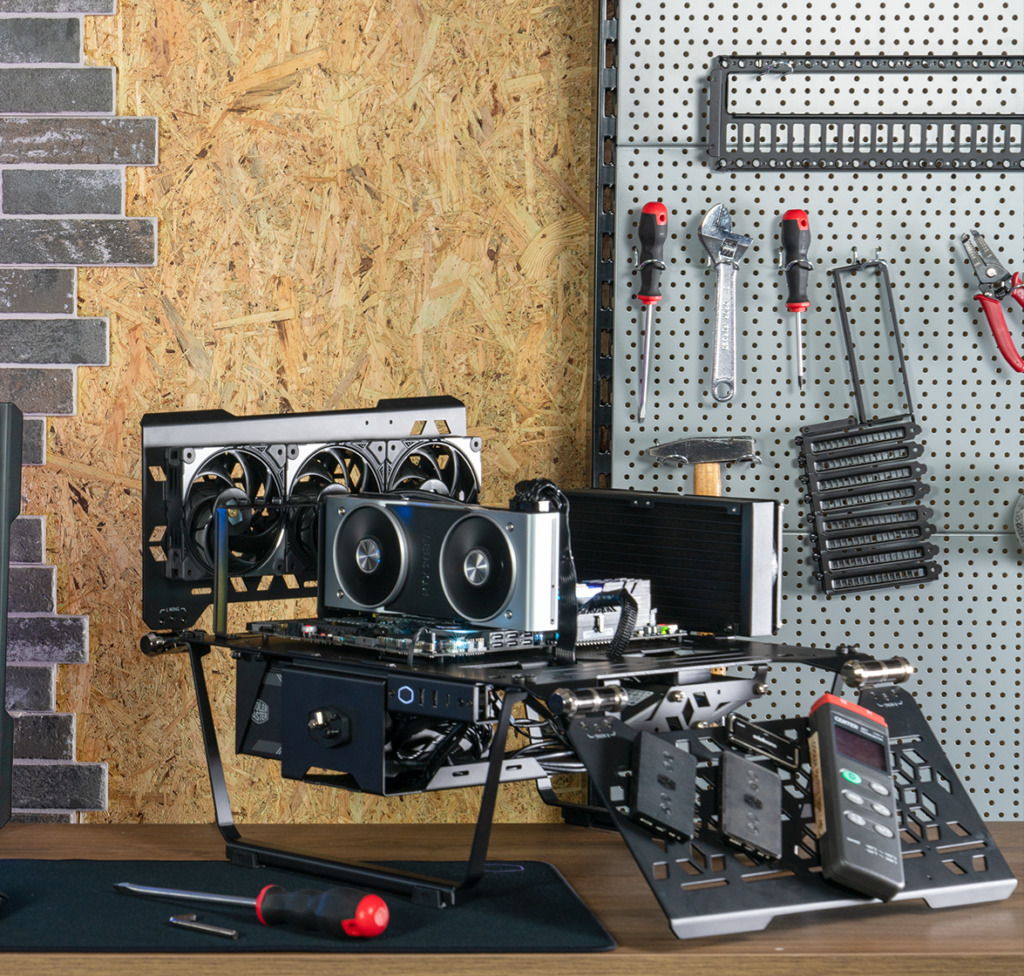 Regardless, the MasterFrame 700 is certainly a case that maximizes compatibility, as its versatility also allows it to support extra large or extra long components. Its support for custom water loops and even 360mm radiators sets it apart from other test bench solutions.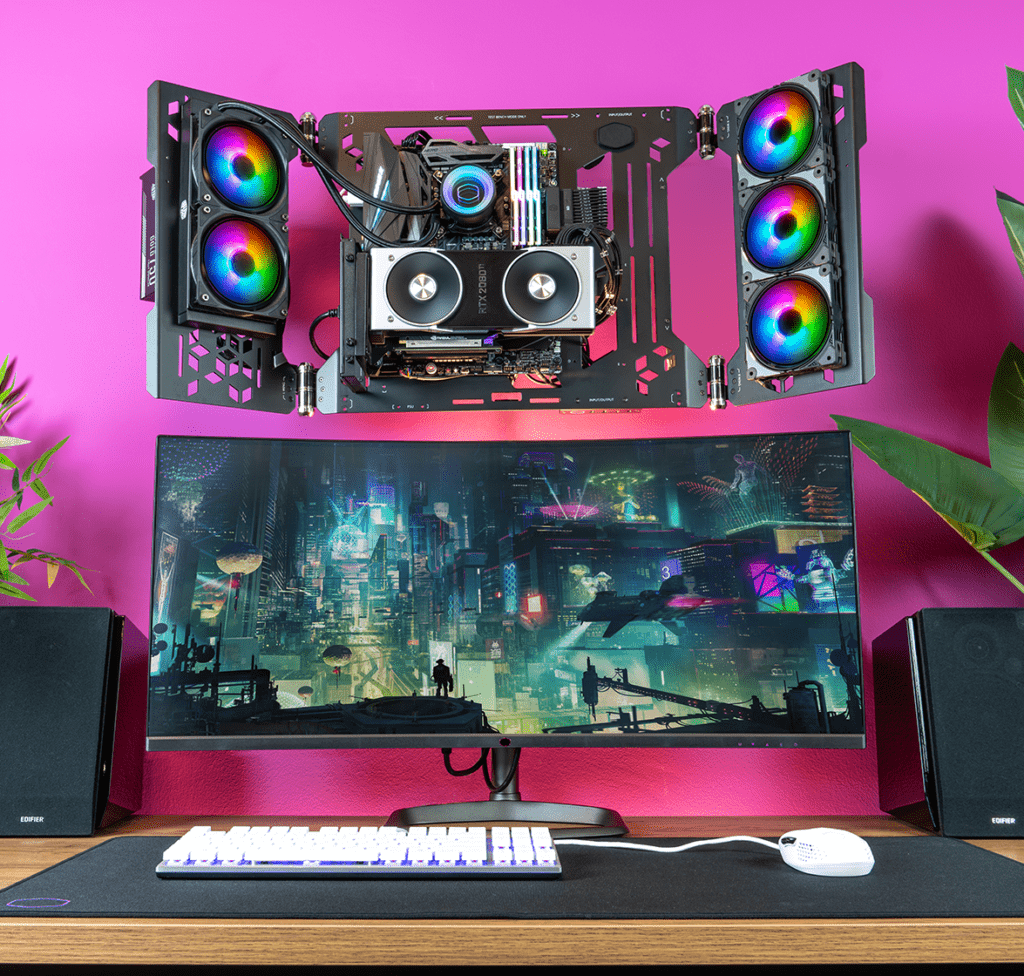 Ultimately, I find that the MasterFrame 700 is more suited as a PC showcase frame, rather than a test bench. Its VESA mount compatibility allows you to mount the whole case on the wall, which perhaps what its true self is meant to be. If you have many expensive and pretty PC components to show off, this case makes it easy to do so. If you want to add another level of sophistication to your setup, you can also equip the tempered glass onto your setup as well.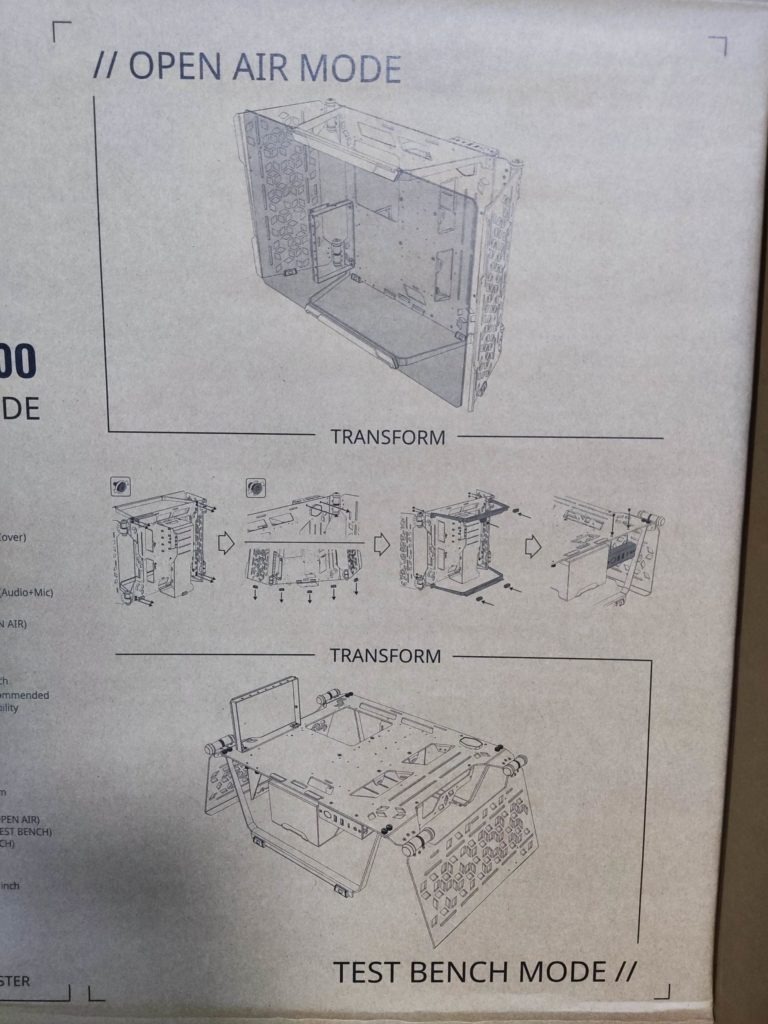 The good thing is that it's able to switch between the two different modes with some modifications to the case. Before that, you will need to make sense of the instructions provided.
Conclusion

It's not every day that we get to see a new and unique product. The MasterFrame 700 is something which differs from the norm, and targets a specific and niche group of users who wants to showcase their system components on their setup, while also wanting the versatility of customization to suit their needs in different scenarios.
While we find that it's not that suitable to be used as a test bench, at least for our requirements, there are certainly some who can appreciate its comprehensive features.
The MasterFrame 700 from Cooler Master is available at local retailers and is priced at SGD 289.