SINGAPORE, July 3, 2020 — LG Electronics launched more top-of-the-line models to its LG UltraGear™ and LG UltraWide™ lineups in Singapore this week. Led by a new Nano IPS 1ms 21:9 UltraGear™ Gaming Monitor, the lineups are designed to maximise user experience regardless for work or play.
LG's UltraWide™ and UltraGear™ monitors have been honoured as winners of the CES Innovation Awards at CES® 2020[1], and the brand continues to lead the LG UltraWide™ monitor segment as the Global No. 1 Ultrawide Brand for seven years running[2].
A pioneer in 21:9 gaming monitors
Combining its expertise with its popular 21:9 UltraWide™ monitors with its experience in introducing the World's First Nano IPS 1ms UltraGear™ Gaming Monitor[3], the new LG UltraGear™ 37.5″ QHD+ Nano IPS Gaming Monitor with NVIDIA G-SYNC Compatibility (38GN950) is not only an expansive 21:9 curved display, but also offers a 1 ms Nano IPS display with 144Hz refresh rate, overclockable to an impressive 160Hz. The Nano IPS display provides over 98% of the DCI-P3 colour space, the professional film industry standard, and has 3840×1600 resolution for outstanding clarity and hyper realistic picture.
Supporting VESA DisplayHDR 600 and NVIDIA G-SYNC Compatible with AMD FreeSync™ Premium Pro, the 38GN950 also offers variable refresh rate and adaptive sync technology, ensuring smooth and fluid movement regardless of whether you are playing a story-driven single player or running through gunfire in an intense shooter game.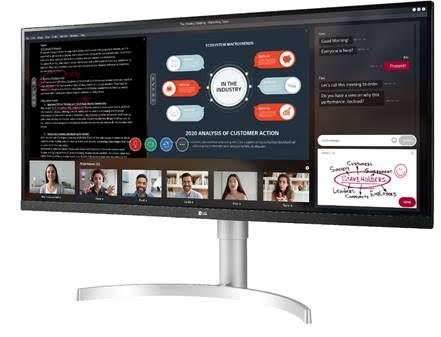 More Screen, Better Productivity
Expanding on the LG UltraWide™ lineup is the recently released 34WN650, a 34-inch LG UltraWide™ FHD Monitor that utilises an IPS panel for greater colour accuracy with a wider viewing angle. Coupled with VESA Display HDR™ 400 and sRGB 99%, the 34-inch 21:9 UltraWide™ monitor allows users to not only see 33% more screen space compared to a 16:9 monitor, but also greater contrast in colours and a wider-range of brightness, enabling dramatic visual immersion in the latest HDR games, movies and images. The large screen real estate is also great for multi-tasking enthusiasts, who can customise their screen space using the monitor's OnScreen Control and Screen Split functions to view their optimised set of programmes and documents simultaneously.
"We are excited to introduce two new entries into our 2020 Ultra monitor lineup giving Customers more options for monitors with unrivalled performance, picture quality and speed," said Lee Changha, Head of Product Management / Home Entertainment, LG Electronics Singapore. "The latest series includes the a new Nano IPS 1ms 21:9 UltraGear™ Gaming Monitor, combining our expertise in 21:9 displays with our top-of-the-line gaming monitors into one single monitor. This solidifies LG's position as a leader in creating innovative monitors"
Both LG UltraGear™ and LG UltraWide™ monitors are available at authorized retailers Best Denki, Challenger, COURTS, Harvey Norman and Gain City from July 1 2020. Full specifications and prices can be found in ANNEX A.
Customers seeking for assistance on LG products can visit LG Customer Service YouTube channel. The channel provides informative content and useful video guides to give you a hand, any time of the day at your convenience.
For more information, please visit https://www.lg.com/sg/consumer-monitors.
Relevant high-resolution images can be downloaded via this link.
[1] http://www.lgnewsroom.com/2019/12/lg-2020-ultra-monitors-ideal-for-professionals-and-gamers-alike/
2 LG Electronics is Global No. 1 Selling 21:9 Monitor Brand for 28 straight quarters from 2013 Q1 and 2019 Q4.
Source: IDC Worldwide Quarterly PC monitor Tracker, 4Q 2019
3 http://www.lgnewsroom.com/2019/06/lg-unveils-worlds-first-one-millisecond-ips-gaming-monitor/