At Universe, we announced GitHub for mobile as a fully-native GitHub experience on iOS and Android. Now, you can stay in touch with your team, triage issues, and even merge code, right from your mobile device, anywhere.
Your response to the beta has been incredible—beta testers have commented on, reviewed, and merged over one hundred thousand pull requests and issues in the last few weeks alone. Today, both the iOS and Android versions of GitHub for mobile are out of beta and generally available. Get the app from the Google Play or App Store.
Triage and more, anywhere
With GitHub mobile, you can:
Organize tasks in a swipe: Get your inbox to zero in no time—swipe to finish a task or save the notification to return to it later.
Give feedback and respond to issues: Respond to comments while you're on the go.
Review and merge pull requests: Merge and mark pull requests to breeze through your workflow, wherever you are.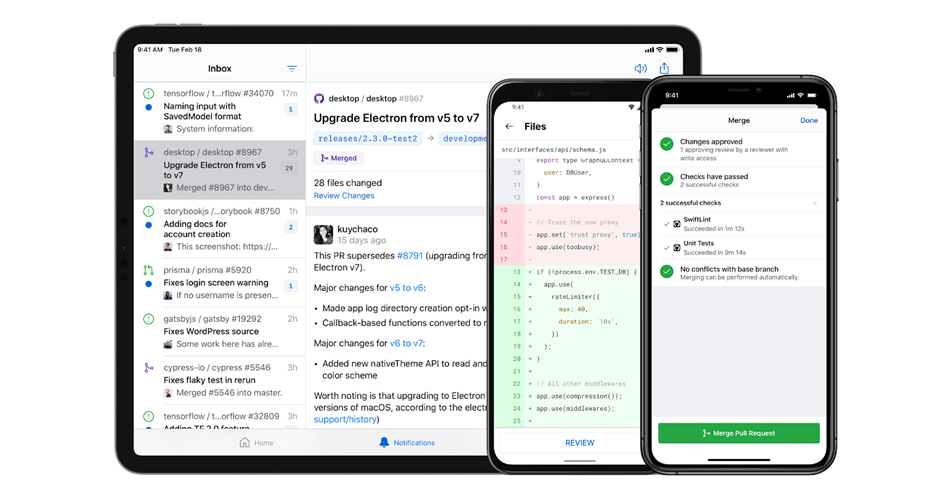 With GitHub for mobile, you get a more seamless notification experience, whether you're at your desk or on the go—now featuring our newest updates to notifications.
Get the app
GitHub for mobile is available today from the Google Play or App Store. There's a lot more to come, so don't forget to check back as we continue to make GitHub for mobile even better.
Learn more about GitHub for mobile
Author: Ryan Nystrom, Director of Engineering
Date: 18 March 2020