The all new HOF Pro M.2 SSD is one of the early adapters that support PCIe® 4.0 now in the market, which shows amazing reading and writing speed. Its Sequential Read/Write can reach up to 5000/4400MB/s and 750000/700000 IOPS for Random Read/Write, bringing the game to the next level.
The 3rd Gen AMD Ryzen™ Desktop Processor with the AMD X570 chipset is the world's first PC platform to support PCIe® 4.0 connectivity. AMD is leading advanced technologies and was a driving force behind bringing PCIe® 4.0 capabilities to market.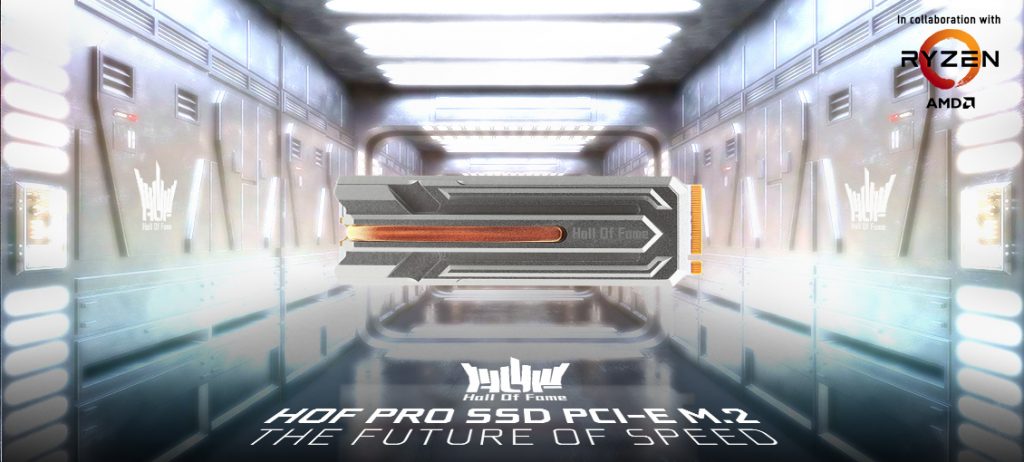 HOF Pro M.2 SSD looks almost the same with the last generation, but its performance is beyond comparison, the secret lays within the all new controller – Phison PS5016-E16. Using 28nm process and innovative technology support, it enhances the HOF Pro M.2 performance to maximum 5G/s and fully evolved no matter in sequential read/write or random read/write.
The intelligent and powerful PS5016-E16 controller that supports PCIe® 4.0, internally integrated intelligent temperature control and a variety of data error-recovery systems, providing extraordinary power for HOF PRO M.2 with reliable data protection.
"GALAX has been focusing on improving user experience through innovation, the GALAX HOF Pro PCIe M.2 is a result of joint co-operation between AMD, GALAX and Phison, we are glad to be one of the first manufacturers to launch PCIe® 4.0 based SSDs" said Alex Lam, CEO of Galaxy Microsystems Limited.
Besides the E16 controller, the GALAX HOF Pro PCIe M.2 also utilizes Toshiba original 3D NAND flash, and offers 1TB and 2TB as capacity option.
About GALAX
From what was "Galaxytech", we now bring you "GALAX" Founded in 1994, GALAXY has built its reputation as the behind-the-scenes designer and manufacturer of many of the most popular OEM-branded graphic card products on the market.
"We are dedicated to creating a custom user experience and believe that each of our products needs to fit its owner, not the other way around. What we make is not merely the product of focus group tests, but rather the results of observing and honoring the way individuals choose to interact with technology." Since 2000 we have introduced numerous critically-acclaimed product series, "Hall of Fame" The aim of HOF is simple: To make a series of graphics cards with the best components available that is able to enter the 3DMark Hall Of Fame.
Our aim is to produce performance products that help to enhance the escapist in games, to heighten the perception of play and help contribute a performance level that is unsurpassed.