While most NVMe based SSDs come in the a Mini PCIe V2 (also known as M.2) interface today, there is still a demand for standard size PCIe SSDs. Older desktop PC systems simply don't come with any M.2 slots. Or perhaps, if you have already used up all the M.2 slots on your PC, you will require a full sized PCIe SSD Add In Card (AIC) to further expand your storage capabilities of your system.
The PCIe AIC SSDs operates similarly to the M.2 alternatives, as they are all based on the same protocol and interface. In today's standard, (before the incoming PCIe 4.0) the PCIe standard is mainly reserved for SSDs that are designed to perform beyond the bandwidth of SATA 6Gbps interface. As most PCIe SSD uses the PCIe 3.0 x4 interface, the SSD controller has theoretically 3940MB/s of bandwidth to play with. However not a lot of SSDs are designed to reach such speeds. Today, we have the Gigabyte AORUS RGB AIC NVMe SSD for review which is said to come near to saturation of the PCIe 3.0 x4 interface. That's definitely impressive!
Read on to find out more.
Design
The Gigabyte AORUS RGB AIC NVMe SSD looks fairly minimal. The main PCB is covered with a large metallic plate both on the front and back. This should be more than effective to properly cool the whole expansion card. Moreover, the metal plates also makes the whole SSD sturdy. This SSD also only takes up a single expansion slot within the system.
Of course, to make it look nice within your system, this AIC SSD also features RGB lighting. The top of the card is lit by a number of RGB LEDs, giving an extra touch to your customized PC.
Of course, you must remember to plug this card into a PCIe 3.0 x4 (or above) slot. We plugged the SSD into a PCIe 2.0 port during our tests, and found out that the SSD was severely bottlenecked by its interface.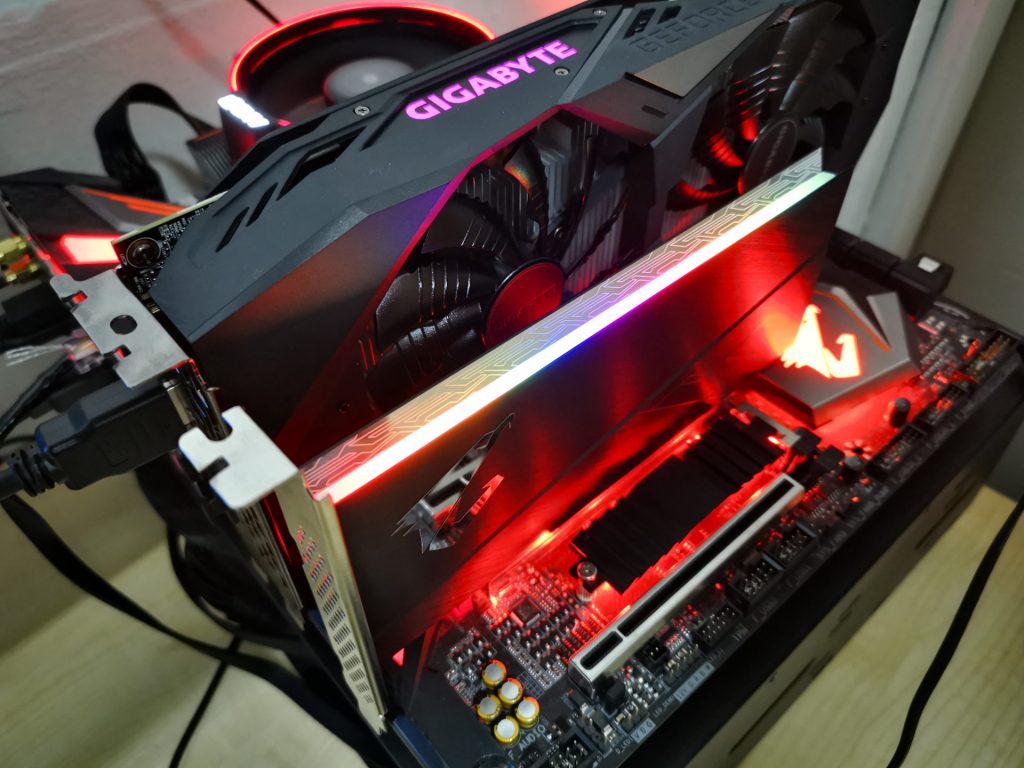 The Internals
The Gigabyte AORUS RGB AIC NVMe SSD is made to perform. Let's take a further look of how this SSD is designed.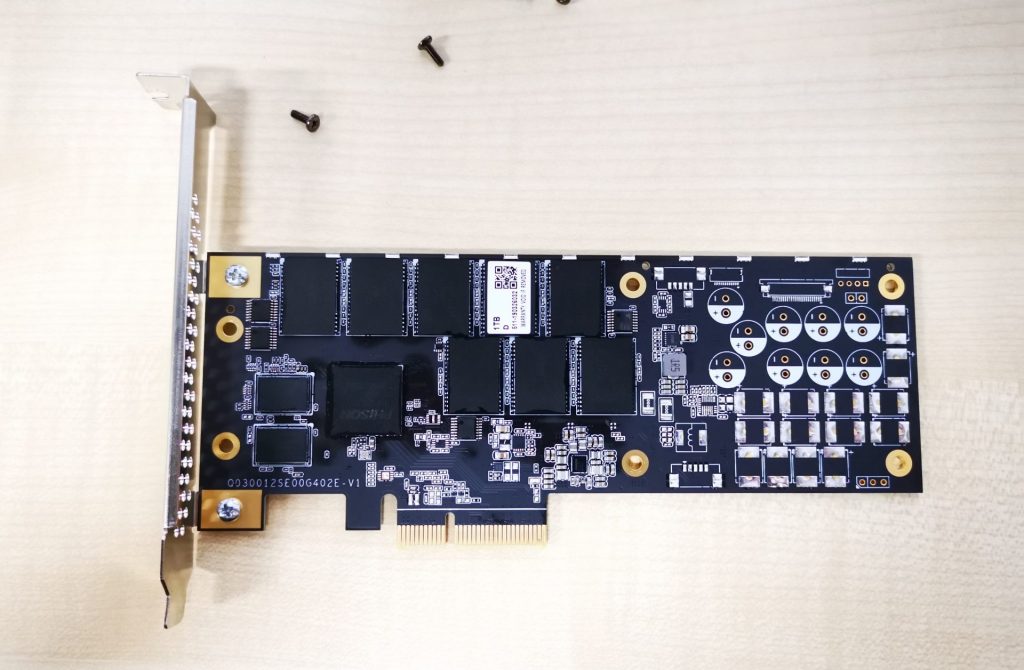 Just looking at the card, we can spot the main SSD controller, its NAND flash chip and memory that is used for caching purposes. At the top of the card, we can also see 11 individual RGB LEDs that gives the card its lighting effects.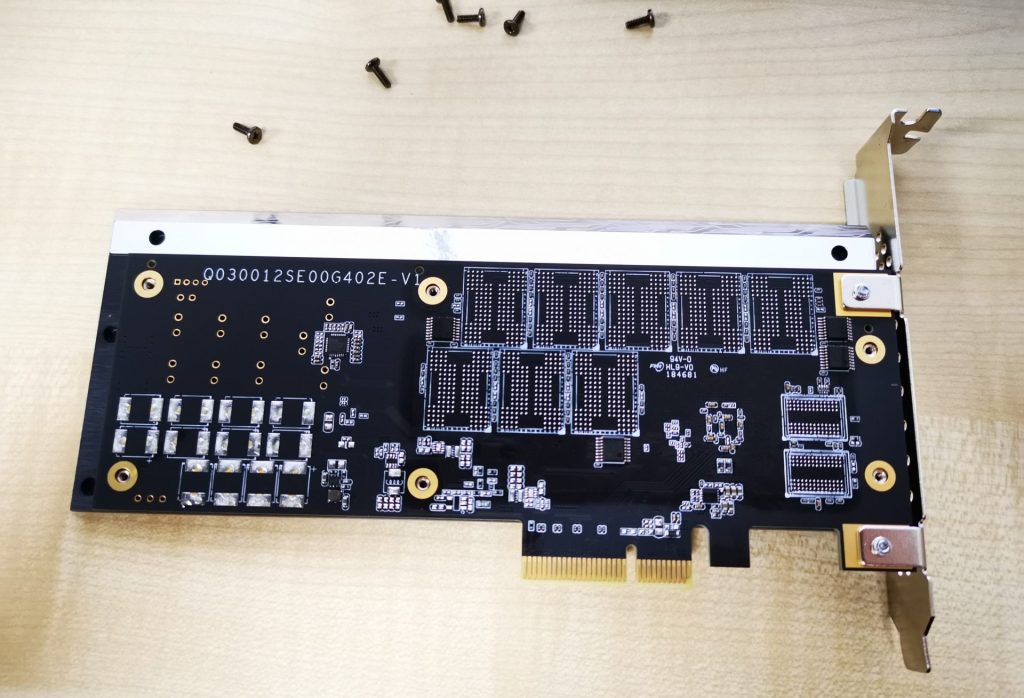 There isn't more shown at the back, but the additional BGA points could probably also mean that this SSD could have even come in larger capacities, if supported by the controller.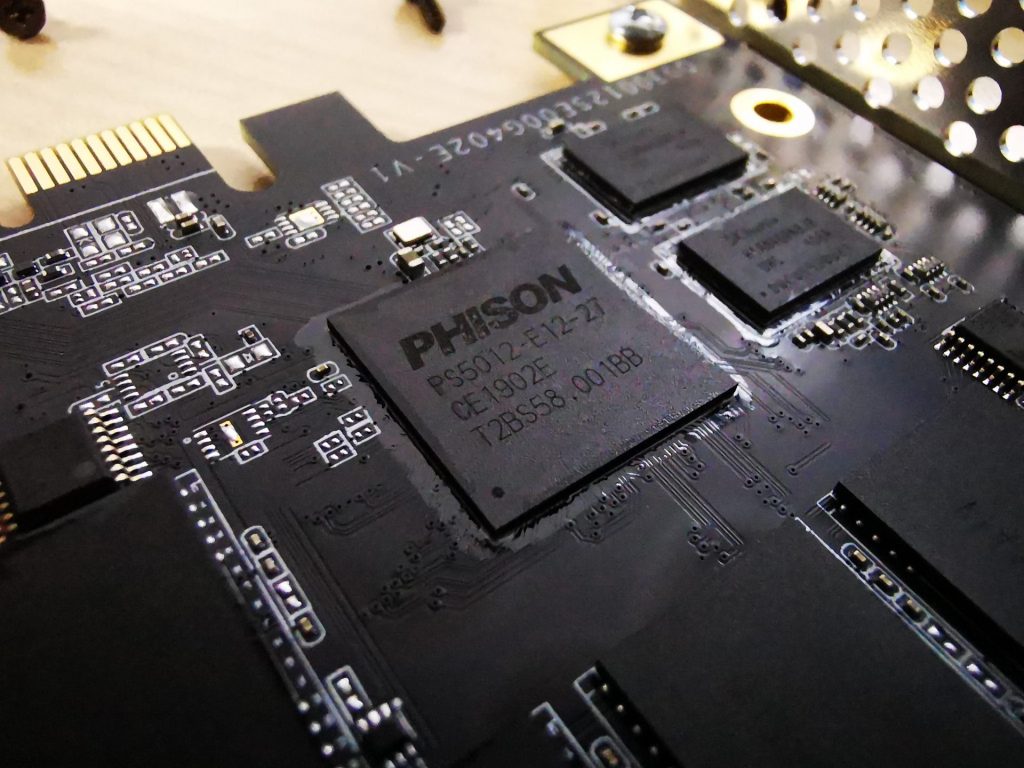 The AORUS RGB AIC NVMe SSD uses a Phison PS5012-E12. This is a high-end client SSD controller from Phison, used to compete with other flagship products from Samsung and Intel.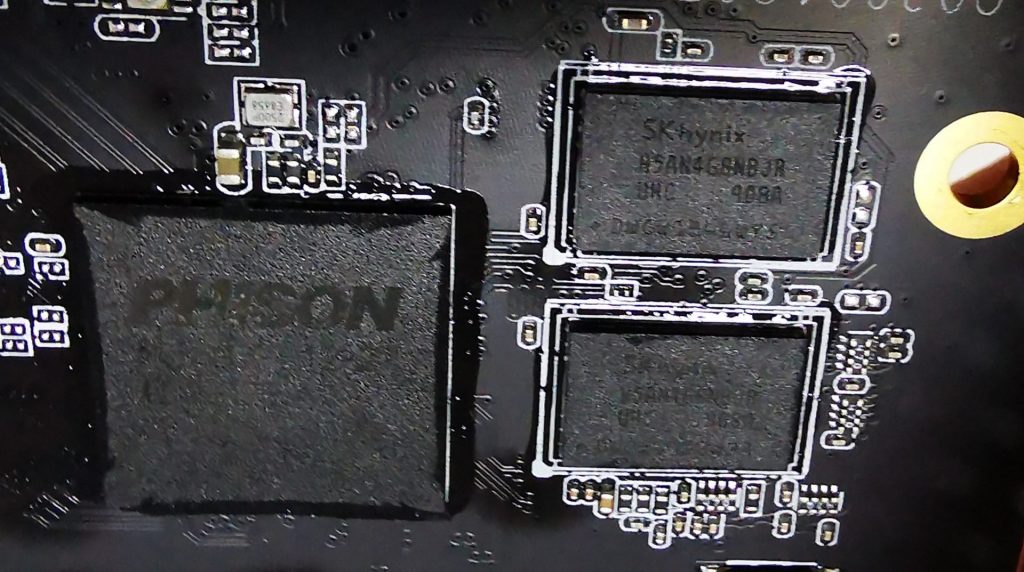 The SSD also comes with 512MB worth of DDR4 memory used to cache the most frequently used data on the SSD. This allows the operating system to quickly access the files and data on the SSD, which optimizes storage performance.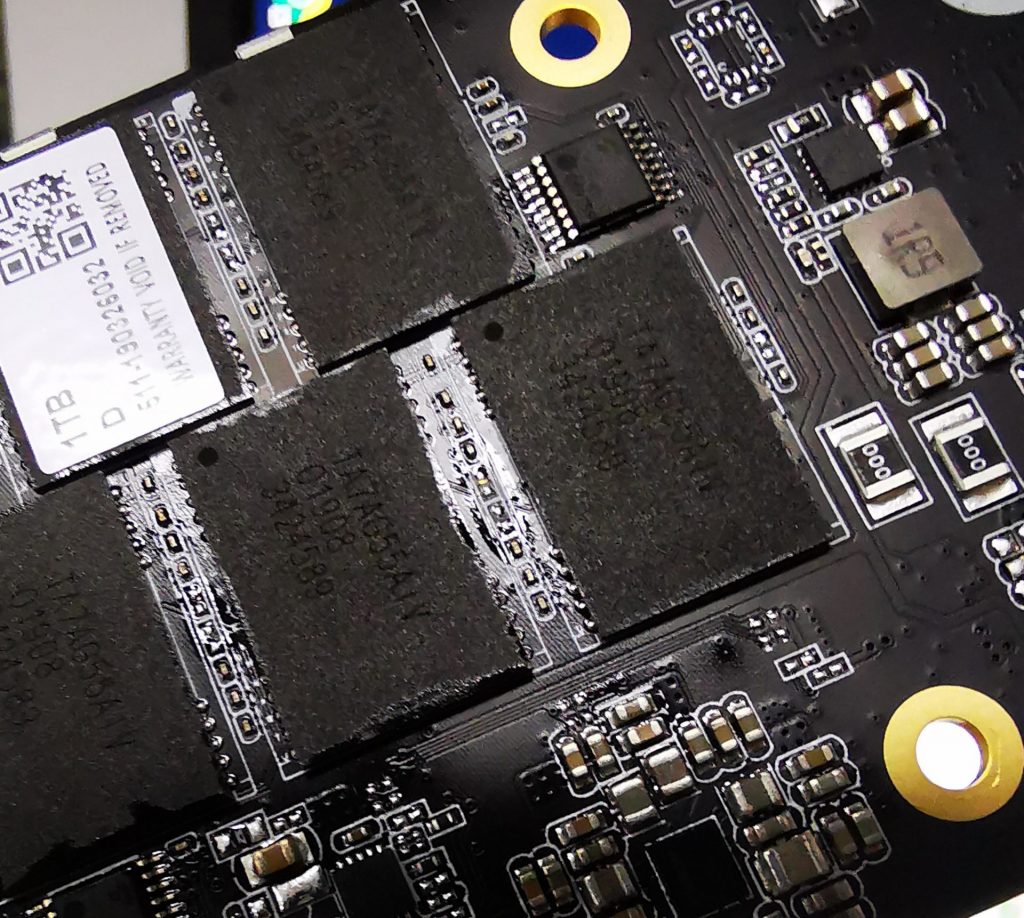 This SSD utilizes the Toshiba BiCS3 TLC NAND flash.
Test Setup and Results
Specifications
Hardware
CPU
Ryzen 7 2700
RAM
G.SKILL FlareX F4-3200C14-16GFX DDR4 Kit
Storage
Transcend MTE 110S PCIe NVMe SSD (OS)

AORUS RGB M.2 AIC NVMe SSD 1TB (For test)

AORUS RGB M.2 AIC NVMe SSD 512GB (For test)

GPU
Gigabyte GTX 1650 Gaming OC
Motherboard
Gigabyte X470 AORUS Gaming 7 Wi-Fi
CPU Cooler
AMD Wraith Stealth Cooler (Stock)
OS
Windows 10 Pro 64 bit
We have both the 1TB version and 512GB versions for our tests.
AORUS RGB M.2 AIC NVMe SSD 1TB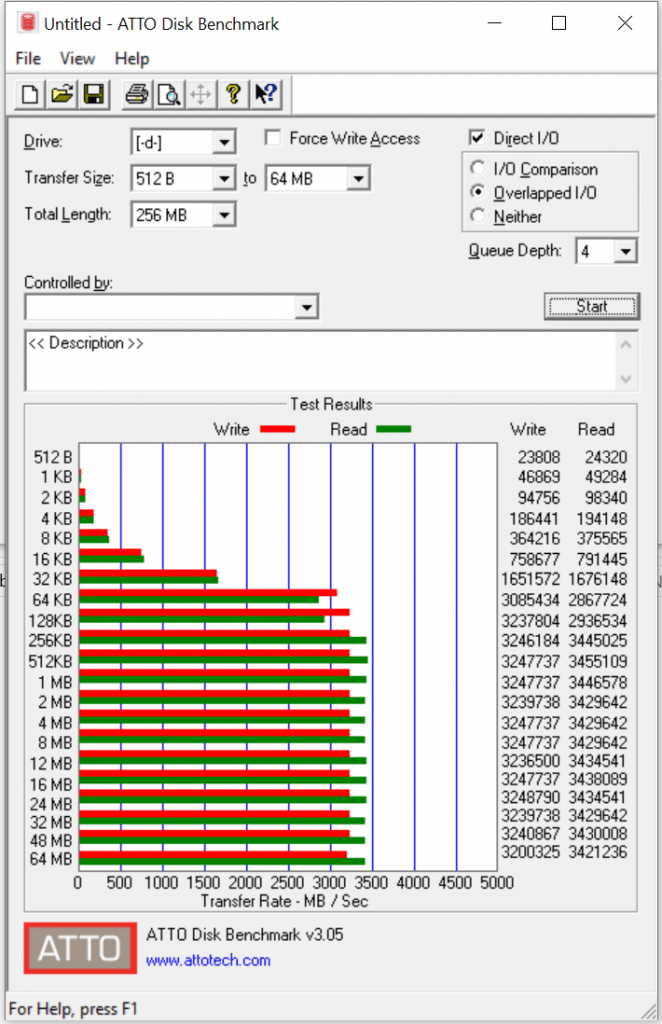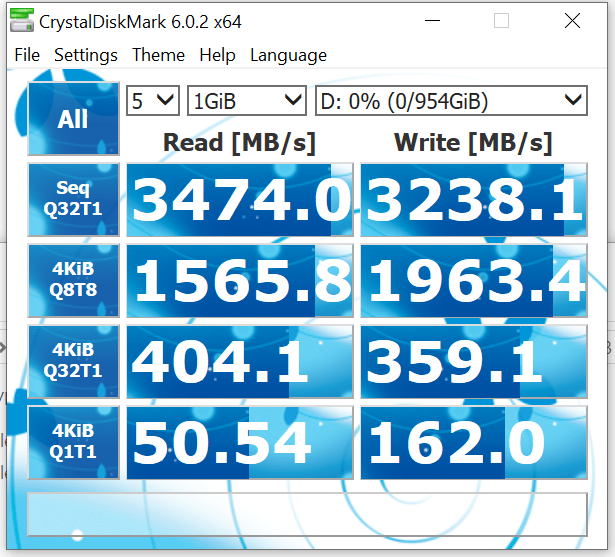 AORUS RGB M.2 AIC NVMe SSD 512GB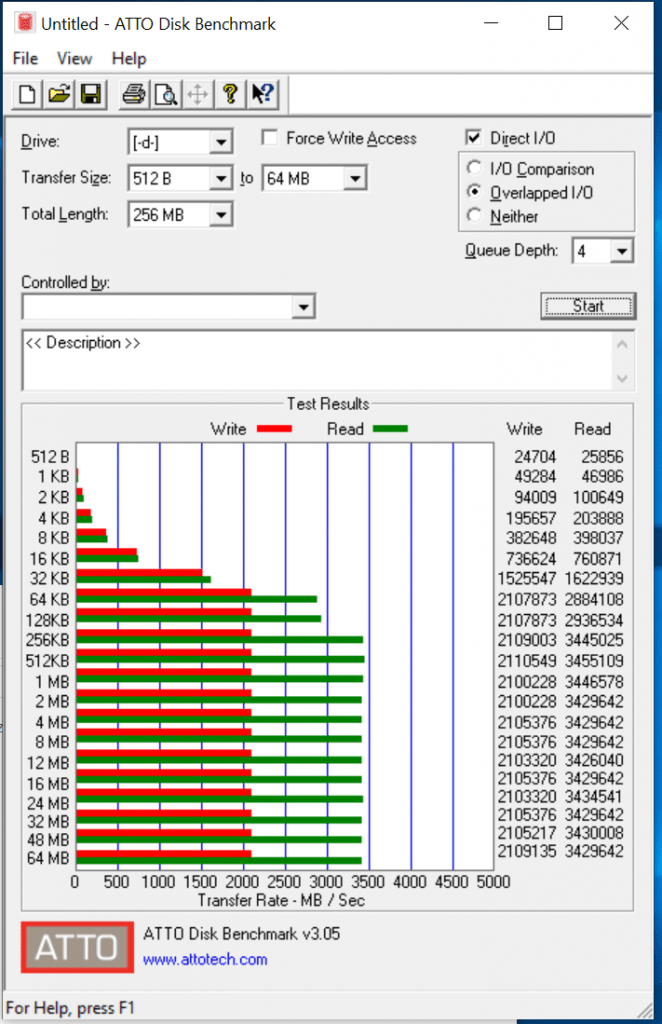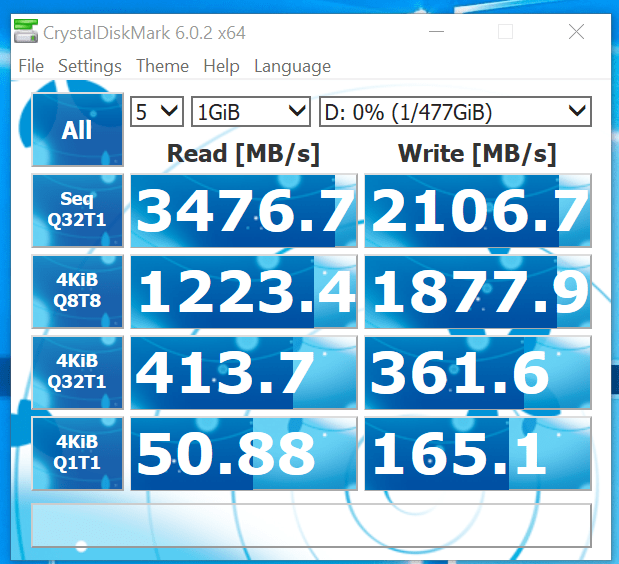 You don't usually get to see sequential speeds of over 3000MB/s everyday on a single SSD. In the past, such numbers can only be achieved by putting multiple SSDs together with RAID0. It's simply impressive that a single SSD drive can reach such a performance. Comparing between the 1TB version and the 512GB version, we can see that the prior had a much higher sequential write speed than the latter.
Conclusion
The AORUS RGB M.2 AIC NVMe SSDs are indeed fast. Regardless of the 512GB or 1TB version, they both have read speeds of more than 3400MB/s. Even though the 512GB version was only able to reach a sequential write speed of 2100MB/s, it is also considered as much higher than the average when compared to other products in the market. Moreover, its random read/write scores are also very decent as well.
We were simply amazed with the fact that such a SSD could reach speed reaching near the theoretical bandwidth of the PCIe 3.0 x4 interface. If you are looking for a AIC SSD that has got both the looks and the performance, the AORUS RGB M.2 AIC NVMe SSD could be a great choice to consider.