When we talk about graphics cards and PC gaming components, many enthusiasts will be reminded of the Republic of Gamers product lineup from ASUS. ROG products have well-served gamers for many years, and we have come to know the brand for its performance and reliability. In this review, we are going to take a look at the ROG STRIX GAMING RTX 2060 OC graphics card, and find out what kind of value it offers.
The ROG STRIX Gaming series of graphics card is considered a high-end product from ASUS. They are usually factory overclocked to provide performance that is better than reference design cards. The defining feature of the ROG STRIX Gaming series is its striking looks of its heat sink and cooler design. This is featured across all RTX series graphics card under the same series.
Specifications
Specifications
ASUS ROG STRIX GAMING RTX 2060 OC
Graphics Processor
GeForce RTX 2060
Core Clock
OC Mode –
GPU Clock: 1860 MHz/ 1395 MHzGaming Mode (Default) –
GPU Clock: 1830/1365 MHz
CUDA Cores
1920
Memory Clock
14000MHz
Memory Size
6GB
Memory Type
GDDR6
Memory Bus
192 Bit
Card Bus
PCI-E 3.0
Card Size
 30 x 13.2 x 5 cm
Recommended PSU
500W (1 x 8-pin connector)
I/O
2 x Display Port 1.4
2 x HDMI 2.0b

To properly tame the heat coming from the RTX 2060 core, ASUS designed the ROG STRIX GAMING RTX 2060 OC graphics card with three fans. This should be more than sufficient to cool the graphics card. We will take a closer look at the cooling capabilities of this card in our tests later.

The ROG STRIX GAMING RTX 2060 OC graphics card comes with four display outputs. Unlike most brands which only has a single HDMI port, ASUS replaced one of the Display Port with another HDMI port. This gives the card a total of 2 x Display Port and 2 x HDMI port in total.
Another interesting thing to note is the height of the graphics card shroud. It extends slightly more than its given two-slots design. If you are planning to have multiple graphics card installed side by side within your system, you may find some clearance issues in your case.

The ROG STRIX GAMING RTX 2060 OC graphics card is powered by a single 6-pin and 8-pin power connector.
Aesthetics, Features and Design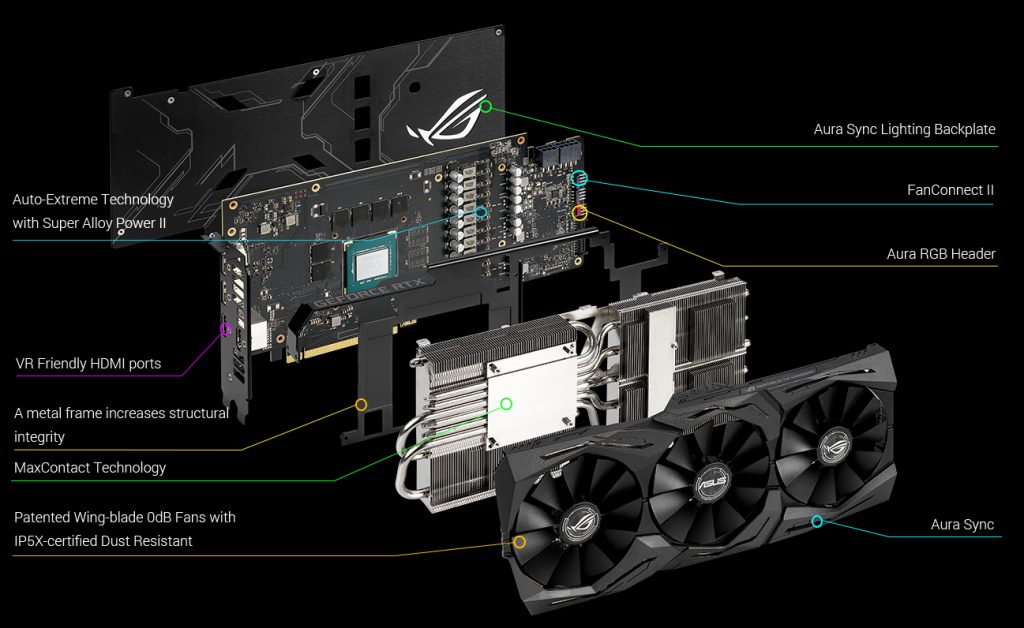 ASUS placed careful thought into creating a proper cooling system for the ROG STRIX GAMING RTX 2060 OC graphics card. While it has to be effective, ASUS also has to take care of the card's aesthetics as well. This is why, the layered approach in their design of the graphics card allows it to have the best of both worlds, where the outer layers can take care of the aesthetics, and the inner layers focuses on the cooling features.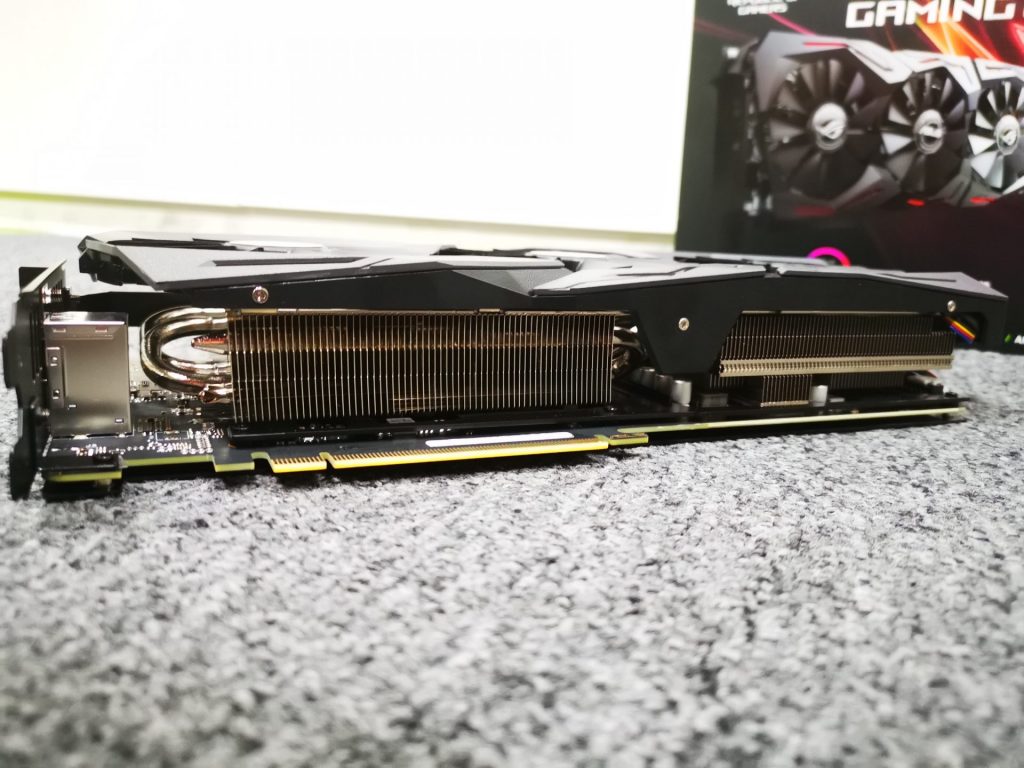 Here, we can also how well-built the heatsink is on the graphics card. The main GPU's heat is dissipated away from the core and spread out with the thin fins, which are connected together through heatpipe.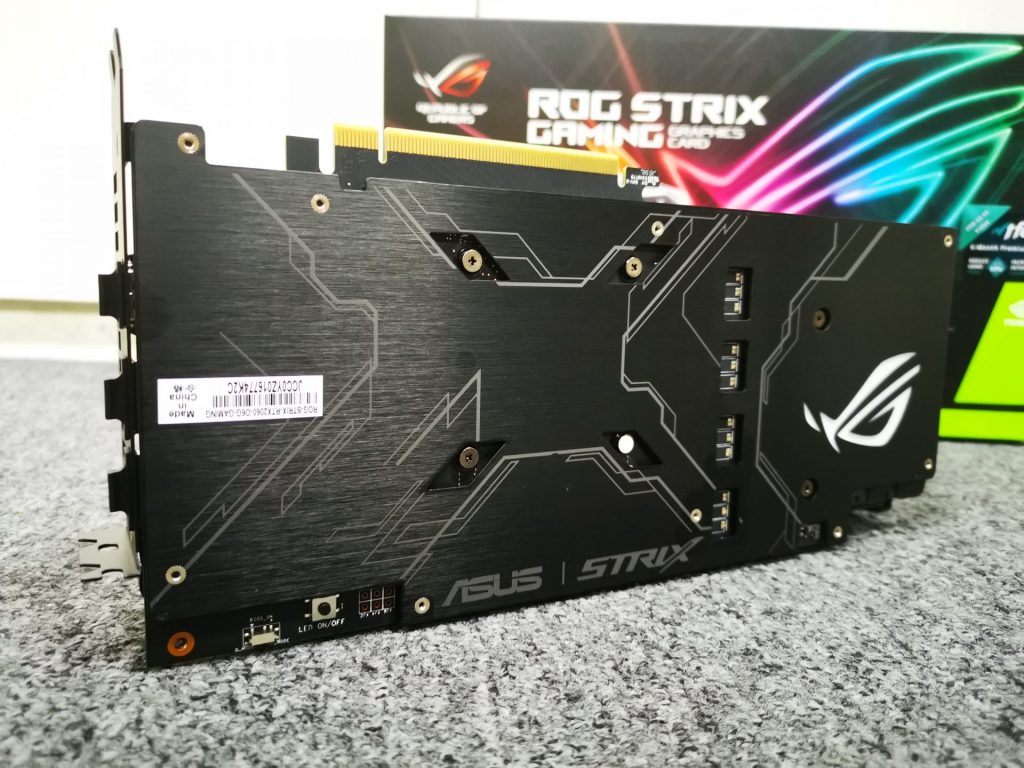 The rear of the card is also backed by a strong metallic back-plate. This not only helps its overall durability by preventing the card from being bent, thus causing damage to the components. Moreover, it also aids in cooling the components on the back as well.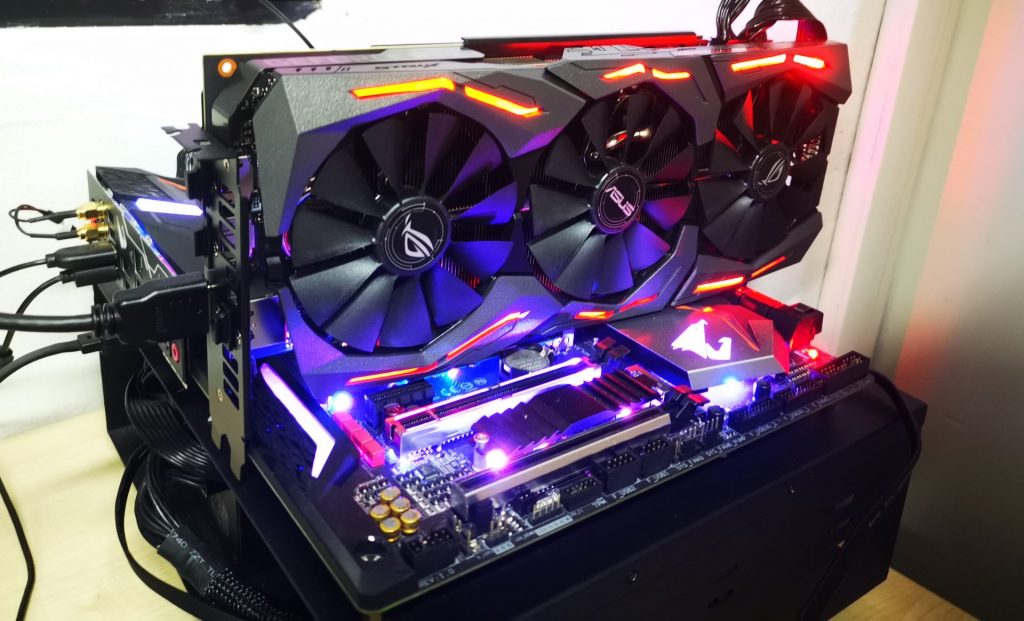 Of course, the ROG STRIX GAMING RTX 2060 OC graphics card also comes with its fair share of RGB lighting. We can see that ASUS integrated the lights nicely onto the sides of the graphics card. We thought that this accented design is nice to showcase the beauty of the card, rather than overpowering.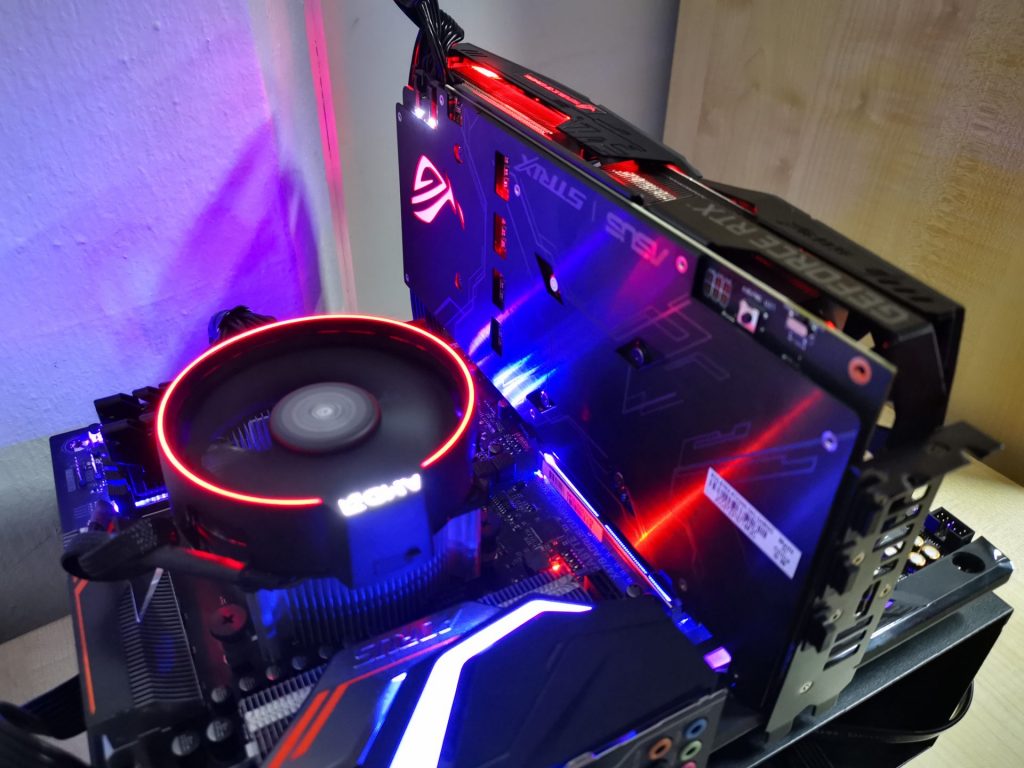 The ROG logo at the back of the card also lights up in RGB. It will be quite cool looking if the card is placed in a case with a side window.
Software
One of the best advantages of purchasing a ASUS graphics card is that the software works very well with the card. The ASUS GPU Tweak II software reached a certain maturity level, and functions very well to monitor the graphics card and its core vitals. If you are a more advanced user, you can also use the same tool to over clock your graphics card.

Built into GPUTweak is the GPU-Z software which reports the core specifications of the graphics card.

Testing Methodologies and Setup
We will run this system on our usual test bench and find out how it performs when compared to a non-RTX GTX 1660 Graphics card. Being a couple of hundred dollars more than the GTX 1660, we should expect that the RTX 2060 should be able to perform much better. Also, its RTX features should also give it an advantage in games which uses the new Ray-Tracing technologies.
The objective of the test is to find out if the RTX 2060 is fully capable of running games at 1080p resolution on High settings. Moreover, we will also test the card at 1440p resolution to find out if it is able to achieve good enough frame rates at a higher resolution.
Do take note that by no means we are comparing the RTX 2060 to the GTX 1660. These two graphics cards are marketed for different segments, and are two very different products. We are simply putting their scores side by side to understand how much more performance you can achieve if you were to pay more on a higher end RTX 2060 graphics card.

Specs
Main System
CPU
AMD Ryzen 7 2700
RAM
G.Skill 3200MHz, 2 x 8GB DDR4 Kit
Main Storage
Plextor M8V M.2 SATA SSD 256GB
GPU
ASUS ROG STRIX GAMING RTX 2060
Gigabyte GeForce GTX 1660 Gaming OC
Motherboard
Gigabyte X470 AORUS GAMING 7
CPU Cooler
AMD Wraith Spire Cooler
OS
Windows 10 Pro 64 bit
Drivers
NVIDIA 419.67
The game settings and resolutions used in our tests are as follows.
| | | |
| --- | --- | --- |
| Game | Resolution | Settings |
| Far Cry New Dawn | 1080p, 1440p | High Settings |
| Deus Ex : Mankind Divided | 1080p, 1440p | High Settings, DX12 |
| Total War : Warhammer 2 (Battle) | 1080p, 1440p | High Settings, DX11 |
| Tom Clancy : The Division | 1080p, 1440p | High Settings, DX12 |
| Assassins Creed Odyssey | 1080p, 1440p | High Settings |
| DOTA 2 | 1080p, 1440p | As per Benchmark Guide |
| Final Fantasy XV | 1080p, 1440p | High Settings |
| World of Tanks Encore | 1080p, 1440p | Ultra Settings |
| Rise of the Tomb Raider | 1080p, 1440p | High Settings, DX12 |
| Shadow of the Tomb Raider | 1080p, 1440p | High Settings, DX12 |
| Middle Earth : Shadow of Mordor | 1080p, 1440p | High Settings |
Performance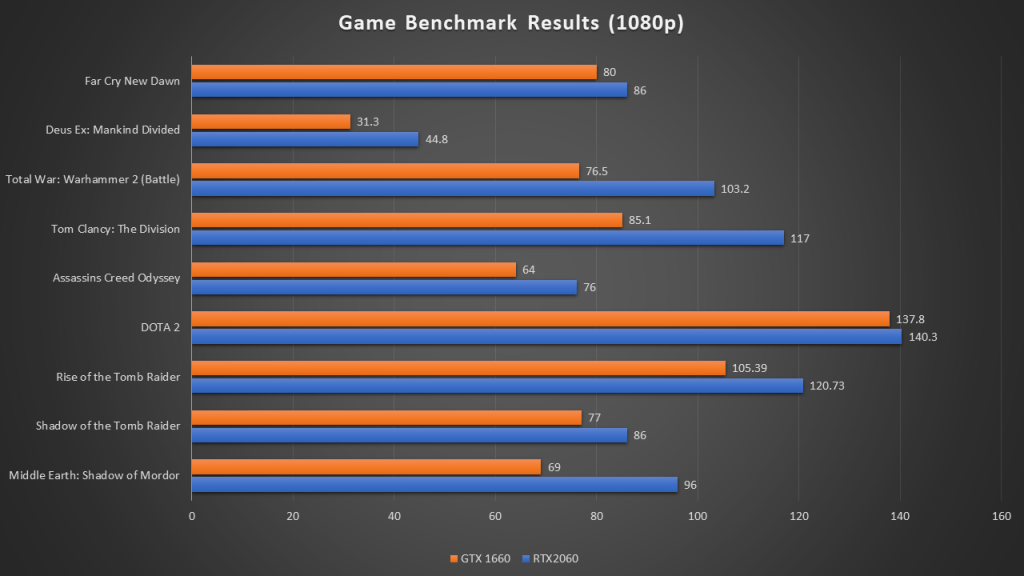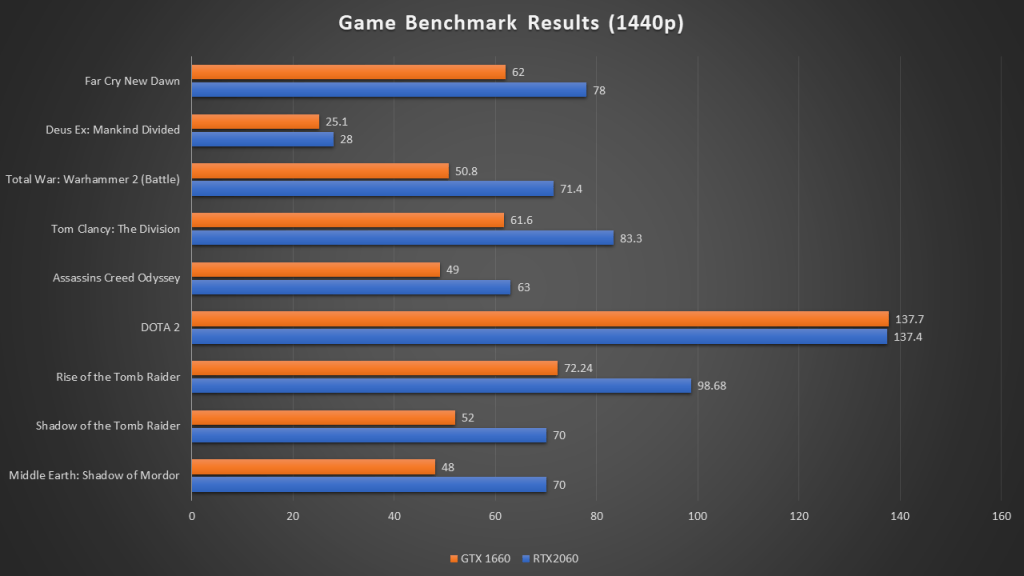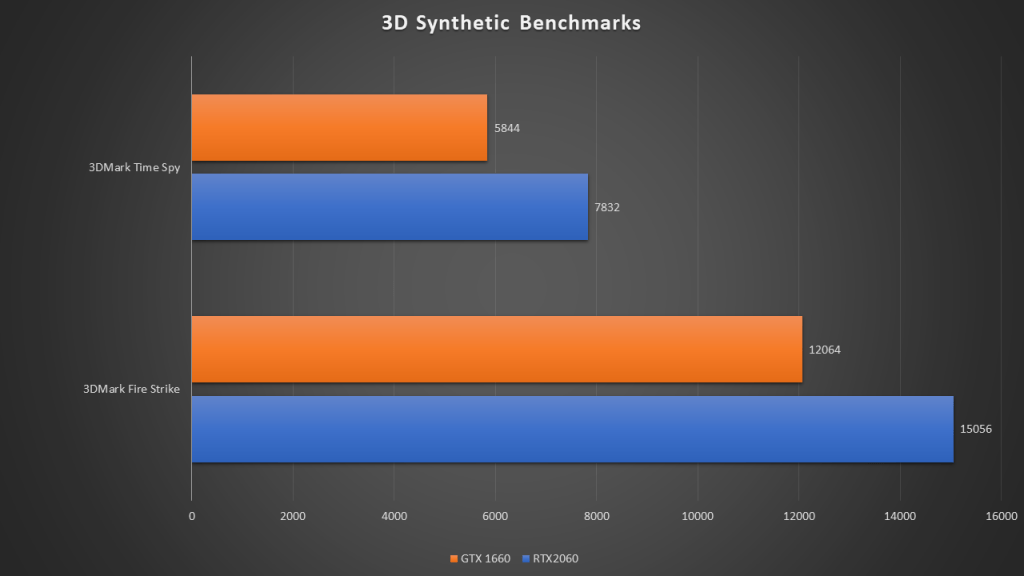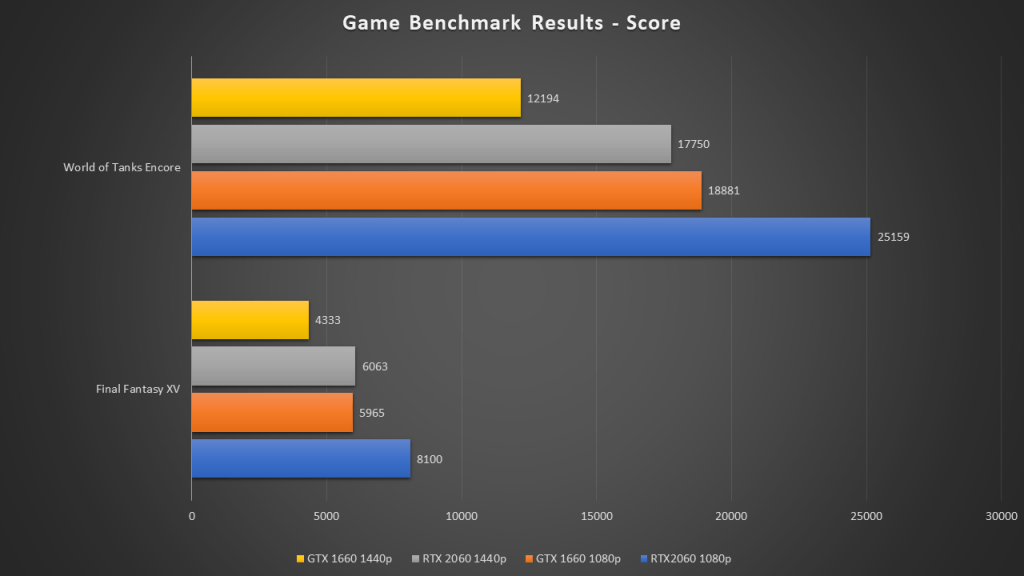 It is obvious that the ROG STRIX GAMING RTX 2060 OC graphics card was able to outperform the GTX 1660 in all the games. However, we can see that the graphics card used for games that are less graphics intensive does not seem to matter, as they produced similar results. This is shown in the DOTA 2 test.
The ROG STRIX GAMING RTX 2060 OC graphics card performed expectedly better than, as it was found to work very well with games in 1440p resolution. Most of the times, the framerate at 1440p on the RTX 2060 was above the 60FPS threshold, even when our tests were at high settings. This showed us the true prowess of the RTX 2060, being able to deal with games at higher resolutions.
Overclocking with OC Scanner
ASUS also made it extremely simple to overclock the ROG STRIX GAMING RTX 2060 OC graphics card. In the GPUTweak II software, there is an OC Scanner software which automatically determines the overclockability of the graphics card. You simply have to kick start the scanning process, and then once the scan is done, you can simply apply a new overclocking profile that is customized to your graphics card. This time, the software increased the GPU Core by 100MHz.

Of course, the increase in core clock also showed an improvement to performance. By simply running the software and having no prior knowledge in overclocking, ASUS has given users more performance with the same price paid for their graphics card!
Furthermore, more advanced users can push the ROG STRIX GAMING RTX 2060 OC graphics card even further to achieve every higher core clock and memory clock for better performance.
Temperatures and Power Consumption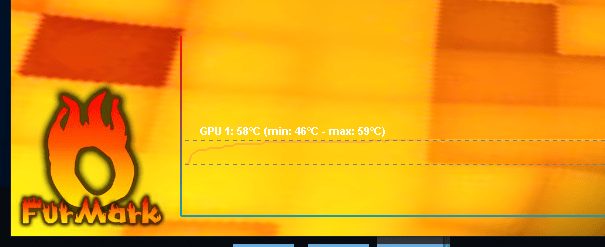 Moving on to power consumption, we found that the ROG STRIX GAMING RTX 2060 OC graphics card had the whole computer system idle at about 50W. When we ran FurMark stress test on the GPU, the power consumption went up to 205W. As for temperatures, the card idled at about 46°C. This temperature rose to a maximum of 59°C when stressed on FurMark.
The load temperature of the ROG STRIX GAMING RTX 2060 OC graphics card shown us that the thermal designs on the graphics card performed extremely well. In fact, there is a lot more potential for the graphics card to be further overclocked to reach even better performance!
Conclusion
Based on our tests, you should have a much better understanding of the performance level of the ROG STRIX GAMING RTX 2060 OC graphics card. If you have just changed to a new gaming monitor with 1440p resolution, the RTX 2060 graphics card could be your best bet now in the market. Specifically, for the ROG STRIX GAMING series, ASUS managed to reiterated their focus on performance, aesthetics and thermal capabilities. We are sure that this graphics card will be worth the extra dollars (when compared to other brands), because we know that we are truly purchasing a premium product.