While Gigabyte has been expanding their product range aggressively for the past year, they have never failed to include RGB lighting features in every single one of them. The newly launched AORUS M.2 NVMe SSD has also gotten the same treatment. Interestingly, this new M.2 SSD actually supports RGB lighting without any external cables powering it. There is a certain degree of innovation in this new design, that sets this SSD apart from competition in the market. In fact, it could be the first time that we are seeing a M.2 SSD with RGB lights built-in!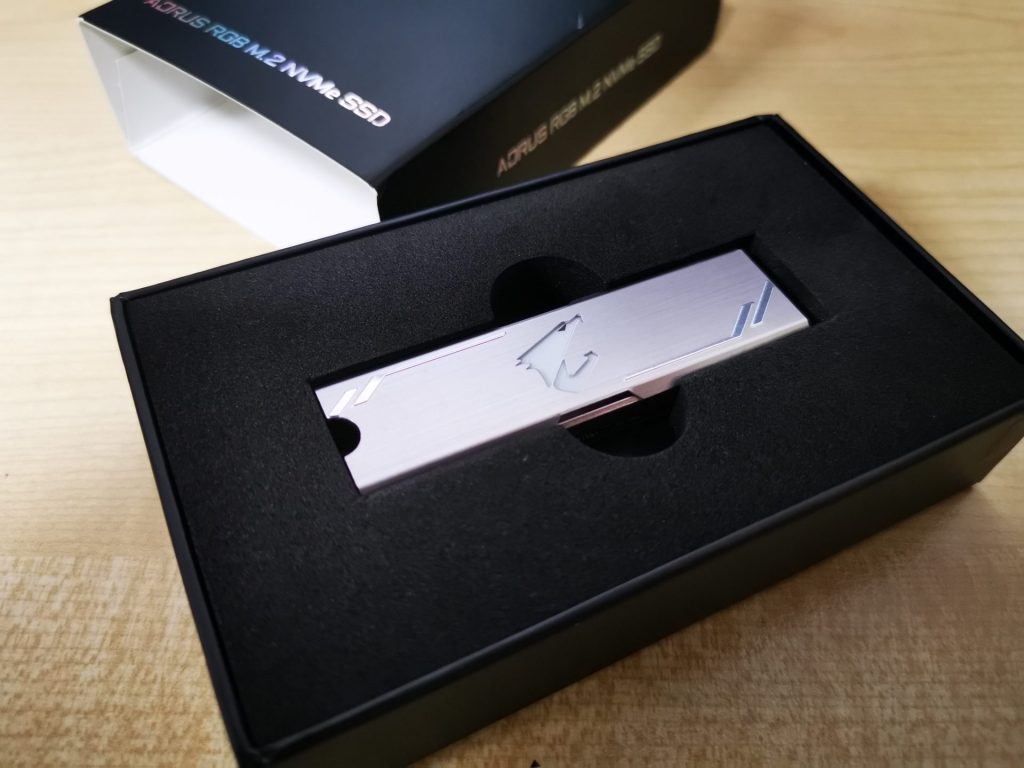 The AORUS RGB M.2 NVMe SSD comes either 256GB or 512GB capacity. For our review, we managed to get our hands on the 512GB version. This SSD comes in a 2280 form factor, and should fit in most of today's motherboard. However, you must make sure that the M.2 slot that you are using has enough bandwidth to fully support this SSD, as it is expected to run at very high speeds. The M.2 slot should be backed by PCI-e 3.0 x4 in order to fully consume the full performance of the AORUS RGB M.2 NVMe SSD.
Hardware and Design
In order to reach the best possible performance, Gigabyte went ahead to design the AORUS RGB M.2 NVMe SSD with the Phison E12 controller. They have also used the Toshiba 64-layer 3D TLC NAND flash for this SSD, which is fairly commonly used to be paired with the Phison E12. There is also a single 512MB SK Hynix DDR4 DRAM that is used as a fast cache for the SSD.
The good things about the AORUS RGB M.2 NVMe SSD is that the SSD comes with a built-in heatsink. With such a design, you would have one less thing to worry about – SSD performance throttling due to overheating. However, this also means that the SSD is made for desktop computers, as this SSD probably won't fit in your laptop without removing the heatsink. Moreover, there could be a need to remove your motherboard's SSD heatsink in order to fit the AORUS RGB M.2 NVMe SSD in.
While many people may think that the RGB lights comes directly from the heatsink, the RGB LEDs are actually found on the SSD's PCB itself. It shines through the empty spot on the middle of the heatsink in order to illuminate the AORUS logo on the heatsink.
Usage Experience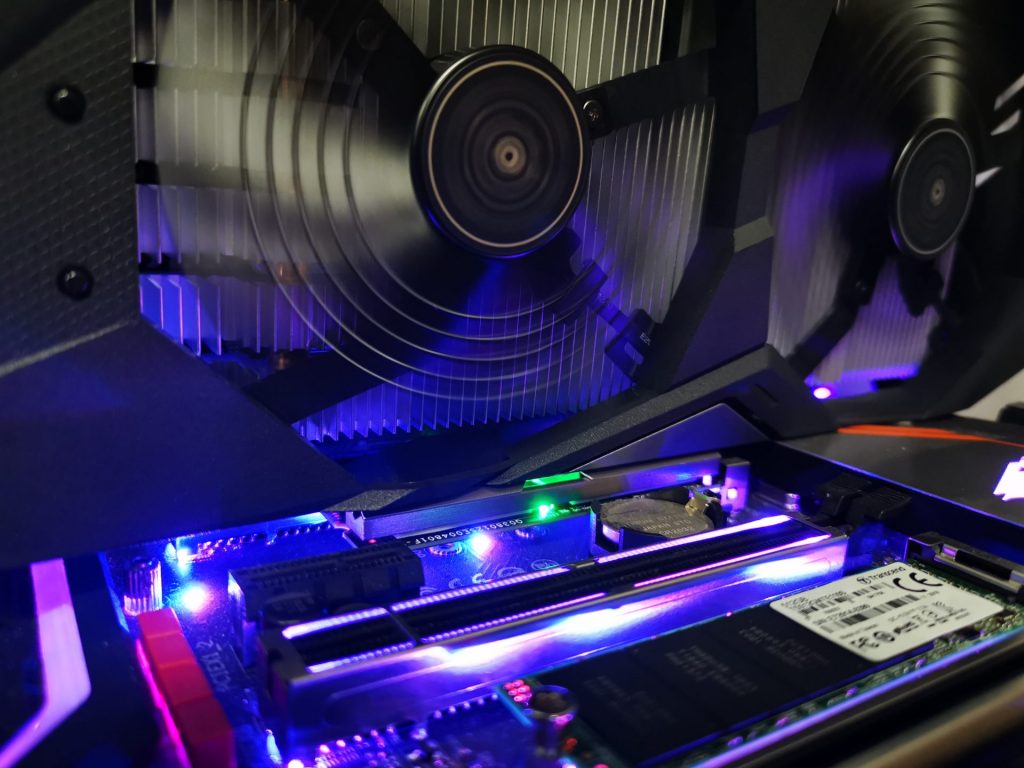 Before we get started with our tests, we have to give an extra caution to users about the AORUS RGB M.2 NVMe SSD. Users seeking to enjoy the RGB lighting must make sure that their high bandwidth M.2 slot (PCI-e 3.0 x4) will not be covered by their graphics card. In our case of the Gigabyte X470 AORUS Gaming 7 Wi-Fi, this slot is directly next to the first PCI-e x16 slot. The graphics card will fully cover the SSD, thus defeating the purpose of having the RGB on the M.2 SSD in the first place.
Initially, we did face some bottlenecking issue as we placed the SSD in a M.2 PCI-e 2.0 x4 slot instead of a PCI-e 3.0 x4 slot. The results below show the performance you can get if you place the SSD in the wrong slot.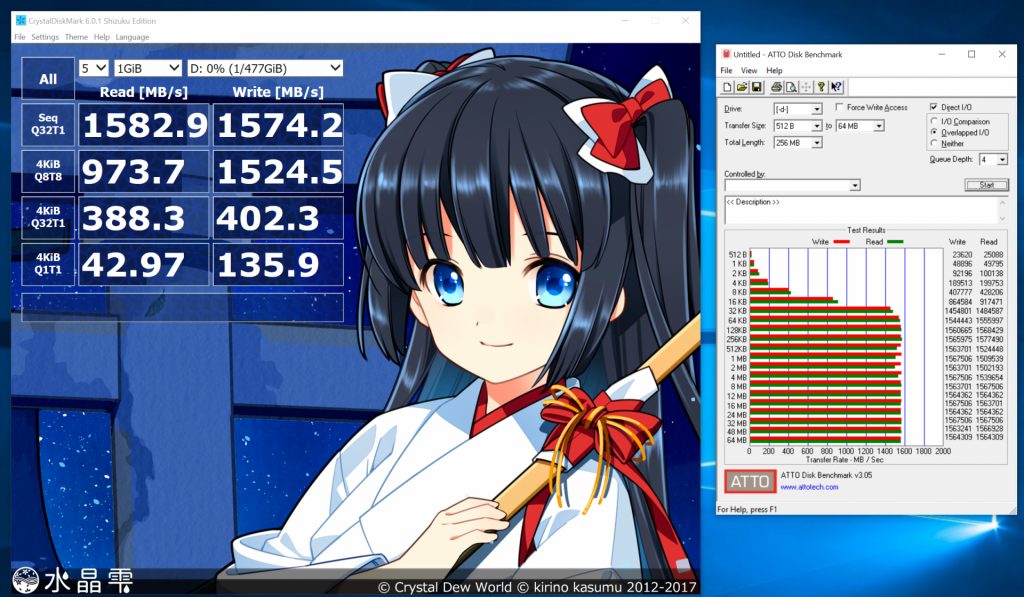 If there's a bottleneck on the interface, you will get speeds of about 1.58GB/s on the SSD with both read and write speeds. Of course, if you have already purchased this SSD, you would want it to run at the full speed!
Test Setup and Results
Specifications
Hardware
CPU
Ryzen 7 2700
RAM
G.SKILL FlareX F4-3200C14-16GFX DDR4 Kit
Storage
Transcend MTE 110S PCIe NVMe SSD (OS)
AORUS RGB M.2 NVMe SSD (For test)
GPU
Gigabyte GTX 1650 Gaming OC
Motherboard
Gigabyte X470 AORUS Gaming 7 Wi-Fi
CPU Cooler
AMD Wraith Stealth Cooler (Stock)
OS
Windows 10 Pro 64 bit
Just based on the raw performance results on we can see that the AORUS RGB M.2 NVMe SSD performed extremely well. Thanks to the high performance Phison E12 controller and fast NAND flash that is cache by the DDR4 RAM, we were able to achieve sequential read speeds of above 3.4GB/s. This is indeed a very high number, and is by far the fastest SSD which we have tested. Its write speed is also not too bad as well, scoring beyond 2GB/s. With these results, we can also see that the SSD performs as advertised. Its random 4K read and write speeds are not too shabby as well.
Supporting Software
There are two utility software that comes with the AORUS RGB M.2 NVMe SSD. Gigabyte has bundled a SSD Tool Box software which helps you to monitor and measure the health of the SSD. This tool also includes features such as Secure Erase.
RGB Fusion 2.0 is the second software that comes with the SSD. This software is used to customize the RGB lightings on the SSD. However, you must have a compatible Gigabyte motherboard to let the software work. We did not manage to get RGB Fusion 2.0 to work even with our Gigabyte X470 Gaming 7 Wi-Fi motherboard. Perhaps, a BIOS update should solve this issue.
Conclusion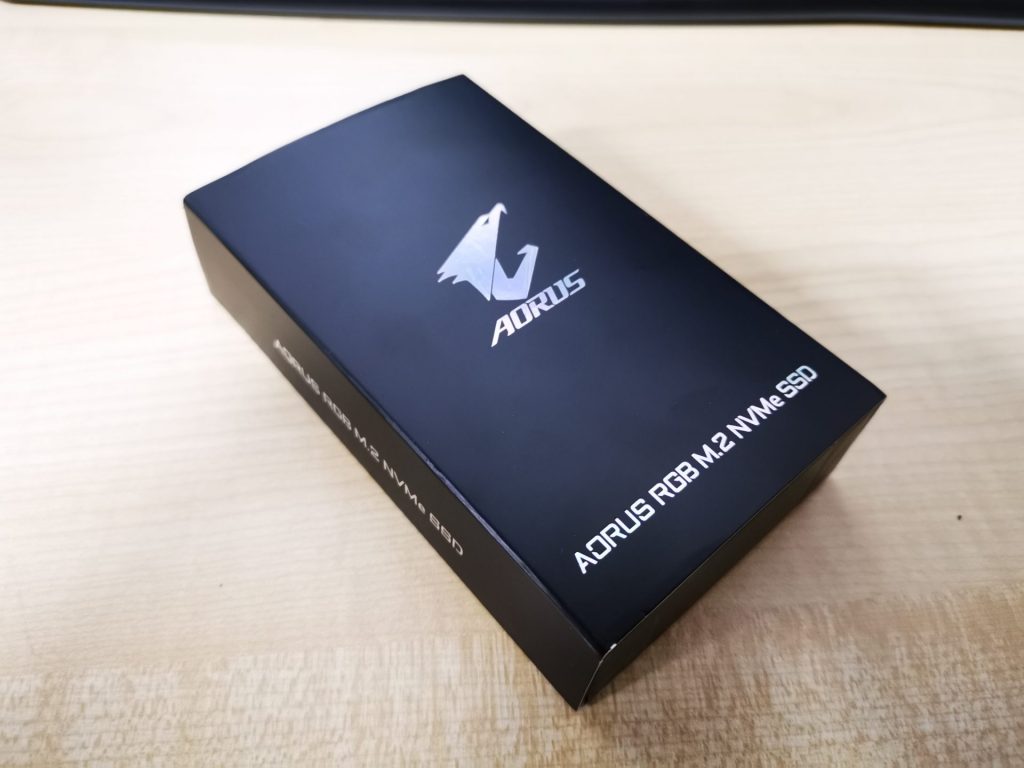 The AORUS RGB M.2 NVMe SSD is probably one of the first M.2 SSD that comes built in with RGB lighting features. Even though the focus is on its RGB lights, it does not fail users when it comes to performance. Based on our test, this SSD performed was able to perform better than most SSDs in the market as well.
If you are already bored of the old SSDs and need some RGB in your computer case, do look out for the AORUS RGB M.2 NVMe SSD. However, you should always check and make sure that it will work out for your system. You should take reference from our problems faced while testing the SSD to determine if this SSD will be a good fit for you.