Equipped with 9th Gen Intel® Core™ i9, First 8 Core Mobile Processor
GIGABYTE's flagship product, the AERO 15, continues to innovate since its' first launch back in 2017. Through technological advances such as the near bezel-less display and X-Rite™ Pantone® calibration, the AERO was praised by the media, winning the number 1 place in the "best light and thin laptop" category (Notebookcheck, 2018). Another announcement this year at CES 2019 came in the form of AI technology, collaboration with Microsoft to create the world's first series of AI powered laptops. Through the implementation of the Microsoft Azure cloud learning platform, AI will learn and automatically adjust the system hardware performance on-the-go, tuning the hardware to balance and optimize performance, managing power, thermals and CPU and GPU loading. This new AI technology has taken the media by surprise across the world.
Today (4/23) GIGABYTE announces the all new "AERO 15 Classic" edition with Intel® Core™ i9 processor. GIGABYTE's Vice President Mr. Steven Chen said: "with the all-new 8 core processor, the AERO 15 is able to breakthrough previous limitations with a performance score boost of up to 25%, furthermore, increasing image processing speed and efficiency. By taking the simplicity and clean cut design cue of the chassis, we decided to call it the "AERO 15 Classic" to redefine the original thin and light performance laptop".
First 8 Core Mobile Processor | Intel® Core™ i9-9980HK
This time, the "AERO 15 Classic's" main highlight is incorporating the latest 9th Gen processors, the Intel® Core™ i9-9980HK and the Intel® Core™ i7-9750H. The main attraction is the Intel® Core™ i9-9980HK, the first 8 core processor capable of outputting up to 5.0GHz clock speed, meaning a 25% performance score increase compared to the previous generation of processor. The performance boost also shortens image processing time by up-to 10%. Processor aside, GIGABYTE also partners with the tech giant-Intel®, to offer the "All Intel Inside" concept, with additional key components supplied by Intel®, all contributing to create the most reliable and smoothest laptop experience possible. These parts include Intel® 760p SSD, Thunderbolt™ 3 port and Intel® based Killer™ 1550 Wi-Fi adapter. However, the concept doesn't stop there, GIGABYTE expands its partnerships with a variety of world renowned brands including Sharp for its' IGZO 240Hz panel, LG for 144HZ FHD panels, Samsung® for memory modules, Killer™ Wi-Fi chip, X-Rite™ Pantone®, Nahimic™ 3 sound technology. All these refined parts defiantly make the "AERO 15 Classic" both a "premium" and "luxury" laptop.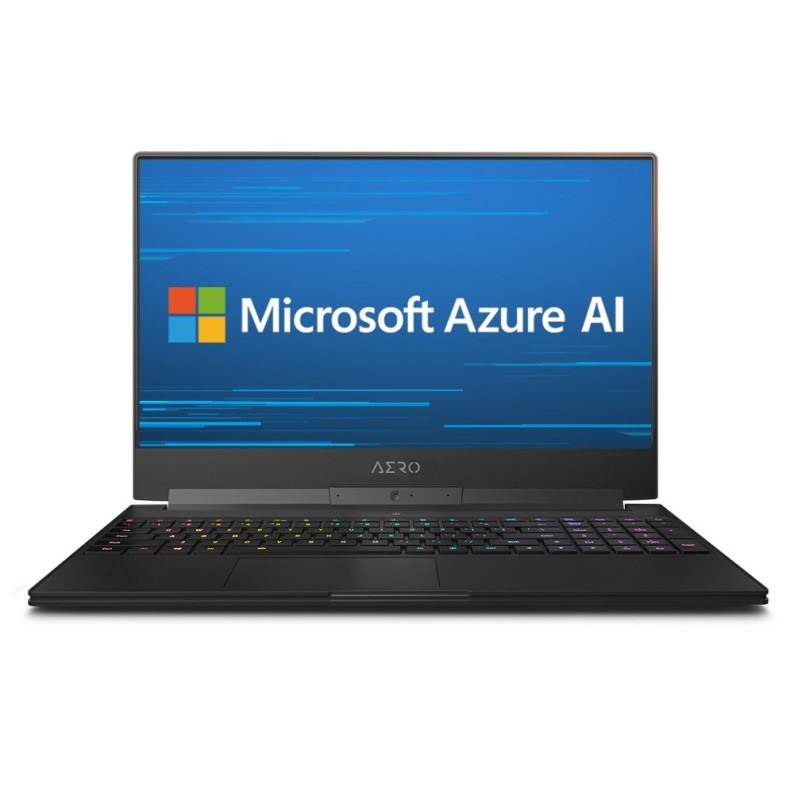 Microsoft Azure AI | Automatic Profile Management for Relaxed Gaming
Microsoft and GIGABYTE worked together to create the world's first AI (Artificial Intelligence) thin and light high-performance laptop series. The core system passes through the Microsoft Azure platform learning machine to determine what program patterns users have, and determines the best central Processor (CPU) and graphics processor (GPU) wattage and fan control. These automatic AI tuning assist the user experiencing the best possible laptop performance without monitoring or tweaking anything themselves, creating a true combination between AI and performance laptops.
Next-Gen Gaming GPU | NVIDIA® GeForce® RTX™ X 240Hz Ultra-Fast Display
The AERO 15 Classic comes with the latest GeForce RTX 20-series GPUs, supporting real-time ray tracing, deep learning technology (DLSS) and NVIDIA Adaptive Shading® (NAS) adaptive shading. In addition to Max-Q design, offering high performance with balanced power usage and temperature readings. Such powerful graphics can only be appreciated with a quality display such as the Sharp IGZO display panel, with extreme 240Hz refresh rate bringing out the smoothest media/gaming experience one can own.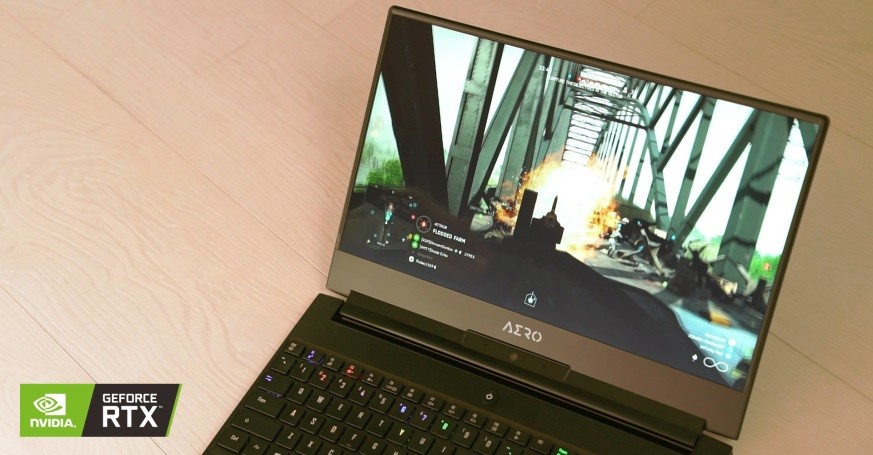 Model
AERO 15 CLASSIC-YA
AERO 15 CLASSIC-XA
AERO 15 CLASSIC-WA
AERO 15 CLASSIC-SA
OS
Windows 10 Pro/Windows 10 Pro High End
CPU
Intel® Core™ i9-9980HK

Intel® Core™ i7-9750H

Intel® Core™ i7-9750H
Intel® Core™ i7-9750H
Intel® Core™ i7-9750H
Display

Sharp 240Hz FHD IGZO

AUO UHD

Sharp 240Hz FHD IGZO

AUO UHD

LG 144Hz FHD IPS

AUO UHD

LG 144Hz FHD IPS
X-Rite™ Pantone® Certified, individually factory calibrated
System Memory
Samsung® 8GB/16GB/32GB DDR4 2666MHz, 2Slots (Max 64GB)
Video Graphics
NVIDIA GeForce

RTX 2080

GDDR6 8GB

NVIDIA GeForce

RTX 2070

GDDR6 8GB

NVIDIA GeForce

RTX 2060

GDDR6 GB

NVIDIA GeForce

GTX 1660 Ti

GDDR6 6GB

Supports NVIDIA® Optimus™ Technology
Storage
2x M.2 SSD slots (Type 2280,  supports 1x NVMe PCIe & SATA/ 1x NVMe PCIe)
I/O Port
2x USB 3.1 Gen1 (Type-A)
1x USB 3.1 Gen2 (Type-A)
1x Thunderbolt™ 3 (Type-C)
1x HDMI 2.0

1x DP 1.4 & USB3.1 (Type-C)

1x 3.5mm Audio Combo Jack

1x SD Card Reader

1x DC-in Jack

1x RJ-45

Audio
Nahimic 3
Communications
Killer™ Doubleshot Pro LAN / Killer Wireless-AC 1550 (Powered by intel)
Adapter
230W
Battery
Li Polymer 94.24Wh
Dimensions
356.4(W) x 250(D) x 18.9(H) mm
Weight
~2.0 kg (With battery, M.2 SSD)
* Product specifications may differ from country to country.