Call made with OPPO 5G test devices on Singtel and Optus networks
Singapore, 22 February 2019 – Singtel, Optus and Ericsson have successfully made an end-to-end 5G video call with Augmented Reality (AR) between Singapore and Australia.
Made with OPPO 5G test devices equipped with Qualcomm® Snapdragon™ X50 5G modems on 3GPP-compliant 5G networks in both countries, this call marks the latest 5G highlight for Singtel, Optus, Ericsson and OPPO.
Singtel and Optus engineers demonstrated the use of AR on a real-time 5G video call using Ericsson's networks, making instant on-screen annotations to exchange views on their respective live 5G sites.  AR provides users with a more inclusive form of communication, opening up new possibilities for enterprises, ranging from mobile collaboration between experts in different locations, on-the-job training to remote assistance. Examples of consumer use cases will include immersive gaming, virtual tactile shopping and holographic calls.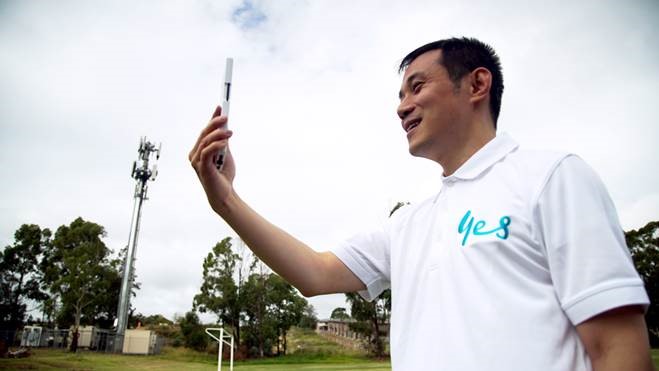 Mr Allen Lew, CEO, Optus said, "Once again Optus has proven our 5G agility, working collaboratively with our colleagues in Singapore to successfully land a ground-breaking 5G inter-country AR video call. Just last month we achieved another first, with the launch of our plans for our 5G Home Broadband product for Australian consumers and today's announcement is another step in our commitment to lead 5G delivery in Australia."
Mr Mark Chong, Group Chief Technology Officer, Singtel, said: "This call is a significant marker in our journey to 5G as we develop a robust 5G ecosystem to ensure that our enterprise and consumer customers will enjoy an enhanced connectivity experience. 5G is a key enabler that will bring the future of AR, Autonomous Vehicles and Smart Cities closer to reality."
Mr Martin Wiktorin, Country Head, Singapore, Brunei and the Philippines, Ericsson added: "The success of this video call using 5G test devices and AR in a multi-party environment, brings us a step closer to having our mobile broadband experience transformed with a mere click. With the establishment of 5G connectivity on smartphones soon becoming a reality, consumers and enterprises will be able to unleash the full potential of 5G by integrating this new technology into their daily lives and operations."
Mr Peter Huang, President of OPPO APAC added: "Once again, OPPO has pushed the boundaries of what is possible in a smartphone. The call is another 5G first for OPPO, and demonstrates our commitment to become one of, if not the first manufacturer to commercialise a 5G smartphone. We've been preparing for 5G technology for a number of years and have committed RMB10 billion this year alone in R&D investment as we usher in our 5G future. We're excited about what the next evolution of the mobile network will bring."
According to Ericsson's "Towards a 5G consumer future – Consumer and Industry Insight report 2018", the idea of 5G services appeals to 76 per cent of smartphone users consulted for the survey. In fact, over one-third of users expect 5G to offer capabilities beyond speed and network coverage. This refers to improvements such as better battery life for devices, reliability, guaranteed quality of service as well as the ability to extend connectivity beyond devices to include the Internet of Things.
In Singapore, Singtel and Ericsson have achieved significant milestones in building a robust 5G ecosystem, including the launch of the 5G Centre of Excellence programme in October 2017, the first data call over a 3GPP compliant 5G network in one-north in November 2018, as well as the recent opening of the first live 5G facility – the 5G Garage – in partnership with Singapore Polytechnic. Conceptualised as a training centre, test bed and ideation lab, the 5G Garage will drive the adoption of 5G by enterprises in their digital transformations.
In Australia, Optus and Ericsson are partnering to build 50 new network sites and conduct critical interoperability device testing. This will allow Optus to deliver a compatible 5G home broadband product to customers.