Jan 24, 2019, Taipei, Taiwan – BIOSTAR, a leading manufacturer of motherboards, graphics cards, and storage devices, introduces a solution for edge computing, the BIOSTAR A10N-8800E system-on-chip (SoC) mini-ITX motherboard, for faster data access and computing over traditional cloud solutions. The BIOSTAR A10N-8800E integrates the AMD FX-8800P processor, typically found in AMD mobile computing, for superb processing performance and power efficiency. Even with a mini-ITX form factor, it includes features such as dual channel DDR 4 2133 support, USB3.1 Gen. 1, PCI-e M.2 16Gb/s and HDMI output. The BIOSTAR A10N-8800E is an excellent motherboard for edge computing applications for home, office or online gaming.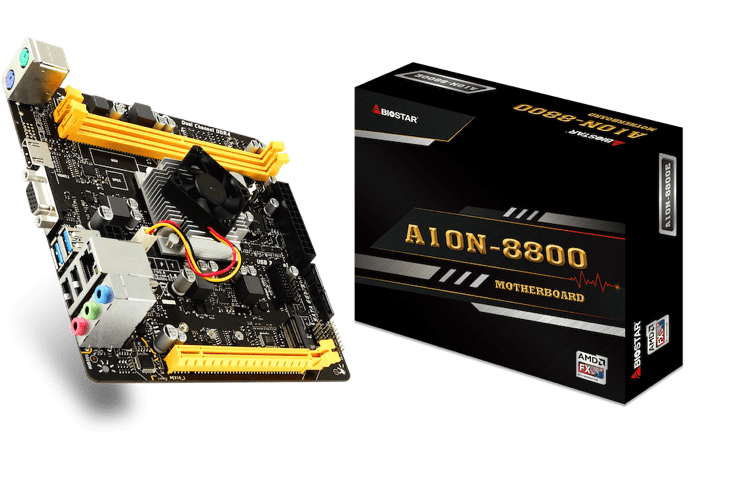 AMD A10N-8800E SoC Motherboard with Essential Features
The BIOSTAR A10N-8800E integrates the AMD FX-8800P processor with heatsink and the AMD Radeon™ R7 graphics onto the mini-ITX motherboard to take full advantage of mobile performance and power efficient technology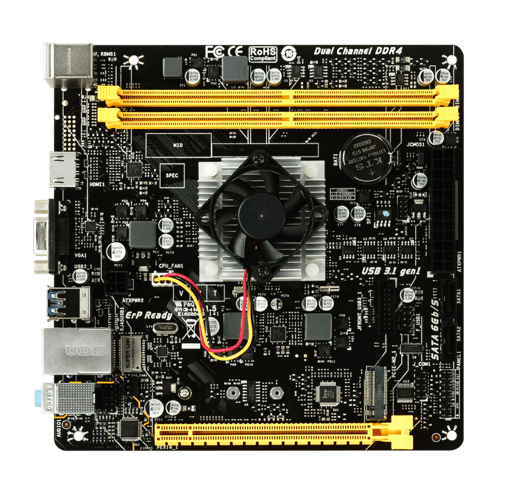 SoC with AMD Carrizo chipset
AMD FX-8800P quad-core processor running up to 3.4GHz
AMD Radeon™ R7 graphics for superb on board graphics
Super Fast Connections – USB 3.1 Gen 1, SATA3, PCI-e M.2
USB 3.1 Gen 1 transfers data up to 5Gbps for faster transfer speeds.
SATA 3 6Gb/s provides a higher bandwidth to retrieve and transfer HD media. With this super speed data transfer, SATA 3 allows an incredible data boost which is 2x faster.
PCI-e M.2 16Gb/s is the latest storage interface, it delivers higher bandwidth and lower latency. It is 1.6 times faster compared with PCI-e M.2 10Gb/s.
HD Audio
Realtek ALC887 7.1-Channel HD Audio ensures high-definition audio with minimal loss of audio fidelity.
HDMI 4K2K
4K2K resolution enables 4X better high-definition image display. The resolution of full HD 4K2K display is highly detailed content that fills the entire screen with life like images.
DirectX 12 takes our gaming to the next level by maximizing the graphics potential of your computer.
Integrated HDMI to output HD resolution graphics
Protection+: Super Anti-Surge Protection, ESD Protection, OV/OT Protection
Exclusive Anti-Surge protection provides better protection and extends product life.
ESD to protect the motherboard from electrical overstress
Full protective features against current overvoltage, overload and over temperature.
Super LAN Surge Protection
Provides 4X more advanced antistatic protection capabilities than the competition by adding an integrated chip to strengthen electrical stability and prevent damage from lightning strikes and electrical surges.
Easy Setup and Maintain
Header Zone allows users to easily set up or upgrade components.
Diver UI for self-intuitive graphic interface to set up drivers
UEFI BIOS to go through BIOS setting quickly

Rear I/O Ports
The BIOSTAR A10N-8800E rear I/O ports include: 1 x PS/2 Mouse, 1 x PS/2 keyboard, 2 x USB 3.1 Gen1 ports, 2 x USB2.0, 1 x HDMI, 1 x VGA, 1 x LAN port, and 3 x Audio connectors.
The compact size and power efficient design of the BIOSTAR A10N-8800E, enables it to run edge computing applications smoothly for home and family usage. It is also a very capable platform for running office applications, making it an ideal choice for choosing a mini-ITX motherboard.