Simply Shine – An Integrated User Interface For RGB Synchronization.
Taipei, Taiwan, Dec 19th, 2018 – GIGABYTE, a leading manufacturer of motherboards and graphics cards, announced RGB Fusion 2.0, an integrated user interface to sync the LED effects across all supported products.
※  Sync With One Single Click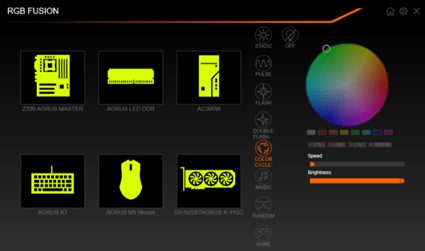 With a brand new UI design, RGB Fusion 2.0 provides a convenient way for RGB synchronization. There are various lighting modes you can select from, including Static mode, Single Flash, Double Flash, Random Flash, Color Cycle, Game mode and Music mode. You can simply sync the RGB effects with just a single click. Furthermore, RGB Fusion 2.0 offers an advanced control mode for you to setup the RGB effects for each product individually and show your own personality.
※  Advanced Lighting Control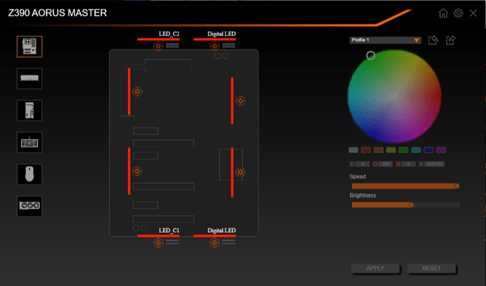 In the advance lighting control mode, you are given maximum capability to personalize your RGB lighting effects. By clicking the product icon on the homepage, you can enter the advance lighting control page. In this page, you are able to customize the lighting effects of your product individually; for instance, you can change your mouse and keyboard to Static mode while the rest of the PC is in Color Cycle mode. In some products, you can even change the settings of each segment of the product. All of these give you the power to change your PC lighting the way you want.
For more details, please visit the official RGB Fusion 2.0 website: