All-Digital Power Design With Advanced Thermal Design For All Cores To Hit 5GHz+
Taipei, Taiwan, October 8th, 2018 – GIGABYTE TECHNOLOGY Co. Ltd, a leading manufacturer of motherboards and graphics cards, has officially launched its Z390 AORUS Gaming motherboards, optimized for users to skyrocket the new 8-core Intel® Core™ i9-9900K processors to 5GHz+ across all cores via overclocking. With a 12 phase digital VRM design and robust heat dissipation, the latest iteration of AORUS Gaming motherboards offers exceptional power and temperature management for maximizing the performance and overclocking potential of these new processors. While the Z390 AORUS Gaming motherboards easily fulfill the criteria for a gaming motherboard, the flagship Z390 AORUS Master brings to the lineup highly sought-after features such as Triple M.2 Thermal Guard for its PCIe Gen3 x4 NVMe M.2 slots, superb audio configuration, and feature-rich I/O interface, rounding out a versatile package of excellent system performance, power management, heat dissipation, and audio quality for the ultimate user experience.
All new 8-Core Intel® Core™ i9-9900K processors are built on 14nm technology and support LGA 1151 sockets. BIOS on GIGABYTE Z/H/B 300 series motherboards have already been updated for full compatibility with the new CPUs. To ensure the power demands for overclocking to 5GHz+ across all cores are accounted for, select GIGABYTE Z390 AORUS Motherboards utilize a 12 phase digital power design paired with a PowIRstage controller or DrMOS module with MOSFETS for balanced power management.
Z390 AORUS MASTER adopts an all-digital IR power design and uses solid pin power connectors along with other high quality materials for stable power supply. Excess heat from high-speed operation or overclocking is also kept in check by the power design to prevent overheating from degrading processor performance.
Fins-Array Technology makes its much anticipated return to select GIGABYTE Z390 AORUS motherboards with its highly acclaimed stacked fin design. With three times the surface area compared to traditional heatsinks, the stacked fins heatsink vastly ramps up heat dissipation efficacy and provides ideal cooling for the VRM while adding extra style points to the board's aesthetics with its aluminum heatsinks. Direct Touch heatpipe speeds up heat transfer from the VRM to the heatsink, lowering temperatures significantly and improving heat dispersion by a massive 30%. The thermal pad on Z390 AORUS motherboards is also thickened to 1.5mm to improve the contact between the VRM and its heatsinks, allowing for superior heat transfer. GIGABYTE Z390 AORUS motherboards comes with a larger power supply area on the base of its 2x Copper PCBs design, which doubles the power and ground layers of the motherboards to make way for better and more successful overclocking.
The backplate design on the Z390 AORUS Master fortifies the structural integrity of the PCB and also quickly disperses excess heat from the components on the backside of the PCB to mitigate overheating from system overloading. Stylish yet practical, the integrated I/O shield is easy to install and provides superior protection to rear panel features such as the USB 3.1 Gen2, network connectivity ports, audio jacks, and other expansion ports. Troubleshooting is also straightforward for users as the board's power, restart, reset BIOS (Clear CMOS), and other buttons allows them to do so without breaking a sweat.
Select Z390 AORUS motherboards come with built-in Intel® i219v Ethernet and cFosSpeed network traffic management, improving network bandwidth utilization. Together with Intel® CNVi 802.11ac 160MHz 2×2 high speed WIFI, gamers can enjoy the fastest connection speeds with the flexibility of both Ethernet and WIFI, for the most stable and fastest network connectivity.
Audio quality on motherboards is another aspect that users value greatly so the GIGABYTE Z390 AORUS Master comes through with the ALC1220-VB audio engine and pairs it with WIMA FKP2 and Nichicon Fine Gold studio grade audio capacitors to bring professional recording studio audio quality to the PC. Audiophiles should be familiar with ESS SABRE DAC, commonly found in professional audio equipment, which is integrated in the board's audio configuration. Through the GIGABYTE exclusive design, users can enjoy immersive, professional quality sound when gaming or watching multimedia, for a high-fidelity audio experience.
GIGABYTE Z390 AORUS Gaming motherboards support the lighting brilliance of RGB Fusion Technology. While RGB Fusion Technology brings back the features that users enjoyed with previous generation motherboards, users will be able to enjoy a newer, improved version of this lighting technology and its support for digital LEDs and lighting strips. Taking user feedback into consideration, GIGABYTE has implemented new lighting patterns that glow from the back side of the PCB for a more understated and mellow look that exudes elegance. RGB Fusion App software provides users with a great deal of customizability, allowing them to control an assortment of lighting patterns on RGB ready motherboards, peripherals, and fan favorite products such as the AORUS RGB Memory Kit which provides users with two RGB memory modules and two more RGB infused modules. Users can indulge in the smoothest lighting synchronization effects with their personalized lighting configuration.
GIGABYTE exclusive Smart Fan 5 Technology with Fan Stop not only provides the best support for liquid cooling setups but is the cooling solution of choice for the powerful 8-core Intel® Core™ i9-9900K processors. Fan Stop technology enables users to configure the fans to stop when the system drops below selected temperature thresholds, saving energy and reducing unwanted fan noise while also restarting the fans when necessary, to offer that perfect balance between quiet and cool. Smart Fan 5 supports multiple temperature sensors which keeps users informed with the most up-to-date cooling information so they don't need to worry about stagnant water flow or poor heat dissipation. The all new Smart Fan 5 uses all hybrid fan connectors with a high current powered fan connector that allows users to configure their systems to automatically detect cooling issues regardless of what fan header or liquid cooling the user is using, giving users full system control and an easy-to-use cooling solution. The upgraded Smart Fan 5 intelligent fan control monitors GPU temperatures for users to keep track of in-game, preventing FPS drops due to GPU overheating during an intense combat situation in-game.
The quick charge function on previous motherboards has been significantly upgraded on the Z390 AORUS Series Gaming motherboards with the newest USB TurboCharger technology. Connecting the front panel USB Type-A connector chassis cable to the USB TurboCharger allows users to charge their Android devices through QC 3.0 and Apple devices through Apple Fast-Charge at a blazing fast charge rate of 50% in under 30 minutes.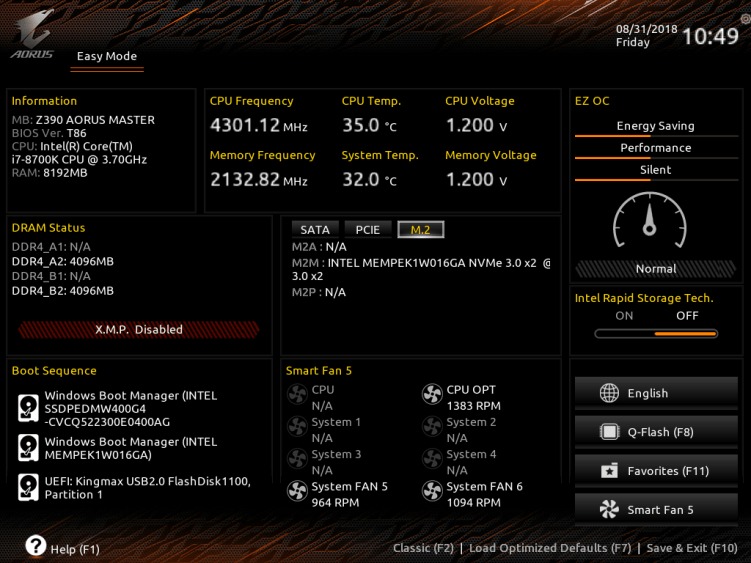 UI improvements to the BIOS interface and a new graphical design makes configuring BIOS settings much more intuitive and user friendly than ever before. Important information on clock speeds, memory data, storage devices, fan status and other important hardware is clearly displayed for the user to evaluate. Users can even add/delete items to their favorites list for added convenience.
Furthermore, the optimal memory installation status notifies users with a warning message and reminds them to change installation settings if they are installing two sets of memory while operating in single channel mode during memory installation. On the newest BIOS, all changes to the BIOS settings will be listed before the user saves any changes to the BIOS settings so users can confirm whether or not to proceed with the changes.
The GIGABYTE Z390 AORUS Gaming motherboards lineup offers a diverse range of features through the implementation of the aforementioned technologies. Utilizing renowned GIGABYTE Ultra-Durable Technology components, all-solid capacitors, and all digital power designs with intelligent fan control design, these motherboards are both energy-saving and environmental friendly while offering impressive performance and durability for the best user experience. GIGABYTE Z390 AORUS Gaming motherboards are perfect for users seeking a platform that fires on all cylinders.
For more information and news on GIGABYTE products, please visit the official GIGABYTE website: