Singapore, 3 August 2018 – Changi Recommends has introduced a new ChangiWiFi router preconfigured with Virtual Private Network (VPN), specifically catered for travellers headed to China. Unlike others in the market, this device comes with an in-built VPN and no additional configuration is needed on the user's end. ChangiWiFi is the brand's wireless modem rental service.
"The Asia Pacific region is significant for business travellers in Singapore, with Shanghai ranking within the top 10 most visited international destinations. We saw an opportunity to cater to the unmet needs of these consumers who struggle with getting VPN access on their smart devices on top of purchasing a separate router for WiFi connection," commented Andrea Sim, Marketing Lead at Changi Recommends. "With the ChangiWiFi now equipped with an in-built VPN feature, consumers have a hassle-free option to stay connected to their loved ones and access their favourite online sites such as Google for both work and play, even in China."
In China, popular sharing and social networking sites such as Facebook, Twitter, YouTube, and even Google are blocked due to the Great Firewall of internet censorship. Foreign travellers have to make use of VPN, a software that encrypts internet traffic, to access these sites typically available in the rest of the world.
Bleisure travel on the rise
For many professionals, overseas work trips now commonly include elements of leisure travel as well. Termed 'bleisure travel', this phenomenon sees business travellers extending work trips to include extra time to explore the country's places of interest. Globally, over two-thirds of business travellers take bleisure trips and this trend is set to gain popularity in Asia as 50% from the region look to add a leisure factor to a business trip this year[1].
All-in-one device at competitive prices
To use the ChangiWiFi router pre-configured with VPN, travellers simply have to connect as per the usual router, with no extra steps or configuration needed. The new routers are also competitively priced at only $10/day, and bookings can be made online at  https://www.changirecommends.com/owifi.aspx.
With over seven Changi Recommends counters situated across T1, T2, and T3 and T4 Halls in Changi Airport operating 24 hours, seven days a week, collecting and returning ChangiWiFi is a breeze. Travellers are also free from obligations during the reservation process as payment for usage is only made after trips.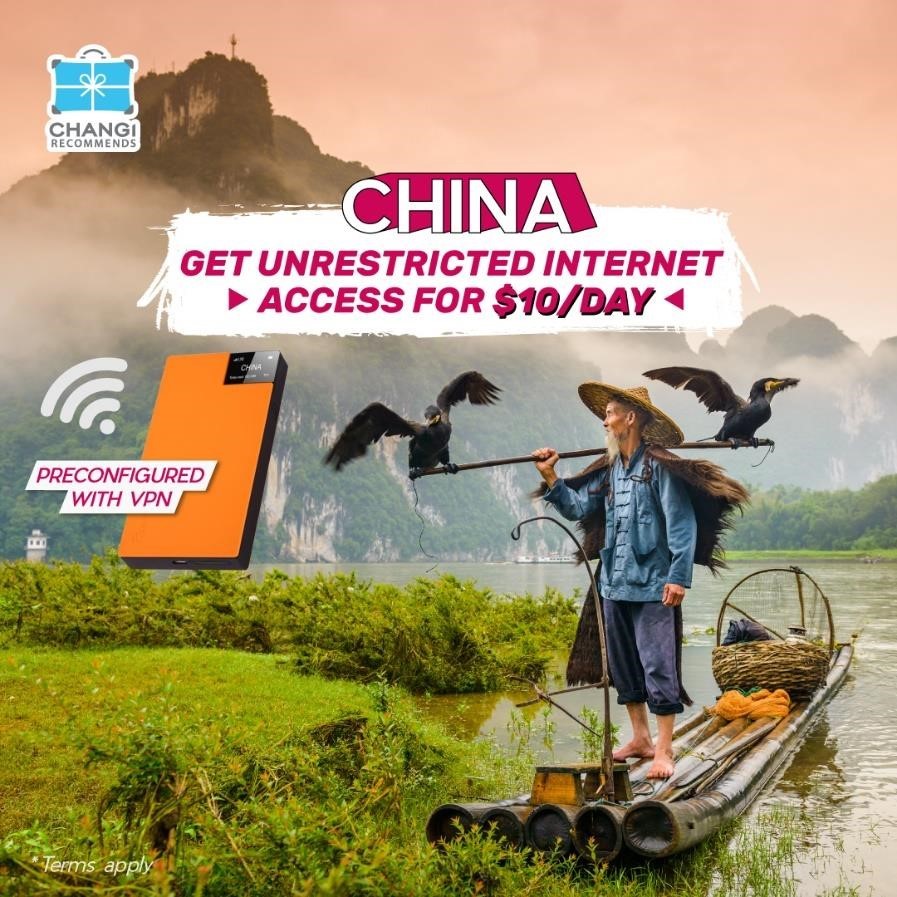 [1] http://www.businesstravelnews.com/Management/More–than–Two–Thirds–of–Business–Travelers–Embrace–Bleisure  
About Changi Recommends
Changi Recommends was established in Singapore by Changi Travel Services Pte Ltd, a subsidiary of Changi Airport Group, in 2012 with the aim to enrich travel experiences for both inbound and outbound travellers.
Be it for business or leisure, travellers will find an extensive range of services that have been carefully curated to their travelling needs. Such services include rentals of ChangiWiFi overseas routers & Singapore WiFi routers, overseas prepaid SIM cards, local and overseas tour and attraction tickets, Japan Rail passes, airport transfers, flight tickets, travel insurance and Meet & Greet services.
With a total of seven Changi Recommends counters in all four Singapore Changi Airport terminals operating 24 hours, seven days a week, travellers can collect their purchases with great convenience.
Connect with us at:
Website: www.changirecommends.com
Facebook: www.facebook.com/changirecommends
Instagram: www.instagram.com/changirecommends